ColonBroom Review: My Personal 30-Days Experience
Last update: September 21, 2023
13
2719
5
Learn all about ColonBroom, the dietary fiber supplement that's flooding the market.
In a world brimming with health and wellness trends, one product has emerged as a shining star, captivating the hearts and minds of countless individuals on a quest for optimal gut health and weight loss. Yes, I'm talking about ColonBroom.
Curiosity fueled my desire to try this supplement as I've struggled with my digestive health, occasional stomach pain, and bloating ever since I remember myself. Over the years, I've gotten used to the discomfort up to a point where I considered it a typical issue to deal with.
However, I've always been open to trying new products, and when I heard about ColonBroom and its potential benefits, I decided to give it a shot. Let me take you through my experience of using ColonBroom for a month and share the changes I noticed along the way.
What Is ColonBroom?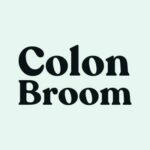 Promotes good gut health and a healthy digestive system
Facilitates bowel movements
May help to feel more satiated
Helps regulate blood sugar levels
Start Free Quiz Now
Pros
Boosts metabolism

Better skin health

Suppresses appetite

Might lower blood sugar

Alleviates bloating

Might boost the immune system

Clinically proven ingredients
Cons
May cause stomach upset

More expensive than some other supplement brands
ColonBroom, created by Max Nutrition LLC, is a dietary fiber supplement that relieves constipation, detoxifies the body, and reduces bloating. Overall, the focus of this supplement is gut health.
It is also called one of the best fiber supplements available right now.
The star ingredient of this supplement, and ultimately why it works so well, is psyllium husk powder. Psyllium husk is a natural dietary fiber that can relieve constipation or diarrhea and is often used to treat irritable bowel syndrome.
You can expect a bowel movement within 24–72 hours when you consume ColonBroom. You can also expect any bloating to alleviate and feel lightness in your gut while reducing sugar cravings, ensuring better sleep and healthier-looking skin.
In addition to supplements, ColonBroom offers a mobile app to support your gut health and wellness journey. It helps you improve your lifestyle with easy-to-follow exercises and small but essential nutritional changes.
How I Started and ColonBroom Quiz
Before embarking on my ColonBroom journey, I wanted to ensure I was purchasing a genuine product from a trusted source.
The official website was the best place to order this supplement after doing my research. Then, I would be able to have confidence that I was receiving an authentic product that meets all the quality standards.
I was also invited to take a short quiz as part of the purchase process. It contained questions about my digestive health, dietary habits, and lifestyle. Based on my responses, the quiz generated results showing how the ColonBroom supplement could improve my life and gut health.
The particular flavor I chose was strawberry, as it seemed more appealing to my taste buds. Colon Broom also offers a tropical fruit flavor for those who prefer a different taste. Throughout my trial, I made sure to capture my experience in photos.
How Did ColonBroom Work for Me? My 30-day Journey In Detail
After using ColonBroom for a month, I can confidently say that the product delivered on its promises and works. My bowel movements became more regular, my food cravings decreased, and I even lost a few pounds.
Week one
In the first 12 hours, there were no significant changes that I noticed. However, after approximately 24 hours, there was a slight increase in my bowel movements, but at the same time, I felt bloated. Despite that, I felt like my digestive system was getting a gentle nudge in the right direction. I felt optimistic about the weeks to come.
Week two
I began to notice even more positive changes as the second week of using ColonBroom supplement approached. The consistency of my bowel movements improved, as well as my digestive health improved. The bloating and discomfort I experienced after meals significantly decreased, making me feel lighter and more energized throughout the day.
Week three
By the third week, the effects of the ColonBroom supplement had become even more noticeable. My body seemed to be absorbing nutrients more efficiently, and I continued to have regular bowel movements. Overall, I experienced less bloating and discomfort, and my digestion seemed more efficient. My skin appearance also improved, which was an unexpected bonus
Week four
My ColonBroom supplement trial reached its final week, and I'm thrilled with the results. I felt revitalized and balanced. I had minimal bloating after meals and regular bowel movements. My digestive health has improved significantly.
Among the things I was most impressed by was the overall boost in my well-being. I felt lighter, more energetic, and my skin even appeared clearer. My body had seemingly been detoxified gently by the supplement, resulting in better gut health.
I could not recommend this fiber supplement enough for those suffering from irregular bowel movements or bloating. If you experience gut heaviness, imbalanced gut microbiome, constipation, diarrhea, and frequent bloating, this supplement could help you without a doubt.
However, this answer is based on my experience and should not replace professional medical advice. Remember that it is important to consult with a healthcare professional before starting any new supplement regimen.
How to use ColonBroom?
Mix a scoop of this strawberry or tropical fruit flavored powder with a full glass of water and consume twice daily (maximum serving) before or after eating. My favorite part about this powder is that it mixes smoothly, leaving no clumps.
The product is entirely organic, gluten-free, and contains zero sugar.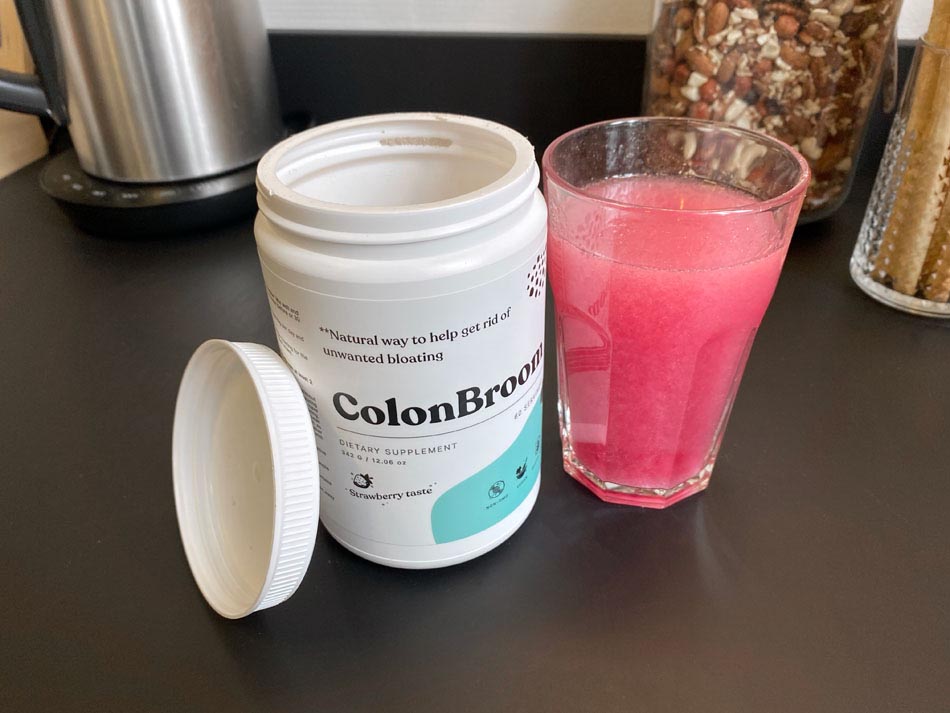 Main Benefits of ColonBroom
During the 30-day testing period, ColonBroom seemed to positively affect my health, from improving digestion to reducing painful bloating. While it primarily targets the gut, I've noticed some additional benefits for my overall health.
Here are the four main advantages I noticed when using this supplement.
#1 My bowel movements became more regular
One of the most significant benefits I experienced with this supplement was more regular bowel movements. Before trying out ColonBroom, I occasionally dealt with painful constipation and even stomach pain, but I noticed significant changes during my trial period.
After about a week of using the product, my visits to the bathroom became more predictable and smoother. I also used the ColonBroom app to log them and identify patterns. It helped me understand which foods may trigger stomach upset. I did experience stomach pain a few evenings during this month but I believe it was mainly because of the dishes I ate (e.g. I had Indian takeout one day).
#2 My evening food cravings dialed down
One unexpected change I observed was that my evening food cravings became a lot less intense. Reaching for some chocolate or potato chips while watching Netflix was a regular thing for me.
Yet, I suppose the increased fiber content of ColonBroom helped me feel more satiated throughout the day, reducing my tendency to snack in the evening. I also increased my water intake along the way.
#3 I lost 5 pounds
Although my main goal starting this trial was not weight loss, I was pleasantly surprised that I had lost 5 pounds during the 30-day testing period. I didn't even weigh myself regularly but once I noticed that my jeans had gotten less tight around my stomach, I figured I could also check the scale.
Of course, individual results may vary, and weight loss is not guaranteed with ColonBroom. Its primary focus is on regular bowel movements, after all.
#4 I felt more energized throughout the day
Another notable change I noticed was increased energy levels throughout the day. The supplement is designed to stabilize blood sugar levels and provide consistent energy, so it was no surprise that after a week or so, I felt more productive and alert in the afternoons. I could even skip my coffee after lunch and still feel energized.
Of course, I have to mention that it's vital to combine this dietary supplement with a balanced diet that further supports gut health. It's easy to do this with the assistant ColonBroom app, which includes a gut-friendly meal plan to keep your digestive system happy. It helped me a lot throughout my 30-day journey.
Downsides of Using ColonBroom
As with any other product, I've noticed some things that I didn't like while testing out this fiber supplement. Here are a few of them.
#1 The sweet taste of strawberries seemed intense
A strawberry-flavored ColonBroom seemed strange at first because of its sweet flavor. Maybe it was due to the stevia leaf extract that, although a popular alternative to sugar, had yet to find a way to my kitchen.
The tropical fruit-flavored ColonBroom drink might be more enjoyable for some people, but I got used to the strawberry flavor as I continued using the product.
The flavor also didn't feel artificial like in some other supplements I'd used before.
#2 I felt more bloated at first
You may experience bloating in the first few days when taking ColonBroom. The same thing happened to me at first. After a few Google searches, I found out that this was a normal reaction, as my body needed a chance to transition to the extra fiber.
This was probably due to the higher fiber intake from the psyllium husk in ColonBroom. However, it took less than a week for bloating to decrease gradually as my body adjusted to the supplement.
#3 There are possible side effects
As you probably know, any dietary supplement comes with possible side effects. Increasing your fiber intake can cause minor symptoms, especially if you're not getting enough fiber.
Some people may also experience an allergic reaction to ColonBroom. In the ingredients list, the brand mentions that the product may cause an allergic reaction to those who are sensitive to:
Inhaled or ingested psyllium
Strawberries, passionfruit, or other ingredients/substances derived or extracted from strawberries or passion fruit.
If you experience any signs of an allergic reaction, for example, irritation in the eyes or nose, shortness of breath, or itchy skin, stop using the product immediately and contact your doctor.
Always check with your doctor before taking supplements to confirm the product is safe for you. This is especially important if you are pregnant, breastfeeding, have irritable bowel syndrome (IBS) or have other digestive problems.
ColonBroom's Main Ingredients
ColonBroom contains several ingredients. Here are the top 5.
#1 Psyllium husk powder
It's the winner of the show when it comes to fiber ingredients. Psyllium comes from the husks of the Plantago Ovata plant's seeds. It has several properties that support overall health and is notoriously associated with treating constipation and irregular bowel movements.
It can also treat diarrhea, lower blood sugar and cholesterol levels, and support a healthy heart. Psyllium has many benefits to the digestive tract and can even help you to lose weight.
When mixed with water, psyllium husk powder creates a gel-like substance that helps to soften the stool and adds bulk. This process helps to promote regular bowel movements when used regularly.
Additionally, psyllium husk acts as a prebiotic and nourishes the beneficial gut bacteria. It has a positive impact on digestive health overall.
#2 Citric acid
Citric acid is a crystalline, organic acid found in the juice of citrus fruits, such as lime, grapefruit, and lemon juice. It has a sour taste and is often used commercially in food and beverage products as a flavoring and setting agent.
Citric acid works well as it can help treat chronic metabolic acidosis. Also, it supports gastrointestinal health and acts as a natural laxative.
#3 Crystallized lemon
Crystallized lemon is rich in lemon juice, which effectively treats constipation.
Actually, I have used lemons as a home remedy when I had difficulty going to the bathroom and it was effective for some time. The citric acid in lemon fights toxins found in the body, flushing them through the digestive tract.
#4 Stevia leaf extract
Stevia leaf extract is a health-friendly, natural sweetener derived from the Stevia plant. It's also the perfect sweetener for those who want to lose weight.
It provides sweetness to food and drinks while containing zero calories. Many people following the keto diet or other low-carb diets use stevia to replace sugar.
It's an excellent option for blood sugar management.
#5 Sea salt
Sea salt has many health benefits for the human body: it helps regulate blood pressure and improve digestive health. Sea salt also contains various minerals, including sodium, potassium, and magnesium.
Adequate salt intake is essential as it helps to maintain proper hydration and electrolyte balance.
I've seen that some people use a salt water flush (warm water and salt) to quickly cleanse the colon and treat chronic constipation, as this combination might have a mild laxative effect.
What Is the Price of ColonBroom?
ColonBroom may offer discounts throughout the year, so it's important to check the price when you're looking to purchase.
When writing this ColonBroom review, the prices are as follows:
1-month supply
One-time purchase: 68.99 USD
Subscribe & Save: 54.99 USD
3-month supply
One-time purchase: 44.99 USD
Subscribe & Save: 35.99 USD
6-month supply
One-time purchase: 34.99 USD
Subscribe & Save: 27.99 USD
ColonBroom vs. the Alternatives
Comparison Winner: Colon Broom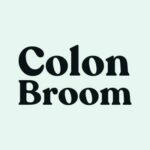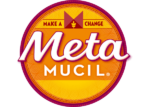 Pros
Boosts metabolism
Better skin health
Suppresses appetite
Lowers blood sugar
Alleviates bloating
Boosts the immune system
Clinically proven ingredients
Promotes digestive health 
Supports heart health
May lower cholesterol
Removes toxic waste from the body
Regulates bowel movements
Improves digestion
Promotes digestive and gut health 
Contains superfood ingredients 
Chocolate & vanilla flavors
Cons
May cause stomach upset
More expensive than some other supplement brands
More expensive than some other brands
May have adverse side effects, including bloating and cramping
May have adverse side effects
Bloating and gas within first 1–2 days
Expensive price point
Contains tree nuts 
Expensive price point
Want to know more about the differences between Colon Broom and Metamucil?
What Do Other People Think About ColonBroom?
In addition to my experience with this fiber supplement, it's essential to consider the perspectives and opinions of others who have embarked on their journeys with it. From countless testimonials to online discussions, buyers have shared their thoughts and experiences regarding ColonBroom.
Anna says: "Ever since I started incorporating Colon Broom into my daily routine, I have experienced a significant improvement in my digestive health. I feel lighter, more energized, and have even lost weight! This fiber supplement has truly become an essential part of my everyday routine, and I highly recommend it to anyone seeking a natural and effective solution for their digestive concerns."
Sarah says: "Colon Broom has been a game-changer for me when it comes to maintaining a healthy lifestyle. The combination of crystallized lemon and citric acid gives it a refreshing taste, making it a pleasant experience. Since I started using this supplement, I've noticed a significant reduction in bloating and discomfort after meals. My digestive system worked better, and my bowel movements became regular. Colon Broom has become my go-to companion for a happy and healthy gut!"
However, ColonBroom doesn't work for everyone. Traci's opinion about the supplement: "Unfortunately, my experience with Colon Broom was not as positive as I had hoped. While it initially helped regulate my bowel movements, I experienced discomfort and bloating after prolonged use. It seemed like my body did not react well to the supplement. Additionally, the product's taste was not enjoyable, making it challenging to incorporate into my daily routine. While I understand that individual experiences may vary, I was disappointed with the results and had to discontinue using Colon Broom."
FAQs
Is ColonBroom legit?
Yes, ColonBroom is a legitimate fiber supplement that you can buy online from the official e-commerce store.
Can ColonBroom help with IBS?
It depends on the IBS type. For those with IBS-C, ColonBroom might help. However, always consult with your doctor before using any fiber supplements for IBS.
Is ColonBroom the same as Metamucil?
Both ColonBroom and Metamucil are psyllium-based fiber supplements with laxative effects, but they are two different products from two different brands.
Does ColonBroom have a return policy?
According to the Refund and Return Policy on the official website, customers can return Colon Broom within 14 days of delivery unopened and in the original packaging.
A Word From Our MD
Rosmy Barrios
Medical advisor for Health Reporter
Everybody wants good gut health. A balance of bacteria in the gastrointestinal tract keeps our digestive system functioning at optimal levels, allowing us to eat and digest food comfortably and keep regular bathroom habits.
Fiber plays a crucial role in improving gut health. It's a vital part of our diet, yet most people don't consume it enough.
The general guidelines recommend that women consume at least 21–25 grams of fiber per day and men should have at least 30–38 grams per day.
Fortunately, it's easy to get your daily fiber intake from food sources, including whole grains, fruits, and vegetables. Drinking plenty of water will also ensure a happy gut.
Sometimes, you might miss your daily fiber goals or fail to incorporate enough into your meal plan overall. If that's the case, you're likely to experience digestive issues, notably constipation.
Taking a dietary fiber supplement can help safeguard your fiber intake. However, you should always assess the adverse effects of supplements with a health professional.
How I Tested ColonBroom
There are many dietary supplements with psyllium husk powder on the market, so before recommending ColonBroom, I had to be sure that this product is worth your money.
I tested ColonBroom according to four specific criteria: quality, effectiveness, price, and brand reputation. This allows me to ensure a product is suitable for a recommendation.
Let's look at these criteria in more detail:
Quality
I checked the overall quality of ColonBroom by evaluating the ingredients, serving suggestions, and pricing. The product contains high-quality psyllium husk fiber to support healthy bathroom habits. It's also completely organic, sugar-free, gluten-free, and vegan-friendly.
Effectiveness
Many dietary supplements with psyllium husk powder promise you amazing results, including healthy bowel movements, digestive system support, and even weight loss. However, not all of them can live up to that promise.
After testing this dietary supplement for the whole month, I can confirm that the ingredients are proven to deliver results and are safe for consumption.
Of course, results can vary from person to person, but I've noticed a difference in my bowel movements after just 24 hours.
Price
The cost of ColonBroom is reasonable, although it is slightly more expensive than some other supplement brands. It's a good idea to keep checking their official website for the latest prices, as the company offers deals and promotions throughout the year. I bought it at a 20% discount.
Brand reputation
ColonBroom has a strong reputation in the health and wellness world. I've made an extended research, read all possible comments on Reddit, Trustpilot, and everywhere else. People are satisfied with ColonBroom and their manufacturer, Max Nutrition LLC, has lots of positive reviews online.
Conclusion: Is It Health Reporter Approved?
It's a yes from me. After careful review, I believe ColonBroom is a safe and effective dietary supplement that is helpful in treating constipation, diarrhea, and other digestive discomforts. It's a bit on the pricey side compared to some other products on the market, but the received health benefits definitely outweigh the costs.
It took almost a week for my body to adjust to the dietary fiber intake, but early symptoms like bloating settled down quickly. In conclusion, if you're looking for a supplement that can help improve your digestive health and overall well-being, Colon Broom is worth considering.
Last update:
September 21, 2023
13 min read
2719 Views
5 Reviews