Klinio Weight Loss Fuel Review: My 21-Day Experience With This Diabetes Supplement
Last update: October 12, 2023
14
1328
3
I tried Klinio's Weight Loss Fuel supplement for three weeks to see if it could help me slim down and aid blood sugar management. Here's what I thought.
Since entering my thirties, I've found it more and more of a struggle to maintain a healthy body weight. I'm no longer as active as I once was, but I continue to eat well and prioritize a healthy diet. Nevertheless, the pounds keep coming, and my weight continues to fluctuate.
After discovering my higher-than-normal blood sugar levels, I decided to take action. I'd like to lose weight one way or the other, and despite my poor attitude toward most weight loss supplements, I decided to have one last try at supplementation.
Klinio is not the average weight loss pill. What caught my attention is that it's designed to aid diabetes management – a combination I haven't previously encountered. In an attempt to handle my weight and prediabetes diagnosis in one go, I took on the 21-day challenge.
In this Klinio review, I share my honest opinion of the Weight Loss Fuel.
What Is the Klinio Weight Loss Fuel Supplement?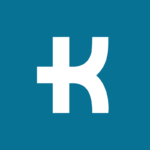 Klinio is a fiber-based dietary supplement that claims to help people lose weight, lower blood sugar levels, and manage diabetes. The product incorporates naturally-occurring ingredients like glucomannan and cellulose from medicinal plants and herbs.
Managing blood sugar levels is a challenge for many people with diabetes. Some patients turn to prescription medications or insulin to lower their blood sugar. Others simply follow healthy eating habits, exercise regularly, or use other techniques.
While I don't have diabetes, controlling blood glucose is a pivotal part of reducing my risk, given my prediabetes diagnosis.
The Klinio supplement offers an alternate method for people with type 2 diabetes, obesity, or other glucose-related problems to regulate their blood sugar while losing weight without following a strict diet or strenuous exercise routines.
It provides the body with the necessary nutrients to produce more insulin. Additionally, it boosts metabolism and regulates other crucial factors, including blood pressure and cholesterol.
Weight Loss Fuel reduces excessive appetite and suppresses sweet cravings. This powder is unusual because it regulates the body's insulin, improving your blood sugar levels.
Pros
Promotes weight loss

Promotes gut health

Prevents bloating

Regulates cholesterol and blood sugar levels

Non-GMO, gluten-free, low-calorie, and vegan

Free US shipping
Cons
Only one flavor to choose from

May cause abdominal cramps

The ingredients don't activate fat burning

Possible side effects, including digestive issues
Who is Klinio Weight Loss Fuel for?
Anybody who wants to lose weight, manage their blood sugar levels, or both can benefit from this tailored supplement. The best thing about it (for me, at least) is that it combats snack cravings. It could be a game-changer if you're a serial snacker like me.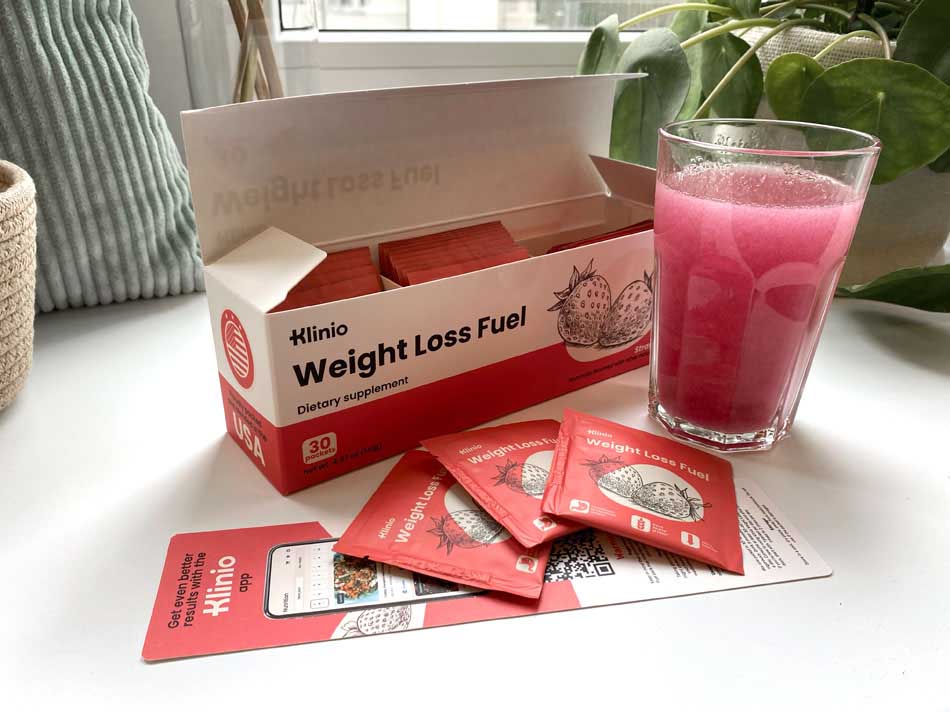 Talk to your doctor before using it to aid diabetes management. It might not be suitable for everyone, and assessing your personal needs is crucial. However, you don't have to have a diabetes diagnosis to use Klinio – it's more of a means to accelerate healthy weight loss.
The makers claim it is also safe for bloating, constipation, high cholesterol, and high blood sugar levels.
How I Started With the Klinio Quiz
Before purchasing, you must complete the quiz. You'll also need to do this if you want to buy the Klinio app. As promised, it took me around 30 seconds to answer the questions – no time at all. The questions are simple but necessary to determine your current health status.
First, you select your gender and whether you have prediabetes, type 1 or type 2 diabetes, or no diabetes. I selected prediabetes. You then determine your physical activity level, age, height, weight, and target weight before leaving your email address to receive your results.
For reference, my answers were: moderately active (1–2 times per week), 31, 5'8″, 180 pounds, with a goal of 170 pounds.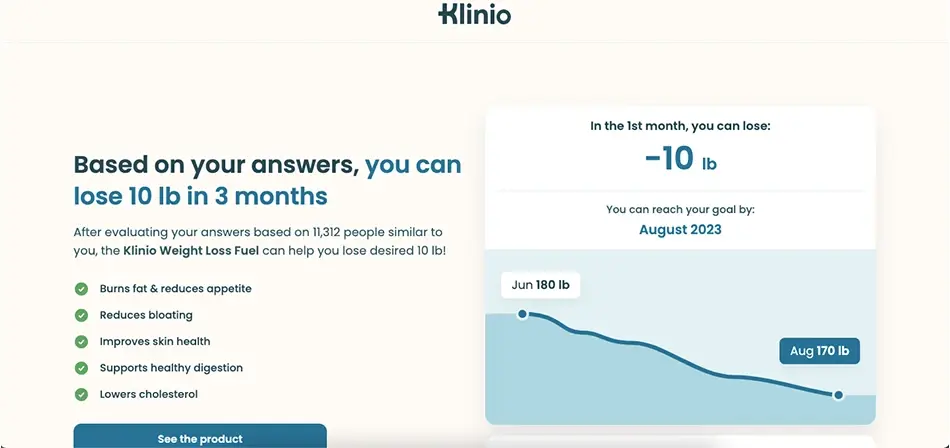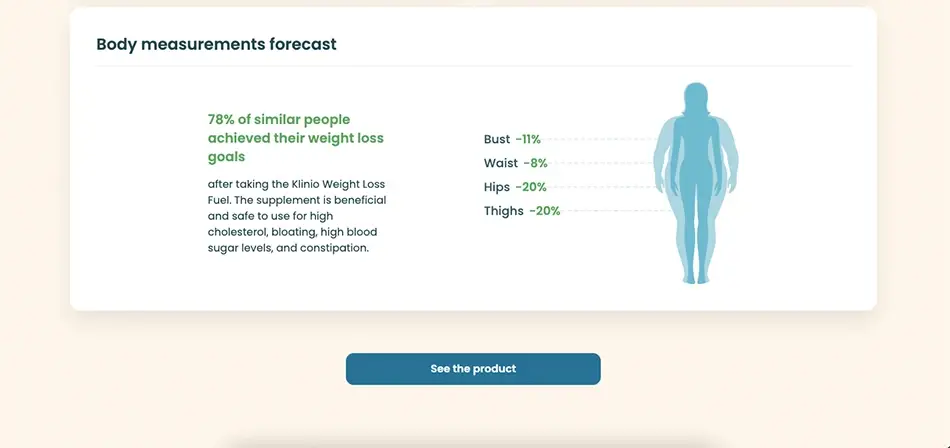 My results revealed I could lose 10 pounds within the first month. I was happy with this, as losing 10 pounds in a month is achievable and not an unrealistic claim. I also received calculations for recommended daily steps, calories, water intake, and body measurements forecast.
In keeping with the 21-day challenge, I ordered the one-month supply with a surprising 19% off plus free shipping.
Another bonus was the free diabetes-friendly dessert recipe book. While I don't have diabetes, this book has been a welcome addition to my prediabetes meal plan, offering many healthy desserts for weight loss.
It features some of the best diabetes foods for post-dinner treats, like berries, nuts, and seeds.
I live in the US and received my supplements in the mail after 6 days. This was expected, as the website states US deliveries typically take 6–8 days to arrive. Besides, I took the longer wait time as a sign of demand for the product.
My first impression? The weight loss supplement was well-packaged with the signature white and red box. The powder is individually packaged in matching sachets for convenience. There's no need to measure except for pouring a 300–360ml glass of water.
All in all, it is a hassle-free way to take supplements. I also appreciate that you stir it into the water, as I hate swallowing pills.
How Did the Klinio Weight Loss Fuel Supplement Work for Me? 21-Day Challenge Overview
Klinio's Weight Loss Fuel won't work the same for everyone. Having alternative experiences with supplements is standard, as we're all made so differently. Still, it can help to learn about the experiences of others to give you some idea of what to expect.
Read my journey below.
Week 1
Firstly, I like the drinkable format and the strawberry flavor. It's easy to consume and requires almost no preparation.
The first couple of days were slightly problematic when I developed stomach cramps. Although mild, I did wonder whether this was normal or a nasty side effect. However, having used fiber-based supplements in the past, I know digestive complaints all too well. I decided to continue taking them as usual, and around day three, the discomfort disappeared.
After about 6–7 days, my usual bloated belly began to ease. I no longer needed to raid the fridge or eat as often between meals. As a result, I started to feel healthier and more in control of my eating habits.
Week 2
In week two, I felt even better after reducing my intake of processed foods, thanks to the natural satiating effects. I also felt slightly more energetic and ready to exercise, although I don't know if this resulted from eating more nutritious whole foods.
Week 3
In the final week, I stepped on the scales on the last day to discover I had dropped 5 pounds – an incredible result. It just shows that cutting down on unnecessary snacking, crushing hunger pangs, and fueling your body with the right ingredients can bring results.
5 pounds is noticeable weight loss. My jeans fit better, I was less bloated, and I felt better in my own skin. I also felt less sluggish and more motivated to carry on and reach my target body weight. In addition, my skin was more glowy with noticeably fewer blemishes.
I'd recommend this supplement to anybody who wants something to boost their weight loss efforts and get their blood cholesterol and glucose levels back on track, following guidance from a healthcare professional.
How to Use Klinio Weight Loss Fuel
It's a simple strategy. Mix one packet with 10–12fl oz (300–360ml) of water, stir vigorously, and drink immediately. The instructions say to take it 1–2 hours before your first or last meal.
Main Benefits of Klinio Weight Loss Fuel
I discovered 4 health benefits after using Weight Loss Fuel for 21 days straight. Let's look at them in detail.
#1 My snack cravings got less intense
Klinio supplements contain complex fiber, which can help reduce sugar cravings by promoting satiety and slowing down the rate at which food leaves your stomach.
I didn't think it was possible, but I was able to refrain from entering the snack cupboard as usual, simply because I didn't feel hungry. This meant I was naturally cutting down on unnecessary calories, removing sugary treats from my daily diet, and promoting weight loss.
Glucomannan, found in Klinio, also helps stabilize blood sugar levels after eating. This is important for weight control since high blood sugar levels can lead to weight gain and diabetes.
Furthermore, the supplements are strawberry-flavored, delivering a hint of sweetness to satisfy cravings.
The craving-reduction benefit is ideal for anybody struggling with weight management.
#2 I felt less bloated
The cellulose found in Klinio supplements can help prevent bloating and gas by acting as a bulking agent in the digestive system. Cellulose also helps reduce the time food remains in the colon, reducing the likelihood of bacterial growth.
I noticed fewer bloating episodes and a general improvement in my digestive health.
#3 I lost 5 pounds
After three weeks, the scale revealed I'd lost 5 pounds. This is a great achievement for somebody who struggles with almost any weight loss program. It also aligns with the 1–2-pound-a-week guidelines for healthy weight loss. To me, this confirms that Klinio can boost weight loss and help you hit your body weight goals.
While I did implement some exercise, pairing Klinio with a more tailored fitness regimen will further help reduce body weight and enhance the benefits.
Interestingly, a few days in, I discovered that Klinio also helps regulate cholesterol. By binding cholesterol atoms in your digestive system and removing them from your body before they are absorbed, Klinio can help lower "bad" LDL and total cholesterol. It can also reduce body weight and fasting blood sugar.
Unfortunately, I didn't check my cholesterol beforehand to monitor the results.
#4 My skin seemed clearer
The unexpected bonus? My skin felt rejuvenated.
Klinio supplements detoxify your skin, make it glow, clear up, and make you look good and feel good. Glucomannan has been shown to reduce acne and psoriasis and improve skin health. It may also reduce allergic reactions and enhance wound healing.
These studies suggest that glucomannan may help reduce the severity of these diseases by reducing inflammation caused by acne bacteria or inflammatory cells.
Downsides of Using Klinio Weight Loss Fuel
While I rate these supplements, I can't pretend they are all good. I did have some discomfort in the early days. However, this soon subsided. There are a few other downsides, but I don't find this disappointing, as you can never expect 100% from a single supplement.
Here are three points to consider before buying:
#1 I had abdominal cramps at first
I experienced uncomfortable abdominal cramps in the first couple of days. I put this down to the sudden influx of dietary fiber in my diet. It wasn't entirely unexpected, as fiber supplements often cause mild bloating, cramping, and gas as your body adapts.
On the upside, fiber supplements can improve digestive health and help normalize bowel movements.
Since my symptoms were mild, I didn't feel the need to quit taking Klinio. However, you shouldn't take a supplement that aggravates your body and causes continuous discomfort.
#2 The fat-burning effect may be overestimated
Klinio supplements promise fat burn by promoting satiety that helps you lay off the snacks and boost your fat-burning potential. However, its promotion as a natural fat burner is a little exaggerated, as the active ingredients don't directly encourage fat burning.
Nevertheless, you may lose some fat as your digestion improves and you eat fewer snacks. It certainly made me feel less hungry and able to combat cravings, but I'm unsure whether it altered my metabolism.
The best way to blast fat is with lifestyle changes that complement one another, like getting regular exercise and eating a more balanced and nutritious diet. This is where the Klinio app for diabetes management comes in handy.
I'm yet to try the Klinio program, but it offers features that help you create healthy habits. These include meal planning, no-equipment workouts, and progress tracking – perfect for people with diabetes and prediabetes.
#3 There are possible side effects
Klinio Weight Loss Fuel is unlikely to induce severe side effects, as it's made primarily of natural ingredients. Nevertheless, it does have a few reported side effects that suggest fiber is the culprit. Adding more fiber to your diet can trigger digestive woes, including bloating, constipation, and flatulence.
Like any supplement, it's critical to read the label and consider any allergies or intolerances you have. Weight Loss Fuel is not suitable for people under the age of 18 or pregnant and breastfeeding women.
Likewise, the Klinio app calls for guidance from a healthcare professional before use.
Main Ingredients of Klinio Weight Loss Fuel
Klinio supplements are primarily composed of natural ingredients that help your body burn fat, clean out bacteria, and improve blood sugar levels.
Because of these ingredients, individuals like myself can realize weight loss and control blood sugar levels properly.
Glucomannan
Glucomannan is a soluble fiber used in traditional Chinese medicine for thousands of years. It is an extraction of elephant yam (amorphophallus paeoniifolius), a source of water-absorbing beta-glucan, a type of soluble fiber. In addition to regulating digestion speed and blood sugar, soluble fiber increases nutrient absorption.
Besides its high fiber content, glucomannan is low in calories and contains almost no protein or vitamins.
Glucomannan's potential effects on body weight, triglycerides, blood glucose, blood pressure, and cholesterol have all been widely researched. Its potential benefits as an anti-obesity, anti-diabetic, prebiotic, laxative, and anti-inflammatory supplement have all been studied.
Glucomannan has been used to treat constipation, diabetes, obesity, and high cholesterol. Although research has shown that glucomannan has many potential health benefits, not all studies have been conclusive.
Cellulose
Cellulose is a type of fiber found in vegetables, fruits, and other plant foods as cell walls. It's located in leaves and tree bark. Cellulose has no vitamins, calories, or minerals and no fats, protein, or carbohydrates. It's a form of insoluble fiber, which means the body can't digest it.
The benefits of cellulose include facilitating a quicker passage of food through your digestive system and supporting regular bowel movements, preventing constipation, lowering your risk of developing a condition known as diverticular disease, and promoting a slim waistline.
Additionally, insoluble fiber promotes the growth of beneficial gut bacteria that feed on sugars and fibers in foods, contributing to the health of the digestive system.
What Is the Price of Klinio Weight Loss Fuel?
Weight Loss Fuel is $64.99 for a one-month (30 servings) supply. It's a subscription plan, delivering one box every month until canceled.
Other prices include:
3-month supply: $44.99 (with discount) per box
6-month supply: $39.99 (with discount) per box
Klinio Weight Loss Fuel vs. the Alternatives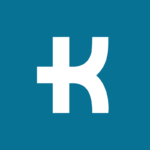 Brand
Klinio Weight Loss Fuel
Onnit Total Gut Health
310 Thin
Pros
Boosts metabolism
Energy-boosting
Burns calories naturally
Promotes weight loss
Promotes gut health
Prevents bloating
Regulates cholesterol and blood sugar levels
Non-GMO, gluten-free, low-calorie, and vegan
Free US shipping
Has evidence-backed ingredients
Affordable
Helpful for indigestion
May help control blood sugar levels
May inhibit carbohydrate absorption
Can help boost metabolism
Cons
7 capsules per serving
Can cause serious side effects
Ingredients require further research
Several upsell screens in the checkout process
Expensive
No ingredient that can aid fat burn or promote satiety
Comparison winner: Klinio supplements
How I Tested Klinio Weight Loss Fuel
I know first-hand that dietary supplements are not made equal. Countless times, I have paid money for a supplement that doesn't deliver as it promises. Now when buying supplements, I follow a set of criteria that put the product to the test.
Here's how I tested Klinio Weight Loss Fuel:
Quality 9/10
An essential factor in testing diabetes supplements is the quality of the ingredients and if the healthcare professionals involved with the brand are qualified. Klinio has high-quality fat-burning, blood sugar control, and satiety ingredients. The professionals handling the product are also qualified.
Effectiveness 9/10
To ensure the effectiveness of dietary supplements for weight loss and diabetes-related issues, I research the active ingredients to see if there are any scientific studies about those ingredients. I found that those in this product are research-backed for good overall health.
Price 8/10
Dietary supplements can become pricey. It is only worth continuing to take a costly supplement if it results in visible changes in your health or blood test results.
I compared Klinio's price with other weight loss and diabetes supplements on the market. It's affordable compared to other products with many of the same features.
Brand reputation 9/10
For me, a strong brand reputation is a requisite for discovering a suitable dietary supplement for diabetes and weight loss. Klinio is made by a legitimate manufacturer with ingredients and dosages verified by a third party to ensure accuracy.
A Word From Our RD

Edibel Quintero, RD
Medical advisor for Health Reporter
Managing diabetes, prediabetes, and weight loss requires lifestyle changes. Prioritizing healthy habits like eating nutritious foods, exercising regularly, and following personalized meal plans can promote weight loss, prevent weight gain, and lower blood sugar levels.
Taking action is essential to mitigate the risk of further health complications, such as heart disease and stroke. Talk to your healthcare provider for more information and guidance about losing weight and managing diabetes. They can help you create a more personal approach.
FAQs
Are Klinio supplements safe to use?
Yes, you're safe to use this product. You can incorporate it into your regular diet. It has an innovative combination of ingredients that are backed by science. This supplement also comes in powder form to mix with water. So, if you have trouble swallowing pills, this may be the best choice.
What is the recommended daily dosage of Klinio supplements?
The recommended dose for Klinio supplement is one packet mixed in 10–12oz of water, 1–2 hours before your first or last meal to reduce food intake for the next meal or whenever you are craving a snack or sweets.
Are Klinio supplements legit?
Klinio supplements are legit. The ingredients in this product are research-backed and good for overall health. The healthcare professionals involved with the brand are qualified, and many reviews also reveal positive results from using the supplements for weight loss and diabetes management.
Conclusion: Is It Worth a Try?
The Klinio dietary supplement works well. After extensive investigation and 21 days of taking the supplement daily, I can conclude that Klinio aids in weight loss and blood glucose regulation thanks to several natural ingredients.
In my opinion, it might be one of the best fiber supplements for losing weight and restoring healthy blood sugars.
Klinio supplements can be beneficial and a great option if you want to manage your blood glucose level without using any medications or adhering to a rigid diet and exercise plan.
Pair it with the Klinio program, and you'll get an all-around treatment system with access to personalized meal plans, easy-to-follow recipes, blood sugar monitoring, and more.
Last update:
October 12, 2023
14 min read
1328 Views
3 Reviews
${TOCSections.eq(0).find('a').text()}