Walking.Diet Review: Would a Personal Trainer Suggest It?
Last update: October 5, 2023
13
1249
3
Is walking enough to hit your health goals? Get an expert opinion on the Walking.Diet app.
Many clients want an accessible way to lose weight, tone up, and improve overall health. Since many are new to their fitness journey, they want a gradual introduction to exercise, with activities they can enjoy and master without the heavy gym sessions.
My personal training sessions cater to people of all ages and fitness levels. But given my string of new clients desiring beginner-level fitness recommendations, I decided to rethink my strategies. That's when I came across an app – Walking.Diet.
I took it upon myself to review the features and assess the opportunities as it could help my new clients maintain motivation and build healthier habits outside of the gym.
Here's how I rate Walking.Diet for those who are new to exercise or struggling with excess weight.
What Is Walking.Diet App?

Offers walking training plan
Provides warm-up and cool-down workouts before and after walking workout
Includes keto desserts cookbook
Offers the articles about food and nutrition, walking gear
Get Your Personalized Walking Plan
Pros
Offers many educational tips

Offers warm-up exercises

Offers a targeted weight loss plan
Cons
The results may vary between individuals

Some of the features cost slightly higher
The Walking.Diet app is a research-centered fitness program. It combines a low-fat and high-fiber diet with custom aerobic workouts to help you meet your health goals. The key selling point is personalized walking plans crafted by professional coaches and licensed dietitians to guarantee fast weight loss.
Like most activity tracker apps I've come across, it gives a complete guide on walking workouts, body positioning, breathing techniques, and daily motivation boosts. It links walking exercises with healthy dietary habits to make walking simple and practical.
Walking is free, easy to fit into your daily routine, and is associated with many health benefits. Regular walking strengthens cardiovascular health, lowers the risk of coronary heart disease, releases brain chemicals to boost mental health, and prolongs your life span.
Who Can Use Walking.Diet?
The great thing about this app is that it's suitable for all age groups and fitness levels. Walking is accessible to almost everybody, and this program is designed specifically for emotional well-being and weight loss.
Personally, I think it's ideal for fitness newbies who want a pleasant introduction to exercise or those who struggle with extra weight. It offers a way to burn calories, boost energy levels, and strengthen the cardiovascular system without pushing yourself too hard.
How the Walking.Diet App Works and How to Get Started
I appreciate apps that don't require a lengthy sign-up process. The Walking.Diet process is easy and begins with a short quiz. You need to select answers to questions regarding:
Gender, age, height, and weight
Health conditions
The distance you're able to walk
Where you plan to walk and when
How often you can walk in a week
Physical activity level
End goal
Meal preparation, dietary preferences, and allergies
To determine the results for my clients, I answered the questions from the position of an exercise newbie. As a 31-year-old female, 5ft 8in, 168 pounds, the results tell me I can expect to hit a target weight of 154 pounds within two months. That's 14 pounds, which averages just under 2 pounds per week – a healthy and realistic goal.

What Are the Features of the Walking.Diet App?
Assistant apps are all about features. My clients need something that supports their walking routine. They want to open an app and discover everything they need in one place.
Fortunately, Walking.Diet has a selection of features to keep users engaged. I've outlined them below.
#1 Personalized weight loss plan
The personalized weight loss plan focuses on your walking training plan. It includes a walking routine that fits in easily with your schedule and is designed to suit your fitness level and align with your goals. It has warm-up and cool-down exercises for pre- and post-walks and tracking tools to monitor your walking progress.

Customized workout plans are essential for clients because they target strengths and weaknesses to ensure a sustainable program that revolutionizes health.
#2 Personalized meal plan
Diet and exercise go hand in hand, and this program gives users an easy-to-follow meal plan to ensure results. It includes many healthy recipes you can prepare in as little as 15 minutes, with all ingredients available in local grocery stores.
Based on your quiz answers, it accounts for the foods you like and dislike, which is perfect for my fussy clients.
#3 Science-backed tips and educational content
You can discover tons of information to assist with healthy living in the knowledge section of the app. It features a range of articles covering all things walking-related, such as the benefits of walking, the best walking gear to invest in, and how to prevent pain.
You can also explore nutrition content, from the most healthy foods to drinking enough water.
For those walking to improve mental health, an audio-based meditation section assists you on your strolls.
#4 Keto desserts cookbook (optional)
Walking.Diet offers a dessert cookbook tailored to the ketogenic diet. You can get this as an add-on feature for an additional fee. I often discuss the keto diet with clients keen to cut back on carbs to fuel the body's fat-burning processes. A cookbook sharing healthy desserts for weight loss is a bonus for keto dieters.
#5 Workouts for general health (optional)
The program offers optional workouts targeting general health for men and women. These include strength and stretching exercises to help you build up your fitness and improve flexibility. Performing stretches also improves your posture, helps prevent injury, and reduces muscle soreness after long walks.
You can adjust the length and difficulty level of these workouts to ensure it's comfortable. They might appeal to those looking to mix up their regular exercise routine to implement more than walking for faster results.
#6 Private consultation with a specialist
You can schedule a private consultation via email with certified trainers and licensed nutritionists. Connecting with an industry pro is a great way to clarify your health goals and get the answers you need.
My clients value my support, but there are definite benefits from combining support from trainers like myself with expert nutritionists, especially given the rise of personalized nutrition for weight loss.
Again, this is an extra purchase.
What I Liked About the Walking.Diet App
A good range of features makes this app appealing to those who want to start walking for better health. I'm going to share a few things I like about Walking.Diet after assessing the features and overall concept carefully.
#1 It is beginner-friendly
I think this program is ideal for beginners and possibly the best place to start walking workouts. The guide explains all you need to know about walking posture and intensity, and you can find workouts regardless of whether you are a beginner or a pro.
Something I particularly like is that it emphasizes proper warm-up and cool-down exercises. This can help to ensure you get the benefits of walking without disruptions from injuries or tired, aching muscles. In my experience, most beginners don't know the importance of warming up and cooling down.
It is suitable for both indoor treadmill workouts and outdoor walking exercises. It counts steps, but you can manually edit your treadmill workout data and track calorie burn and pace. It also has a distance tracker that records daily walking progress.
Walking is an aerobic exercise, and a fitness payoff only comes with increasing activity levels. The app helps you reach optimal activity levels. Experts state that one needs 150 minutes of moderate-intensity activity for good heart health.
#2 It boosts motivation
I blame a lack of motivation for disruptions in customer journeys.
Sometimes, all individuals need more motivation to stay consistent. The app's virtual motivation feature helps you stay committed to the program. It records training progress automatically and has an activity log of all previous workouts.
A wealth of tools, such as a distance and map tracker, tot up your monthly mileage and develop a detailed analysis of your improvements.
It has workout reminders that keep you on track and allows you to share your walking achievements on a social network, which keeps you accountable.
#3 It helps in weight loss
This walking app supports healthy weight management by helping you maintain a calorie deficit. The program has an easy plan to take advantage of and lose weight sustainably. It has a fitness walk tracker that enables you to track your walking progress.
The walk planner helps monitor exercise intensity, and increasing exercise intensity increases step count, helping you burn calories to reach a healthy weight.
One must couple a balanced diet and regular workout routine for long-term success. This program allows you to use custom workouts with realistic expectations or moderate training to help you lose weight.
#4 It educates on healthy lifestyle topics
Sometimes, achieving fitness goals is hard because we do not fully understand how walking for weight loss works. This weight loss app has science-backed educational tips on breathing techniques and posture for good walking workouts.
It has a walk tracker and educates on the workout intensity and frequency required to reach peak fitness levels. The program has speed-up techniques to help you cover longer distances in a shorter time.
Additionally, its walking plan has numerous diet tips on meal preparation and nutritional mistakes to avoid when trying to lose fat. The wealth of educational articles keeps you informed, motivated, and interested in new walking workouts.
#5 It makes healthy cooking look easy
Healthy eating is a must for weight control and loss.
The typical American diet has excess calories from solid fats, added sugars, refined grains, and sodium, which contribute to health issues. A personalized diet is better at helping you lose fat than a regular diet.
The program has numerous recipes that help you enjoy delicious meals without raising the calorie count. You won't have to spend much time in the kitchen, as the meals only take 15–20 minutes to prepare.
You also won't have to worry about calorie counting as all the portions are pre-outlined to help you meet your nutritional needs.
There is no one-size-fits-all weight loss program, and having a plan tailored to your needs guarantees better success.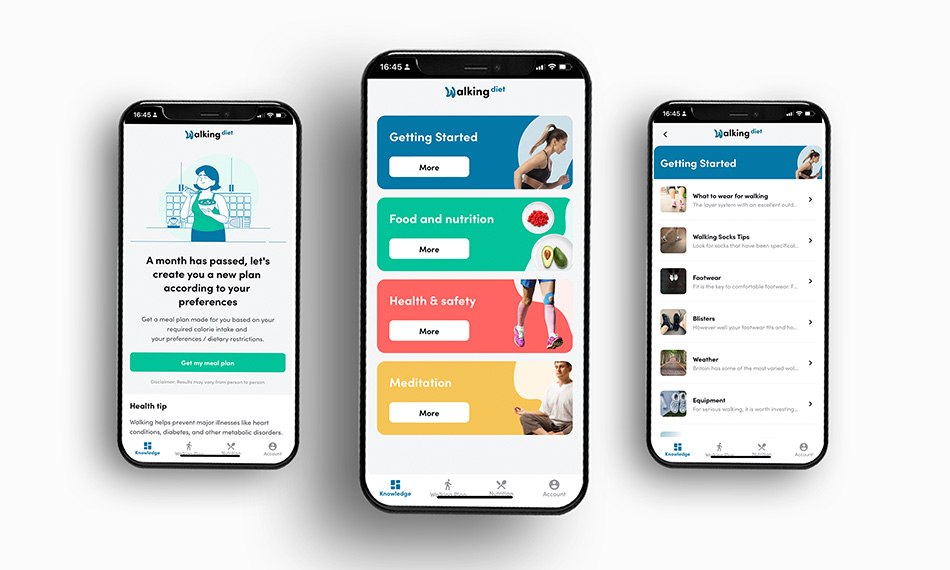 What the Walking.Diet App Could Do Better
As you can see, Walking.Diet has many benefits to help you lose weight and reach your fitness goals. But it could be better. There is nothing inherently wrong with the app, but there is room for improvement and the potential to attract a more extensive customer base.
Here's how I think it could be better:
#1 Have all the features available without extra cost
Walking.Diet is a paid app. When you pay for a subscription service, assuming access to all features is natural. Much to my surprise, there are additional features for an additional cost, including the keto cookbook and private consultation with a trainer and nutritionist.
The cookbook is more of a treat that my clients can live without, but a private consultation could be highly beneficial for many people. I can help my clients change their lives, but having access to an expert nutritionist who can help tackle eating habits is a bonus.
I think an app is more appealing when you get everything for a single fee. Otherwise, you must prepare to invest further to get the best results.
#2 It could cater to more advanced users
This app is perfect for a beginner's fitness level. It's an accessible route to kickstart a weight loss journey when you're new to working out. Unfortunately, it doesn't cater to more advanced fitness levels.
Athletes might indeed get discouraged by walking. Many of my clients at the gym skip daily walks in favor of more intensive exercise. However, the benefits of walking surpass abilities. Even advanced athletes can benefit from aiding recovery to alleviating joint pain.
With more challenges, such as adding a weighted vest or varying speed intervals, I'd feel more inclined to offer it to my higher-level clients.
What Is the Price of the Walking.Diet App?
The Walking.Diet cost differs depending on how long you want to sign up for. After completing the quiz and opting to see my personalized plan, the following prices and discounts became available:
1-month plan: $29.00 (billed monthly)
3-month plan: $54.00 (billed every 3 months)
6-month plan: $66.00 (billed every 6 months)
As you can see below, all plans include a personalized walking plan, warm-up and cool-down workouts, recipes, daily motivation boosts, and expert tips.
What Do Other People Say About the Walking.Diet App?
Customer reviews and real-life recommendations helped support my research into this walking app. While I will always form my own opinion, it's always helpful to uncover the real experiences of others who have tried and tested the program.
There are tons of reviews online from users of all ages. You can read some of them below:
Walking.Diet vs Alternatives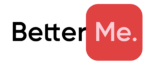 Brand
Walking.Diet
BetterMe
Footpath
Pros
Has workout and nutrition plans prepared by professional coaches and nutritionists
Has a complete guide on body positioning and breathing techniques while walking
Science-backed tips on the diet plan
Good for beginners
Easy-to-follow meal plan
Has custom meal plans
Has international shipping
One-time coaching
It is good for route planning
Measures elevations and distances in seconds
Cons
Some additional features cost extra
It is expensive
Has no walking tracker app
Has no diet plan
Has no dedicated walking plan
My verdict: Walking.Diet is a superior alternative to BetterMe and the Footpath app.
How I Tested the Walking.Diet App
To determine the worthiness of this walking training plan for my clients, I put it to the test by studying a few important factors. Anything I recommend must meet my high expectations, and that means it has to be effective, high-quality, trustworthy, and not overly expensive.
See more details below.
Quality
One of the most important considerations in a fitness program is its quality – I want only the best for my clients! I studied the personalized walking plan in detail, checking things like the nutritional value of the recipes and whether the meals align with sustainable weight loss.
I also reviewed the quality of the walking training plan, including the walking routine, workout intensity, and suitability for beginners. According to reviews, most users report feeling healthier after using this fitness app.
Effectiveness
Next, I wanted to determine if Walking.Diet is effective. Does it succeed in delivering its core services? Does it work as the makers claim?
I checked its suitability for different age groups and body types to ensure its inclusivity for my clients and considered the variation in results before gathering my final verdict.
Price
Most fitness programs are expensive, making them unsustainable and hard to follow long-term. Luckily, the Walking.Diet program offers a subscription model that costs less than $30.00 per month. When you sign up for a longer program, the price decreases.
I'm not sure how the discounts work or when they occur, but hopefully, there is an opportunity for all subscribers to benefit from significant discounts. It's crucial that an app encouraging a healthier lifestyle is affordable to the masses.
Brand reputation
Brand reputation reflects customer loyalty and product quality. Walking.Diet is a reputable brand that balances out diet plans and healthy exercises to help individuals attain their health goals. I can see that the program is well-thought-out by a brand that cares.
FAQs
Is Walking.Diet a legit app?
Yes, the Walking.Diet app is legit. This walking app suits people of all age groups and gives a wealth of information on diet plans, posture, workout plans, and workout progress to ensure long-term success in your fitness journey.
Is it possible to lose weight only by walking?
Yes, brisk walking daily can help melt away the excess pounds. However, combining walking exercises with healthy eating habits yields the best weight loss results. To lose weight faster, you can increase exercise intensity and duration.
How many miles should I walk for a day?
The general recommendation is that healthy adults should walk for about 5 miles a day. This equals about 10,000 steps. Walking fewer than 5,000 steps a day is considered sedentary, and most people do not get enough steps to benefit their health.
Conclusion: Should You Invest in the Walking.Diet App?
I feel confident to say that the Walking.Diet app is a good investment. Despite a few flaws, I'd recommend this app to absolute beginners, those returning to exercise, and anybody who wants an approachable, low-impact program to lose weight.
It doesn't cater to more advanced users. Nevertheless, walking has tons of health benefits, from improving cardiovascular health to lifting mental well-being. So, even if it doesn't physically challenge you, this app may reduce stress levels and make you feel good.
Last update:
October 5, 2023
13 min read
1249 Views
3 Reviews
${TOCSections.eq(0).find('a').text()}