Cardi Health Review: Inside a Doctor's Experience
Last update: September 21, 2023
13
1831
3
Can Cardi Health revolutionize heart health monitoring?
As a doctor, I am always on the lookout for innovative tools that can benefit my patients and I know for a fact that the health of my patients' hearts extends far beyond the clinic's walls.
Cardiovascular health apps are on the rise in this digital age, promising to empower individuals to take charge of their heart health. My curiosity led me to examine and evaluate one of these apps, called Cardi Health. I studied its features, usability, and overall effectiveness.
Join me as I share my honest insights and experiences. We all strive for a healthier heart, but can Cardi Health make a difference?
What Is Cardi Health?
Personalized activity plan to suit the user
Personalized nutrition plan
Takes into account dietary requirements, preferences, and allergies
Action plans generated from the tracking tool
Real-time insights into your heart's health performance
Start Cardi.Health Quiz
Pros
User-friendly mobile app

Blood pressure monitor

Full exercise and nutrition plan

Blood pressure, cholesterol, and heart rate tracking

Real-time insights

Shared health reports

Medication reminders
Cons
Memberships require lump sum payment

Free trial not available
Cardi Health is an app that uses tracking tools alongside a customized health plan to keep your heart performance in check. Benefit from real-time insights, doctor reports, medication reminders, and blood pressure monitoring to remain in control of your heart condition.
As stated by the creators, they intend to aid not only those with high blood pressure or high LDL cholesterol but also to spread awareness for how important it is to take good care of your heart.
As a doctor, I couldn't agree more. It's widely known that the most effective way to maintain good health is to make small changes to your lifestyle at an early age.
By adding exercise to your daily routine and slowly changing your diet, Cardi Health supports your journey towards a healthy life.
Cardi Health Real Customer Reviews
There are many blood pressure apps and heart health apps on the market today, but what makes Cardi Health stand out?
The experiences and feedback I share will be from first-hand customers just like myself. Explore these reviews to gain valuable insights and decide whether Cardi Health is the right choice for you.
Discover how this app has impacted the lives of those who entrusted their cardiovascular health to it.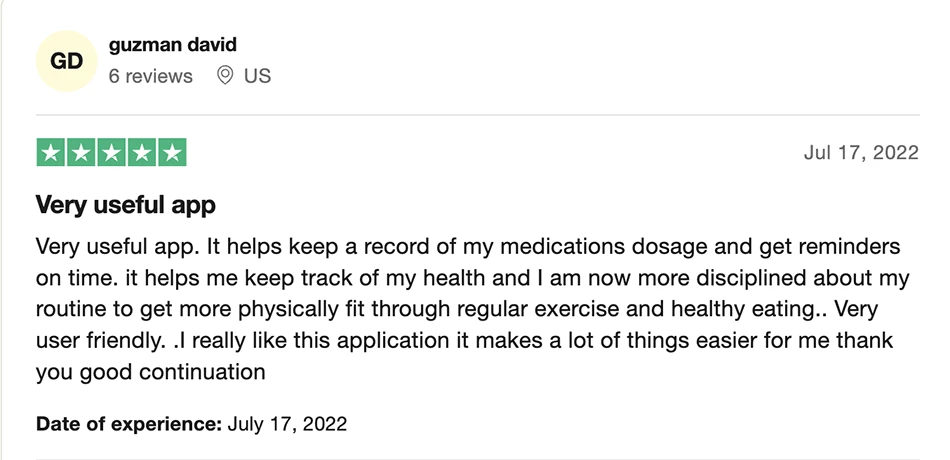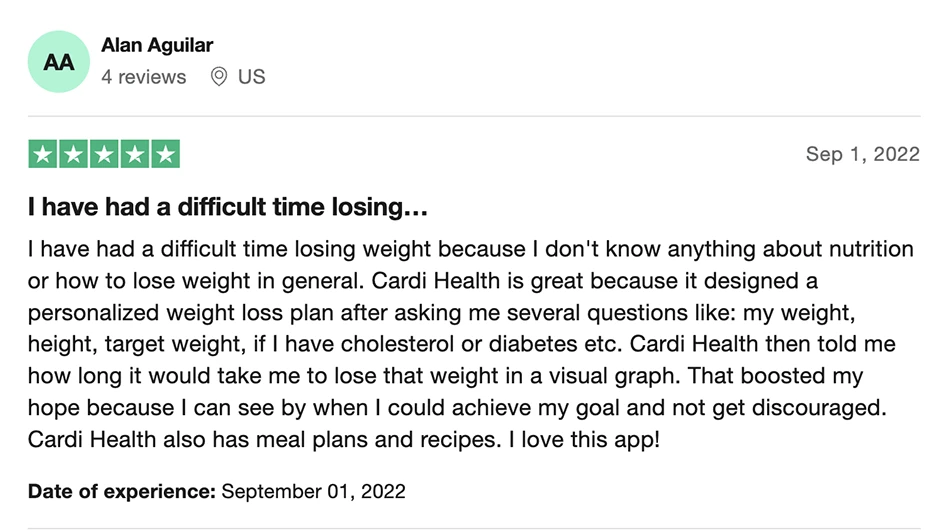 Why And How I Started With Cardi Health
The work I do extends beyond the clinic. Every day, I look for breakthroughs and ways to improve my patients' lives.
As I browsed online, I came across several Cardi Health ads promising personalized cardiac care and convenience. It caught my attention immediately.
Before fully embracing the app, you must take a short quiz. I also took it so I would be able to get the first-hand experience.
The quiz explored everything from lifestyle habits to medical history and gave me an in-depth assessment of my cardiovascular health.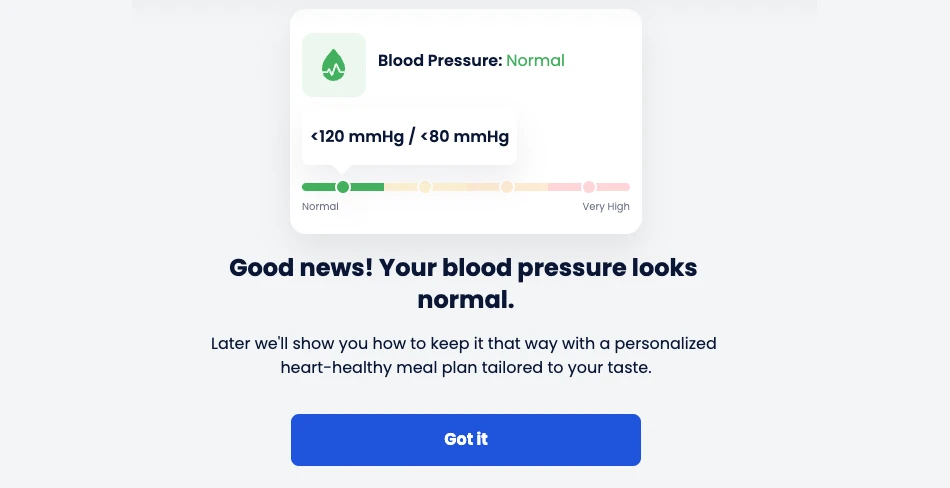 It was evident that Cardi Health was built on a strong foundation of scientific research and expert knowledge, making it a trustworthy tool for individuals seeking to enhance their heart health.
Having been impressed by Cardi Health's accuracy and detailed quiz results, I decided to purchase the 2-month plan as it was the shortest one available.
My first impressions of the app and how does it work
Even though I consider myself tech-savvy, I don't see anyone having a problem using this app. This heart health app is easy to use, intuitive, and you can monitor changes to your heart condition without much hassle.
In addition to personalized exercise routines and diet recommendations, Cardi Health offers in-depth articles and interactive tools that make managing your heart health a breeze.
I think that Cardi Health's emphasis on personalization truly sets it apart. Each person's heart health is unique, so the app adjusts its recommendations accordingly. My personalized insights and actionable steps for improving cardiovascular health were based on factors such as age, gender, medical history, and lifestyle choices. This not only impressed me as a doctor but also mirrored my own approach to patient care.
A Word From Our MD
Rosmy Barrios, MD
Medical advisor for Health Reporter
As the Centers for Disease Control and Prevention rank heart disease as the top cause of death in the US, it's crucial to take control of your heart health before serious problems arise.
High blood pressure and high cholesterol are primary risk factors for heart disease. Returning these numbers to healthy levels is vital to keeping your heart health in check. Other risk factors include an unhealthy diet, lack of physical activity, stress, and smoking.
Aside from regular check-ups with your healthcare provider, modern technology allows people to safely and effectively manage their health. With smart apps on your mobile phone that store everything you need in one place, managing your heart has never been more convenient.
Cardi Health Products
Cardi Health offers more than just its mobile app. This brand offers a three-piece kit that enables you to improve heart health effectively. Let's take a look at the products.
#1 Mobile app
The cardiovascular health app is the face of the brand. As I explained before, it helps to improve heart health and manage heart conditions using your smartphone only. The best part is that you can find everything in one place without switching between multiple apps.
This is the app that instantly and accurately reacts to heart condition changes.
Cardi Health app features
Track your heart condition: You can keep your heart health in check as the app tracks your daily blood pressure, cholesterol, and weight as you work toward healthier levels.
Share health reports: The real-time insights and detailed reports into your condition are particularly useful. You can easily share them with your doctor for expert advice. Plus, if there's a problem or heart condition changes, it accurately reacts so you can address the issue.
Get medication reminders: Receiving medication reminders ensures that you never miss a dose.
Receive weekly and monthly detailed reports: With regular monitoring, the app provides real-time insights and generates doctor reports, so you know exactly what's going on.
Access your nutrition and activity plan: The nutrition plan is where you'll find a diet tailored to you. Meals include heart-healthy foods and recipes that fit your lifestyle. The activity plan helps you increase and monitor your daily physical activity according to your measurements.
Reminders: The app sends you reminders to help you follow through with your action plan. You'll also receive tips on how to manage your HBP and heart rate based on your readings.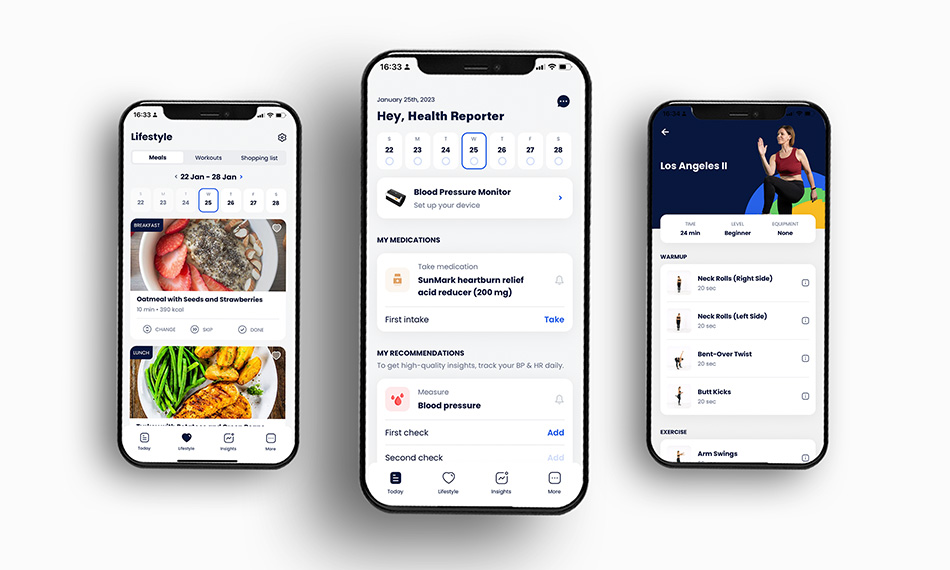 #2 Blood pressure monitor
The smart BP monitor is an essential tool that equips users with the means to keep their blood pressure in check. Regular blood pressure tracking enables you to monitor if your blood pressure is high and get help if needed. Uncontrolled hypertension heightens your risk for serious health complications, including heart attack and stroke.
The combination of the mobile app and blood pressure monitor ensures your measurements are always accurate. After connecting the device to your phone through Bluetooth, your readings are automatically synced and stored in the app.
The monitor is lightweight and pocket-friendly, so you can slide it conveniently into your bag or purse.
Since I have my own BPM at home and the clinic, I haven't purchased Cardi Health BPM and only read reviews about it online.
#3 Cardi Pillbox (coming soon)
Like the blood pressure monitor, the smart pill bottle syncs directly with the app.
It will provide medication reminders to make sure you're getting everything you need in the proper doses and at the right times.
It is another pocket-friendly device you can carry with you anywhere.
4 Benefits of the Cardi Health App
It is impressive to me as a cardiologist that the Cardi Health app offers a variety of benefits for individuals seeking to improve their cardiovascular health. I have listed them below:
#1 It helps to form good habits
In my conversations with patients, I often feel that they see me as strict and demanding. This is all due to the fact that I'm asking them to take their medications, check their blood pressure daily, eat healthier, and move more.
After years of work, I see that some patients have difficulty maintaining habits for the long term or lack motivation to do so. This is where Cardi Health comes in.
This app is remarkable for its ability to teach users how to develop and maintain good habits.
Using gentle reminders and tracking features, Cardi Health encourages people to exercise regularly, eat a balanced diet, and take their medications as prescribed. As a companion on the journey to cultivating healthy habits, it can be relied upon for long-term success.
#2 Personalized meal plan left me speechless
The beginner's quiz ensures you are granted a customized diet plan suited to your current health and future goals. It creates a plan based on your age, sex, height, weight, and family history.
Our patients usually receive general information about what a heart-healthy diet should look like, but this approach is much more effective.
You're sure to enjoy your meal plan as the app considers your ingredient preferences, dietary requirements, allergies, and how much time you have to prepare meals. Customized lists prepare you for healthy grocery shopping, ensuring you buy nutritious foods.
According to what I've seen, all recipes are low-sodium, low-fat, and have plenty of dietary fiber to help regulate blood pressure.
Reducing your sodium intake is a critical part of hypertension management and weight maintenance.
#3 It helps to lose weight
A person who is obese or overweight is at a higher risk of developing heart disease.
Cardi Health app provides tools for setting weight loss goals, tracking progress, and monitoring calorie intake. This way, it empowers users to make wise lifestyle choices that promote weight loss and cardiovascular health by providing valuable insights and guidance.
This app also comes with an activity plan suitable for your physical activity level. A combination of diet and exercise is the best way to lose weight while keeping your body healthy.
#4 It may help to prevent stroke and heart attack
I always emphasize the importance of prevention when it comes to reducing the risk of stroke and heart attack.
Comprehensive resources and information within the Cardi Health app are aimed at educating users about heart disease warning signs, risk factors, and prevention measures.
There are many ways to prevent heart attack and stroke, and it starts with taking control of your health. As the app provides you with the resources to eat healthily, work out, reduce your cholesterol and BP levels, and manage the conditions putting you at risk, it immediately contributes to prevention.
The medication reminders ensure you take your medicine as directed by your doctor as part of a treatment plan.
Cons of the Cardi Health App
My evaluation of the Cardi Health app revealed a few downsides, which I think need to be mentioned as well. This way, you can determine whether this tool suits your long-term health goals.
Below are some cons of the Cardi Health app:
#1 No free trial
There is no free trial option, which is a big drawback I noticed right away.
Having the chance to test out an app before committing to a subscription or payment allows users to evaluate its effectiveness and suitability. Users are unable to make a fully informed decision about whether the app is right for them.
However, you can cancel your membership at any time and also receive a refund within 14 days of your purchase.
#2 There are only three plans available
Another downside is the limited selection of subscription plans.
Currently, the app only offers three plans: two, four, and six months. In order to evaluate the Cardi Health app, I had to subscribe for at least two months.
Those who prefer shorter or longer subscription periods based on their financial preferences or circumstances may find this inconvenient. It would be beneficial if the app provided more options to accommodate a wider range of user needs.
#3 Your heart health must still be checked by a doctor
Cardi health offers various features for monitoring and tracking heart health, but it is important to note that it does not replace a doctor's examination.
While the app has many benefits, a medical professional must still be consulted when assessing heart health. For accurate interpretation of the data provided by the app, users will need additional medical guidance.
How Much Does Cardi Health Cost?
The pricing lacks transparency. There is no pricing information available on the app's website or within the app itself. The price for the plans is revealed after taking a quiz, which can frustrate some users.
The initial health quiz to get started is free, but you must subscribe and pay to receive your personalized plan. You can choose between 2-, 4-, and 6-month plans, with discounts the longer you sign up. It's worth noting that the plans require a lump sum payment.
This review was written with the following price plan in mind:
6-month plan: $11.00 per month, billed every 6 months ($66.00)
4-month plan: $11.50 per month, billed every 4 months ($46.00)
2-month plan: $16.50 per month, billed every 2 months ($33.00)
How to Contact Cardi Health?
In case you need more information or support, you can reach the Cardi Health customer service team online.
Visit the Cardi Health website and look for a Help Center page. You can search for answers there or send a request to their team.
Don't forget to provide Cardi Health with relevant details about your issue or question. The customer service team will be able to provide you with more accurate and appropriate assistance as a result of this information.
Cardi Health vs. Alternatives
Comparison Winner: Cardi.Health

Pros
Heart rate, cholesterol, and blood pressure tracking
Real-time insights
Medication reminders
Generates doctor reports
Nutrition and exercise plan
Real-time insights
Long battery life
Blood pressure monitoring
ECG tracking
Doctor reports
Triple measurement reading
Detects irregular heartbeat
Elegant design for everyday wear
Generates doctor reports
Cons
No nutrition or exercise plan
Expensive
No nutrition or exercise plan
Easy to use but less sophisticated than other products
No nutrition or exercise plan
Customers claim it has a short lifespan and have encountered technical issues with the device
No nutrition or exercise plan
Customer reviews claim the device is unreliable
Expensive
How I Evaluated Cardi Health App
To compile my review, I explored the product in detail and compared it with similar leading brands in the industry.
Here's how I rated Cardi Health for the following aspects:
Quality 9/10
When evaluating the Cardi Health app, I assessed several key factors to determine its overall quality and effectiveness. Here's how I evaluated the app:
I was impressed by the overall design and usability of the Cardi Health app. The app's graphics and visual presentation contributed to a positive user experience for users of any age group. Users of any age group could easily navigate the features and access the information they need.
This makes the app 9 out of 10 in terms of quality.
Effectiveness 8/10
Next, I evaluated how well the Cardi Health app met its intended purpose of monitoring and tracking heart health.
A number of features were available in the app, including heart rate monitoring, activity tracking, and personalized meal and workout plans.
In my opinion, these functionalities provide users with valuable insights into their cardiovascular health. Despite being generally accurate, there were times when the readings seemed slightly off.
Accordingly, I give the app an 8 out of 10.
Price 8/10
A lack of transparency regarding subscription plan costs and the absence of a trial version disappointed me.
Even so, I find the price reasonable, given the quality and features of the app. My rating for the app's pricing is 8 out of 10.
Brand reputation 9/10
The brand has a strong reputation, with multiple positive reviews from customers that find it easy to use. The company created it in line with expert guidelines for controlling and preventing heart diseases. You can rest assured that the diet and exercise plans are developed from responsible sources.
FAQs
Is Cardi Health legit?
Yes, it is a legitimate brand from the leading digital health company Innodiets. It offers a health app that instantly and accurately reacts to changes in cardiovascular health to help users better manage and control heart conditions, including high blood pressure and cholesterol.
Can I use Cardi Health if I have diabetes?
Yes, you can use the Cardi Health app if you have diabetes. Many people with diabetes have high blood pressure, and Cardi Health can help return your blood pressure to healthy levels. However, you should consult your doctor before using an app to manage your diabetes.
How to contact Cardi Health?
You can contact the team by sending an email to [email protected]. Here you can inform the company of any questions or queries you have, and somebody from the team will get back to you. You can find further information on the brand's official website.
Is the Cardi Health app free?
No, the app is not free. While you can provide your answers to the quiz free of charge, you need to purchase a membership plan to acquire access to tracking tools and your personalized meal and fitness plan. You can purchase a 6-month plan for $11 per month ($66 per year).
Conclusion
Having thoroughly evaluated Cardi Health, I find it to be a useful tool for anyone interested in monitoring and tracking their heart health.
Users will enjoy the app's user-friendly interface and visually appealing design. Though there were occasional discrepancies in measurements, the app provided valuable insights into cardiovascular health overall.
Cardi Health's reasonable pricing and positive brand reputation among health and wellness consumers make it an excellent choice for those who prioritize their heart health.
Last update:
September 21, 2023
13 min read
1831 Views
3 Reviews