Align Probiotic Review: What You Need to Know
Last update: September 4, 2023
12
91
0
Are you looking for an effective probiotic to support your digestive health and improve your overall well-being? If so, you're in the right place!
Probiotics are all the rage in the health and wellness community. Consumers and medical professionals alike believe that probiotic supplements can support your overall health through digestive support.
Whether you suffer from digestive issues such as irritable bowel syndrome (IBS), hope to boost your immune system, or simply want to achieve a healthy gut, understanding the key components of probiotics like Align will enable you to make an informed decision and choose a product that best suits your needs.
In this detailed and honest review, I reveal the ins and outs of Align Probiotic, a leading health and wellness supplement brand dedicated to promoting a healthy digestive system, improving overall gut health, and supporting the immune system.
Read on to see if this is a supplement you should be adding to your daily routine.
What Is Align Probiotic?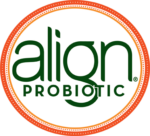 Improves overall digestive health
Relieves occasional digestive discomfort
Boosts immunity
Prevents bloating, gas, and cramps
Learn More
Pros
Contains a researched strain

Gluten and soy-free

Easy consumption
Cons
Low CFU volume

Different users get different results

Not lactose-free

Company has been involved in legal disputes
Align Probiotic is a health and wellness brand that provides carefully crafted supplements to address various health concerns, such as intestinal dysfunction, and to support everyday bodily functions.
Align Probiotic aims to help customers create a thriving gut environment to ensure that healthy bacteria can thrive. In doing so, Align's supplements are said to help your body eliminate unwanted and harmful microbes that otherwise disrupt the stability of your gut environment.
Align Probiotic range
Align's prebiotic and probiotic range offers a variety of specialized supplements designed to improve your digestive system, support overall wellness, and promote a healthy digestive system for children. Their wide variety of supplements demonstrates the brand's commitment to providing holistic gut health support for all ages.
To save you time and effort, I've researched Align's entire range of supplements. Here's a breakdown of what the brand has to offer:
Probiotic Supplement 24/7 Digestive Support
Extra Strength Probiotic Supplement
Women's Dual Action Probiotic Supplement
Women's Health Prebiotic + Probiotic Supplement Gummies
Digestive De-Stress Probiotic + Ashwagandha Capsules or Gummies
DualBiotic Prebiotic + Probiotic Gummies Supplement
Digestive Health Prebiotic + Probiotic Supplement Gummies
Fast-Acting Biotic Gummies
Gut Health + Immune Prebiotic Probiotics Supplement Gummies
Kids Probiotic Supplement Gummies
Probiotic Chewables for Adults Supplement
Probiotics Supplement, Gut Health, & Immunity Support
Probiotic Bloating Relief + Food Digestion Capsules
Who Are Align Probiotic Supplements For?
Align Probiotic supplements cater to a range of individuals and specific needs. From women's health to children's well-being, Align's probiotics aim to provide targeted digestive tract and wellness support. Here's who can benefit from these supplements:
Women: Align provides women's wellness supplements that offer a unique blend of probiotics and botanical ingredients. These supplements are intended to encourage a healthy digestive system while supporting feminine health, such as stabilizing monthly mood balance and maintaining vaginal health.
Children: Align's probiotic supplements cater to children, offering a gentle and healthy solution that introduces good bacteria into little one's tummies. Through carefully selected probiotic and prebiotic strains, Align's child-friendly supplements offer a tasty solution to aid gut health and prevent digestive issues.
Sufferers of irregular digestion and irritable bowel syndrome: You may find Align's probiotics beneficial if you suffer from irregular digestion or irritable bowel syndrome.
Containing a potent probiotic strain called Bifidobacterium longum 35624, Align's products are designed to alleviate uncomfortable digestive problems and IBS symptoms, such as abdominal pain.
Daily wellness seekers: Align's products aren't limited to a specific demographic. If you're committed to enhancing your overall wellness and gut health, Align's supplements could help you achieve your health goals.
Offering a range of probiotics and prebiotics combined with botanical ingredients, these supplements could offer daily digestive support, stronger immunity, and improved mental well-being.
Important note: While Align's supplements cater to many specific needs, they may not be suited to every individual.
If you're pregnant or suffer from underlying health conditions, such as lactose intolerance, these supplements may not be appropriate. Before consuming any form of health supplements, I strongly advise you to seek expert advice from a medical professional to determine whether the product is right.
Why I Decided to Test Align Probiotic
As a dedicated medical professional with a passion for holistic wellness, I was drawn to Align's claim to be the "#1 Doctor Recommended Brand" and wanted to put the brand's bold statement to the test.
My primary goal in conducting this review was to demonstrate the efficacy of Align's products and empower my patients and curious shoppers to decide if these probiotics are right for them.
Align's commitment to providing a wide variety of digestive and wellness supplements aligns perfectly with my quest to find safe and effective gut health solutions for my patients.
After reviewing Align Probiotic, I decided to focus on the brand's Probiotic Supplement 24/7 Digestive Support, as this product addresses the needs of my patients.
Using my medical expertise to conduct extensive research, meticulous testing, and thoughtful analysis, I pinpointed the key benefits that determine the effectiveness of this probiotic supplement.
How Does Align Probiotic 24/7 Digestive Support Work?
Align's 24/7 Digestive Support supplement features the probiotic strain Bifidobacterium longum 35624, which is a primary mechanism that aids smooth digestion and encourages a harmonious balance in the gut microbiome.
Once ingested, this probiotic strain can thrive within the digestive system, allowing it to colonize and stabilize the gut to provide targeted digestive relief.
By encouraging the growth of these good bacteria, the supplement can effectively eliminate harmful microbes. This can contribute to improved digestive system function and alleviate common digestive symptoms, such as bloating and excessive gas.
Important note: The efficacy of Align's Probiotic supplement may differ from person to person. Factors such as diet, medications, and lifestyle can significantly affect your body's response to this supplement. You can receive expert advice from a medical professional to determine whether Align's products will effectively help you.
How to Take Align Probiotic 24/7 Digestive Support
To reap the potential benefits of this probiotic supplement, Align recommends taking one capsule daily.
You can easily incorporate this supplement into your routine by taking one capsule with a glass of water at a time that is convenient for you, such as morning or noon. For optimal results, this supplement should be taken at the same time each day, as this may help maintain a balanced level of healthy bacteria in your gut.
As with any dietary supplement, follow the recommended dosage as stated on the package or in the directions for use, and consult a healthcare professional with any health concerns or questions before beginning your supplement regimen.
What Are the Key Ingredients in Align Probiotic 24/7 Digestive Support?
The Align Probiotic 24/7 Digestive Support supplement contains just one active ingredient, which is Bifidobacterium longum 35624. This is a probiotic strain recognized by medical professionals for cultivating the digestive tract with good bacteria.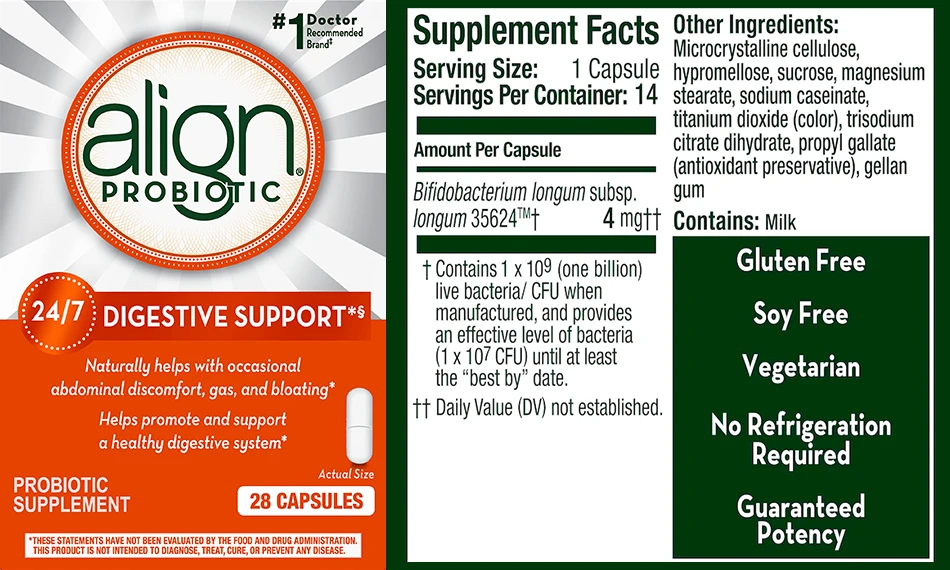 By establishing a presence in the gut, this probiotic can suppress harmful microorganisms and support beneficial microbes, thereby improving digestion and abdominal comfort.
This key ingredient has been the subject of numerous studies, proving its efficacy as an effective digestive support.
For instance, a clinical study found that 57% of patients with IBS symptoms experienced less severe discomfort after taking one daily probiotic capsule. Additionally, 64% reported they were satisfied with the results of this particular probiotic strain.
However, Align's formula does contain a few questionable inactive ingredients. Titanium oxide is a colorant that may cause damage to DNA, while the propyl gallate preservative can be slightly toxic when ingested.
Furthermore, sucrose, or table sugar, is added to the supplement. When consumed in excess, this increases your risk of obesity and heart disease.
What I Liked About Align's Probiotic 24/7 Digestive Support: 5 Main Benefits
Upon conducting my research on Align's Probiotic 24/7 Digestive Support supplement, I discovered several attractive benefits, which present significant advantages. Here's a short list of 5 key benefits:
#1 Improves digestive health
I noticed that Align's probiotic product offers the potential for better digestion thanks to its key active ingredient, Bifidobacterium longum 25624. This can lead to a reduction in digestive discomfort for my patients suffering from bloating, excess gas, stomach cramps, and diarrhea.
#2 Easy to take
Because this supplement comes in a small capsule form and only needs to be taken once a day with water, it offers a simple solution to alleviating gastrointestinal issues. As a result, I'd recommend Align Probiotic to patients who have difficulty swallowing large capsules and are looking for a convenient way to improve their gut health.
#3 Probiotic strain is science-backed
Bifidobacterium longum 35624, the key probiotic strain in this supplement, has been proven effective in numerous scientific studies, which is why I'm happy to recommend it to my patients. It is a credible ingredient with significant potential to alleviate digestive symptoms and promote a functional gut.
#4 Gluten and soy-free
Align's probiotic capsules are mindfully crafted to ensure individuals with gluten and soy intolerances/allergies can safely consume them without compromising their dietary needs. I'm always looking for supplements that are accessible to the majority of my patients, and Align is now at the top of my list.
#5 Strengthens the immune system
Gut health is closely linked with immunity. Because these supplements can potentially support gut function, they can indirectly contribute to the well-being of your immune system, therefore protecting my patients with autoimmune diseases or who simply want to fight off that winter flu.
Downsides of Align's Probiotic 24/7 Digestive Support
I encountered some drawbacks when evaluating Align's Probiotic 24/7 Digestive Support supplement. Acknowledging the following drawbacks will further inform your search for appropriate probiotics:
#1 You may experience gas and bloating at first
Upon introducing the product's probiotic strains into your gut, you may experience some adjustive symptoms, such as bloating and gas. However, this is common with most probiotic supplements I've come across, and these usually subside once your body adapts to the supplement.
#2 CFU count could be higher
Colony-forming units (CFUs) refers to the amount of live friendly bacteria that a probiotic supplement delivers to the gut. For them to be considered highly effective and potent, probiotics should contain between 10 and 20 billion CFUs. Align contains only one billion CFUs, which is low when compared to other products I've seen.
#3 Not lactose-free
Unfortunately, this supplement contains lactose, so I can't recommend it to my patients with an allergy. However, it only contains trace amounts, so it may or may not be okay for those with lactose intolerance, depending on the severity. However, I'd encourage you to talk to your doctor before taking the supplement.
#4 Doesn't contain prebiotic fiber
Unlike many other probiotics, Align's 24/7 Digestive Support does not contain prebiotic fiber, which feeds and nourishes the good bacteria in your gut. The absence of this ingredient may limit the effectiveness of the probiotic strains.
#5 There have been some legal issues
In the past, Align Probiotic has faced some legal implications related to its potentially deceitful claims. However, with a significant amount of studies supporting the efficacy of the product's key probiotic, it's likely the brand has since lived up to its claims.
What Is the Price of Align Probiotic 24/7 Digestive Support?
Depending on the retailer, the price of Align's Probiotic 24/7 Digestive Support supplement varies between $19.95 and $22.99. When you purchase this product, Align upholds a "100% Satisfaction Guaranteed or Your Money Back" promise, allowing you to receive a refund if you don't experience the desired results.
What Do Other Users Think About Align Probiotic?
While browsing Align's official website and various other independent review sites, I came across many positive reviews from buyers. Here are a few examples of what other users are saying about Align Probiotic:
This individual criticized the size of the capsules but found the effects beneficial and effective.
Unlike the individual above, this person found the capsules easy to swallow and successfully incorporated Align's probiotics into their daily routine with minimal effort.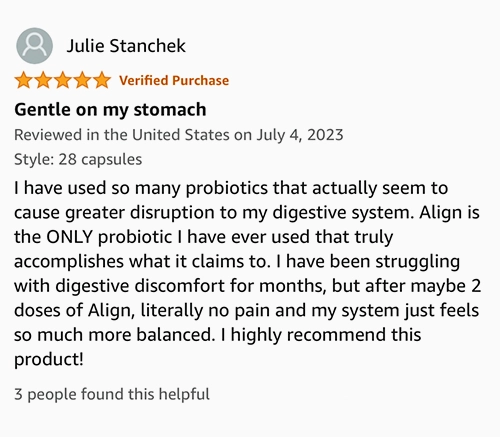 Similarly, this user found that Align stood out from other probiotics for its effectiveness in soothing her digestive discomfort.
Comparison Table
I have formulated the following comparative table to help you understand how Align's probiotic supplement differs from alternative leading brands: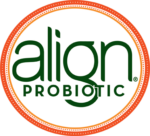 Pros
Diverse strain blend
High CFU volume
Positive customer reviews
Customized formulas
Rooted in medicine
No subscription needed
Contains a researched strain
Gluten and soy-free
Easy consumption
Cons
Costly
Potentially overstimulating
Limited availability
Costly
Results vary between individuals
Lack of customer reviews
Low CFU volume
Different users get different results
Not lactose-free
FAQs
Is Align better than other probiotics?
Align Probiotic has a moderate score of 3.9 and offers some significant benefits, including scientifically proven probiotics. However, determining which supplement is better depends entirely on your individual needs and preferences.
Which Align Probiotic is best?
Determining which Align product is best for you depends on your health goals and needs. For example, the 24/7 Digestive Support Capsules may be best for those struggling with occasional abdominal discomfort, gas, and bloating. Consult with a healthcare professional to determine which Align supplement best suits your health concerns.
What are the side effects of Align Probiotic?
The potential side effects of using Align Probiotic supplements include gas and bloating. However, these symptoms can potentially subside once your gut adjusts to the new beneficial bacteria being introduced into your body.
Where can you buy Align Probiotic?
Align Probiotic products are available to purchase from various retailers, including Amazon and Walgreens. To find a retailer, visit the official Align Probiotic Site.
How I Tested Align Probiotic
In order to provide a cohesive review of Align Probiotic, I tested the brand's supplements against the following criteria:
Quality 7/10
Align Prebiotic packages its capsules in airtight packaging to ensure potency. The brand's products are also gluten-free, soy-free and vegetarian-friendly. They are made primarily with high-quality ingredients and a well-researched probiotic strain, making them physician-recommended.
However, because Align's products contain traces of lactose, they aren't suitable for vegans or lactose-intolerant people. I, therefore, deducted 3 points.
Effectiveness 7/10
Fortified with a clinically proven probiotic strain, Align's supplements boast potential efficacy. However, due to the minimal amount of CFU and lack of prebiotic fiber in selected products, I have chosen to eliminate 3 points.
Price 7/10
With prices varying between $19.95 and $22.99 for the 24/7 Support Digestive Support supplement, Align seems to reasonably price its products. However, because there aren't any current promotions or deals, I have knocked 3 points off.
Brand reputation 7/10
With a number of positive reviews on the official Align Probiotic website and a key ingredient that's backed by science, Align seems to have a solid brand reputation within the health and wellness industry.
However, many of the brand's reviews are due to manufacturer incentives, meaning they are endorsed. In addition, the brand has been in legal trouble in the past for making unsubstantiated claims about its products. For these reasons, I have deducted 3 points.
A Word From Our MD
The presence of Bifidobacterium longum 35624 in Align's supplements offers promising results that can potentially alleviate uncomfortable digestive symptoms, promote a balanced gut, and even support your immunity. These probiotics are also suitable for individuals with gluten and soy intolerances, as well as vegetarians.
However, Align products are not suitable for lactose intolerant individuals or vegans due to traces of lactose. Ensuring that you carefully review the ingredients and function of Align's supplements before consuming them is paramount to ensuring that you can safely consume their products.
Although taking supplements is a convenient way of getting plenty of friendly bacteria into your body, you can also find them naturally in many healthy beverages and probiotic foods. Try to include kefir, kombucha, Greek yogurt, aged cheeses, sauerkraut, and pickled foods in your diet.
Before taking any supplements, always ensure you consult with a licensed medical professional to evaluate your health needs accordingly.
Conclusion: Why Is It Worth a Try?
Because Align's products offer an effective probiotic strain, these supplements show promise for alleviating digestive discomfort and promoting a healthy functioning gut. Align's focus on promoting gut health and overall wellness makes this brand a compelling candidate that's potentially worth trying.
However, individual results can vary, so you may want to look at some of the other best probiotics on the market to select a supplement that is more suitable to your needs.
Remember to always consult with a medical professional before taking any dietary products to ensure you develop a safe and effective supplement regimen.
Last update:
September 4, 2023
12 min read
91 Views
0 Reviews