Hair Types: Understanding the Differences and Textures
Last update: April 27, 2023
9
518
0
There are a few hair types that come with their own characteristics. Learning about each type can help you form the best personal haircare routine. Discover the four types of hair and how to manage them.
Your hair is completely unique when it comes to growth rate, genetics, and thickness, but it will always fall under a certain curl pattern category.
A person's hair type is based on the shape of their hair follicles. Oval or asymmetrical follicles tend to produce curly hair strands. This is all based on your DNA and whether the hair type runs in your family.
Learning more about your hair type can help you choose the best haircare products. Everyone has unique preferences, so you may need a completely different styling routine than others.
Discover the four hair types in our chart and how you can use yours to create a healthy hair wash and styling routine.
What Does Hair Texture Mean?
Hair texture determines the thickness, curl, and width of each strand. You either have fine, medium, or thick hair, depending on your genetics. Someone with thin hair may be able to see more of their scalp because each strand is fine and fragile.
The curl pattern also falls under the hair texture category. For example, if you pluck out a hair strand and it curls slightly, you have wavy hair. Other people may find that their hair is dead straight after letting it dry completely.
You can separate hair texture into four categories; straight, wavy, curly, and coily. Your specific hair type will fall into one of these. It's important to note that hair density doesn't impact or change your hair texture. How much hair you actually have depends on genetics rather than the curl pattern.
Hair Type Chart
There are several characteristics of each hair type. Curl patterns, texture, and oiliness determine which type of hair you have. You can study these factors to create the best haircare routine for your healthy locks.
Learn more about hair types in the chart below:
Hair type
Curl pattern
Texture
Oiliness
Straight
No curl pattern or waves

The hair is completely straight
Straight locks tend to be soft and smooth

It's common for people with type 1 to have thinner hair compared to the other types

Hair can be flat against the head and not have much shape
Type 1 gets greasy more often because the oils don't have to penetrate any curls

Straight hair also looks thinner on the scalp, which naturally shows more oils
Wavy
Small to medium waves that form an "S" shape

This hair does not form springs or coils

Some people describe them as loose or beachy waves
Type 2 usually has more volume due to the extra thickness from the waves

Wavy hair has a slightly textured appearance
The wavy texture and shape of type 2 hair means it produces fewer oils

It may take an extra day or two to notice greasy roots
Curly
Tighter and thicker curls that add more thickness

The spiral curls usually form bouncy loops around the face
Coarse texture due to the mixture of curls in the hair

The thick hair strands may get knotted easily, which can feel rough when brushed out

People may have more volume in the ends of their hair rather than the roots
People with type 3 hair don't get oily roots on a regular basis

It's common for curly hair to retain more dirt and product residue
Coily
Mass of tight ringlets that make the hair protrude outward from the face

Coily hair is usually much harder to style because of the corkscrew texture
Spongy and fragile hair due to a large number of coils

Type 4 can feel dry because the hair is brittle and weak

People with this hair have volume in their roots and ends due to the thickness and variety of curls
Those with type 4 hair don't ever notice oils because the curls cover their roots

However, they get more product buildup because dry hair holds onto dirt
#1 Type 1 – Straight hair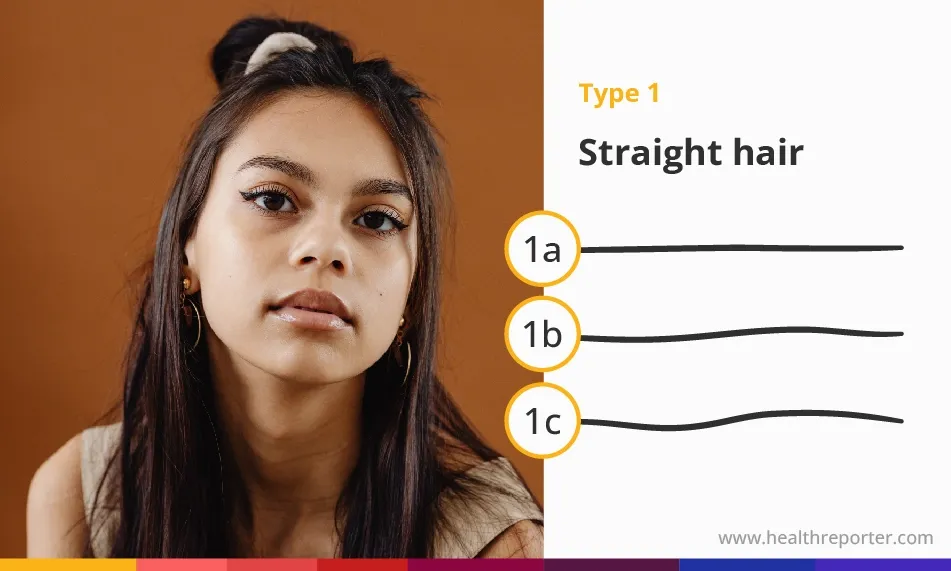 People who fall under the type 1 category usually have straight hair. Each hair strand is smooth and flat, meaning there isn't much volume compared to someone with curly locks. Type 1 hair can struggle to hold onto curls due to the thinner texture, making it challenging to use heat-styling tools.
Straight locks also appear shinier because the natural sebum oils travel from root to tip. This can lead to more greasy roots, even hours after washing the scalp. Many people do a scalp massage daily to increase the thickness and texture of their hair strands.
Research suggests that a scalp massage can increase hair thickness and growth due to stimulated blood flow.
To care for this hair type, you need to use moisturizing hair masks that add volume. You may also use rice water to reduce the amount of grease on your roots and remove excess product buildup.
#2 Type 2 – Wavy hair
Type 2 hair means that you have slight waves and minimal curls. These waves are S-shaped and thicker than straight hair. People with wavy hair tend to have less greasy roots because the oils cannot travel down the hair shaft as much.
You can define type 2 hair by a few characteristics. Some of these include more dryness, frizziness in humid environments, and extra root volume. A study found that coconut oil can prevent wavy hair from getting dry and snapping off.
Caring for your wavy hair requires a simple routine. Use a gentle shampoo once or twice a week to eliminate product buildup, and try a deep conditioning hair treatment for dryness. It's also worth using liquid gels to maintain loose waves.
If you want to maintain the appearance of waves, try not to touch your hair as much when styling or brushing. This can cause more oil to show through, which can interfere with certain hair products. Type 2 may also be harder to style because the waves are thicker and more resistant to styling.
#3 Type 3 – Curly hair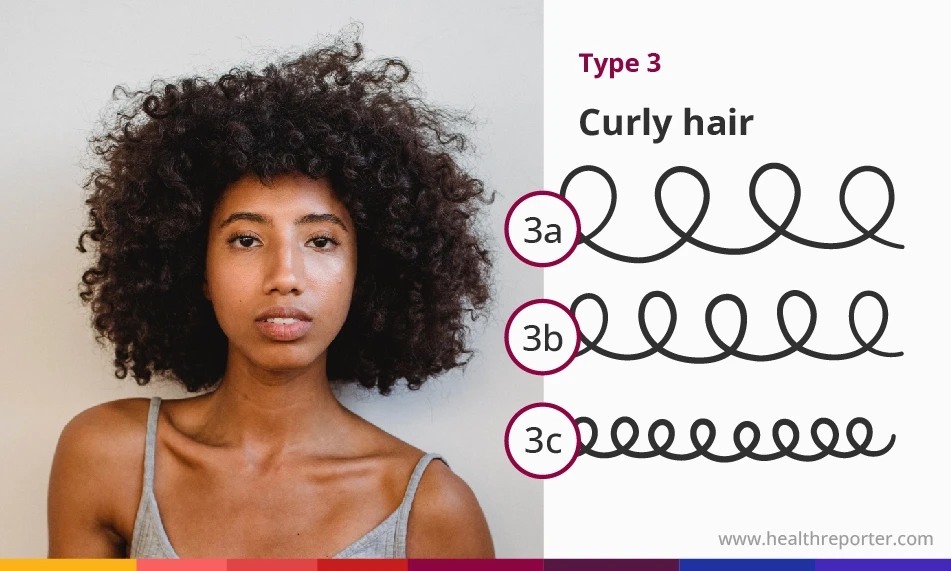 Those with type 3 hair have tighter and thicker curls. These curls tend to have a ringlet shape due to the combination of textures and wave patterns. When the hair is wet, it forms loose curls before turning into curly tendrils upon drying.
Curly hair may be challenging to tame because it is bouncy and voluminous. The tight curls are more prone to frizz and heat damage, which encourages dreaded hair loss. However, it's important to follow the right routine for this curly hair type.
You could take collagen supplements to prevent hair loss and maintain the health of your natural hair type. Studies have proven that collagen boosts blood circulation in the scalp, which helps to stimulate hair growth.
The best way of caring for curly hair is to dry it using a microfiber towel or cotton shirt. This method ensures you're not snagging the curls on a standard towel or using too much heat from a blow dryer. You also need to use the right haircare products that nourish dry and weak hair strands.
#4 Type 4 – Coily hair
Coily hair, which has a spongy texture and dense thickness, falls under type 4. People with this hair type have S-pattern coils that make the small ringlets stand out from the scalp. This texture may be thin, fragile, and coarse, depending on the person's genetics and haircare routine.
Anyone with this type of hair may struggle to keep it under control. The mass of tight curls adds incredible amounts of volume, which can be hard to tame.
For type 4 hair, it's all about hydration and moisture retention. You need nourishing shampoos that prevent your hair from dying out. Consider trying an avocado hair mask to replenish dry and dehydrated hair strands.
Don't be afraid to cut your hair, either. Chopping off split ends can help lower the volume and prevent any hair loss.
How to Determine Your Hair Type?
The hair typing system is useful to look at, but it may not help you determine your own hair texture and curl pattern. Many people study their type of hair at home by following some simple techniques.
Here are ways you can determine your natural hair type:
#1 Let your hair air dry after a wash
You can perform your normal hair wash routine, but let your hair dry afterward. This method allows each strand to dry naturally without styling products or heat. Once it is dry, look in the mirror to see how your hair falls around your face and shoulders. Straight hair won't have any waves, while curly hair becomes more prominent.
#2 Feel a hair strand between your fingers
Take a single piece of hair between your fingers and rub it back and forth. If the hair is thick and has a slight curl, you most likely have type 2 hair. Straight strands usually feel thinner because they have minimal to no curl pattern.
For type 3 and 4 hair, your strands should be coarse and extra curly. Some people may find that their hair is dry because it struggles to retain moisture.
#3 Don't wash your hair for a week
Consider letting your natural oils come through after a week of no shampoo. Straight hair types can get greasy fairly quickly due to the lack of root volume. Someone with a curly hair type, whether that's loose waves or tight coils, will experience less oils on their roots and mid-length strands.
Remember that fine hair shows more grease, as there isn't enough hair to cover the scalp and hide any sebum oil. Thick hair conceals oils better, depending on the color, density, and overall texture.
During this time, try not to use any hair products that could affect your curl pattern. Instead, wash your hair like normal and leave it completely natural for 5–7 days. That way, your hair can naturally take its shape.
#4 Put a hair strand on a flat surface
Pluck a hair strand from the top of your scalp and place it on a table. You can determine whether the strand has any curl depending on the way it sits naturally. Dead straight hair means you have type 1, a very slight wave means type 2, and a full curl can be either type 3 or 4.
If you follow this technique, make sure your hair is completely dry and free from styling products like a leave-in conditioner or oil.
#5 Speak to a hair professional
Consider speaking to a hair stylist about your specific hair type. They have more experience when it comes to identifying texture, density, oiliness, and curl pattern. It's also worth seeking advice about how to maintain and protect your hair using suitable hair products, such as conditioning treatments and nourishing shampoos.
FAQs
Does hair density affect hair type?
No, hair density has nothing to do with your hair type. Density only refers to the number of hair strands per square inch, whereas texture defines the thickness of each strand and how it naturally sits.
What is the fastest way to determine hair type?
You can check your hair type by washing your hair and leaving it to air dry. This way, your hair can take its natural shape without the interference of styling products or humid environments that make it go frizzy.
Should I pick a hair product according to my hair type?
Yes, choosing the right products can help you tame and protect your hair. For example, curly hair types may require a nourishing oil and styling mousse to stop the curls from becoming dry and tangled.
A Word From a Trichologist
The four main hair types have unique characteristics, which help to identify their curl pattern, texture, and grease tolerance. Learning about your type of hair can help you create the best routine using gentle hair creams and nourishing treatments that prevent stubborn dryness.
Personal haircare doesn't just focus on the products. You can follow healthy habits to promote hair growth or breakage. For example, avoid tight hairstyles wherever possible, as they can strain your hair follicles. Regular haircuts and eating specific foods could make your hair grow faster.
Some foods include eggs, spinach, berries, salmon, and avocados. They contain protein and biotin, which are two essential nutrients that replenish your scalp. Not many people realize that dietary factors play a huge role in hair health.
For more advice on hair treatment, speak to a professional. You can learn more about your type of hair and how it responds to certain products, foods, hairstyles, and environments.
Conclusion
There are four distinct hair types; straight, wavy, curly, and coily. You can let your hair dry or feel a single strand between your fingers to determine the type. Understanding more about your hair can help you choose the best products to clean, revive, nourish, protect, and maintain it.
Last update:
April 27, 2023
9 min read
518 Views
0 Comments
${TOCSections.eq(0).find('a').text()}