Does Losartan Affect Heart Rate? The Drug, Side Effects, and Usage
Last update: October 12, 2023
5
1267
0
Many people rely on losartan to treat high blood pressure and other health conditions. But as with any drug, it may bring adverse effects. Find out whether losartan affects heart rate, how it impacts blood pressure, side effects of losartan, and more.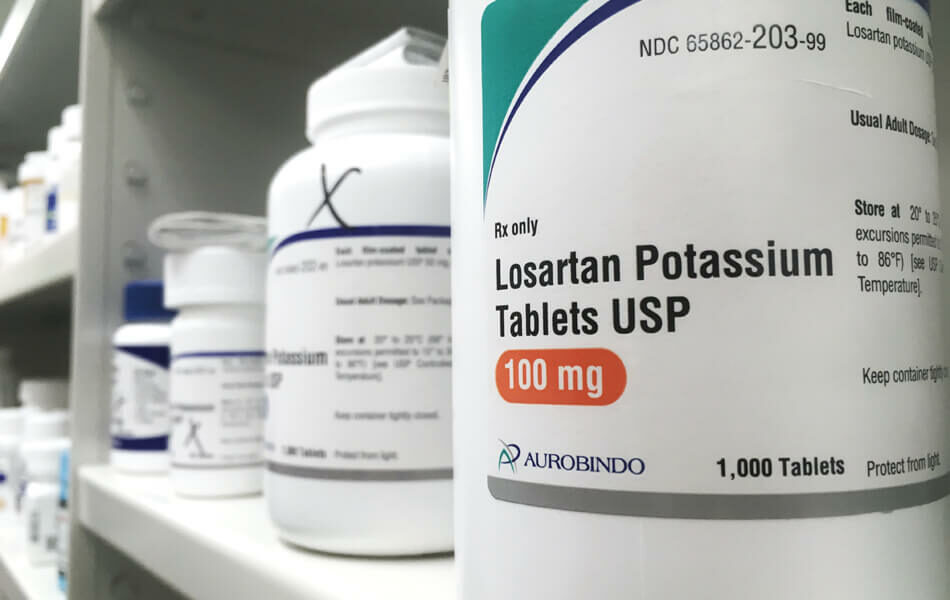 Suppose you're going to take regular medication to treat a health condition. In that case, it is critical for you and your doctor to weigh out the advantages and disadvantages of a particular medicine. That way, you can determine that the product is right for you and discuss alternatives if necessary.
Like any prescription drug, there are always possible side effects. From digestive discomfort to mood disorders, there are a variety of side effects that may or may not affect you upon taking medication.
Symptoms can be mild and severe, depending on your body's reaction to the drug. It's normal to raise concern over any matters relating to the heart. Noticing a change in the pace of your heartbeats can be alarming, especially if you experience palpitations.
If you're wondering whether taking losartan affects your heart rate, keep reading. In this article, we discuss losartan, how it works, and whether it has an impact on heart rate.
Does Losartan Affect Heart Rate?
Losartan is known for lowering blood pressure, but it may also influence your heart rate. Although rare, a fast or irregular heartbeat, or heart palpitations, is a potential side effect of losartan that you should report to your healthcare professional as soon as possible should you experience it.
A change in heart rate from losartan is considered a serious side effect and is likely caused by an increase in potassium levels.
Losartan contains potassium which brings the potential risk of users developing high potassium levels. High potassium levels in the blood can cause symptoms, including heart palpitations, heart rhythm problems, shortness of breath, and slow heart rate.
Most people can tolerate high levels of potassium as the kidneys excrete it from your system. However, people with kidney failure or poor kidney function cannot remove enough potassium through the kidneys, causing levels to rise.
Additionally, if losartan causes you to develop low blood pressure, it may cause an increase in heart rate as the blood vessels narrow to help stabilize blood pressure levels.
What Is Losartan?
Losartan is a medication used alone or along with other medicines to treat high blood pressure (hypertension), heart failure, and kidney problems in people with diabetes. It is among a group of drugs called angiotensin receptor blockers (ARBs), also called angiotensin II receptor antagonists. 
It works by relaxing the blood vessels to lower blood pressure. This enables blood and oxygen to travel more freely to the heart and throughout the body. In lowering blood pressure, losartan also works to reduce the risk of stroke, heart attack, and kidney damage.
Losartan comes in oral tablet form and is prescription-only. You may recognize losartan under the US brand name Cozaar, among other generic brand names.
How Much Does Losartan Lower Blood Pressure?
The primary purpose of losartan is to lower blood pressure. Studies have shown losartan to be an effective medication for reducing hypertension, with significant results. How much it affects blood pressure depends on factors such as the dosage, the strength, the individual, and the reason for treatment.
In hypertensive patients with a BP reading of 160–200mmHg systolic and 95–115mmHg diastolic, blood pressure reduced to 144/81mmHg after using losartan (the mean total). While the reading remains in the high category, it does show a substantial drop.
How long for the losartan to work?
Losartan gets to work relatively quickly, reducing high blood pressure within about an hour of taking it. However, it does not treat hypertension overnight and may take 3–6 weeks to reach its full effects. Most hypertensive patients do not have symptoms, so you may not notice any changes when taking losartan.
In most cases, you will need to take losartan long-term. Even if your blood pressure returns to healthy levels, stopping the medicine may cause it to increase again. You should keep taking it unless your doctor tells you otherwise.
How to take losartan?
You should check the prescription label and follow your doctor's instructions when taking losartan. The amount you need to take depends on what losartan is being used to treat. Dosage varies between patients, and the drug affects people differently.
Losartan comes as a tablet, which you can take with water, with or without food. It can cause you to become dehydrated, so make sure you drink enough water. It comes in doses of 12.5mg, 25mg, 50mg, and 100mg. The usual dose for adults is:
For high blood pressure: 50mg to 100mg once per day
For heart failure: 12.5mg to 150mg once per day
To protect the kidneys in patients over the age of 75: 25mg once per day
For diabetic nephropathy: 50mg once per day
You should take a missed dose as soon as possible unless it is nearly time to take your next dose. Overdose is possible with any drug, and you should contact a medical professional or the poison control center immediately if you think you may have taken too much.
Side Effects of Losartan
Aside from the potential risks of affecting your heart rate, losartan, like other medicines, may cause adverse effects. Some people may not experience any negative symptoms, and the effects may ease for those who do as their body adapts to the drug.
The following symptoms are considered common losartan side effects that do not typically require medical attention. However, if they continue or cause you to worry, you should contact your doctor.
Dizziness
Stuffy nose
Nausea or stomach pain
Vomiting
Diarrhea
Pain and cramping in the muscles and/or joints
The following list shows serious side effects of taking losartan:
Confusion, lightheadedness, and fainting
Low blood pressure
Trouble breathing or swallowing
Shortness of breath
Heart palpitations, chest pain, fast and/or irregular heartbeat
Muscle weakness
Severe stomach pain
Signs of bleeding
Swelling in the face, mouth, hands, or feet
Signs of an allergic reaction such as skin rash, wheezing, trouble breathing, tightness in the chest or throat, swelling of the lips, tongue, throat, mouth, or face
You may experience other symptoms other than those listed here. You should contact your doctor or health care professional if you develop side effects. You can also check the drug information in the leaflet that comes with the medication box.
What Drugs Should Not Be Taken With Losartan?
When taking any form of medication, it is vital to discuss drug interactions with your doctor. Some drugs interact with other drugs, possibly counteracting one another, worsening side effects, and even putting your health in danger.
If using losartan, you should not take it with any of the following drugs to prevent possible interactions:
Other blood pressure medications
Nonsteroidal anti-inflammatory drugs (NSAIDs) such as ibuprofen and naproxen
Diuretics (a water pill)
Lithium
Rifampin
Potassium supplements and salt substitutes containing potassium
You should also discuss with your doctor any herbal medicines, over-the-counter medications, or dietary supplements you currently use. Alcoholic drinks and illegal drugs may also interact with losartan.
It's vital to inform your health care provider of all medicines, even with other prescription drugs, as they may need to adjust your dose if using combination therapy.
A Word From Our MD
Losartan is a type of drug known as an angiotensin receptor blocker or angiotensin II receptor antagonist. It is a popular medicine and treatment for patients with high blood pressure (hypertension) and heart failure. It may also be used to treat and slow the progression of kidney disease in people with diabetes.
The medication works by preventing the body from tightening the blood vessels. In doing so, the blood vessels relax, improving blood flow. This reduces high blood pressure, lowering the risk of heart attacks and stroke in people with hypertension and left ventricular hypertrophy.
Losartan is suitable for most adults and may be used to treat hypertension in children, although it is not permitted for children younger than six years of age.
It may not be suitable for people with low blood pressure, liver disease, and poor renal function. Additionally, it may not be suitable for pregnant and breastfeeding women and those trying to get pregnant.
It is critical to treat hypertension as soon as possible. Left untreated, it can heighten your risk of severe and life-threatening conditions, including heart disease and heart attacks. A healthcare professional may prescribe losartan alongside lifestyle recommendations to return your blood pressure to healthy levels.
Lifestyle changes may include a healthy diet, regular exercise, and losing excess weight. You may be encouraged to add daily 2-mile walks to your regime or take up activities that can help you burn more calories, such as indoor or outdoor cycling.
Conclusion
Although it is fairly uncommon, some people may find that taking losartan affects their heart rate. It is also possible to develop chest pain, trouble breathing, and muscle weakness, among other symptoms. These effects may be due to raised potassium levels or low blood pressure.
Whatever the cause, a change in your heart's performance is a severe side effect that requires medical attention from a health care professional. You should never take losartan without direction from your doctor, and you should always read the drug information in the packet before use.
When used correctly and without an adverse reaction, losartan is an effective medication for the treatment of hypertension and several other health conditions.
Last update:
October 12, 2023
5 min read
1267 Views
0 Comments
${TOCSections.eq(0).find('a').text()}