110+ Running Statistics and Facts in 2023
Last update: May 24, 2023
12
715
0
Curious to know the most recent running statistics? We have compiled over a hundred of the most exciting and up-to-date running stats you should know.
In 2023, running continues to be one of the most popular forms of exercise and race competition for people of all ages, genders, and backgrounds.
Whether you are a casual jogger, a serious athlete, or a person who is about to lace up their running shoes for the first time, you might want to know the most recent running stats and what they tell us about the state of the sport and the science of human performance.
What are the most recent running statistics you should be aware of? We have compiled the essential stats to keep you motivated and well-informed for your upcoming running journey.
Let's dive in.
10 Key Running Statistics and Most Important Facts
15% or 49 million Americans did jogging or running in 2021.1
Less than 1% of the US population has completed a marathon.
At least 50% of regular runners get injured each year.
Since 2000, the number of half-marathon runners in the US has grown more than 4 times (482,000 to 2,046,637) or impressively increased by 424%.2
In 2021–2022, race signups were lagging yet continuing to regrow after the pandemic-influenced lows of 2020.3
Trail running has grown 231% in the last 10 years. Although Covid-19 cut trail running participation by 97% in 2020, there is a strong comeback, with only 15% fewer finishers than in 2019.4
In 2022, there were over 1.9 million half-marathon runners in the US.5
In 2021, smartwatches used for fitness tracking generated the highest revenue worldwide at approximately 38.1 billion US dollars.6
The US has the highest proportion of female marathon runners at 45.7%.7
Each year, 1.1–1.3 million people run a marathon globally.
General Running Statistics
Professional Runners Statistics
Skilled athletes inspire every runner and encourage them to seek the impossible. Here are the top 3 best professional runners and their globally-recognized achievements.
#1 Usain Bolt – sprinter from Jamaica
Personal Best: 9.58 (100m), 19.19 (200m)
Olympic gold medalist: 2008 Beijing, 2012 London, 2016 Rio de Janeiro (100m, 200m, 4x100m relay)
World Championship gold medalist: 2009, 2011, 2013, 2015 (100m, 200m, 4x100m relay)
#2 Eliud Kipchoge – marathon runner from Kenya
Personal best: 2:01:09 (Marathon)
Olympic gold medalist: 2016 Rio de Janeiro, 2020 Tokyo
World Record holder: The fastest marathon time of 2:01:09
#3 Mo Farah – long-distance runner from Great Britain
Personal best: 12:53.11 (5000m)
Olympic gold medalist: 2012 London, 2016 Rio de Janeiro (5000m, 10,000m)
World Championship gold medalist: 2011, 2013, 2015, 2017 (5000m, 10,000m)
#4 Allyson Felix – American track and field athlete
Personal best: 10.89 (100m), 16.36 (150m), 21.69 (200m), 49.26 (400m)
Olympic gold medalist: 2008 Beijing (4×400 m relay), 2012 London (4×100 m relay; 200m), 2016 Rio de Janeiro (4x100m relay; 4x400m relay)
World Championship gold medalist: 2005 Helsinki, 2007 Osaka, 2009 Berlin, 2011 Daegu, 2015 Beijing, 2017 London, 2019 Doha, 2022 Eugene.
#5 Sifan Hassan – Ethiopian-born Dutch middle- and long-distance runner
Personal best: 1:56.81 (800m), 3:51.95 (1500m), 4:12.33 (mile), 8:18.49 (3000m), 14:22.12 (5000m)
Olympic gold medalist: 2022 Tokyo (5000m and 10,000m)
World Championship gold medalist: 2019 Doha (1500m and 10,000m)
Winner of London marathon 2023
Running Statistics by Age
Young runners do not necessarily run faster and longer. Statistics suggest that middle-aged people tend to finish marathons more quickly.
Young runners are the smallest group of running event participants. Active adult participants aged 18–29 accounted for only 13.7% of runners.3
The average age of runners is getting older globally. The average age in 1986 was 35.2, now – 39.3.
59% of people under 25 years run to meet a personal challenge. Other age groups rarely choose this goal.
Younger people 4 times more prefer running short distances (1-mile or 2-mile runs).
44% of middle-aged people (25–64) prefer attending larger events and more often choose longer-distance races. They are 1.25 times more likely to run a marathon compared with other age groups.
The absolute majority of senior runners (average age 65+) run to stay healthy (85%) as well as for enjoyment (49%). However, they are 1.5 times more likely to run shorter (like 5K) distances.
The average age of ultra-marathon runners is 42.3 years old.
Running Statistics by Gender
Although men are considered to run 10–12% faster than women, new studies show the performance gap between genders is relatively small in sprints and increases with running distance.13
Men's running statistics
The world record for the men's marathon is held by Eliud Kipchoge of Kenya, with a time of 2:01:09 set on September 25, 2022, in the Berlin Marathon.14
The oldest person to ever finish a marathon was a man named Fauja Singh, who completed the 2011 Toronto Marathon at the age of 100 in a time of 8:25:16.15
Women's running statistics
The world record for the women's marathon is held by Brigid Kosgei of Kenya, with a time of 2:14:04 set on October 13, 2019, in the Chicago Marathon.16
On average, women are 0.6% faster than men during super-long races that stretch toward (and beyond) the 195-mile mark. The hormonal differences between the genders are likely to be the cause.17
Women have a significantly lower level of competitive motivation than men.18
LGBTQ+ running statistics
70.5% of gay or lesbian people are considered active. They complete at least 150 minutes a week of moderate-intensity physical activity.19
Therefore, there is no wonder to see more and more LGBTQ+ members participating in the running events.
7% of all runners are LGBTQ+.11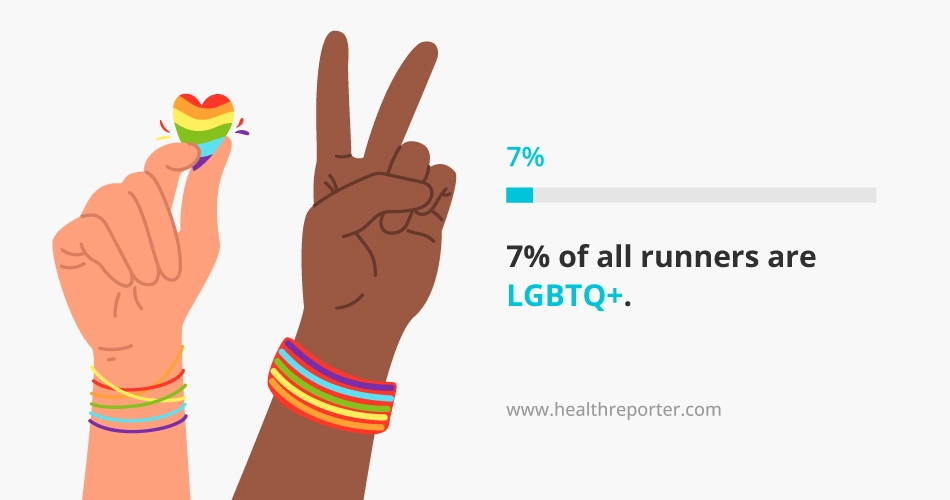 44% of non-binary runners go for a run 5 or more times per week.
On average, non-binary runners have 5 years of running experience.
Running Statistics by Distance
Every second runner will choose a running event based on the preferred race distance9:
1-mile race statistics
The 1-mile (1,609.344 meters) race record is 3:43.13 for men (Hicham El Guerrouj from Morocco) and 4:12.33 for women (Sifan Hassan from the Netherlands).
The fastest mile ever run was recorded in 1993 by Craig Wheeler. He ran a downhill mile in a time of 3:24. Yet, the time was not officially recognized due to the downhill grade of the running course.20
5K race statistics
The 5K long-distance road running record is 12:49 minutes for men and 14:19 for women.
Usually, the top performing age groups in 5-kilometer races are females 30–39 and males 20–29.21
Before Covid-19, over 8.9 million people participated in 5K races in the US alone.
Beginners should complete a 5K race in 30 minutes if they follow a 10-week training plan.22
10K race statistics
The 10K long-distance road running record is 26:24 minutes for men and 29:14 for women.
A beginner runner should finish a 10K race in around 57:00 and 1:07:00. This would put the runner in the top 50% of fastest finishers.23
According to Strava data, the average running pace in the 10K race in the US is 9:07 per mile for men and 10:21 per mile for women.24
21K/Half-marathon race statistics
The half-marathon running record is 57:32 minutes for men and 1:02:52 for women.
The average half-marathon time for women is 2:01:17.
The average half-marathon time for men is 1:44:14.
To finish a half-marathon at an average duration, you should aim to keep pace at around 6.39 minutes per kilometer (10.41min/mile) for women and 5.57 minutes per kilometer (9.34min/mile) for men.25
Russia is the top nation in average half-marathon finish times. They rank first with a 1 hour 45 minutes 11 seconds finish time.26
42K/Marathon race statistics
The marathon running record is 2:01:09 minutes for men and 2:14:04 for women.
The average marathon finishing time, overall, is 4:21:49.
Overall, 19% of marathon runners take over 5 hours to finish the run.27
In 2022, in the New York City Marathon, the largest marathon in the world, the average finishing time was 4:21:26 (a slowdown from the finishing time in 2021 of 4:09:36).28
The top 3 fastest countries in marathons are Spain (3:53:59), Switzerland (3:55:12), and Portugal (3:59:31).
The biggest slowdown in marathon finish times is seen in Vietnam. Over the last 10 years, the Vietnamese have become slower by almost an hour.29
Short-Distance Running Statistics
The 100-meter sprint race, the shortest outdoor running distance, belongs to Usain Bolt 9.58 seconds (set in 2009) and Florence Griffith-Joyner 10.49 seconds (established in 1988).30
The 200-meter race record is 19.19 seconds for men and 21.34 seconds for women.
The 400-meter race record is 43:03 (men) and 47.60 (women).
Trail Running Statistics
Trail running is steadily growing by 12% each year since 2010.
There are 63.5% male runners and 36.5% female trail runners.
The average age of 90% of trail runners is between 22 and 55.
The majority of train runners (84%) prefer a mix of terrain compared to solely flat, uphill, or downhill terrain.
There are 1.77 million people who participate in trail races worldwide.
73% of trail runners participate in 1–5 trail races every year.
Running Statistics by Ultramarathons
Any race that exceeds 42 kilometers is considered an ultramarathon. With increased female runners' participation, the number of people competing in ultramarathons is growing rapidly, with 350% in the last decade.
Yet, as with any other high-endurance sport, ultramarathons pose the highest risk of critical running injuries (or even death), with more than 43% of all injuries related to cardiac issues.
50K race statistics
There is a great gender disparity between 50K and above race participants. Only 16 percent of runners were females.31
The 50K race distance showed the biggest slowdown in pace since 1996.
Candice Burt, an ultramarathoner aged 41, broke the Guinness World Record Ultramarathon streak by running 50K every day for 90 days.32
100K race statistics
50-mile race statistics
The average age of an ultrarunner is 42.5.37
The world's record for a 50-mile race belongs to Jim Walmsley (US). His finishing time was 4:50:08.
The fastest male runners are ~17%–20% faster than the fastest female runners for distances from 50 miles.38
The fastest female 50-mile race finisher is Ann Trason (US). She set the women's record by finishing the race at 5:40:18.37
100-mile race statistics
On races that exceed 100 miles, female marathon runners are, on average, 0.6% faster than men.39
The world's record for a 100-mile race belongs to a Lithuanian long-distance runner Aleksandr Sorokin. He holds both track (11:14:56) and road (10:51:39) 100-mile race records.40
The world's female record for a 100-mile run belongs to US ultramarathon runner Camille Herron. Her 100-mile road race finishing time is 12:42:40.41
Running Statistics Worldwide
The longest non-stop run by a human was set in 2005. Dean Karnazes ran 350 miles (560km) non-stop. It took him 80 hours and 44 minutes.42
Switzerland is considered the fastest marathon-running country. They hold a record of an average finishing time of 3:50:37.43
South Africa stands as the fastest-running country when it comes to average speed over all distances beyond 26.2 miles.
Over the last 25 years, the popularity of ultra-endurance events (activities lasting more than 6 hours) has highly risen, mainly due to increasing women's participation in such events.44
Running Statistics by Continent
Race statistics in North America
North America has traditionally been strong in sprinting events, with many of the world's fastest runners coming from countries such as the United States, Canada, and Jamaica.
The United States is the country with the most runners in the world.45
The states with the fastest marathon average finish times are Massachusetts – 4 hours and 4 minutes, Washington – 4 hours, 18 minutes, and 9 seconds, and Indiana – 4 hours, 18 minutes, and 57 seconds.
The continent with the most Olympic gold medals in men's sprinting is North America, with 69 gold medals.46
Race statistics in Europe
Europe has a strong tradition in middle-distance running, with many of the world's top milers and 800-meter runners coming from Great Britain, Norway, and France.
Ireland has the highest number of race participants in Europe (0.5% of the population).
Marcell Jacobs set the European record in the 100 meters sprint, winning the gold medal at the 2020 Tokyo Olympics (9.80).47
Cristine Arron, a french sprinter, has set a 100 meters sprint record (10:73). Since 1998, only American and Jamaican sprinters have run faster than Arron.48
Race statistics in Africa
Africa has a long history of success in distance running, with many of the world's top long-distance runners hailing from countries like Kenya and Ethiopia.
Kenyan and Ethiopian runners dominate in the middle and long-distance events in athletics.49
Africa is the continent with the most Olympic gold medals in men's distance running.50
Usain Bolt, nicknamed "Lightning Bolt," is considered the fastest man on earth. He still holds the record for the fastest 100m sprint.
Race statistics in Asia
Asia has a growing presence in both sprinting and distance running.
Japan has been particularly successful in long-distance running, with athletes such as Toshihiko Seko and Yuki Kawauchi achieving success in marathon racing.
In 2018, Yuki Kawauchi became the first Japanese man to win the Boston Marathon since 1987, when Toshihiko Seko won.51
Although there has been a growth in the participation of marathons in Asia Pacific countries, India's participation rate has increased by 229.86%, while China's participation rate has decreased by 38.42%.52
Yupun Abeykoon is regarded as the fastest Sri Lankan and South Asian man. He is a national record holder in men's 100m (9:96), men's 200m (20:37), and men's indoor 60m.53
Race statistics in Australia
Australia has many successful middle-distance and long-distance runners, with athletes such as Robert de Castella and Steve Moneghetti achieving worldwide success in the past.
In 2022, there was uneven gender distribution among Australian marathon participants – 73.7% of performers were men, and 26.3% were women.54
The fastest Australian male is Brett Robinson. He finished the Fukuoka Marathon at 2:07:31.
The fastest Australian female is Sinead Diver. She finished the Valencia Marathon at 2:21:34.
Running Injury Statistics
50% of runners get an injury each year that prevents them from running for a while.55
About 70–80% of running disorders are due to overuse injuries, mainly involving knees, ankles, and feet.56
Running Health Statistics
Running Shoe Statistics
The most popular running shoe brand in the US is Brooks (39%), followed by Nike (24%). Yet, when it comes to trail running, the most popular running shoes are Altra.
When running on trails, 83% of trail runners wear trail-specific running shoes.
67% of trail runners buy 2 or more pairs of running shoes per year.64
Runners Statistics by Earnings
Trail runners, among all runners, are the most affluent group, with 31% of runners earning more than $100K annually.65
Even though running is one of the cheapest and most accessible sports, it has a distinctly middle-class participant base.
Running has a high proportion of participants in white-collar, high-status occupations (more than tennis or golf, which demand bigger financial investments).18
The average entry fee for 5K, 10K, or shorter running events is between $21–50.
The average entry fee for half-marathons and marathons can fluctuate from $21–100.
In the past 12 months, the average runner spent around $1,748 on running-related purchases (shoes and apparel, nutrition, tech gear, and coaching).
FAQs
What percent of the population has run a marathon?
Each year, approximately 1.1–1.3 million people run a marathon. This corresponds to around 1% of the world's population.
What percent of the population has run an ultramarathon?
Yearly, over 600,000 people finish a 100-km run. That accounts for only 0.0075% of the world's population.
What is the average half-marathon time?
The average half-marathon time across all genders and age groups is 1:50:15.
Last update:
May 24, 2023
12 min read
715 Views
0 Comments
${TOCSections.eq(0).find('a').text()}