Is Orzo Healthy? Nutrition And Calories
Last update: June 29, 2023
4
1133
0
Orzo is a popular small rice-shaped pasta used in many Mediterranean dishes. Let's take a look at its nutritional value.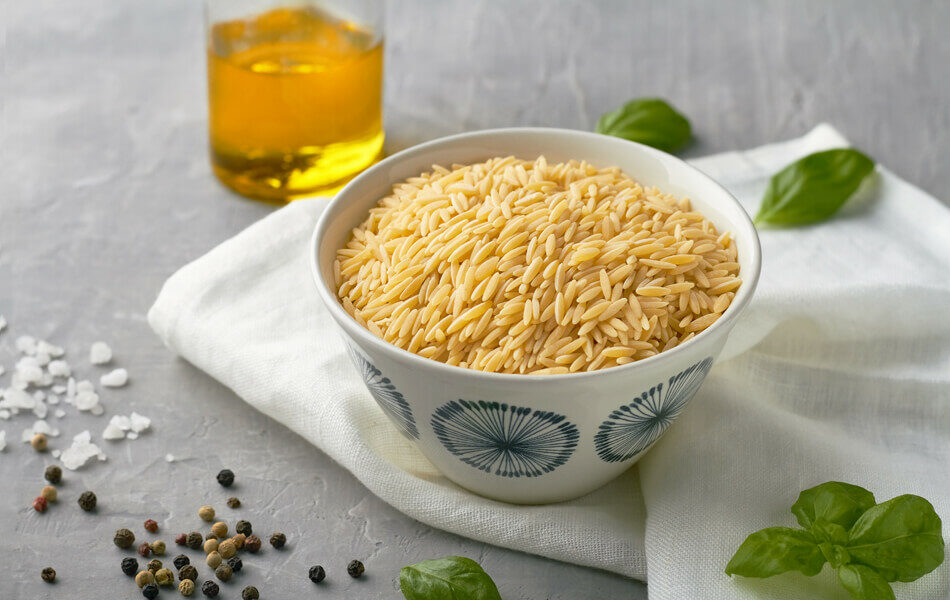 Whether added into soups, made into pasta salad, or eaten like rice, orzo is a well-loved noodle. So naturally, you may wonder if it has any health benefits and if they outweigh the downsides.
Is there a way to add orzo to your healthy diet? Read on for more nutritional information about orzo.
What Is Orzo Pasta?
Orzo is a type of pasta that resembles rice or barley in shape and size. It is made from durum wheat flour and is a popular ingredient in Italian, Greek, and Middle Eastern cuisines. Orzo can be used in a variety of dishes such as soups, salads, risottos, and casseroles.
Depending on the manufacturer, orzo is also often fortified with many vitamins and minerals like thiamine, riboflavin, and folic acid added during processing. This can significantly change the nutritional composition.
Is Orzo Healthy?
Yes, orzo pasta can be a healthy part of a balanced diet. It provides a source of carbohydrates and is a good source of dietary fiber, if produced with whole grain flour. It is also low in fat and free of cholesterol.
Pair it with lean protein, fruits, vegetables, and dairy to create a balanced meal.
Is Orzo Pasta or Rice?
Although orzo is shaped like rice, it is basically the same as regular pasta. Orzo simply refers to the shape, though the nutritional composition of orzo versus regular pasta is very similar.
Just like rice, orzo can be used in a variety of dishes, such as soups, salads, risottos, and casseroles.
How Is Orzo Made?
Homemade orzo is made by combining durum wheat flour and water to form a dough. The dough is then rolled into long strings and cut into small pieces. The pieces are then dried and cooked in boiling water or a broth until they are soft.
In an industrial setting, the pasta dough is pushed through an extruder and cut almost immediately by an automated machine, which results in small pieces of orzo pasta.
What Ingredients Does Orzo Pasta Contain?
There are many different pasta brands that use different kinds of flour, however, these are the basic ingredients most commonly used for orzo:
Semolina (wheat)
Durum flour
Niacin
Iron
Thiamine mononitrate
Riboflavin
Folic acid
Nutritional Facts
From carbohydrates to fat and calories, let's dive into the nutritional information for orzo pasta.
Nutritional table (per 100g)
| | |
| --- | --- |
| Calories/Nutrient (per 100g) | Amount |
| Calories (kcal) | 375 |
| Sodium (mg) | 0 |
| Net Carbs (g) | 78.6 |
| Fiber (g) | 3.6 |
| Sugar (g) | 3.57 |
| Fats (Total) | 1.79 |
| Protein (g) | 12.5 |
| Glycemic index (GI) | 50 |
Source: https://fdc.nal.usda.gov/fdc-app.html#/food-details/2062951/nutrients
High in carbohydrates
A 100-gram serving of orzo pasta contains a whopping 78 grams of carbohydrates. While this seems like a lot, 100 grams is almost two servings of pasta.
Additionally, carbohydrates are not necessarily as bad as they are made out to be, especially when they are rich in dietary fiber, such as whole wheat orzo or any other whole wheat pasta.
Carbohydrates are the body's first energy source and are essential for proper functioning, including brain and cognitive functioning.
However, consuming excessive amounts of carbohydrates not used for energy is stored as fat and can contribute to obesity.
Therefore, stick with a serving or two when eating orzo pasta to avoid consuming excessive carbs.
Low in fats
Orzo pasta has less than a gram of fat per 56-gram serving. Therefore, it can be an excellent starch option for weight loss or maintenance.
Pair your orzo pasta with a healthy fat to increase feelings of fullness and satiety. For example, add a tablespoon of extra virgin olive oil or a few slices of avocado to provide some monounsaturated fatty acids.
Low in calories
A 100-gram serving of orzo pasta contains 375 calories. Keep in mind that this is a bit under two servings.
Therefore, if you consume a 2 oz serving of pasta, you would consume closer to 200 calories. 
Especially as a side dish rather than a main entree, orzo is an excellent source of energy and substance to a meal.
Low glycemic index 
Pasta in general, including orzo pasta, has a glycemic index of around 50 and is, therefore, a low glycemic index food. However, this number can vary explicitly based on the type of pasta and how it is cooked and prepared. 
Fiber, protein, and fat generally decrease the glycemic index because they cause carbohydrates and sugars to be digested and absorbed more slowly. Eating pasta such as orzo (especially if it's whole grain) with protein, fat and fiber can contribute to its low glycemic index.
A Word From a Nutritionist
Orzo pasta can be a part of a healthy diet. Opt for a whole grain orzo pasta variety to get the most nutrition, including fiber, vitamins, and minerals.
Pair your pasta with healthy fat, such as olive oil, and a lean protein source to increase satiety and fullness from your meal.
Additionally, ensure you consume appropriate portions of orzo pasta or any pasta or starch. The serving size is approximately 56 grams or about 3/4 of a cup of cooked orzo.
To avoid consuming excessive amounts of carbohydrates that can be stored as fat, have just a serving or two of orzo pasta.
FAQs
How many calories are in orzo?
The suggested serving size of orzo is 2 oz, which is around 200 calories.
How many carbs are in orzo?
There are 78.6 grams of carbohydrates.
Is orzo pasta whole grain?
Since orzo pasta is typically made from semolina flour, it is not classified as a whole grain. However, there are whole grain varieties that you can find at certain grocery stores.
Is orzo high in carbs?
Yes, orzo pasta is high in carbohydrates, over 75 grams per 100 grams.
Conclusion
Orzo pasta is a nutritious rice-like small pasta rich in vitamins, minerals, and protein. It is also a great source of energy from carbohydrates. 
However, orzo pasta made from whole grain flour contains even more nutrition, including significant amounts of fiber and some calcium.
Orzo pasta also has a low glycemic index and therefore does not cause quick rises in blood sugar levels.
Enjoy your orzo pasta with nutritious vegetables, healthy fats, lean protein, and dairy for a balanced meal.
Last update:
June 29, 2023
4 min read
1133 Views
0 Comments
${TOCSections.eq(0).find('a').text()}