Is Boba Tea Healthy? Nutrition and Calories
Last update: March 3, 2023
5
1180
0
Delving into the nutritional table of boba tea, one of the most attractive drinks of recent times.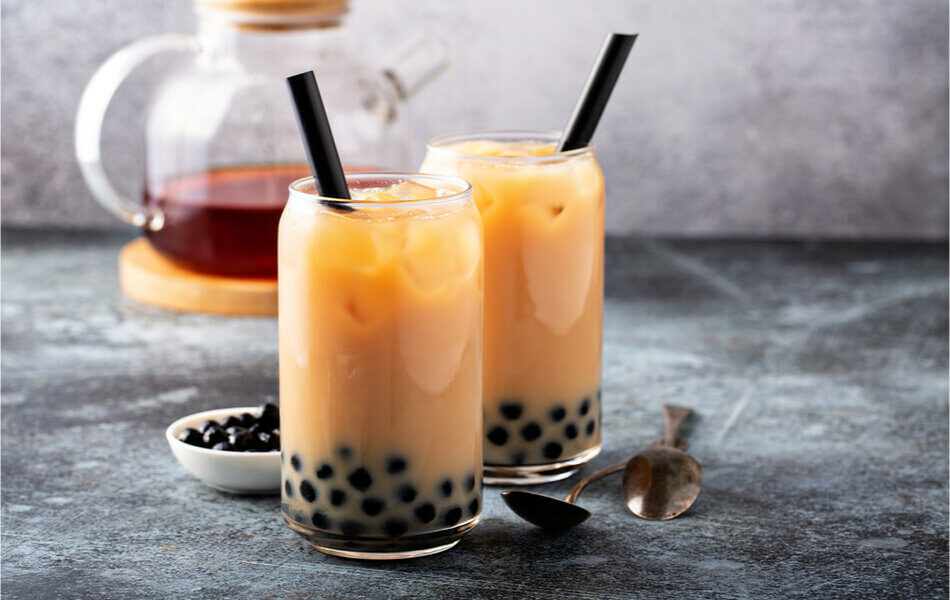 If you haven't tried it yet, it is perhaps because this drink has become increasingly popular just a few years ago, and since then, we have noticed an expansion of boba tea stores in different parts of the world. But, what has made it so popular? Does it have health benefits?
Boba tea is a sweet-tasting, light-textured drink made from black tea or matcha, where the most important feature is the tapioca pearls added at the bottom, providing a novel and fun touch.
The Health Reporter team armed themselves with their extra-wide straws to try this exotic milk tea and discover its nutritional value. Check it out!
Is Boba Tea Healthy?
No, boba teas are highly caloric drinks because they are made with a lot of sugar and fruit syrup. In addition, it is common to add whole milk or cream, which contributes a significant amount of fat.
Although tea by itself is healthy and contains antioxidants beneficial to health, it is overshadowed by the number of calories added by milk, fruit flavors, and tapioca starch.
The tapioca balls are high in carbohydrates and are cooked in a sugar syrup that is caramelized and added in large quantities to the bottom of the glass.
How Is Boba Tea Made?
Boba tea, also known as pearl tea or tapioca tea, was invented during a regular meeting in Taiwan in the 80s while testing different desserts and inspired by the iced coffee that was so popular in Japan.
After mixing a milk tea base with fruit juices and adding chunky, sweet pearls made from tapioca dough, everyone realized how good it tasted.
It quickly became very popular; therefore, local tea stores began to imitate this drink until it evolved into what we know today as the colorful boba milk tea and all its multiple flavors.
What Are the Benefits of Boba Tea?
The only benefit we can mention is that this sweet milk tea provides immediate energy like iced coffee does in the afternoon. This is due to the amount of carbohydrates from the cassava flour used to make the characteristic black pearls, which acquire their color due to their brown sugar content.
If you would like a lower calorie option, you can ask for dairy-free milk and no sugar added, although the pearls are already coated in a chewy syrup that settles on the bottom. You could also avoid topping fruits as they usually come covered in a very sweet syrup as well.
But, if you make all these modifications, the recipe loses all its appeal, and it would be preferable, if you are following a strict diet, to go for a traditionally brewed tea and discard this drink. The properties of some of the ingredients of boba tea may have been buried among so much sugar and fat.
What Ingredients Does Boba Tea Contain?
¼ cup of tapioca pearls in brown sugar syrup
1 cup black or matcha tea
Half cup of whole milk
Sugar or syrup
In addition to the ingredients in the basic recipe, you can add fruit juices, dairy cream, gelatin, pudding, fruit in syrup, and other types of tea.
The use of whole milk or cream provides a large amount of fat, and the sugar used to prepare the pearls and caramel sauce contains high amounts of carbohydrates. This makes it a highly caloric and unhealthy sweet drink; therefore, drinking boba tea can promote diabetes and obesity.
Nutritional Facts
The following table contains the calories of boba tea with lychee pearls and creamer without dairy, which represents a lighter option than the traditional one with black pearls and whole milk.
These calories correspond to only 100ml of tea with pearls. It should be taken into account that, in general, the cups you get in different stores or coffee shops contain more than 300ml of this drink. Boba tea is also not keto-friendly and would end ketosis within a few seconds.
Nutritional table (per 100ml)
| | |
| --- | --- |
| Calories/Nutrient | Amount |
| Calories (kcal) | 50 |
| Net Carbs (g) | 11.67 |
| Fiber (g) | 0 |
| Sugar (g) | 8.33 |
| Fats (Total) | 0.62 |
| Protein (g) | 0 |
| Cholesterol (mg) | 0 |
Source: https://fdc.nal.usda.gov/fdc-app.html#/food-details/431202/nutrients
Low in vitamins and minerals
The nutrient concentration of boba milk tea is very low, and the properties of the antioxidants contained in the tea and fruits are not worth it since they are mixed with large amounts of sugar.
Low in protein
This drink in its original version does not contain any type of protein except for cow's milk when used for a creamier texture. Some stores offer options with added whey protein, which adds an important protein value, but it is still an unhealthy drink due to its carbohydrate load.
Low in fats and calories
Only the version that is prepared with skim milk or non-dairy beverages such as almond milk is really low in fat. But it is still a high-calorie drink from the carbohydrates in the tapioca balls, the fruits, and the added sugar in the syrup contained in the pearls.
High in carbs
Most of the calories in boba tea come from the cassava starch from which the pearls are made, and starch is a type of carbohydrate.
These pearls are then boiled and cooked again in a syrup made from brown sugar. In addition, fruits, pudding, or syrup are usually added to assemble the drink, which triples the carbohydrate content.
FAQs
Is boba tea good or bad for you?
This drink is bad for your health due to its high sugar content.
How many calories are in boba tea?
It can contain between 100 to 450 calories, depending on the recipe and the ingredients added in its preparation. 
Are tapioca pearls bad for you?
Yes, boba tapioca pearls are carbohydrates that contain no fiber and are coated in a sweet syrup that makes them potentially dangerous to health.
How much sugar is in boba tea?
A 250 ml glass of boba tea may contain at least 20g of sugar or more, depending on the added ingredients.
Can boba tea cause weight gain?
Yes, boba tea is a high-calorie, high-carbohydrate drink that can promote weight gain.
A Word From a Nutritionist
Trendy drinks are very attractive for the photos we like to upload to social networks, and they are the perfect excuse to share with friends a moment of pure pleasure. You can enjoy boba tea from time to time, but it is not healthy.
Boba milk tea is a dessert with a high content of carbohydrates and added sugar, so it is not recommended for diabetic patients or for people who want to control their body weight.
If you want to lose weight or control insulin resistance, you should know that this type of sugary drink increases blood sugar and is not recommended in a diet.
Conclusion
Boba drinks are widely known for their attractive tapioca pearls and distinctive fruit flavors, which add an original and refreshing touch. They are made from milk teas that contain so much sugar in their preparation that the tea taste is hidden by its sweetness.
Many tea shops around the world offer a wide variety of sugar-sweetened beverages with non-dairy creamer or vegetable milk, but this does not make them any less caloric.
Boba calories come from the cassava starch obtained from the cassava root and the sugary syrups in which the distinctive pearls are prepared. This is why it is not considered a healthy drink, much less appropriate for people who wish to lose weight.
Last update:
March 3, 2023
5 min read
1180 Views
0 Comments
${TOCSections.eq(0).find('a').text()}