News
Digital Health and Wellness Market Insights & Trends of June 2022
We may earn a specific commission if you buy via links on our site. Learn more.
Healthcare and technology go hand-in-hand. But the question on many people's minds is where are they going? From digital health products to investing in the mental health sector – there has been a lot going on in the past months to help the health industry thrive.
Health Reporter looks at the latest digital health and wellness market trends this month – offering a detailed overview of the sector.
June Investments
There was $2.8B invested across June, more than twice the amount raised in May.
So let's take a look at where the most money was spent:
1. Medical Systems – $2076.8M in investments or 72.16% of total invested in June
Services made up the bulk of this, with a total of $2000.2M split across three companies; the top three earners in this category were as follows;
Tenet Health – A leading health system and services platform that continues to evolve in lockstep with community needs. ($2B)
Doc Plix – Operates as a digital healthcare platform that offers professional diagnostics and health check-up services. ($0.1M)
Life Nome – Genomics AI™ technology lowers your portfolio's risk profile and improves your customers' health and well-being outcomes. ($0.1M)
The digital products sector had eight companies that were invested for a total of $57.4M; the top three were as follows;
Moxe Health – Builds connections between health plans and providers to simplify and expand data's potential. ($30M)
Wondr Medical – Platform for medical discovery, built around health care professionals. ($14.7M)
Flexpa – Allows digital health apps to connect to new patient access APIs. ($8.5M)
2. Financial Wellness – $222M in investments or 7.71% of total invested in June
Digital Products was the sector most invested in, with $157.85M split across eight products; the top three earners in this category are as follows;
Cleo – A financial assistant designed for Gen-Z fighting for the world's financial health. ($80M)
Fruit Ful – With certified expert guidance, track your progress and see your entire financial picture in real-time. (Early Stage: $25M; Seed: $8M; No funding description: $4M)
TapCheck – By reducing employee financial stress, Tapcheck on-demand pay benefit helps your team members focus and perform better at work. ($20M)
Services again received a significant investment with a total of $67M across three products. The top three earners in this category are as follows;
Sana Benefits – Provides insurance health plans for small and medium businesses or individuals.( $60M)
Ophelos – A new kind of debt collection agency – deeply committed to building a fairer debt collection process for everyone. ($6M)
Nice Deer – Aims to bridge the gap between health care providers and companies by facilitating insurance and repayment of insurance claims. ($1M)
3. Personal Health & Self-Care – $164M in investments or 5.71% of total invested in June
Investments for this sector were split across four categories, with the larger amount going towards digital products – which received $93.7M across the following three products;
Sesame Care – The healthcare marketplace delivers "half-price health care" to Americans priced out of the everyday. ($27M)
Orange Health – A HealthTech startup allows doctors to remotely deliver diagnostic lab services to patients. ($24.8M)
Task Human – Digital coaching platform that offers 1-on-1 interactive sessions with live wellness coaches through video calls. ($20M)
Services had four products that received funding. A total amount of $58.1M was invested; the top three are as follows;
Matter Health Care – A technology-enabled preventative primary care provider that delivers concierge care and simplifies healthcare for seniors. ($35M)
Ria Health – Evidence-based telehealth alcohol treatment program helps people drink less and live better. ($18M)
WeMa Health – A health-tech startup focused on weight loss and diabetes. ($3.5M
4. Other – $88M in investments or 3.07% of total invested in June
The 'other' sector dominated the investment figures, with one product receiving $80M;
Proxie Mie – A health technology platform that enables surgeons to virtually attend operating theaters to guide complex surgeries visually. ($80M)
The digital prodcuts sector had two products that received a total of $5M;
Vital – An API for collecting at-home health data allows developers to build privacy-focused healthcare applications. ($2.9M)
Sentinel – A Safety-as-a-Service company that provides industrial and personal health monitoring solutions. ($2.1M)
5. Older Adults – $81M in investments or 2.84% of total invested in June
The older adults' investments were split into two categories: digital products secured an impressive $66.7M across three products. They were;
Tomorrow Health – A technology-driven home healthcare company focusing on how home-based care is ordered, delivered and paid for. ($60M)
Trusty Care – Turning health insurance brokers and financial advisors into the HR department for retirees. ($6M)
Navigage – A non-profit organization that provides housing, health, education, and human services for older adults. ($0.7M)
Services received $15M for just one product, which was as folllows;
August Health – A technology platform to support a clinically linked continuum of housing and care. ($15M)
6. Health Disease – $58M in investments or 2.02% of total invested in June
Digital products received $44.7M in investment split across four products;
Boulder Care – A telehealth provider of treatment and long-term support for people with substance use disorders. ($36M)
Cara Care – A digital gut health platform that offers an app-based treatment to help patients with chronic gastrointestinal problems. ($7M)
Albert Health – The voice-based health assistant helps patients manage their chronic diseases. ($1M)
Seamless Care – Helps people with communication difficulties due to autism, stroke, dementia, intellectual disability, and a wide range of other conditions communicate their emotions. ($0.7M)
Physical products also secured an impressive $13.5M across five products; the top three are as follows;
Derma Sensor – A health technology company designing tools to better equip primary care providers for skin cancer checks. ($10M)
Wonder Belly – Provides digestive health products and solutions. ($3.5M)
52 North Health – Developing a fully-integrated clinical, AI-driven medical device-based system called NeutroCheck for people with cancer. (unknown)
7. Fitness – $58M in investments or 2.02% of total invested in June
Physical products received a total of $30M for one product;
Splan – Offers home-use strength training developers, professional electronic intelligent fitness software, and hardware for fitness enthusiasts. ($30M)
Digital products received a total of $23.1M for six products; the top three were;
Buddy Fit – A fitness app that offers monthly fitness classes to help people feel strong and healthy. ($10.6M)
Kickoff – Transform your fitness & diet with 1-on-1 remote personal training via text, live video, & app. ($7M)
Play Fit – A fitness platform using experience in sports analytics, machine learning, and video games. ($2.5M)
8. Nutrition – $29M in investments or 1.01% of total invested in June
Physical products received a total of $29M across three products;
Ascend Wellness Holdings – Cannabis operator that owns and operates cultivation facilities to provide easy and accessible products. ($28.5M)
Gluco Vibes – The personalized digital solution that drives your goals and helps you become the best version of yourself. ($0.5M)
Soacai – A health food brand. It is the first domestic brand with Superfoods as its core. (unknown)
9. Mental Health – $28M in investments or 1% of total invested in June
Digital prodcuts received the largest investment across five products, with $18.7M secured;
Tripp – A digital psychedelic wellness platform that uses virtual and augmented reality focusing on mental health. ($11.3M)
Amelia Virtual Care – Develops a virtual reality platform designed to bring value to mental health treatment. ($3.1M)
For services, three products received a total investment of $10.2M;
Wonder Med – Offers effective mental health telemedicine treatments. ($4.6M)
Wonder Sciences – Provides mental health and wellness ecosystem that pioneers innovative approaches to treatment and research. ($4.6M)
Pioneer Mind – Get outcomes-focused executive coaching, mental health therapy & group peer support to drive your startup success. ($1M)
10. Men's Health – $13M in investments or 0.48% of total invested in June
Physical Products received $7.3M across one product;
Charles – Helps men regain control over their daily health concerns by starting with their personal health. ($7.3M)
Digital products also had one product invested for a total of $6.5M;
Kranus Health – Solving men's health issues that no one talks about. ($6.5M)
11. Women's Health – $3.6M in investments or 0.13% of total invested in June
Services received $3.6M for two products;
Visana Health – Offers a digital health program focused on improving the quality of life for women. ($2.6M)
My Choix – An online sexual and reproductive telehealth clinic providing abortion care, birth control, and much more. ($1M)
12. Pets – $2.7M in investments or 0.01% of total invested in June
Two digital products received an investment of $1.5M;
Guia Vet – A pet health care platform that uses data to conveniently connect pet parents to the best products and services nearby. ($1.2M)
Flockr – An app that will help you to take control of your pet's health. ($0.3M)
There was only one physical product that received $1.2M of funding;
Dog Is Human – Daily supplements for healthy dogs. ($1.2M)
Overview of June Investments
Here, we look at an overview of what happened in June, including the most active investors and money raised depending on the organization's location:
The four biggest investors in this round were as follows;
1. Advent Life Scientists – One of the leading trans-Atlantic venture investors focused on building innovative Life Sciences businesses in the UK, Europe, and the USA. – invested a total of $80M in one product.
2. Sofina Group – A partner of entrepreneurs and families who leads growing companies by backing them with patient capital and supportive advice – invested $80M in one company.
3. LG Nova – Working to create new businesses that deliver the future of sustainability, readily accessible, socially impactful, and technologically advanced living for consumers and the community at large – invested $100M in four products
4. General Catalyst – Invest in powerful, positive change that endures – invested $10M for two products
Biggest Rounds
A round is often a company's second round of funding and the first substantial funding round in the venture capital stage. Outside investors can invest funds in a growing firm in exchange for equity or a portion of the company's ownership.
The top four biggest round investors were as follows;
1. Tenet Health – Tenet Healthcare Corporation is a diversified healthcare services company headquartered in Dallas. Their care delivery network includes United Surgical Partners International, the largest ambulatory platform in the country, which operates or has ownership interests in approximately 440 ambulatory surgery centers and surgical hospitals – $2B
2. Cleo – Cleo is an AI-based chatbot that makes managing finances easy; it was launched in 2016 by some venture capitalists. This chatbot or digital assistant can be linked to a bank account, manage the budget and recommend how much you can afford to save – $80M.
3. Proximie – Proximie is a technology platform that allows clinicians to virtually 'scrub in' to any operating room or cath lab from anywhere in the world – $80M
4. Sana Benefits – Benefits packages for employers with full medical, dental, vision, and more without the headaches or hidden fees. Get real savings and top-notch, modern benefits for you and your employees – $60M.
Funding Status
Seed money, sometimes known as seed funding or seed capital, is a form of securities offering in which an investor invests capital in a startup company in exchange for an equity stake or convertible note stake in the company.
Seed funding is the first official equity funding stage. It typically represents the first official money that a business venture or enterprise raises.
Almost 4% of companies raise money in a seed round.
Amount of organizations by funding status:
Seed – 48 companies or 51.06% of total
Early-stage venture – 34 companies or 36.17% of total
Initial public offering (IPO) – 7 companies or 7.45% of total
Late-stage venture – 5 companies or 5.32% of total
Biggest amounts received in series B
Series B rounds are about taking businesses to the next level, past the development stage. Investors help startups get there by expanding their market reach. Series B funding is used to grow the company so that it can meet these levels of demand.
Top 5 – Money raised in USD by funding type
Biggest amounts received in series B
Series B rounds are about pushing businesses past the development stage and into the next phase. Investors assist startups in reaching their goals by expanding their market reach. The company will use Series B capital to expand to satisfy these demand levels.
Series B – $431M or 27.94% of total
Series D – $420M or 27.25% of total
Series A – $305M or 19.76% of total
Seed – $167M or 10.86% of total
Post IPO Debt – $96M or 6.25% of total
Post IPO Equity – $56 or 0.55% of total
Growth Signals
We are going to review companies with the highest growth rate in June of 2022. The growth rate of companies is measured using two mediums:
Indication of growth based on the development of the number of employees
Indication of growth based on rising monthly web visits
The company that grew the most based on point one was Unified Women's Healthcare, which grew by 60%; They are a diversified women's health company focused on creating a better healthcare experience for patients.
Equip Health also faced a rapid increase in staff, with 42% joining the company. Equip helps families recover from eating disorders at home with their virtual, evidence-based care, provided by a dedicated five-person team that empowers families to help their loved ones achieve lasting recovery.
For point number two, Clarus Therapeutics saw its web traffic increase by a massive 2,008%. The Clarus Therapeutics team is dedicated to addressing unmet medical needs through the creation of androgen replacement and metabolic therapies.
Pyx Health also saw excellent growth in June as their web traffic increased by 1325%. They are changing the landscape of care, resulting in improved health and reduced ED and inpatient utilization. Through the innovative use of technology to enable deep human connection, we're making the world less lonely.
Nominations by the Health Reporter Team
Health Reporter has carefully selected its favorite products from a variety of different sectors and categories. These products are earmarked for great future success.
The top innovative product selected by Health Reporter is as follows:
TRIPP
What it does – TRIPP is a journey to the heart of your mind. It's a digital wellness platform that unlocks awe, wonder, calm, and focus. It has compiled hours of meditations, sound frequencies, nature sounds, music, and teachings with beautiful animations to support you wherever you are throughout the day.
Why we choose this nomination – It's a new way to combine VR and psychedelics for treating mental health.
Total Funding Amount – $26.3M.
The top innovative service selected by Health Reporter is as follows:
RIA Health
What it does – Ria Health provides effective alcohol addiction treatment you can use, to help people reduce or stop drinking alcohol. Their expert medical and coaching teams get you started, and help with every step of the program. Consult with them through mobile app, 24/7. It is Evidence-Based Alcohol Treatment, 100% Online.
Why we choose this nomination – Ria's flexibility makes it ideal for people with busy schedules, and those who don't feel traditional AA or rehab are the right fit.
Total Funding Amount – $18.3M
The top physical product selected by Health Reporter is as follows:
Derma Sensor
What it does – Provides an instant "Further Investigate" or "Monitor" result using DermaSensor's proprietary algorithm. Simplified, Skin Cancer Evaluation. A handheld, objective device to assist primary care providers in checking patients for skin cancer in seconds.
Why we choose this nomination – A highly accurate device that allows to diagnose possible skin cancer in an early stage.
Total Funding Amount – $34.6M
The top digital product selected by Health Reporter is as follows:
Sesame Care
What it does – Sesame Ranked America's #1 Telehealth Company – 2021. Book doctor appointments and specialists at discount prices. Labs, tests, prescriptions, consultation, and procedures in minutes. You can choose from thousands of providers at everyday affordable prices.
Why we choose this nomination – Healthcare in the US is extremely expensive and Sesame helps to find affordable and at-the-moment available healthcare in the USA.
Total Funding Amount – Total $75M
Our favorite product of April, as selected by Heath Reporter, is as follows:
Proxmie
What it does – Live virtual collaboration. Proximie allows multiple people in remote locations to virtually interact in a way that mimics what they would experience if they were collaborating in the same operating room. It means they can physically show each other where to make an incision, in real-time, or use physical gestures to illustrate a technique.
Why we choose this nomination – Not everyone in the world has an access to top surgeons. Proximie enables remote clinicians and other experts to virtually reach into the clinical theatre and share skills with those performing the surgery.
Total Funding Amount – $118M
So the health and wellness sector has had a highly productive round of investment in June, with products ranging from those of a physical nature, to more trendy online services. Thanks to this funding, some outstanding products out there can now continue to develop.
We will continue to report and bring you insights into the health and wellness sector so that you can stay informed.
Final Thoughts
Medical systems have landed a huge round of investment in the month of June, with a massive $2B raised for a host of innovative products.
With remote services and accelerated research and development practices now in full swing, providers and patients now understand the value of digital health services. Funding and investment activity show that others also see the value in digital health trends.
The overall funding is over twice as much as that received in May.
We are certain that this trend will continue, given the demand for remote and digital-based products. COVID has changed how we seek medical attention and placed a growing need on patients to access healthcare online.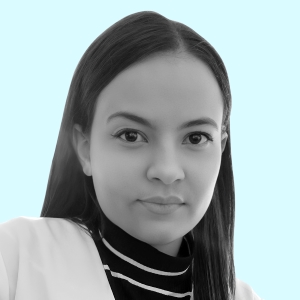 Written by
Edibel Quintero is a medical doctor who graduated in 2013 from the University of Zulia and has been working in her profession since then. She specializes in obesity and nutrition, physical rehabilitation, sports massage and post-operative rehabilitation. Edibel's goal is to help people live healthier lives by educating them about food, exercise, mental wellness and other lifestyle choices that can improve their quality of life.
Medically reviewed by

Rosmy Barrios, MD