Type 3 Hair: How to Take Care and Style Your Curly Locks
Last update: August 4, 2023
7
337
0
Caring for your specific hair type helps you maintain healthy hair. Explore your unique curl pattern and texture and how to handle type 3 curly hair for luscious locks year-round.
Type 3 hair is a versatile hair group characterized by curls. It can range from large and loose curls to tight corkscrews that demand different levels of care. Although less demanding than coily hair (type 4 hair), this hair type is still fairly high maintenance and needs attention.
Learning your curl type is essential if you want a healthy curl definition with tons of personality. A poor haircare routine with the wrong hair products, lack of moisture, and overuse of heat tools can leave your curly mane in distress.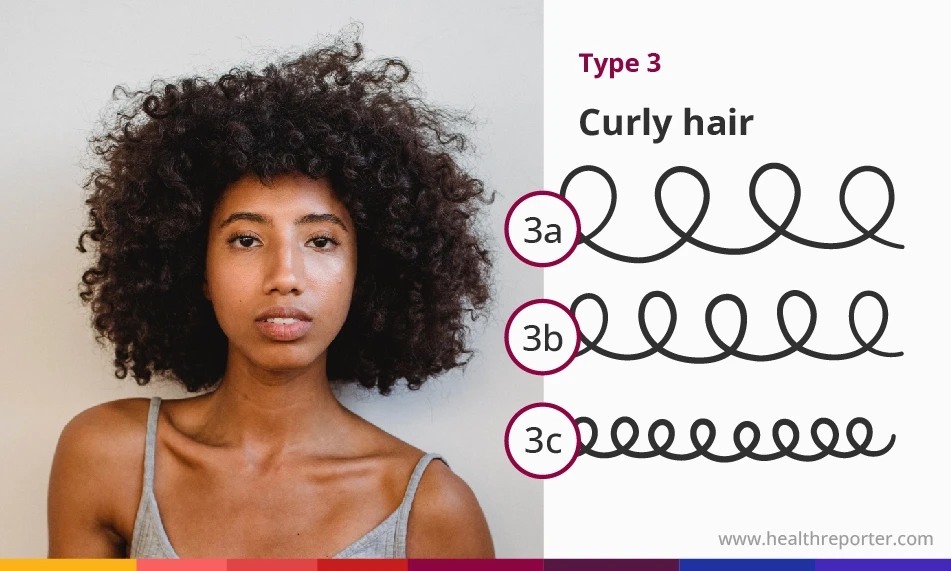 Are you keen to let your curly hair thrive? Discover the categories of type 3 hair and how to maximize its full potential.
What Is Type 3 Hair?
Type 3 hair is curly hair with a range of curl patterns. You might have loose curls in the shape of an S pattern or tighter corkscrew curls. Type 3 hair types tend to be thick with a medium or coarse texture but often comprise a combination of textures.
At their best, type 3 curls are bouncy, voluminous, and full of life. Without proper care, however, you might face frizz, tangles, and overly dry hair that breaks easily. But before you can protect this hair type, you should pinpoint the type of type 3 hair you have.
There are three subcategories for this hair type: 3a, 3b, and 3c.
#1 Type 3a hair
The 3a hair type has curls defined by an S-shape, spiral pattern. It is the loosest of all the curls in the type 3 category, but the curl pattern is more defined and tightly wound than the waves of type 2c hair. These natural curls begin to form ringlets from root to tip.
#2 Type 3b hair
Type 3b hair has bigger, bouncy ringlets or springy corkscrews. They boast more volume, and each curl is thicker than its 3a counterparts. The texture is coarser and more prone to drying out. As it's bouncier, it also shrinks a fair amount when it transforms from wet to dry.
#3 Type 3c hair
If you have type 3c hair, your curls are defined by S-shaped coils with the diameter of a pencil. These coils are tightly packed together, creating great texture and volume. Some describe this hair type as curly-coily because it has traits of both curly and coily hair types.
Type 3 Hair Comparison Table
Now you know the categories of type 3 curly hair, you can consider the key similarities and differences between these hair types. The table below compares the texture, curl pattern, and oiliness of 3a, 3b, and 3c curl types.
Grade
Texture
Curl Pattern
Oiliness
3a
Fine to medium texture
Loose, S-shaped spirals that are often unevenly distributed

Curls begin at the root
The scalp may get oily due to product buildup

More oily than 3b and 3c hair types
3b
Fine to medium texture

More coarse than 3a hair
Bouncier ringlets or corkscrew curls

May have some loose spirals (a combination of 3a and 3c hair types)
Less prone to oiliness

Requires less frequent washing
3c
Fine to medium texture

May have a mix of fine and coarse textures
S-shaped coils

Densely packed and full of volume
Doesn't get as oily

More prone to dry ends
How to Take Care of Type 3 Hair: Expert Tips and Tricks to Follow
Caring for your natural hair type is vital for securing overall hair health. Healthy hair starts at home with a strong care regimen comprising the right cosmetics, methods, and styling tips.
Here are some key ways to take care of your curly hair type.
#1 Choose the right shampoo for your curls
A sulfate-free shampoo is good for this hair type because it is free from harsh ingredients that strip the hair of its natural moisture. It thoroughly cleanses the hair and scalp without removing the natural oils, making way for more hydrated curls.
Sulfate-free products also promote healthy hair and less damage. Studies show shampooing with sulfates alongside daily grooming is a common cause of mechanical hair damage.
#2 Don't forget about conditioning
You must condition your curls to keep them hydrated, soft, and manageable. Use a regular conditioner every wash day to fortify the hair follicles, followed by a leave-in conditioner to lock in extra moisture. Hair conditioners detangle, minimize frizz, and improve styling ability.
To combat dryness further, use a deep conditioner once a week. Deep conditioners are more potent and work deep into the hair strands, nourishing and strengthening them from the inside out.
#3 Moisturize your mane
3a, 3b, and 3c hair require constant hydration. Your conditioning routine will moisturize your hair, but you can add more moisture with other products, like a hydrating curl cream. In the final steps of your regime, add hair oil to dry curls to encourage definition and add shine.
Some of the best oils to infuse moisture are argan oil, coconut oil, and other carrier oils.
#4 Pay extra attention to detangling
Curlier hair is drier and has a habit of tangling as the curls mat together. You can eradicate tangles by combing through your damp hair with a wide tooth comb. The broader teeth move easily through the strands without breaking or harming the curls.
#5 Dry and style with care
Drying your hair with a blow dryer can damage the hair shaft, causing dry and rough hair. Therefore, it's best to limit the use of heat in favor of natural drying methods. You can wrap your hair in a cotton or microfiber towel to prevent snags and tears in those fragile curls.
If you decide to use a blow dryer occasionally, keep the heat setting very low to minimize damage. You should save a curl-free look for special occasions only, as a flat iron can also contribute to significant heat damage.
Styling products are a must for every curl type. Most people find applying styling cream or a leave-in conditioner to damp hair is best. But don't overload your locks with heavy hair products. Look for gentle and hydrating ingredients, such as avocado oil and shea butter.
#6 Minimize hair treatments
Try to avoid or limit damaging hair treatments, such as coloring. Curly hair is more porous than straight hair types, and the hair absorbs the chemicals from hair dye more quickly. Unfortunately, this puts your hair at a higher risk of losing moisture.
It's also more susceptible to chemical damage. Always book an appointment with a professional hair stylist if you decide to dye your hair to ensure it is done properly.
Styling Type 3 Hair: Mistakes to Avoid
When styling your curls, it's essential to skip some common mistakes that will harm healthy and shiny type 3 hair. Once you know what to do and what not to do, you can build strong hair habits that last a lifetime and ensure your long-term hair health.
Here are some common mistakes to avoid:
Washing hair too often: You only need to wash type 3 hair once or twice a week.
Using a hairbrush to detangle: Use a wide-tooth comb or your fingers to gently detangle your curls.
Brushing your hair too often: Limit how often you brush your hair and avoid brushing completely when your hair is dry. Detangle while the hair is wet using a wide-tooth comb.
Adding styling products too late: The best time to add products is when your hair is still wet, as this will prevent the ruffling of the hair cuticle.
Drying your hair with a blow dryer: Instead of blasting your hair with heat, wrap it up gently using a microfiber towel or cotton T-shirt. Always use the lowest heat setting if you do use a blow dryer.
Wearing your hair in tight hairstyles: Avoid harsh styles, such as high ponytails, that pull the hair and put stress on the scalp. Instead, wear your hair in loose, comfortable styles. You can try cornrows to protect your hair from external damage.
Tying your hair with rubber bands: Opt for soft fabrics, like satin and silk, when choosing hair ties to minimize friction.
FAQs
How to tell if you have fine, medium, or coarse hair?
You can check your hair texture by rubbing a hair strand between your fingertips. You have fine hair if you can hardly see or feel the strand. If the hair feels thick and textured, you have coarse hair; if it's somewhere in between, you have medium hair.
What's the main difference between type 3 and type 4 hair?
The critical difference between type 3 and 4 hair types is that type 3 hair is curly, and type 4 hair is coily. Type 4 hair is a type of curly hair with more body, volume, and tight curls in a zig-zag pattern from the roots to the ends.
What's the best shampoo for type 3 hair?
You should use a gentle shampoo for type 3 curls to prevent damage to the fragile hair strands. As type 3 hair is prone to dryness, a sulfate-free shampoo is beneficial because it doesn't strip the hair of its natural oils.
A Word From a Trichologist
Those with type 3 hair have either loose or densely packed curls. Frizz and dryness are common problems for this hair type, so you need to take extra care with your haircare routine. Gentle shampoos, quality conditioners, and minimizing heat are essential practices.
The hair typing system allows you to distinguish between your precise hair type. The best way to identify your natural hair is by washing and air drying. This will allow the curls to form their natural shape without interference.
Conclusion
Type 3 hair is curly with a range of curl textures and patterns. You might have springy corkscrew curls or more relaxed spiral curls. Either way, you need to treat them with care by keeping them hydrated, staying cautious of heat, and detangling them regularly.
Last update:
August 4, 2023
7 min read
337 Views
0 Comments