Type 1 Hair (Straight): Tips on How to Take Care of and Style It
Last update: May 24, 2023
5
413
0
If you have straight (type 1) hair, there are certain tips and products that can help keep your hair looking healthy and shiny. The right routine can prevent your roots from getting too greasy. Learn how to care for and style your straight hair with this guide.
Straight hair is one of the easiest hair types to care for. The lack of curls and extreme volume makes styling easy, but it's still important to use safe products and follow a protective hair routine.
People with straight hair will style and maintain their hair differently than those with curly hair. This is because type 1 hair is less dry and more oily, requiring deep cleansing shampoos that reduce greasy roots. Learning more about your straight hair can help you find the best products and styles.
Are you ready for the perfect hair? Discover tips on taking care of and styling type 1 hair, with comparisons between each type.
What Is Type 1 Hair? 
Type 1 hair is straight hair that lies flat and doesn't have a curl pattern. Straight hair tends to be shinier because natural oils are able to travel down the hair shaft. Many people with type 1 hair may have fine hair because there isn't much volume or depth to each strand.
There are three subcategories for this hair type: 1a, 1b, and 1c.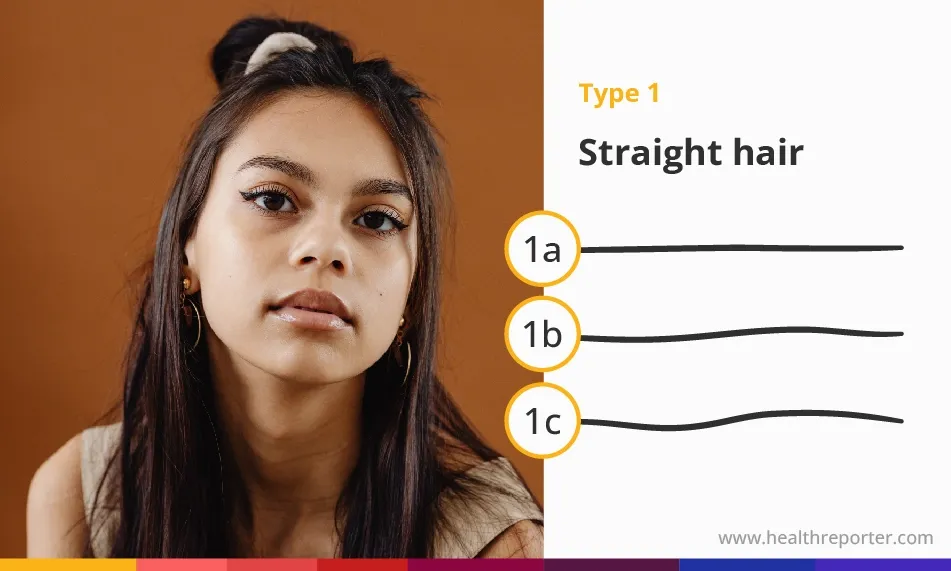 Type 1a
This is pin-straight hair that does not hold heated curls very well. It is also soft and shiny due to the lack of a curl pattern. People with thin or fine hair may find themselves in this category as there isn't much volume at the roots and ends.
Type 1b
This type of hair is still straight but has more volume. Type 1b hair can hold curls and waves created with heat styling tools much better. However, the overall volume and body of your hair also depend on genetics and the types of products you use to cleanse your scalp.
Type 1c
People with type 1c hair have a slight bend in their hair, especially when it's wet. Due to the extra volume, it's easy for the hair to become frizzy when not dried properly. The main characteristics of type 1c hair are tousled strands, less greasy roots, more volume, and a slight dryness at the ends.
Type 1 Hair Comparison Table
Straight hair derives from round hair follicles that don't have a curve. These hair fibers determine the direction in which your hair grows and how it sits. You can determine your specific type by evaluating your hair texture or referring to a hair typing system that contains each characteristic.
Below is a comparison of the type 1 hair categories:
| | | | |
| --- | --- | --- | --- |
| Grade | Texture | Curl pattern | Oiliness |
| 1a | The hair strands are usually thin and soft Smooth texture that may hold onto more oils | Completely straight hair without a wave or curl Flat hair that has little to no volume around the roots | Gets oily very quickly due to thin hair on the scalp Some people may also get a greasy mid-section of hair |
| 1b | Soft hair with more bouncy volume in the roots Might be more dry compared to type 1a hair | Still 100% straight hair but with more body Hair ends could appear tousled due to the natural volume | Doesn't get as oily Could produce more oils if the person is constantly fixing their hair |
| 1c | More coarse straight hair that can hold hairstyles betterCould easily become dry | Type 1c hair has a very minimal wave Soft tousled look with a more tenuous body | Those with this hair type can go days without washing it More volume prevents oils from showing as quickly |
How to Take Care of Type 1 Hair?
Using the right haircare products is important for maintaining long-term hair health. You also need to choose ingredients that reduce the appearance of greasy roots.
Here are some ways you can take care of your straight hair type:
#1 Use hair oil for type 1 hair
Coconut oil is best for type 1 hair because it protects each hair strand against heat damage and maintains the look of sleek hair. You can work this oil into your roots and leave it for a few hours to settle on the scalp. Then, wash it out with a nourishing shampoo, making sure to scrub your head gently.
Research suggests that castor oil unclogs your hair follicles and promotes growth. The less dirt you have on your scalp, the less oil will come through into the roots.
#2 Use hair masks
You should use a moisturizing hair mask once a week. This can keep your hair moisturized and reduce excess sebum production. For oily hair types, choose a hair mask that contains tea tree, lavender, or rosemary oil. People with straight, dry hair can make their own treatment with shea butter and honey.
#3 Avoid hair dryers
A hair dryer may cause damage and increase the risk of split ends. The sudden heat weakens your hair shaft, which can leave your hair limp and flat. Instead, wrap your hair in a cotton towel or use a low heat setting on your blow dryer.
You should also avoid other heat-styling tools whenever possible. For example, instead of using a flat iron or curler, wrap your hair around a long sock and tie it to your head. You can sleep with it overnight and take it out in the morning to reveal soft curls.
What Hairstyles Are Perfect for Type 1 Hair?
For straight and natural hair, add some layers to create more volume. These layers can also shape your face and add depth to straight locks. A shoulder-length cut with framing layers is especially great for thin strands.
You might try curtain bangs or a textured bob to avoid limp locks and split ends. Shorter hairstyles usually require less maintenance. Talking to a professional hairdresser can help you decide which style you want.
FAQs
How to determine what texture of type 1 hair I have?
After washing, let your hair air dry and examine the texture. If you have pin-straight hair that appears thin, you have type 1a hair. Someone with more bouncy roots has type 1b hair, and someone with very slight waves and coarse hair has type 1c hair.
What is the best oil for type 1 hair?
You should use argan oil to nourish straight hair, as it can increase thickness and promote hair growth. Some people believe that adding oil to greasy roots is counterproductive, but it can actually nourish your scalp and regulate sebum production.
A Word From an MD
People with type 1 hair regularly experience oily roots and limp strands. This is because the hair falls flat against the head without much volume support. However, with the right hair products, you can create volume that complements your face shape.
You could try nourishing hair shampoos containing tea tree oil or leave-in conditioners that replenish your scalp. Removing dirt and product buildup from your hair follicles is very important for regulating sebum and preventing scalp inflammation.
It's also worth doing a scalp massage to increase hair thickness and growth. Studies show that regular massages could help those with thinning hair. The more root volume you have, the less likely you'll notice oiliness.
Conclusion
Type 1 hair is completely straight compared to those with wavy hair or tight curls. You may notice more greasy roots or thinning around the scalp. To protect your hair in the long term, use coconut or argan oil, try a hair mask once a week, and stay away from heated styling tools.
Last update:
May 24, 2023
5 min read
413 Views
0 Comments
${TOCSections.eq(0).find('a').text()}