Running 3 Days a Week: Benefits, Schedule, Results
Last update: November 30, 2022
9
1058
0
Consistent exercising is one of the best habits anybody can develop. So, what then can you do to bring this to the limelight? In today's article, we will be looking at a sustainable running routine, including the benefits, hacks, and scheduling tips.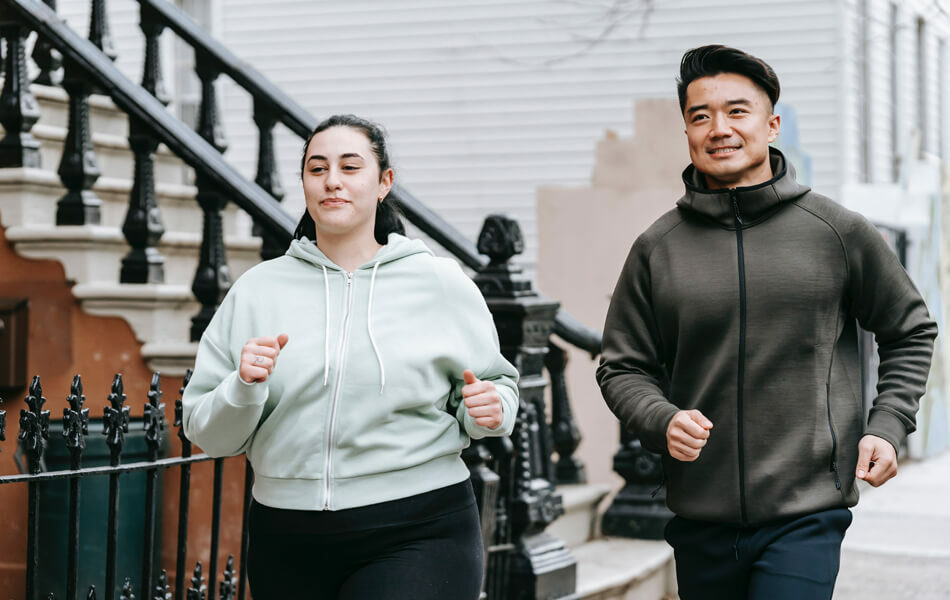 Growing accustomed to new habits is quite tricky, which is why the beginning parts of any workout routine are the most stressful. However, the results are always a welcomed development.
When it comes to the many benefits of running, you need to build a proper foundation as that is the trick to shedding more weight, boosting aerobic function, and extending lifespan.
In that regard, familiarizing yourself with the ins and outs of the exercises and creating a sustainable routine is very important.
Today, we will be looking at running three times a week. Yes, we will help you see why this option stands out, how you can train to achieve your goals, and draft a suitable training program.
Without waiting further, let us get you to run three times a week.
How Many Miles Is It Recommended to Run per Week?
Regarding your weekly mileage, we highly recommend you stick to running 5 to 20 miles per week. This range will guarantee you gain from the plethora of health benefits linked with running.
However, it would be best to remember that your weekly total will depend on several factors, including health and fitness levels and running goals.
As such, new runners can start with runs that last between 20–30 minutes which would see them running an average of 4 miles in the first week. On the other hand, seasoned runners can run up to 30 miles per week, which is a bit much for new runners.
If you are preparing to run a half marathon and wish to improve your pace for the half marathon, your go-to strategy would be to add a few extra miles to your daily routine, thus, expounding your weekly projection.
If your schedule demands that you only run 3 times a week, you can decide on a 2-mile distance for each run. However, if you are used to long runs or do not find this satisfactory enough, you can increase your daily mileage using the 10% rule.
This rule states that consecutive increases in running mileage will be by a maximum of 10% to stay injury-free.
Nevertheless, irrespective of your total weekly mileage or your program, it is essential that you squeeze in rest days so that you stay healthy and injury-free. If you cannot recover fully during this period and still want to continue your training plans, you can opt for running supplements.
The primary characteristic of most running supplements is the presence of essential vitamins and electrolytes, which help hasten the recovery progress, allowing you to run longer distances with relative ease.
Overall, the supplement helps with running improvements and physique management, allowing you to stay in running form for as long as possible.
5 Benefits of Running 3 Days a Week
The health benefits of going on routine runs are somewhat endless. Nonetheless, you should remember that getting the maximum benefits out of any physical activity means you would have to be consistent.
We have outlined 5 critical benefits associated with running 3 times a week.
Decreases cardiovascular diseases
Cardiovascular disease, like stroke arrhythmia, and heart failure, is responsible for 1 out of 4 deaths in the United States annually. The numbers might appear small, but a deeper look at the demographic reveals a horrific story.
Regular running improves cardiovascular health by boosting blood pumping, circulation, and heart rate. It also lowers blood pressure and strengthens blood vessels allowing them to transport blood with very little resistance.
A recent study which lasted over 15 years, revealed that running for as little as 5–10 minutes reduced the risk of cardiovascular disease by as much as 45%.
Promotes fat burning
When we talk about fat burning, we ultimately refer to weight loss, and that is something you can benefit from running three times a week. That is because running elevates your metabolism, allowing you to burn more calories and fat over a given period.
A study carried out by the American Council on Exercise on the effect of exercise on calorie burning stated that a 180-pound individual running at an average pace can burn up to 17.0 calories every minute.
Increasing the intensity during those three days or running more than three times a week can further reduce your body fat percentage, further improving your weight loss journey.
Improves cognitive performance
When you maintain your run regularly for a few weeks, your body responds by improving blood flow to your brain and releasing several chemicals that promote positive mental health.
It also slows down age-related loss in brain tissues and nerves while enhancing functional aspects of higher-order regions that handle cognitive functions.
Both attributes improve your mental health, reducing depression, anxiety, and conduct disorder. On the other hand, it improves cognitive performance such as decision making, higher thinking and learning, and impulse control.
Promotes blood circulation
Proper blood circulation is an essential attribute to maintaining overall health. Appropriate blood circulation means that your internal organs receive adequate blood, oxygen, and nutrient supplies, thus, keeping organs and muscles functioning at a high level.
Runners can further boost their heart rate and unclog their blood vessels by running 3 times a week, allowing their hearts to pump more blood faster. In the same vein, it helps strengthen their cardiovascular system, reducing the risk of stroke ad heart failure.
Improves sleep quality
Running three times a week miraculously equals better sleep (you can fall asleep faster and longer) as you get tired after each session.
The constant workload on your muscles tires them out and sparks the release of serotonin and adenosine, which aids in relieving insomnia.
Conversely, a 2012 study revealed that going on morning runs that last for 30 minutes at a moderate pace leads to significant improvements in sleep habits, mood, and concentration throughout the day.
Eight hours of sleep enhances immune function, cardiovascular health, weight loss, cognitive function, energy production, and mood.
Running 3 days a week schedule
The best way to maintain consistency with your running exercise is to have a workout plan. That way, you always have something to anticipate.
Nonetheless, if you decide to run 3 times a week, you can adopt this running schedule or, better still, use it as a base to create your exercise routine.
Day 1 – Base run
Start your running week with a high mileage run such as the base run.
Base runs are essential to all runners, irrespective of their running capabilities. This short-to-medium distance typically results in an elevated heart rate and helps build running endurance, running efficiency, and aerobic capacity.
Day 2 – Tempo run
You can use tempo runs to bring the heat down and make the most out of your running schedule.
Tempo runs are a type of long run that caters to faster running and endurance. In this case, it should challenge you just enough that you use 70–80% of your maximum heart rate.
An excellent example would be running a mile at an easy pace, 2 miles at tempo pace, then with a mile at an easy pace.
Day 3 – Hill work
Conclude your running week with a high-intensity exercise like running hills.
Hill run is a great way to build the muscles in your legs. Find a 200 m, run up the hill as fast as possible, and then jog/walk back down – go at a challenging but not overwhelming pace. Incorporate the different types as you work to complete 5–10 sets of hill runs.
Tips to Improve Your Training Schedule
Running 3 times a week might be very taxing for those who just started running; the physical and mental strain might leave them dreading the exercise. Nonetheless, they can still gain traction if they have the right tools.
As such, we have prepared 4 tips to help improve your running time, lose weight, introduce speed, and improve your schedule.
Set goals
Setting a running goal is perhaps the most crucial phase to ensure success.
But, first, it would help if you ascertained why you want to run, whether it is to tone your body, clear your mind, lose weight, build speed, or build endurance, as it helps map out your journey. Afterward, tailor your running goals using the "SMART" training method.
Likewise, you also feed off the motivation when you smash your running goal. That prompts you to keep up with your routine runs while giving you the confidence to expand your limits.
Get the appropriate running gear
Putting on the appropriate running material is vital to this exercise. The best running gear comes in breathable, stretchy materials that allow runners to train safely with little to no restriction.
A good pair of running shoes, lightweight tops, running tights, performance shorts, and socks will help you have an easy run as their design makes them travel with your body. Similarly, reflective gears increase your visibility and are especially important during early-morning and late-night runs.
Of course, winter running apparel also exists. That includes running jackets, winter socks, running shoes with slip-on traction devices, gloves, and hats.
These high-tech gears allow runners to escape the dangers of running in colder temperatures, keeping them safe, warm, and moisture-free.
Track your progress
Another excellent way to boost your running practice is to keep tabs on how much headway you make each week. A progress tracker highlights your improvements based on your strengths and weaknesses, allowing you to restructure your workout program to even things out.
In hindsight, the beginning of your training will be the most difficult, and you will have days when you do not feel like running. However, revealing how far you have come will motivate you to hit the tracks.
There are several ways to track your improvement, the most common being fitness apps. These apps reveal advanced analytics that ultimately shows you where you excel and need improvements. You can also decide to keep things simple by taking notes on your phone.
Prioritize healthy diet
A healthy diet does not only help in keeping your body healthy, albeit a major focus, but it also helps fuel you for your runs by providing you with much-needed energy.
In that regard, you should prioritize eating whole foods instead of processed ones. Furthermore, your diet should mirror your daily nutrient requirements such as calories, fats, proteins, vitamins, and minerals.
Therefore, your carb sources should revolve around whole grains, fruits, and vegetables. As for proteins, you should only eat low-fat protein instead of high-fat protein.
Lastly, drink lots of water to refill on lost body fluids. Running long distances drains you, so make sure to drink water before, during, and after each run.
Prioritize other forms of training
It may sound counter-intuitive to put effort into cross-training, strength training, resistance training, or any other activity when trying to achieve a running goal.
Still, at some point, your body needs the diversity to develop correctly and tackle injuries. Hence, integrating workouts that strengthen your muscles and bones without adding unnecessary strain on your joints will make your life much easier.
Lifting weights, cycling, swimming, and rowing are great examples, allowing runners to sustain their exercise capacity while working out similar muscles.
A Word From Our Coach
Creating a smart schedule that you follow diligently is always a good idea when embarking on any journey. Planning, commitment, and discipline go hand-in-hand in ensuring that you crown your journey with success.
If you become unsatisfied with this routine, you can switch things up and start running four-five times a week. Nonetheless, you must always listen to your body and structure your schedule with the acquired information.
Whether your goal revolves around building muscle, reducing body fat, or improving speed work, you will be unable to achieve this if you are injured. Therefore, you must schedule at least one rest day between your runs and other exercises to help your body recover.
At the end of the day, you should be happy running and should not compromise on this.
Conclusion
At some point in your life, your focus will surely be on ways to become healthy, which will eventually make you turn to exercise.
Running 3 times a week is an excellent way of getting your cardio done. Of course, cardiovascular exercises play critical roles in healthy living, strengthening your body and mind.
So, why not draft a schedule and start running today; in a few weeks, you will undoubtedly see positive changes.
Last update:
November 30, 2022
9 min read
1058 Views
0 Comments