I Tried MyFitnessPal for One Month: Here's My Honest Review
Last update: September 27, 2023
16
1021
0
Is MyFitnessPal the best nutrition and fitness app? Here's my personal take.
Health and fitness are struggles that many people can relate to. Whether you want to lose weight, gain muscle, reduce your sugar intake, or just track your food, chances are, you've tried various methods and apps to help you along the way.
One app is MyFitnessPal, a popular tool that allows you to monitor your exercise and nutrition. It promises to help promote a healthier lifestyle, which means feeling, looking, and living better.
What brought me to this exercise and nutrition app is its manual food scanning features that can help you progress toward your goals, one meal at a time. MyFitnessPal, which is free but offers a premium subscription, has over 1.4 million reviews in the App Store and is praised as one of the best ones available.
I tried MyFitnessPal for over a month and am happy to share my experience.
What Is MyFitnessPal?

Pros
Huge food database

Integrates with many other health and fitness apps and trackers
Cons
Large ads

Slow navigation

Barcode scanner that doesn't always work
MyFitnessPal is the App Store's most popular food and nutrition tracker. With features like meal planning, calorie counting, and workout routines, it's a health app in its own right.
At its core, it's a calorie tracker shaped like a food diary. You manually log the foods you eat. The app then adds up the calories and other nutrients. It tracks these against your goal to lose, maintain, or gain weight.
The MyFitnessPal food tracker draws on a vast database to simplify the process of logging your own foods. It also lets you track exercise and adjust calories accordingly.
MyFitnessPal integrates with over 50 fitness tracker and smartwatch apps. This includes tracking water, calorie intake, and macronutrients on your Apple Watch.
In my personal experience with MyFitnessPal, I synced it with my Garmin wristwatch, which I used to track my daily steps, heart rate, and outdoor activities. I also connected it with my Apple Watch.
This dual integration provided a comprehensive approach to fitness tracking and allowed me to maintain a holistic view of my weight loss journey, ensuring that my diet and exercise were fine-tuned for optimal results.
Who Is MyFitnessPal for?
MyFitnessPal is for anyone with fitness and health goals that need tracking. It can be anything from weight loss, weight maintenance, muscle gain, drinking more water, calorie tracking, increasing workout, meeting certain macros, reducing sugar intake, meal planning, sticking to a diet, and changing eating habits.
This app is user-friendly and ideal for beginners or people who barely track calories. Ultimately, MyFitnessPal can help you learn more about your dietary intake and exercise routines, which can change your way of life.
If you're an accountability seeker, MyFitnessPal can also be a great option. The app's social features have been instrumental in my journey. It allows you to connect with friends on the same journey and create a support network that keeps you accountable and motivated, which can make a huge difference in achieving your goals.
If you're also someone with specific dietary preferences or restrictions, such as keto, vegetarian, vegan, or gluten-sensitive, MyFitnessPal will allow for easy customization of nutritional tracking to meet your unique dietary needs.
Why MyFitnessPal Sparked My Interest
I've been involved in the health and wellness industry for many years, and I've tested various products, including weight loss apps, recovery products, mental health apps, and more, for my clients and publications.
When I heard about MyFitnessPal's reputation as a versatile and user-friendly nutrition app, I was eager to explore what made it stand out in the crowded wellness digital space.
The app functions as a diet and fitness tracker that allows users to set weight gain or weight loss goals, track calorie intake, keep a food diary, and view the nutritional facts of their food. It keeps track of vitamins, minerals, proteins, carbohydrates, and fats.
I needed to see firsthand how well it does all this to appreciate its usefulness.
What caught my attention even more was how it built a large community. You can connect with others and get support, which is essential for staying motivated. In my world, where health matters so much, MyFitnessPal seemed like a must-try tool, and I'm excited to share my experience.
How Does MyFitnessPal Work?
MyFitnessPal is available as both a website and a mobile app. It offers free membership, but the premium version has more features. After downloading the app on my phone, I created an account with my username and password and then answered some quizzes about my health and nutrition goals.
MyFitnessPal allowed me to define my goals, whether shedding a few pounds, maintaining my current weight, or building muscle.
I then provided some general information about my height, weight, sex, and other basic information. After answering all the questions, MyFitnessPal created a personalized plan to fit my lifestyle and fitness goals.
The plan outlined my dietary goals and contained my daily allowed calorie count.
MyFitnessPal also created a tailored workout plan that calculated the number of calories I needed to burn to reach my specific goals.
The app then tracked my progress weekly and provided comprehensive insights into my journey and a possible date to reach my goals.
Once I created my account, I began logging my meals to count calories and track my progress.
Every time you open the app, you see a detailed dashboard that tracks your daily calorie intake and the macronutrients in the foods you eat. Your weight and daily workout progress are displayed at the bottom of the dashboard. The app also includes links to the other pages of the app and an area where you can add your recipes and frequently consumed meals.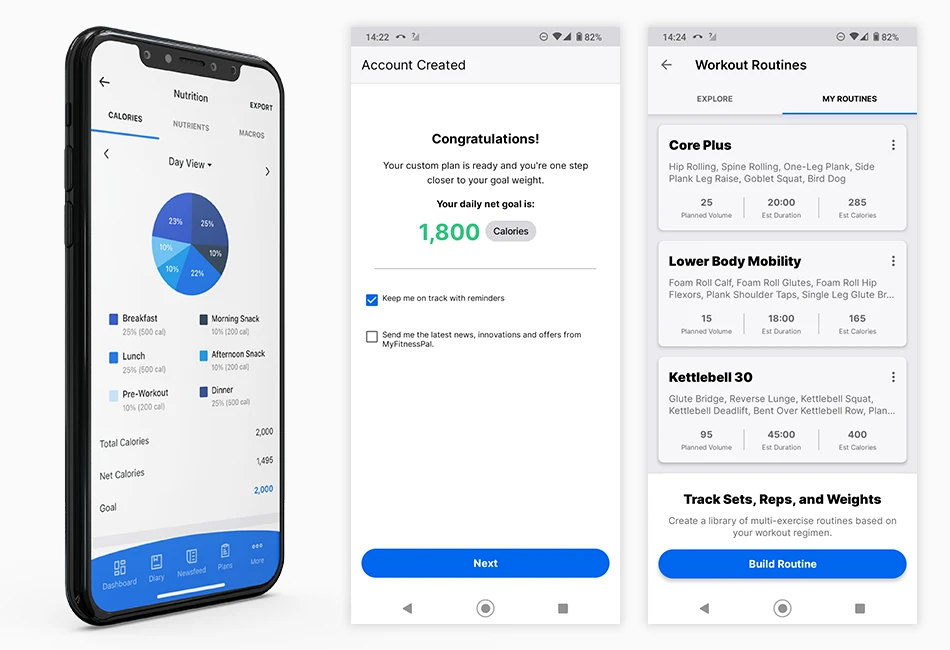 Key Features of MyFitnessPal
MyFitnessPal provides various features, making it a reliable and versatile fitness and nutrition app. Here are some features I found notable:
#1 Food diary
The food diary is probably the most popular feature of MyFitnessPal. It allows you to record the meals you eat throughout the day. You can add your breakfast, lunch, dinner, and snacks. This can be useful for tracking where most of your nutrients and calories are coming from.
As someone who eats five meals a day instead of three, I found it easy to track what I eat and drink throughout the day, whether it is a home-cooked meal or a quick snack. It made me more aware of my food choices and helped me stay on track.
#2 Calorie counter
MyFitnessPal has calorie information for many popular food brands, including well-known chain restaurants. I was amazed at how simple calorie counting was with MyFitnessPal.
MyFitnessPal also calculates your recommended daily macronutrient and micronutrient intake based on your answers during signup. You can change or personalize these recommended daily totals with the free version. However, the premium version allows you to set your goals down to the exact calorie and gram.
I found this feature helpful for users who want to incorporate specific physician or dietitian recommendations into their MyFitnessPal experience.
The customizable macronutrient tracking feature could be valuable in your journey if you're like me and prefer a more flexible approach with fewer strict calorie limits.
#3 Workout videos
The MyFitnessPal membership subscription offers users access to more than 85 different workout videos and routines that vary in difficulty, length, and style. If you're new to the gym, accessing pre-made workout routines and videos can be beneficial. Such routines include intense HIIT exercises, beginner-friendly ab routines, yoga, and 30-minute pilates.
#4 Recipes and meal plans
MyFitnessPal provides a large food database that offers personalized meal plans and recipes based on your interests and goals for fitness. I customized meal plans that met my specific dietary needs and diversified my diet through this feature.
#5 Supportive community
MyFitnessPal has a big community where you can ask questions and get answers from other users. The discussions include bulking, sleep, intermittent fasting, and even mindfulness. You may expect to get answers to your questions almost immediately.
To navigate to the community tab, tap the More icon at the bottom right of the screen. Look for a Community option in the menu and tap it. This should take you to the community section, where you can take part in discussions, join groups, or find friends.
The strong community of MyFitnessPal made a difference, and seeing others share success stories, words of encouragement, or even advice on how to use the program more effectively offered value.
What I Liked About MyFitnessPal
I liked several things about MyFitnessPal that were essential to my fitness journey. Here's what kept me committed to using the app for over a month:
#1 It's easy to log my meals
MyFitnessPal has a database of over 14 million food options, allowing you to perform a keyword search for a food item. You can specify the quantity of portions and the serving size after choosing your food or the food that most closely matches what you consumed.
You may also upload the recipes for your favorite dishes and save regular meals, which is helpful if you follow a particular diet.
MyFitnessPal also has a barcode scanner that allows you to use your smartphone's camera to get complete nutritional information for any food or drink that has a barcode on it.
This is the simple way to find something in the MyFitnessPal database, but it cannot provide information about prepared foods from restaurants or home-cooked meals.
#2 I can easily follow my daily calorie balance
MyFitnessPal's calorie counter is an online food journal for each MyFitnessPal user. I could set my daily goals on the counter, and the app could add several foods at once. The app also automatically saved the same foods I consumed frequently, making it easier to locate them when I ate and needed to log them.
The compatibility of MyFitnessPal with wearable devices such as Apple Watch and Fitbit also made it easier for me to sync my steps and calories in one place.
Research indicates that calorie counting through mobile apps works. It can help you eat fewer calories and healthily lose weight. And MyFitnessPal supports this.
With MyFitnessPal, I could see how many calories were in the foods and drinks I consumed, as well as the amount of protein, carbohydrates, and fat. From here, I could adjust my goals.
#3 It promotes a healthy lifestyle
MyFitnessPal promotes a healthy lifestyle through simple progress tracking, various healthy meal ideas, and motivational streaks. The app provides a valuable resource for healthy meal planning. Users can access a vast database of recipes and meal ideas that align with their nutritional goals.
MyFitnessPal also has a database of over 350 exercises to follow. I could see the number of calories I burned during each workout, which depended on my unique height, weight, and gender.
#4 The free version has numerous features
The free MyFitnessPal version allows users to track their health and wellness goals, nutritional information, and food intake. With this version, I could set my weight loss goals and track them through a Weekly Report feature. I was also able to search for food and log my meals.
The free version also offers exercise tracking features. I could add my daily morning runs, and being a creature of habit, I added my runs repeatedly. The free option also allowed me to connect the app with my Apple Watch, and I synced my steps and calorie burn.
Where MyFitnessPal Fell Short
While MyFitnessPal has benefited my health journey, a few things need improvement regarding user experience, data accuracy, and access to advanced features for all users.
#1 Calorie counter may not be accurate enough
While studies suggest MyFitnessPal is accurate for tracking calories, some food items in the database are user-generated and may not be accurate enough. Make sure you read the nutrition labels for your foods before logging your meals to enter the correct nutrition information for your meals.
#2 Logging all the meals can get time-consuming
Although it's easy to log foods, it can take a lot of time if you have several items to add each time. Logging my meals on MyFitnessPal took too much effort and was time-consuming.
Entering a single food item took several screens to be successful. This was tiresome for me, considering that a meal has more than one food item.
Before trying a recipe for the first time, you must also ensure you enter each ingredient into the recipe builder. While viewing the entire nutritional composition of your meals is helpful, it can be time-consuming.
#3 Food logging doesn't work offline
Out of connectivity? It's going to be a problem. You won't be able to access the MyFitnessPal database. In other words, you can't log food without your WiFi or mobile data on.
While not a major drawback considering internet availability today, it can still be a problem in some regions. Or if you like to simply disconnect from the web for a while.
On the plus side, you can still log exercises and other activities offline. Provided you create them yourself.
#4 It lacks educational content
While MyFitnessPal is a great fitness and nutrition app, it falls short in offering comprehensive educational resources to help users make healthier choices.
Many users, especially beginners, benefit from content on how to make informed decisions regarding their health. Educational content could include articles, videos, or tips on different topics related to health, nutrition, and fitness.
The few articles I found on their website are not informative enough, and all the workout videos are in the premium version.
How Much Does MyFitnessPal Cost?
MyFitnessPal Premium starts at $9.99 a month. There is no free trial, so you'll have to subscribe to try premium features.
You can save money on the standard MyFitnessPal price by paying an annual subscription of $49.99 at the time of writing.
MyFitnessPal claims premium members are "up to 65% more likely to reach their goals." While this may be true, the free version in itself provides a rounded set of features.
At $9.99 a month, MyFitnessPal is cheaper than other weight loss apps like Noom, WeightWatchers Digital, or The Mayo Clinic Diet. But unlike these apps, it's not a dedicated weight loss program.
MyFitnessPal premium vs. free
The free version of the app comes with ads and other limitations. Premium features include customized meal recipes created by registered dieticians, food timestamps, a barcode scanner, and guided workouts.
One important feature that needs to be added to the free version is macronutrient information. This means the app doesn't show you how many proteins, carbs, or fats you consume.
Here is a table showing the main differences between MyFitnessPal free and premium versions.
| | | |
| --- | --- | --- |
| | Free | Premium |
| Food, exercise, and weight logging | ✓ | ✓ |
| Create meals and recipes | ✓ | ✓ |
| Nutrition tracking | ✓ | ✓ |
| Customize calorie and macronutrient goals | ✓ | ✓ |
| Share and view the diary with others | ✓ | ✓ |
| Connect with partner apps | ✓ | ✓ |
| Ad-free | | ✓ |
| Customizable macronutrient goals | | ✓ |
| Workout routines | | ✓ |
| Meal scan and barcode scanner | | ✓ |
| Intermittent fasting | | ✓ |
| Food analysis and insights | | ✓ |
The question of whether free or premium is best depends entirely on what you are trying to accomplish. If you just need a simple way to track your calories and a few other things, the free option can be helpful.
The premium version is an excellent option if you're serious about keeping your figure. I personally found MyFitnessPal premium a more affordable calorie-counting app. It's way cheaper than other nutrition apps.
MyFitnessPal vs. Alternatives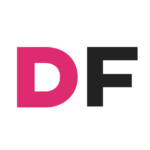 Brand
DoFasting
Noom
MyFitnessPal
Pros
Tracks fasting
Workout videos and articles
Extensive library of meals and recipes
Hydration tracker
User-friendly and easy to navigate
Convenient for beginners
Emphasis on eating whole foods
Access to certified health coaches
Scientifically supported
Focuses on long-term results
Massive food database
Intuitive calorie tracking
Also tracks exercise
Cons
No free trial
No free cancellations
Not suitable for people with eating disorders
No face-to-face option
Requires commitment
Ads get in the way of the user experience
Doesn't work well offline
Barcode scanner sometimes fails to recognize foods
Other User Reviews of MyFitnessPal
MyFitnessPal has been a positive experience for me, and I would suggest both the free and premium versions. Looking at the reviews, I can say I am not the only user appreciating the app. Most reviews I saw are highly flattering: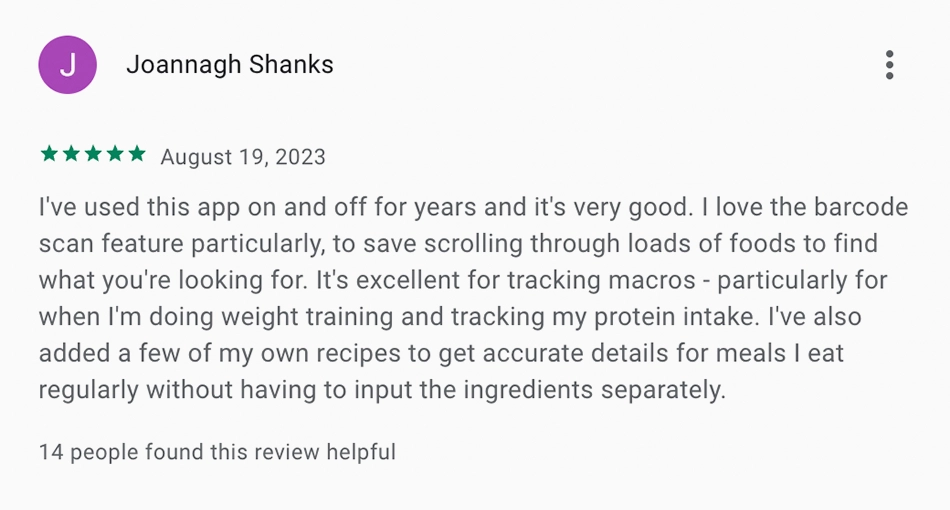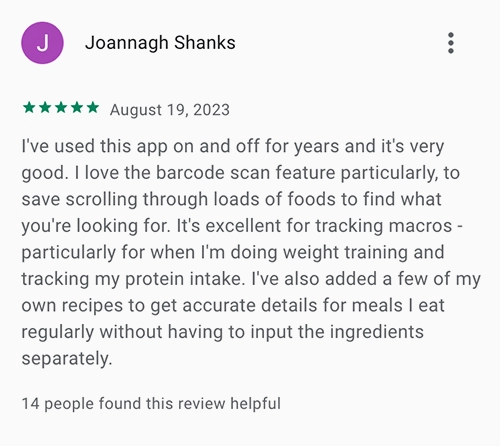 And with over 2 million reviews, it's not all positive. There are people who didn't like the available features and ads on the free version, but overall, MyFitnessPal has worked out well for most of its users.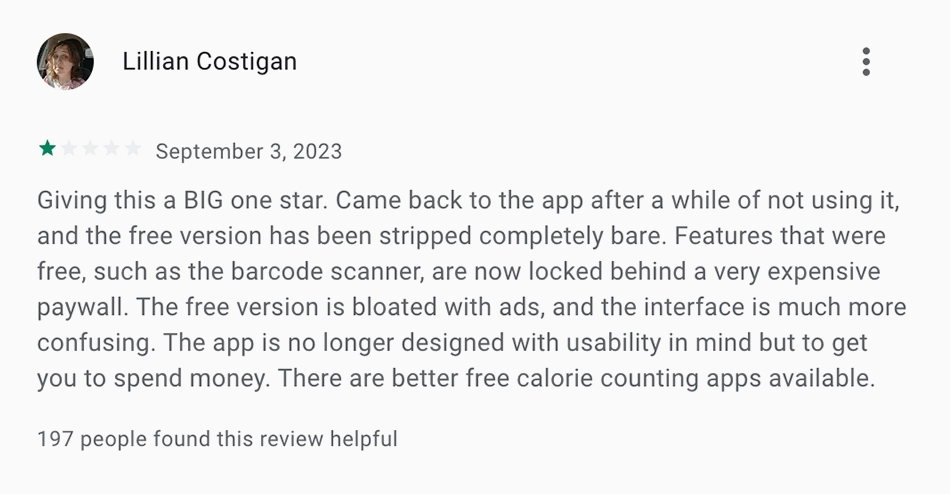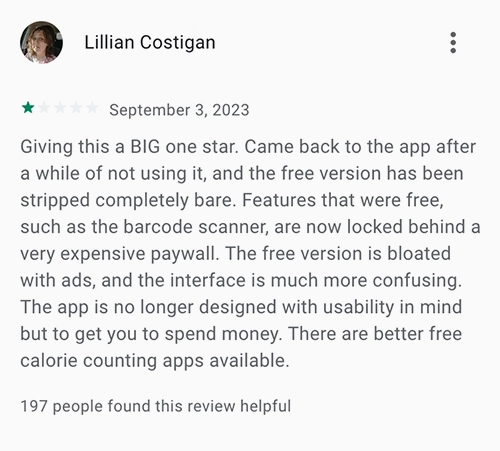 How I Tested MyFitnessPal
The key factors I considered in my review are quality, effectiveness, price, and brand reputation. Here's a closer look at each of them.
Quality
From app functionality to user interface design, many factors define the quality of an app. I looked beyond the obvious features into the overall experience the app provides.
I checked for an app that provides trustworthy and useful health and nutrition guidance, especially from an authority figure like a registered dietitian.
Effectiveness
Does the app work as intended? Does it help users achieve their health and fitness goals? Do all the features run smoothly?
While testing MyFitnessPal, I kept an eye on the app's functionality. I also ensured that the app could suit various dietary requirements related to weight loss, food tracking, and meal planning. I read countless user reviews to identify a highly rated app and asked family, friends, and coworkers for their recommendations.
While MyFitnessPal proved effective, I noticed that a feature, such as a barcode scanner, sometimes worked differently than intended.
Price
MyFitnessPal offers a free option. However, advanced features like the barcode scanner, macronutrient breakdown, and custom meal plans require a premium subscription.
I took into account the price of the app compared to other similar apps. I also made sure to clearly explain the cost of the app. That way, you know what premium features you are paying for. If you are interested in a premium plan, keep an eye out for deals, as MyFitnessPal occasionally offers discounted plans.
Brand reputation
Does the brand have a reputation for providing timely updates and a great user experience? Brand reputation matters in the competitive fitness app category.
I'm talking about apps that often require a long-term commitment of more than a year and come with annual subscriptions. That's why I looked beyond the app to user numbers, reviews, and online discussions.
FAQs
Still got some questions about MyFitnessPal? Next, we answer some of the most commonly asked questions about this app.
Is MyFitnessPal free?
MyFitnessPal is free with some limited features. With the free version, you cannot track macronutrients like net carbs, protein, or fat. And you can't use the barcode scanner to access custom plans.
What does MyFitnessPal do?
MyFitnessPal enables you to manually log the food you eat and calories you burn through exercise and other activities. It tracks calories in and calories burned against your pre-set weight goals. At the same time, the app provides health and fitness education.
With which devices is MyFitnessPal compatible?
The MyFitnessPal app works on iOS 14+ and Android 9.0+. It's compatible with over 50 devices, including Apple Watch, Fitbit and Garmin trackers, and other brands. As far as device support goes, MyFitnessPal doesn't disappoint.
Where can I get the MyFitnessPal?
You can get it on the official website: myfitnesspal.com
Is there a better app than MyFitnessPal?
MyFitnessPal is a great nutrition and fitness app, but it's not the only one in the market. The top two competitors include DoFasting and Noom.
Where can I get MyFitnessPal?
If you're an Android user, you can download the MyFitnessPal app from Google Play or the App Store if you're an iPhone user. You can also download it from the MyFitnessPal website.
A Word From Our RD
MyFitnessPal is not a weight loss program. But counting calories is one of the pillars of a successful weight loss strategy. And the app makes that a fairly quick and easy process.
Like other mobile apps for tracking calories, it requires perseverance. It doesn't magically log calories for you. You still have to manually input each food.
You have to approach the app with a positive mindset. Otherwise, you may feel disappointed by the repetitive nature of the process.
But all this work pays off. Using the app, you will gain valuable nutritional knowledge. And by doing so, making smart and healthy food choices becomes easier.
At the same time, the ability to track workouts and calories burned in the same app can make your life easier. You won't have to switch between apps all the time.
In the end, so long as you're willing to put in some work, food tracking can help you reach your weight target. It's valuable regardless of whether you follow a weight plan or not.
MyFitnessPal Review: The Verdict
As there are other fitness and nutrition apps such as DoFasting or Noom, the question of whether MyFitnessPal is worth it depends on your personal experience, your commitment level, and the outcome.
My bottom line is that MyFitnessPal can be a helpful tool in anyone's weight loss journey. It offers reliable food-tracking features and helps you track food intake goals. You can easily check calories consumed and calories burned.
I appreciate MyfitnessPal's user-friendly design, simple food logging, massive food database, and extensive community. MyFitnessPal is an excellent app and may help you track your progress, whether you aim to gain weight, consume fewer calories, or simply form new eating habits.
But remember, it's not a weight loss program. It cannot help you miraculously lose weight. Nor does it have a fitness component that's as developed or appealing as the other apps.
Last update:
September 27, 2023
16 min read
1021 Views
0 Reviews
${TOCSections.eq(0).find('a').text()}