Moérie Review: My Month-Long Haircare Adventure
Last update: October 5, 2023
15
827
0
I used Moérie haircare duo for a month, and I'm here to spill all the details
As someone who styles and bleaches their hair frequently, I'm always on the lookout for products that can help nourish my hair and scalp. So when I came across Moerie while scrolling on social media, I was intrigued.
The brand claims to be formulated with natural ingredients to help nourish the hair and promote healthy hair growth. After doing some research, I decided to test out their shampoo and conditioner set to see if it could help improve my hair.
In this review, I'll share my experience with Moérie products, as well as what online reviews say about the brand. I'll also discuss the key ingredients and how they work together to nourish the hair and scalp. Read on to find out if their products are worth the price tag and if they can help improve your hair.
What Is Moérie?

Promotes natural hair growth
Prevents hair loss
Contributes to improving scalp and hair condition, as well as the appearance of the hair
Replenishes empty hair follicles with new hair
Start the Quiz
Pros
Cleanses the scalp, preventing build-up and shedding

Softens the hair

Adds shine

Suitable for men and women

Free of silicone, paraben, SLS, and GMO

Cruelty-free

No artificial fragrances
Cons
Individual results vary

Haircare products are recommended for adults
Moérie is a premium haircare company committed to promoting hair growth and preventing hair loss. The products comprise natural origin ingredients, including arginine, betaine, biotin, caffeine, fulvic acid, and coconut oil. They are free from harmful toxins and artificial ingredients, which is ideal for consumers who prefer to use clean formulas in their regimens.
The great thing about Moérie is that the formulas suit all hair types, including straight, wavy, curly, and coily hair. The haircare products are designed to address these conditions:
Thinning hair
Oily hair and scalp
Dry hair
Color-damaged hair
Their products are also said to help prevent hair loss, restore damaged hair follicles, and cleanse the scalp. Currently, Moérie offers 4 products:
Shampoo
Conditioner
Mask
Spray
To stimulate hair growth, Moérie recommends using all of these products in combination.
How I started out with Moérie and The Quiz
While you can find Moérie products on Amazon or other online retailers, I wanted to make sure I was getting a quality product from a reliable source. After researching online, I decided to purchase Moérie products directly from the official website to be sure that I was getting an authentic product.
Upon visiting their website, I was invited to take a short quiz as part of the purchase process. The questions focused on my hair type, hair concerns, and lifestyle.
Based on my responses, the quiz generated results showing how Moérie shampoo and conditioner could thicken, volumize, and accelerate the growth of my hair.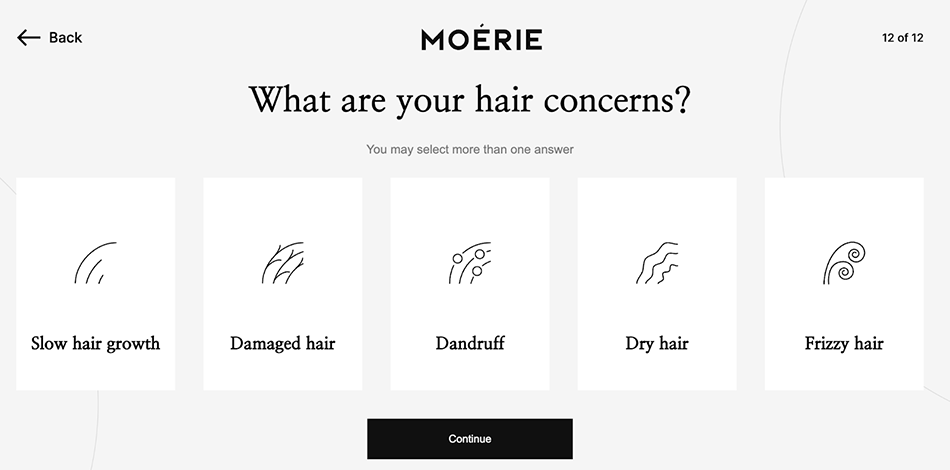 I noticed a good deal on the Moérie website on The Ultimate Hair Growth Care Set that included a shampoo, conditioner, a hair mask, and a spray serum, so I decided to just go for it.
I placed an order and received my products within a few days. Here's what the box looked like:
Overview of my hair before using Moérie products
Now, before we dive into my experience with Moérie, let's talk about my hair condition before I tried the shampoo and conditioner.
My hair had been previously bleached, and as a result, it was a bit dry and brittle. Nothing too crazy, but it could definitely use some extra moisturizing power.
I was looking for something that could give me a salon-quality finish without breaking the bank. So, I was excited to give Moérie a try and see if it could help my hair get back to its healthy state.
How I used Moérie
For this review, I only used the shampoo and conditioner, despite the fact that the set I bought also contained a serum spray and a mask. After all, the shampoo and conditioner duo was recommended to me when I completed the quiz.
When I started using Moérie shampoo and conditioner, I followed the instructions carefully. Since I don't wash my hair every day, the bottle lasted me a little over a month. I used a generous amount of shampoo and worked it into my wet hair until it formed a nice lather.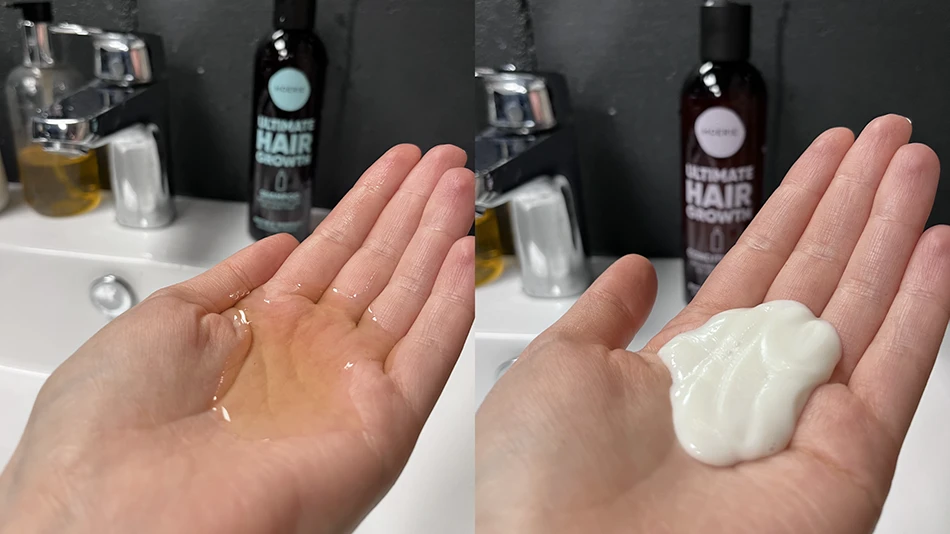 After rinsing it off, I applied the conditioner and left it for a few minutes before rinsing it out. The instructions also suggested using a comb to distribute the product evenly, which I did most of the time.
What I liked about Moérie
After trying Moérie shampoo and conditioner for the past month or so, I have to say I'm impressed with the results. While my trial period was too short to see any hair growth results, the improvements in my hair's texture and overall appearance were noticeable.
#1 My hair became easier to brush
One of the first benefits I noticed when using the Moérie shampoo and conditioner was that my hair became easier to brush.
Before, I had to spend a lot of time untangling my hair, and it often hurt. After using the Moérie shampoo and conditioner for a while, I noticed that my brush glided through my hair with ease.
I've also noticed less frizz and fewer split ends. As I wrote before, my hair had previously been bleached, so this was a great improvement for me.
#2 It added shine to my hair
As I have very dry hair, the added shine really gave me a boost of confidence. Honestly, I felt like those shampoo commercial girls.
I immediately noticed a difference after the first couple of uses and continued to observe increased shine with every wash.
My hair also felt softer and more moisturized, and I could go for several days without having to use any additional products.
#3 My hair volume noticeably increased
My hair seemed to have more body and volume after using the Moérie duo regularly. I even felt like I could style my hair better because it had more body.
I also noticed that my hair had more bounce and that the hairstyles lasted longer than they used to.
What I didn't like about Moérie
While I'm generally happy with the results I experienced while using Moérie shampoo and conditioner, there were a few downsides that I noticed.
Here are the three main things I didn't like about the products.
#1 Scent was a little too strong
Because both of the products contain a mix of natural oils, the scent of Moérie shampoo is quite strong, which can be a bit overwhelming for some people.
While I got used to it eventually, I know some of my friends found it a bit unpleasant. It smells like orange peels to me, which is no surprise since Moérie products include natural aroma of orange.
The scent may not be appealing to everyone, but on the other hand, it does not last long either.
#2 Expensive compared to other brands
Another downside is that Moérie shampoo and conditioner are quite expensive compared to other brands.
Moérie has been on my mind for a long time but I wasn't sure if it was worth the money since you can buy a shampoo and conditioner set for half as much at the drugstore. The price tag can be off-putting for some people, including me.
However, after using the famous duo for more than a month I truly believe that you get what you pay for – a quality product that delivers results.
#3 Only sold online
Lastly, Moérie shampoo and conditioner are only sold online.
This means that you can't find it in your local drugstore, and you'll have to wait for it to be delivered. It's not the most convenient way of shopping, but it's still a lot better than not being able to buy the product at all.
Main Ingredients of Moérie Shampoo And Conditioner
Moérie shampoo and conditioner are formulated with a combination of key ingredients to nourish the hair and scalp. Here's a closer look at the four main ingredients of these products:
#1 Fulvic acid
Fulvic acid is a natural compound found in soil that helps the body absorb nutrients. It has many benefits for humans, such as reducing inflammation, improving gastrointestinal health, reducing oxidative stress, and supporting the immune system.
It's also known for its ability to moisturize and nourish the scalp and hair. This ingredient is actually included in all of the Moérie products to help improve the overall health of the hair and scalp.
#2 Caffeine
Caffeine is another key ingredient of Moérie shampoo and conditioner. This stimulant helps promote blood flow to the scalp, which can help stimulate strong hair growth and suppress the hair loss hormone dihydrotestosterone (DHT). It can also help improve the texture of the hair, making it appear shinier and more voluminous.
#3 Biotin
Vitamin B7, or biotin, is essential for hair, skin, and nails. It supports keratin production and is often used to treat pathological hair conditions, including hair loss. Biotin is also known for its ability to improve the health of the scalp and reduce dandruff.
#4 Arginine
Arginine is an amino acid that helps promote the production of collagen, which can help improve the overall texture of the hair. It might also protect the hair from the sun's UV rays, making it less prone to damage.
When combined with zinc, arginine may support treatment for androgenetic alopecia and telogen effluvium, two hair loss conditions.
A Word From Our MD

Rosmy Barrios, MD
Medical advisor for Health Reporter
Using products with these hair-boosting ingredients can certainly help your hair grow. Each vitamin and mineral such as biotin, zinc, niacinamide, and vitamin B12 has specific benefits for your hair. When choosing hair products, it's always a good idea to look for ingredients backed by science.
You can support the hair growth cycle by taking care of your hair. Simple remedies, like keeping up with nutrients and vitamins in your diet, ensure your body has enough energy to support hair growth. You should also drink enough water and avoid using harsh chemicals.
Moérie products
Aside from the shampoo and conditioner set, Moérie also offers a couple of other products designed to support healthy hair growth. Here's a quick overview of all of the four products available.
#1 Mineral Hair Shampoo
The Moérie shampoo is unique due to its infusion of naturally occurring minerals from fulvic acid, which have exceptional antioxidant power. Fulvic acid contains 77 trace minerals, 18 amino acids, and 5 vitamins that deliver nutrients and help protect and improve your hair and scalp condition.
The shampoo formula is also supplemented with ingredients that enhance the effectiveness of the product – betaine, biotin, caffeine, panthenol, and niacinamide.
How to use:
Wet hair thoroughly with warm water and squeeze out the excess. Add several drops of shampoo to your palm, according to your hair length. For example, a walnut-sized amount should suit short to medium hair.
Add the shampoo directly to the hair roots and gently massage it into the scalp for approximately 3–4 minutes. After the roots, continue to shampoo the rest of your hair.
Rinse thoroughly with warm water, ensuring there is no product remaining.
#2 Mineral Hair Conditioner
The Moérie conditioner is a unique product because of the antioxidant properties of fulvic acid. Like the Moérie shampoo, the formula contains 77 fulvic minerals, 5 vitamins, and 18 amino acids.
In order to strengthen the hair conditioner formula, it also uses other powerful ingredients for maximum effect. Biotin, panthenol, and niacinamide work as an additional combination to help effectively care for the hair. The duo of macadamia and coconut oils, known for their nourishing effect, acts as an ingredient that gives hair shine and strength.​​
It's also one of the best conditioners for wavy, curly, or coily hair.
How to use:
Add a small amount of mineral hair repair conditioner to your palm and gradually work it into the hair, starting from the mid-length and finishing at the ends. Gently massage it into the hair strands for approximately 2–3 minutes. Feel free to leave it for longer.
Rinse thoroughly with warm water.
Moérie recommends an additional, final rinse with cool water to seal the hair cuticle for best results.
#3 Ultimate Hair Growth Mask
The Moérie hair mask is also infused with naturally occurring minerals from fulvic acid.
The hair mask formula is supplemented with biotin, caffeine, panthenol, and niacinamide to enhance the product's effectiveness. Meanwhile, the macadamia and coconut oils duo strengthen the hair and add a healthy shine.
The hair mask is of thick texture and is rich in concentrated ingredients. It is intended for an intensive effect on the hair.​​
How to use:
Apply a generous amount to wet, washed hair. Spread the product evenly, coating the hair from the mid-length to the tips.
Gently massage and use your fingers to comb it throughout the hair.
Leave the mask to work its magic for 5–10 minutes before rinsing thoroughly with warm water.
#4 Ultimate Mineral Hair Growth Spray
The Moérie hair growth spray is a leave-in treatment formula that stimulates hair growth. It does this by delivering important nutrients, preventing split ends, and filling damaged hair follicles. In addition, it softens hair and makes it appear shiny without causing a greasy look.
You can use the mineral hair growth spray whenever you wash your hair.
How to use:
Take the hair growth spray and spray it directly onto the scalp. Try to ensure full coverage.
No need to rinse. This formula is oil-free and doesn't create oily or greasy hair.
#5 Hair growth supplement
The Moérie Ultimate Hair Growth pills are capsule-form dietary supplements featuring a vitamin and oil blend made specifically for hair growth. The key ingredients include biotin, selenium, silica, and zinc. These supplements are made to increase hair growth, prevent hair loss, and thicken the hair.
According to the makers, consumers can expect baby hair growth after just 30 days. Taking the supplements alongside your Moérie haircare routine may boost overall results.
The combination of natural ingredients also contributes to stronger nails and healthier skin.
How to use:
Take 2 capsules daily with a glass of water.
What do online reviews say about Moérie?
I did some research online to find out what reviewers say about the Moérie shampoo and conditioner and the brand in general.
The reviews are mostly positive, with many people praising Moérie products for nourishing their hair and scalps and promoting hair growth.

Most reviews mention the pleasant scent of the products, although some report that it is a bit overpowering.
Some customers felt as if the products are a bit expensive, but they also mention that it was worth the price tag for the quality ingredients.
How much do Moérie products cost?
Once you've completed the personalized hair care quiz on the Moérie website, you'll receive a limited-time discounted price for certain products. This means that it is difficult to put an exact figure on the price you'll pay for their products.
The Moérie website continually advertises promotions, discounts, and bundles that slash the cost. For example, I took advantage of a summer sale when I purchased their set.
Without discounts, these are the current prices for Moérie products:
Ultimate Hair Growth Shampoo: $35
Ultimate Hair Growth Conditioner: $35
Ultimate Hair Growth Mask: $35
Ultimate Hair Growth Spray: $35
The Ultimate Hair Growth Care Set: $84
Moérie Shampoo vs. Alternatives



Brand
Moérie Shampoo
Vegamour GRO Revitalising Shampoo
Nutrafol Hair Purifier Shampoo
Pros
Cleanses scalp
Prevents build-up
Softens hair and adds shine
Natural origin ingredients
Unisex
Free of silicone, paraben, SLS, and GMO
Cruelty-free
No artificial fragrances
Plant-based formula
No synthetic hormones or carcinogens
Natural and vegan-friendly
No oils
Sulfate-free
Paraben-free
Contains prebiotics and vegan protein
Regulates oil production
Cons
Individual results vary
Haircare products are recommended for adults
Results can vary from person to person
Results can take a few months
Some customers report that this shampoo dried their scalp
FAQs
Are Moérie products silicone-free?
Yes, all Moérie products are silicone-free. They are also free from parabens, sodium lauryl sulfate (SLS), GMOs, and artificial fragrances.
Where to buy Moérie products?
You can purchase Moérie products from the official Moérie website, where they offer bundles and subscription options. Moérie is also available on Amazon.
Are Moérie hair products safe during pregnancy?
Moérie uses natural ingredients and no harsh chemicals. However, while the ingredients are in ratios suitable for pregnant women, the company advises talking to a doctor or medical advisor before using the products during pregnancy to ensure safety.
How I tested
I tested the Moérie shampoo and conditioner according to four specific criteria: quality, effectiveness, price, and brand reputation. Here's my evaluation of these Moérie products:
Quality 9/10
The product is made with natural ingredients, such as biotin, caffeine, and arginine, to help nourish the hair and scalp. It's free from harsh chemicals, parabens, and sulfates, so it's suitable for all hair types.
Effectiveness 8/10
After testing this shampoo and conditioner for the past month or so, I can confirm that the ingredients do deliver results. I experienced softer, shinier, and fuller hair after just a few weeks of use.
The shampoo was gentle yet effective in getting rid of the build-up of dirt and oil in my hair, while the conditioner added enough moisture to make it easier to brush without causing any breakage.
Of course, results can vary from person to person, but I'm pleased with the results I experienced.
Price 8/10
The cost of Moérie shampoo and conditioner is a bit higher than other brands, but I believe it's worth it. The ingredients are of high quality and the products are designed to nourish and protect your hair.
It's a good idea to keep checking their official website for the latest prices, as the company offers deals and promotions throughout the year.
Brand Reputation 9/10
Moérie has a strong reputation in the hair care world. I've done some research online and read lots of reviews from other customers on Amazon, Reddit, and Trustpilot.
People are generally very satisfied with this product, and the company has lots of positive reviews.
Moérie Shampoo & Conditioner: The Final Verdict
So, would I buy Moérie shampoo and conditioner again? Absolutely!
After using this product for the past month, I can confidently say that it has improved my hair in a few ways. My hair is softer, shinier, and more voluminous. It's also easier to brush and style.
Although my test trial was too short to see any hair growth results, I'm excited to try out the mask and spray next to see if they're any good. I may write another review in the future to update my results.
In conclusion, Moérie shampoo and conditioner are good quality haircare products that have improved the appearance and feel of my hair noticeably. If you're looking for a high-quality shampoo and conditioner set to nourish your hair and scalp, Moérie is definitely worth considering.
Last update:
October 5, 2023
15 min read
827 Views
0 Reviews
${TOCSections.eq(0).find('a').text()}