Keto Cycle Fuel Review: What You Should Know (Doctor's Opinion)
Last update: October 23, 2023
10
1591
3
Studying the dietary supplement made to support your keto journey.
The ketogenic diet is still on the rise among my patients. Nevertheless, I get questions about it almost daily.
The question above all is how to power through and enter ketosis with minimal discomfort or stalls. This stems from the fact that the journey into ketosis is no picnic. It takes commitment and willpower to battle the cravings, hunger pangs, and keto flu symptoms.
Over recent years, I've encountered keto supplements that promise to assist in a smoother transition into ketosis. Given the growing interest, I was intrigued to investigate them further and discover how they work. During my initial research, I found Keto Cycle Fuel.
I wanted to know if it could help my patients continue journeying to better health. So, I did some digging and will reveal the results in this review.
What Is the Keto Cycle Fuel Powder?
Tasty collagen powder
Increased metabolism and fat burning
Sustained and consistent weight loss
Check Current Pricing
Pros
No gluten or added sugar

Alleviates keto flu symptoms

Reduces appetite and cravings

Quick and simple to dissolve

Has electrolytes

Burns fat quickly
Cons
Not very many flavors

Contains collagen and whey protein – not vegan
Keto Cycle Fuel is a powder-based dietary supplement made to ease the transition into ketosis. Once you reach ketosis, it helps you stay there. By remaining in fat-burning mode, you maximize your body's potential to blast fat as an alternative fuel.
It does this by defeating hunger, suppressing cravings, and minimizing the keto flu symptoms that often make my patients reach for non-keto foods. According to the Keto Cycle team, it boosts ketone production, accelerating your journey to the finish line.
The powder comes in two pleasant flavors – vanilla and chocolate. Given that a sweet tooth often hinders my patients' efforts to lose weight, I can see why these flavors are appealing. Plus, it's easy to take – just add it to your water for a lasting morning boost.
Why I Would Choose Keto Cycle Fuel
With so many supplements on the market, I was hesitant to favor this product over others. However, my first impressions were good after studying the ingredients. I know first-hand that MCT oil and electrolytes are must-haves for keto dieters.
I work with people of all ages, and many of them share difficulty losing weight and committing to a diet. Another similarity is trying and failing at the keto diet. I hear it often, as the low-carb diet notoriously poses challenges.
As a firm believer in keto's benefits, I want to help my patients stick to their meal plans and achieve results. Sometimes, keto requires assistance, and I recommend this supplement to those struggling with cravings, low energy, and other side effects.
It's easy to access this supplement, too. Simply order online and await shipping.
Interestingly, the makers also offer the Keto Cycle app that pairs perfectly with the supplement. It features customized meal plans, a grocery shopping list, and a calorie and progress tracker. It seems the team is dedicated to helping you master the keto lifestyle.
How to use Keto Cycle Fuel
Using Keto Cycle Fuel is more straightforward than fixing your morning coffee. Mix 17g of Keto Cycle powder with 8fl oz (240ml) water. Then, stir or shake it in a shaker to dissolve it thoroughly.
Alternatively, you can put it in your coffee, enjoy it as a smoothie, or add it to desserts using delicious keto-friendly recipes.
Choose the right time to take this supplement according to your schedule. You can take it either one hour before your first meal in the morning or one hour before or after exercise.
What Are the Key Ingredients of Keto Cycle Fuel?
Whenever my patients discuss supplements with me, I urge them to check the ingredients list before buying. The ingredients make or break a supplement, and ensuring the formula is entirely safe and appropriate for your needs is vital.
Just because a supplement makes a dozen health claims doesn't mean it will work. Unfortunately, many manufacturers use fillers or lower-quality ingredients just to boost sales.
I studied the Keto Cycle Fuel ingredients carefully to see how they work and determine the product's strengths and weaknesses.
#1 MCT oil
Medium-chain triglycerides (MCT) are fatty acids typically sourced from coconuts and formulated in a lab. MCT oils are exogenous ketones, meaning ketone bodies you get from outside sources. They quickly metabolize and serve as an immediate energy source.
MCT oil helps the body produce and maintain its ketones levels, which are needed on a keto diet to maintain ketosis and have good energy levels. It helps burn fat and can even act as an appetite suppressant, making you feel less hungry.
For this reason, it has become an increasingly popular ingredient in the traditional keto diet.
#2 Electrolytes
Electrolytes are one of the essential ingredients when it comes to having a proper keto diet plan. When you switch to keto, your body goes through several changes, and the sudden transition can knock your electrolyte levels off-balance. For example, as ketone levels rise, the kidneys excrete them along with sodium when you urinate.
Inadequate amounts of electrolytes can impair your body's functions. Unpleasant symptoms like headaches, confusion, muscle cramps, and nausea may indicate an electrolyte imbalance. It's crucial to replenish them to help mitigate nasty side effects.
Electrolytes are also known for protecting your body's nervous system, keeping your blood pressure regulated, and otherwise keeping your body functioning the way it needs to. Any good keto supplements should have proper electrolytes.
As for Keto Cycle Fuel, it has a variety of much-needed electrolytes to help the body maintain hydration and water levels.
#3 Collagen
Collagen is an essential protein that the human body makes. It's needed for the structure and function of your bones, muscles, skin, and connective tissues.
Because it's necessary for skin health, it makes sense that it is a popular ingredient in skincare supplements. It helps with skin elasticity and hydration, helping you fight wrinkles and look younger.
When used in a supplement like the Keto Cycle diet plan, collagen helps increase your protein intake and balance your keto nutrients. Collagen also supports muscle growth, muscle mass, and a healthy heart.
What Does the Keto Fuel Powder Do? 4 Main Benefits
The burning question is how Keto Cycle Fuel can benefit my patients and others attempting to lose stubborn fat, kick cravings, and feel better overall. Here are the key reasons to give this supplement a try:
#1 Helps reach ketosis faster
Reaching ketosis is a mission. If you're new to the keto diet, you've probably heard how hard it is for newcomers to get into ketosis and stay there. While there are many tips and tricks, Keto Cycle has designed this formula to help you reach ketosis faster.
A recurring complaint among my patients is the failure to get into ketosis despite following a strict ketogenic diet and playing by all the rules. With Keto Cycle Fuel, you'll find that this supplement boosts you into ketosis in just a few days as it accelerates ketone production.
#2 Alleviates keto flu
There's no denying that the keto diet can leave you feeling run down and ragged in the early days. This is because you're actively switching your body's fuel source from carbs to fats. Once your body starts burning fat, the effects of keto flu often go away on their own.
Unfortunately, this doesn't help those feeling unwell and impatient. Since Keto Cycle helps your body enter ketosis faster, you don't have to suffer keto flu for as long. The sooner your body is in that fat-burning state, you'll feel a burst of energy and fewer keto side effects.
#3 Curbs appetite
Many people express their desire to try keto to lose weight. While ketosis can burn fat and help you lose weight quickly, some people tend to feel more hungry during the first few weeks. This is often when my patients lose their way and reach for carbs.
When you're on a low-carb diet, you may struggle to feel full, even after a big meal. Battling your willpower daily can be exhausting, but Keto Cycle Fuel helps curb that feeling of hunger. It contains MCT oils that quickly convert to ketones, ensuring you never go hungry.
#4 Helps to stay hydrated
With the electrolytes included in the ingredients list, you'll find that this supplement helps you stay hydrated for longer. Electrolytes are paramount to adjusting your body's water levels and staying hydrated.
You'll have more energy and feel less tired after working out or after a long day running errands. Maintaining consistent energy levels is a struggle for most, and many patients share feelings of sluggishness that keep them from exercising more.
Downsides of Keto Cycle Fuel
I know this product will only suit some. Two main downsides may influence whether or not you purchase Keto Cycle Fuel, and it comes down to your dietary preferences.
#1 Not suitable for all diets
More than ever, people are looking for ways to improve their health and reduce their carbon footprint through diet. Unfortunately, Keto Cycle Fuel is not vegan-friendly as it contains collagen and whey protein – two animal-derived ingredients.
While this won't be a problem for many, it does exclude those following keto for vegetarians and vegans.
#2 Only two flavors
Only Keto Cycle Chocolate Fuel and Keto Cycle Vanilla Fuel exist. I personally adore chocolate and vanilla flavors, and I know several patients will appreciate the sweetness during their diets.
Nevertheless, extra flavors, including an unflavored option, would cater to more people and eliminate the risk of boredom over time.
What Is the Price of Keto Cycle Fuel?
Keto Cycle Fuel has three different price points. It works out cheaper to buy in bulk rather than purchasing a single tub.
At the time of writing this Keto Cycle Fuel review, you can buy the chocolate or vanilla flavor for the following prices:
One pack: $79.99
3-pack: $149.00
5-pack: $229.00
Delivery time in the US is 3–8 business days.
Keto Cycle Fuel vs. Other Keto Supplements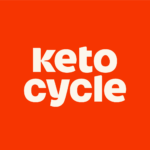 Brand
Keto Cycle Fuel
Perfect Keto
One Shot Keto
Pros
Easy-to-use
Delicious flavors
Boost of energy
Low-calorie supplement
Four different flavors
Energy boost for workouts
Curbs appetite
Energy boost
More mental clarity
Helps encourage fat-burning
Cons
Can cause fatigue and upset stomach
Higher price point
Dizziness and fatigue
General sickness feeling
What Do Other People Say About Keto Cycle Fuel?
Many reviews online reveal positive results from using this product to support the keto diet, lose weight, and generally live a healthy lifestyle. A recurring comment concerns the pleasant taste and easy-to-blend formula many enjoy mixing into tea and coffee.
You can read some of these reviews below:
How I Tested Keto Cycle Fuel
Before recommending supplements to my patients, I do my research to ensure that the product is healthy, safe, and capable of delivering.
When studying Keto Cycle Fuel, I focused on a few critical points. Below, you can see what I measured this supplement up against to determine its worthiness of a good review.
Quality
Supplements must be of high quality to ensure effectiveness and safety. I consider top-class ingredients non-negotiable when researching supplementation for my patients to provide the best results. I also consider the packaging standard, customer service, and more.
Effectiveness
I only recommend products that work for my patients. I want them to succeed in losing weight and regaining control of their health. So, I dug into the ingredients and consumer results to determine the effectiveness of this formula.
Price
There is an entire community of people seeking to better their health. This makes pricing a critical component in the search for a keto supplement. I know that expensive doesn't necessarily mean better and that budget-friendly doesn't always mean poor quality. Instead, I focus on value for money.
Brand reputation
To me, the brand behind a product is as important as the product itself. Assessing the brand and determining its reputation can help to clarify if you're getting a trustworthy product. Given the brand's mission and the positive reviews, the company appears to care about its customers.
A Word From Our RD

Edibel Quintero, RD
Medical advisor for Health Reporter
Most people are in it for weight loss when starting a ketogenic diet. However, keto has so many other health benefits that most people aren't even aware of.
For example, did you know that starting a ketogenic diet can lead to lowered blood sugar levels, decreased blood pressure, and lowered risk of heart disease? A low-carb intake can help reduce your risk of type 2 diabetes and improve your cholesterol levels.
The keto lifestyle helps you lose weight better than weight loss pills, fad diets, or crash diets. There are so many keto-friendly recipes to help build your keto diet plan. There are plenty of keto-friendly vegetables, fruits, meats, seafood, and snacks to satisfy cravings.
Of course, a ketogenic diet isn't for everyone. If you're pregnant or nursing, have had your gallbladder removed, are at risk of kidney disease, or have had liver damage in the past, you should avoid going keto.
As always, chat with a medical doctor before taking the plunge into a new diet plan.
Frequently Asked Questions
How to order Keto Cycle FUEL powder?
You can purchase your box of Keto Cycle Fuel and find all of the other Keto Cycle products at the official Keto Cycle website: https://shop.ketocycle.diet/product/fuel.
What are the flavors of Keto Cycle FUEL?
Keto Cycle Fuel comes in two flavors: Keto Cycle Vanilla Fuel and Keto Cycle Chocolate Fuel.
Is Keto Cycle FUEL sugar-free?
Yes, Keto Cycle Fuel is entirely sugar-free. For sweetening, Keto Cycle uses stevia extract and all-natural flavors.
How should I take Keto Cycle Fuel?
To take Keto Cycle Fuel, add a scoop of the powder to 8fl oz (240ml) of water and stir until it dissolves. You can consume this keto supplement once daily, either an hour before your first meal or an hour before or after exercise.
Final Verdict: Is Keto Cycle Fuel Worth the Hype?
Keto has tons of perks, but many keto dieters struggle to deal with the side effects that arise. Keto Cycle offers assistance with the journey to ensure health goals are met.
Keto Cycle Fuel appears to be a great supplement. It has the potential to benefit many who are seeking to live healthier lives via keto. Nevertheless, a trip to your doctor remains pivotal. They can assess your health and help devise a personalized keto meal plan.
Last update:
October 23, 2023
10 min read
1591 Views
3 Reviews
${TOCSections.eq(0).find('a').text()}