Ka'Chava Review: Does This Blend of Superfoods Work?
Last update: September 21, 2023
15
1414
0
Looking for an easy way to consume all of the essential nutrients conveniently? Read my review of Ka'Chava to find out if it's worth it.
Following a strict healthy diet plan can be challenging for many people, especially those with busy daily schedules. If you're one of those people, you can opt for nutrient-packed shakes like the ones that Ka'Chava offers.
They're said to be comprehensive meal replacement shakes that contain the full range of minerals and vitamins your body needs. The company also claims that its products include digestive enzymes, protein, antioxidants, adaptogens, probiotics, and more to maintain your health.
These claims made me curious about Ka'Chava, so I decided to test it thoroughly. In this Ka'Chava review, I'll share my experience with Ka'Chava and explain its ingredients and pros and cons to help you decide if it's the right option for you.
What Is Ka'Chava?
Pros
Makes for a great meal replacement

Can be used with other foods

Various subscriptions available

Multiple flavors available
Cons
Ingredients lose their nutritional value due to heavy processing

Only available in the US
As I've mentioned already, Ka'Chava is a brand that offers meal replacement shakes containing plant-based blends of over 85 superfoods. At first glance, the most important thing that I noticed about these products is that they contain a wide range of vitamins, minerals, and essential amino acids. Plus, they're also gluten-free and vegan-friendly.
These shakes come in the form of powder and are available in 5 different flavors, including vanilla, chocolate, coconut acai, chai, and matcha.
The company claims that they're designed to help people improve their overall health, as they offer benefits for your gut, skin, muscles, brain, heart, and even hair. An important ingredient in these products, a mixture of digestive enzymes, seems to align with these claims.
As a medical professional, I can tell you that these enzymes can benefit your body in multiple ways. For example, they can help your body metabolize food quicker, reduce the symptoms of IBS (irritable bowel syndrome), and combat anxiety.
So, with the inclusion of a digestive enzyme blend, the gut and brain parts are covered. I'll talk about the other health claims later in the review.
Is Ka'Chava Good for Weight Loss?
According to the manufacturer, the Ka'Chava formula is created to maximize the calorie-to-satiety ratio. One serving of the shake contains 7g of fat, 6g of fiber, and 25g of protein, which suppresses your appetite by making you feel full for a longer period of time.
It means that Ka'Chava can support weight loss indirectly. However, I would advise you not to use this product for losing weight because it's not designed for this purpose. If you start consuming only a meal replacement shake by eliminating all your meals, you can fall victim to several health issues.
That's because it'll restrict your calorie intake, which can lead to depression, panic attacks, slowed metabolism, reduced immunity, and constant fatigue in the long run.
Additionally, losing weight solely by drastically restricting your calories is also not sustainable, which is something I've seen countless times in my professional career. While you'll be able to shed some pounds, you'll regain them as soon as you resume your normal diet.
So, if you want to lose weight in a healthy and sustainable way, you'll need to follow a balanced diet and combine it with a regular exercise routine. To make this process easy, you can use nutrition apps and specially designed weight loss supplements.
How to Use Ka'Chava?
You can use Ka'Chava the same way as any other meal replacement powder. All you need is to measure out the serving of the powder into your favorite shake vessel and add the liquid of your choice, such as water, milk, or almond milk. After that, mix it well and drink.
According to the official recommendations, the total amount of the liquid should be 12–14oz (including ice if you use it), and you should use heaping scoops of the powder, not level scoops.
Additionally, the website also mentions that the serving size of Ka'Chava is 60–62g, which is bigger than most meal replacement shakes available out there.
I tried this shake a few times using different methods. The first time, I followed the company's suggestion and used cold water with ice. The results were okay, not amazing. However, taste can be a personal thing, so it might just be my preference.
Then, I tried Ka'Chava with almond milk, and that was the best! It improved the overall taste as well as the nutrition profile of the product, and I enjoyed it a lot. I also mixed it with yogurt the next day, which made it taste better, but it still didn't beat the almond milk experience.
What Does Ka'Chava Taste Like?
Being a chocolate lover myself, I decided to try out Ka'Chava's chocolate flavor. It was surprisingly good when added to almond milk, with its oatmeal base and a rich, indulgent taste of natural flavor on top. It also left a unique aftertaste, and the best thing about it was that it didn't feel artificial.
It's not overly sweet or chocolatey but feels creamy and subtle in a good way, even though it doesn't contain whey proteins. So, I must say that you'll definitely enjoy the chocolate flavor of this shake, especially if you're a fan of chocolate.
Ka'Chava Nutrition Facts
The company claims that Ka'Chava shakes contain everything your mind and body need for overall health. Let's take a look at the nutrition facts of these shakes to determine what nutrients they offer.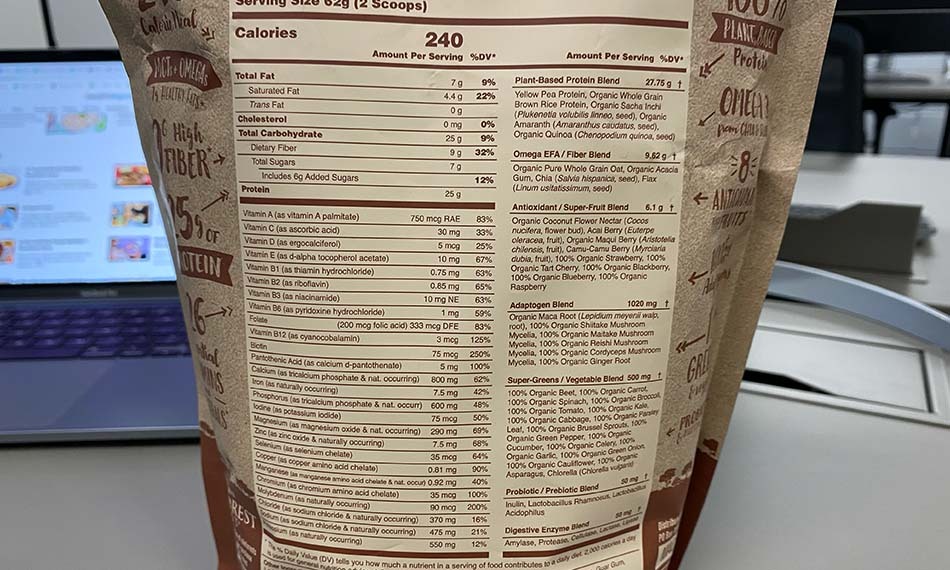 What Is Ka'Chava Made of?
As I've mentioned, Ka'Chava protein powder mixes contain a blend of 85 superfoods, many of which are said to provide great health benefits.
Let's take a closer look at each ingredient and see what they really have to offer.
#1 Plant-based protein blend
One of the most important ingredients in Ka'Chava shakes is the plant-based protein blend, which is made up of the following:
Organic sacha inchi protein
Yellow pea protein
Organic whole-grain brown rice protein
Organic amaranth
Organic quinoa
One of the biggest benefits of consuming plant-based protein is that it can help you with muscle recovery after exercise. Additionally, plant-based protein, such as yellow pea protein, also contains iron, folate, and biotin, which are beneficial for your hair's health. Studies have shown that if you're deficient in any of these nutrients, you can fall victim to hair loss.
Other nutrients in this type of protein include arginine, glutamine, and leucine, which are all amino acids, and they help keep your scalp moisturized for soft and well-hydrated hair.
Another thing that I think is important to mention is that the addition of organic amaranth seems quite pointless. That's because it doesn't really add any nutritional value that is not already present in the other ingredients.
#2 Superfruit blend
The formula of Ka'Chava shakes also contains a superfruit blend, which is pretty self-explanatory, as these fruits provide a wide range of health benefits.
Here are the fruits included in this blend:
Organic coconut flower nectar
Acai berry
Camu Camu berry
Organic blueberry
Organic tart cherry
Organic blackberry
Organic strawberry
Organic maqui berry
Organic raspberry
These superfruits have anti-inflammatory and antioxidant properties, and they can benefit your body in several different ways. According to research, they can reduce the risk of many diseases, including cancers, heart-related problems, and brain issues.
Additionally, studies also show that they can reduce blood pressure, improve eyesight, enhance skin health, help with diabetes, and maintain urinary tract health.
One thing that I didn't like about these superfruits is the way they're incorporated into the protein powder. They are processed to be made into a powder consistency, which can reduce the nutritional value of these ingredients significantly. Just something to think about.
#3 Fiber blend
Next is the fiber blend, also called the digestive enzyme blend. As I've discussed already, this blend is designed to improve your gut health and the regularity of your bowel movements for those who suffer from constipation.
Here are its ingredients:
Amylase
Protease
Cellulase
Lactase
Lipase
Increasing your fiber intake can offer multiple benefits to your body. For example, it can keep your blood sugar and hunger in check, regulate your body's sugar use, and help with bowel movements.
However, I must mention that increased fiber consumption can lead to temporary bloating. It's one of the most common symptoms that I've seen people experiencing after adding a new supplement or shake (containing fiber) to their diet.
But the good thing is that it subsides quickly within a week or two.
#4 Adaptogen blend
In simple words, adaptogens are plant substances, such as roots, herbs, and mushrooms. Here are the ingredients of this blend used in Ka'Chava shakes.
Organic maca root
Organic shiitake mushroom
Organic maitake mushroom
Organic reishi mushroom
Organic ginger
Organic cordyceps mushroom
According to research, adaptogens can help your body fight stress and anxiety and restore its balance after a traumatic experience or stressful situation. Additionally, it can also help you reduce fatigue and improve your immune system.
But again, I need to mention that these would be excellent ingredients to include in a protein shake were they not processed to be made into a fine powder. This applies not only to Ka'Chava but to a lot of other meal replacement powders as well, so definitely be on the lookout for that.
#5 Vegetable blend
And finally, there is the vegetable blend, which is another highly popular offering from Ka'Chava.
Let's take a look at the ingredients.
Organic beetroot
Certified organic chlorella
Organic moringa
Organic kale
Organic broccoli
Organic celery
Organic cauliflower
Organic spinach
Organic Brussels sprouts
Organic asparagus
Organic green pepper
Generally, vegetables, especially the green ones that are used in this blend, are beneficial for your health. They're low in calories and rich in vitamins, minerals, and other essential nutrients that your body needs to perform important functions.
The blend makes for an excellent source of folate (vitamin B9), which helps your body with the production of red blood cells. Additionally, it's rich in fiber to bring positive effects on your gut health.
But sadly, these vegetables also go through processing, as they're converted to a powdered blend. It leads to a significant reduction in their nutritional content compared to their raw counterparts.
A Word From our MD
Rosmy Barrios, MD
Medical advisor for Health Reporter
Superfood blends and meal replacements are becoming increasingly popular because of their ease of use. While they offer a convenient way to consume essential nutrients, you shouldn't rely on them by eliminating your normal diet completely. That's because they can't offer all the nutrients needed to maintain your overall health.
You can consume them occasionally, like when you're on the go or don't have time to eat solid food. The ingredients in Ka'Chava, especially the protein, fiber, and vegetable blends, can be beneficial for your body. However, these shakes contain processed items, and their long-term consumption can affect your health negatively.
So, meal replacements/superfood blends shouldn't be the only thing that you eat. You should focus on consuming a balanced diet and perform exercise regularly to maintain your overall well-being. Lastly, if you have any preexisting conditions, don't add any new dietary product to your daily routine without consulting with your doctor.
What I Liked About Ka'Chava
After looking at the ingredients Ka'Chava contains, I can confidently say that it's a great product to consume occasionally for nutrient support. Let me explain all the benefits it can offer.
#1 High in protein
In my opinion, Ka'Chava makes for an excellent source of protein. A single serving of this shake offers 25g of protein, which is similar to the recommended amount you should consume in one meal.
Protein is a fundamental building block for the body, supporting muscle maintenance and growth. A higher protein intake can also contribute to a prolonged feeling of fullness, potentially assisting in managing cravings and hunger.
#2 Plant-based product
Featuring natural ingredients, Ka'Chava is a plant-based product. It doesn't include any animal-derived components, making it suitable for people with vegetarian and vegan dietary preferences.
This approach can also be beneficial for the environment because it contributes to sustainability by minimizing the ecological footprint associated with animal agriculture.
I should also mention that Ka'Chava shakes are also gluten-free, which means it's safe for people with celiac disease.
#3 Can help with weight management
Ka'Chava formulation comes with elements that can facilitate your weight management efforts. With its blend of protein, fats, and fiber, the meal replacement shake aims to provide a nutritional profile that keeps you satiated for a longer time, reducing the likelihood of overeating. This way, it can contribute to calorie control to help you manage your weight.
#4 Multiple flavor options
Ka'Chava shakes are available in five different flavors. This diversity ensures that users can find a flavor that meets their personal likings. I believe that taste is a crucial factor to consider because it not only allows you to enjoy what you eat, but it also helps you stick to your diet.
#5 On-the-go nutrition
In our fast-paced lives, convenience is invaluable, and Ka'Chava addresses this need by offering an on-the-go nutritional solution. As I've discussed already, these shakes come in a powdered form and can be easily mixed with your liquid of choice. It makes Ka'Chava a convenient option for busy mornings, work breaks, or travel.
Ka'Chava Cons and Side Effects
I have tested and reviewed countless dietary products, and all of them have their own specific set of cons. The same is the case with Ka'Chava, as it comes with the following downsides.
#1 Initial adjustment period
Incorporating Ka'Chava into your diet could lead to a brief initial adjustment period. During this time, you can experience some negative health effects, such as bloating and stomach pain, especially if you have a sensitive stomach.
Luckily, these effects are generally mild and are eliminated automatically within a week. However, I would recommend you stop using the product and seek medical attention if these side effects persist.
#2 Expensive
A single serving of Ka'Chava will cost you $4.66, which, in my opinion, is quite expensive. Not everyone can spend this type of money on a meal replacement shake.
#3 Processed ingredients
As I've mentioned this already a couple of times, Ka'Chava contains processed ingredients. It affects the nutritional profile of many ingredients used in the formula, and it can also lead to negative health effects in the long run.
Ka'Chava User Reviews
Reading online reviews is an important part of the process that I follow to test and evaluate a product. I perform this step before getting my hands on the product because it allows me to determine whether or not spending money and time on something is worth it.
I did the same with Ka'Chava, and here's what I found.
I agree with everything this user has mentioned. The Ka'Chava shake can keep you satiated for a longer time, and it's a rich source of protein, vitamins, and minerals to improve your energy. But as I've stated already, it can lead to an upset stomach as an initial adjustment period.
Haley also seems to be a satisfied user of Ka'Chava. They say that they add almond butter and milk to the shake, which, in my opinion, is an excellent way to improve its taste and nutrition profile. The user also mentioned that they can't say anything about Ka'Chava for weight loss because they work out a lot.
This user is also happy with the product, as they say it provides them with the energy they need. Another important point that they mentioned is that the product is expensive, which, unfortunately, is true.
How Much Does Ka'Chava Cost?
A single bag of Ka'Chava meal replacement shake powder containing 15 servings costs $69.95. It means that a single serving will cost you $4.66.
Not only is it more than what you need to pay to buy whole foods and cook them yourself, but it's also more expensive than most meal replacement options available in the market.
Ka'Chava vs. Alternatives
Ka'Chava is one of the most popular brands out there, offering meal replacement products. However, it's not the only player in the industry, as there are many other popular options available. I've selected some of the best ones that you can consider.
Comparison Winner: Soylent
Pros
Plant-based
Gluten-free
Variety of flavors
Only costs $3.25 per bottle
FDA-approved
5 flavors to choose from
Subscription service available
Vegan and gluten-free
Good source of protein and B vitamins for a vegan diet
Contains no soy
Made from whole foods only
Cons
May cause gastrointestinal side effects
Not suitable for those with a soy allergy
Relatively expensive
May cause abdominal discomfort
Heavily processed ingredients
High fiber content can cause stomach pains
More expensive than other meal replacement programs
FAQs
Is Ka'Chava keto?
No. According to the keto rule, you'll be following a keto diet if you consume 5–10% of your calories from carbs, 10–20% from protein, and 70–80% from fats. You won't meet these requirements with Ka'Chava since it contains too much protein and carbs.
Is Ka'Chava worth it?
The answer to this question depends on your unique needs and goals. If you're looking for something that can help you consume essential nutrients conveniently on the go, Ka'Chava is worth it. But if you want something that will directly help you lose weight, then it's not a great option.
Where can I buy Ka'Chava meal replacements?
You can purchase Ka'Chava meal replacements from the brand's official website and Amazon.
Where is Ka'Chava made?
Ka'Chava is manufactured in a pharmaceutical-grade facility in Southern California, USA.
How I Tested Ka'Chava
Quality, effectiveness, price, and brand reputation are four important factors that I consider while evaluating and testing a product. Read on to learn more about Ka'Chava in terms of these factors.
Quality 8/10
The quality of Ka'Chava meal replacement shakes is undoubtedly up to the mark. They're made of high-quality ingredients and come in great packaging with excellent presentation. My only reservation about quality is that they contain processed foods.
Effectiveness 9/10
Ka'Chava is an effective product that works for what it's made for. It allows you to provide your body with essential nutrients quickly for overall well-being and also keeps you full for a longer period.
In my opinion, judging Ka'Chava's effectiveness in terms of helping people lose weight is not justified because it's not designed for this purpose.
Price 6/10
The Ka'Chava price tag is one of its biggest downsides, and I think it can be a deal breaker for people who are on a tight budget. Although it's designed as a meal, which costs you more money than simple supplements, it's still costlier than many similar products.
Brand reputation 9/10
Founded back in 2014, Ka'Chava is a well-reputed and trusted brand of meal replacement shakes. It has built a large, loyal customer base during this time because of its nutritious and powerful blends.
The company claims that its products are manufactured in a pharmaceutical-grade facility and undergo chemical, physical, and microbiological tests before reaching the market. These factors also add to the company's reputation.
Ka'Chava: The Final Verdict
In summary, I would say that Ka'Chava meal replacements are a great option for people who are always traveling or have a too busy daily schedule to find time for eating solid food. It allows you to consume important nutrients your body needs to perform essential bodily functions.
However, I advise you not to rely on these products completely. You can use them occasionally, but they must not replace all your regular meals, as they can make you deficient in many important nutrients over time.
You should also keep in mind that they're not weight loss products. If body fitness is what you want to achieve, you need to exercise regularly and follow a balanced diet. Lastly, always talk to your professional healthcare provider before you start using a dietary product or make any dramatic changes to your diet.
Last update:
September 21, 2023
15 min read
1414 Views
0 Reviews