Isagenix Collagen Elixir Review: Is It Legit?
Last update: July 28, 2023
9
1250
0
A discussion of whether the beauty supplement is all it's cracked up to be.
Are you in need of some skin TLC?
Sometimes we all crave a lift in our appearance, especially as time goes on and we no longer feel as young as we once did.
As you age, your body's collagen synthesis slows. Skin begins to lose its elasticity, and we gradually start to lose that youthful glow. To retain good skin health, many people try collagen supplements.
Isagenix Collagen Elixir is one of many skin hydration solutions that target the visible signs of aging. The formula contains marine collagen peptides and botanicals to give tired skin a boost.
The makers claim that the collagen elixir benefits include delivering nourishment from the inside out and producing radiant skin that makes you look and feel great. But does this beauty supplement deliver the results you're hunting for?
In this Isagenix Collagen Elixir review, we dive deep to reach a verdict on the product and whether or not you should buy Isagenix Collagen Elixir. Keep reading for everything you need to know about the collagen supplement.
Summary
5 grams of marine collagen peptides to support the body's natural collagen production
Promotes skin, hair, and nail health
Learn More
Pros
Claims to support skin health

Could promote healthy skin, hair, and nails

Claims to contain antioxidants and other nutrients

Responsibly-sourced collagen

Recyclable packaging
Cons
Contains fish, a common allergen, and therefore not suitable for those with a fish allergy

Not FDA approved, meaning benefits are not confirmed

Contains sugar

Not suitable for the vegetarian or vegan diet

Expensive with a higher price point than many other collagen supplements
Isagenix Collagen Elixir is a dietary supplement designed to nourish and beautify the skin from the inside out. It contains 5 grams of marine (or fish) collagen peptides that support the body's natural production of collagen.
The ingredients Isagenix Collagen Elixir uses include vitamins, like vitamin C, minerals, and a proprietary blend of botanicals, including aloe vera, chamomile, goji, and acerola berry, to hydrate the skin. The supplement may also promote hair and nail health.
The Collagen Elixir is created by Isagenix, a marketing company that sells dietary supplements and personal care products. The brand recruits associates to join the team and sell its product line.
What Is Isagenix Collagen Elixir?
Isagenix Collagen Elixir is a dietary supplement from Isagenix International, a US-based multi-level marketing company (MLM).
The daily liquid supplement claims to put a healthy glow back into the skin, providing deep nourishment and hydration to skin in need of a boost. It's marketed as an anti-aging product with marine collagen that helps contribute to natural collagen production in the body.
As well as hydrolyzed collagen, Isagenix Collagen Elixir contains vitamin C, an antioxidant that promotes normal collagen synthesis.
Along with vitamin C, it also has biotin, zinc, and a botanical blend, including aloe vera juice powder, acerola berry extract, goji extract powder, and chamomile extract, and provides a good amount of vitamin C.
According to Isagenix, the product improves collagen production and supports healthy skin, hair, and nails. Skin will potentially improve in appearance, with the supplement improving skin elasticity, radiance, brightness, and youthfulness.
Upon visiting the official Isagenix website, you can find statistics from a survey of Isagenix customers. The numbers show positive results after 30 days, with noticeable improvements in skin hydration, brightness, complexion, firmness, and radiance.
However, Isagenix specifies that individual results may vary.
If you're looking for a product with consistent results for a youthful appearance as well as a range of other benefits, including increased metabolism, fat burning, improving heart health, and nourishing the body, why not check out Keto Cycle FUEL instead?
How Does Collagen Elixir Work?
The Collagen Elixir works by boosting the collagen in your body to create a more youthful appearance.
Collagen is the most plentiful protein in the human body. It is found in your muscles, bones, skin, and connective tissues.
Collagen production declines with age. It can also decline from exposure to external factors like UV radiation.
As the body produces less collagen, the skin's structure also declines. Skin elasticity reduces, leading to sagging skin and allowing fine lines and wrinkles to form. It's an entirely normal part of the aging process.
Isagenix Collagen Elixir has a blend of collagen peptides derived from wild-caught cod, pollock, and haddock. These fish are naturally rich in type I collagen.
Like other collagen sources, marine collagen can help delay some signs of skin aging. It may help smoothen and improve skin firmness with improved skin elasticity.
Marine collagen contains primarily type I collagen, the most abundant collagen rich in amino acids that specifically target skin health. Type I collagen makes up approximately 80% of the skin's dermal layer.
By consuming the Collagen Elixir regularly, the hydrolyzed marine collagen and other antioxidants in the supplement may help support your body's natural collagen production.
How to Use Isagenix Collagen Elixir?
Isagenix Collagen Elixir is a dietary supplement in liquid form. One dose comes in a recyclable glass bottle that you can drink directly. There's no need to mix or dilute.
Some people choose to buy Isagenix Collagen Elixir because it has a naturally sweet taste with a wild berry flavor and a "hint of sweet botanicals." You can drink it at room temperature, although some prefer it chilled.
According to the website, Isagenix recommends one serving (one bottle) of Collagen Elixir every day. The company doesn't specify if you should consume it before or after meals. It simply claims you can take it any time, any place.
Collagen Elixir is recommended for adults aged 18 and over. While it appears suitable for most healthy individuals, people with a fish allergy should not use this product as it contains fish products.
The brand recommends that pregnant and breastfeeding women seek advice from a doctor before use.
Isagenix Collagen Elixir Ingredients
Does Isagenix Collagen work? Let's look at the ingredients.
The formula contains a proprietary blend of antioxidants, vitamins, and minerals. Here are the key components.
#1 Marine collagen blend
Marine collagen is collagen sourced from fish skin. The makers claim it comes from wild-caught cod and other fish using the Norwegian fishing industry practices in line with Marine Stewardship Council certification.
Collagen is a vital protein found in mammals. It is present in the bones, muscles, tendons, ligaments, blood vessels, and more often in humans.
It's a popular component in dietary supplements and skincare products as it may have anti-aging properties, reduce the visible signs of aging, alleviate joint pain, strengthen the bones, and improve nail health.
Most collagen sources in such products are hydrolyzed, meaning they are broken down so that the body may absorb them more effectively.
#2 Ascorbic acid
Ascorbic acid, also known as vitamin C, is a water-soluble vitamin. It is an essential nutrient that aids tissue repair and collagen formation in cartilage, muscle, and bones.
Vitamin C plays a vital role in skin health. It may help delay the early signs of aging, improve the appearance of wrinkles, fine lines, and dark spots, and protect the skin from the damaging effects of UV radiation.
#3 Zinc gluconate
Zinc gluconate is the zinc salt of gluconic acid. It is a popular mineral commonly used in dietary supplements to deliver zinc to those who don't get enough from food.
Zinc gluconate has anti-inflammatory properties with many potential health benefits, like supporting the immune system and speeding up wound healing.
In terms of skincare, it's generally used as a potent ingredient to support acne treatment. It does, however, play a part in the skin's normal functions, protecting it from UV rays.
#4 Biotin
Biotin, or vitamin B7, is another water-soluble vitamin that primarily helps the body utilize fats, carbohydrates, and protein.
It's thought to help keep skin and hair healthy, improving hydration and smoothing the skin's appearance. It may also improve nails, but more research is required.
Isagenix Collagen Elixir Side Effects
Is Isagenix Collagen Elixir safe?
Based on the Collagen Elixir ingredients, the supplement doesn't appear to cause harmful side effects to healthy individuals. Isagenix products contain natural ingredients. The company doesn't list any potential side effects of using the Collagen Elixir.
Of course, an allergic reaction may occur in people with fish allergies. The marine collagen is sourced from fish skin, including cod, pollock, and haddock from Scandinavian seas.
Some people may experience adverse side effects from collagen supplements. Potential collagen side effects are usually mild and include a bad taste in the mouth, bloating, stomach upset, and constipation.
In some cases, users may experience an allergic reaction to collagen. Some signs of a reaction include tingling or itching in the mouth, hives, itchy skin, and swelling.
As with any dietary supplement, it's essential to consult your doctor to ensure the product is safe for you, especially if you are pregnant, breastfeeding, or have other common allergens.
Keto Cycle FUEL vs. Isagenix Collagen Elixir
Comparison Winner: Keto Cycle FUEL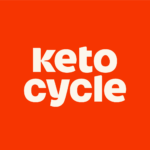 Pros
Contains MCT oil, collagen peptides, and essential electrolytes
Contains key electrolytes to enhance overall health and ensure hydration 
Collagen properties hydrate and strengthen the skin 
Repairs joints and stimulates muscle growth 
Promotes heart health
Boosts energy
Boosts metabolism
Sugar-free
Gluten-free 
Contains antioxidants and vitamins
Source of vitamin C, zinc, and biotin
Uses responsibly-sourced collagen
Claims to support skin, hair, and nail health 
Gluten, soy, and dairy-free
Cons
Contains fish, a common food allergen
Contains sugar
Not suitable for vegans and vegetarians
Expensive
How We Choose Products
When we write a review, we look at the product overall to evaluate its effectiveness. After assessing the advantages and disadvantages, we can make an informed decision on whether we recommend it.
We used criteria that incorporate the points below in writing this Isagenix Collagen Elixir review.
Ingredients list
It's essential to assess the ingredients of any dietary supplement to ensure safety, effectiveness, and health benefits. We must ask: is Isagenix Collagen Elixir safe?
We can form an opinion by carefully reviewing the ingredients list and the nutritional information provided.
Value
Value for money is a priority when it comes to supplementation. If you're going to use a product as part of your daily routine, you need to be able to sustain the cost.
With so many collagen supplements available on the market, we must consider whether the pricing matches the results.
Quality
The overall quality of a product allows us to reach a verdict, from how it works to what you can achieve. A quality assessment looks at everything from the ratio of ingredients to the packaging and manufacturing practices.
A Word From RD
Collagen is a protein in the body that has various functions. It is the main element of connective tissue and is abundant in the skin, bones, and muscles.
Despite an abundance of collagen in the human body, collagen supplements are a popular purchase in the health world among people of all ages. It's also added to skincare products to promote better skin health when used as part of a routine.
Collagen peptides or hydrolyzed collagen are said to be more easily absorbed by the body.
As we grow older, our collagen supply reduces, leading to the thinning and dehydration of the skin. Fine lines and wrinkles begin to appear as our youthful glow slowly diminishes.
So, many people turn to collagen supplements for support. A collagen supplement can help boost your body's production of collagen, contributing to healthier skin, hair, and nails.
FAQs
What is the cost of Isagenix Collagen Elixir?
Isagenix Collagen Elixir costs $50 for a guest customer and $44 for a preferred customer for a 10-day supply. You can also purchase 30-day, 40-day, and 60-day supplies.
Is Isagenix Collagen Elixir vegan?
No, Isagenix Collagen Elixir is not suitable for vegetarians or vegans because it contains marine collagen sourced from fish.
Does Isagenix Collagen Elixir really work?
Isagenix Collagen Elixir contains active ingredients which may support skin health and appearance. However, individual results may vary from person to person.
Final Thoughts
Isagenix Collagen Elixir is a liquid collagen supplement that contains plenty of ingredients that target aging and tired skin. Marine collagen is the hero ingredient that links better skin hydration and the reduced visibility of fine lines and wrinkles.
While Isagenix products sound promising, the elixir is more expensive than other collagen supplements on the market.
While moderate evidence suggests the effectiveness of the ingredients, there doesn't appear to be enough research to back up the price tag, which leads us to seek alternatives that may be cheaper while delivering similar, if not better, results.
A great alternative to the Isagenix Collagen Elixir is Keto Cycle FUEL. This supplement provides all of the benefits of additional collagen to your body along with a range of other benefits too.
The extra benefits of Keto Cycle FUEL include promoting heart health, boosting the metabolic state of ketosis and energy levels, burning fat, increasing metabolism, nourishing the body, and protecting the nervous system.
With Keto Cycle FUEL, your skin will improve and be more youthful while the supplement boosts your internal health, helping you feel fitter physically too!
Last update:
July 28, 2023
9 min read
1250 Views
0 Reviews