Is Semolina Healthy? Nutrition and Health Benefits
Last update: April 4, 2023
7
596
0
Semolina is a type of whole-wheat flour that is considered a healthier option than refined flour. This article explores the many health benefits of semolina flour, what it is made of, and whether it is a good move to replace regular flour with it.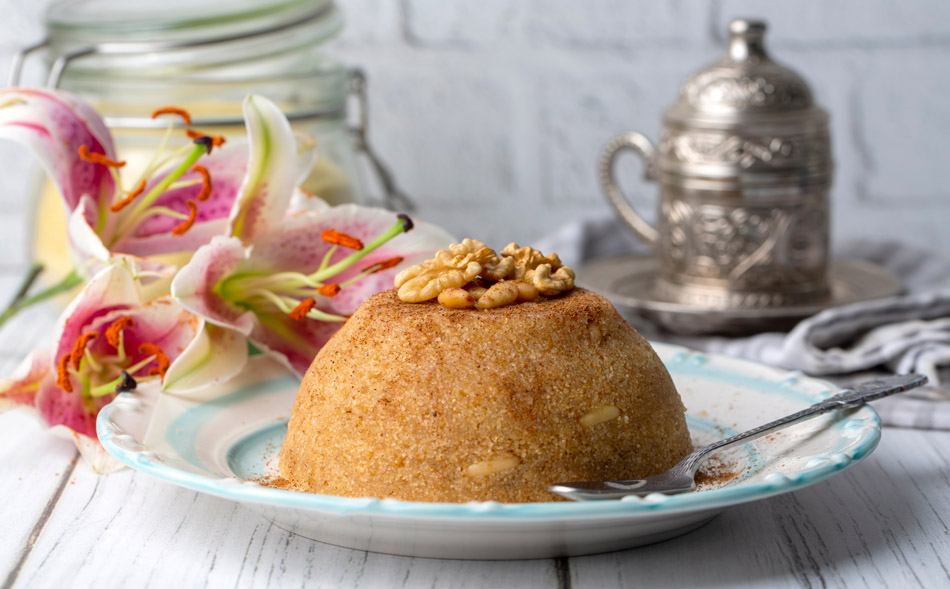 Semolina is coarse flour manufactured from tough durum wheat. Unlike regular flour, it is golden in color and has a mild aroma. Durum wheat is the hardest wheat variety and is mostly grown in West Asia, North America, East and North Africa, and Eastern and Mediterranean Europe.
Durum wheat produces pale yellow flour used to make bread dough, morning cereal, or pasta. The refining process may make semolina lose nutrients present in whole-wheat flour.
Food manufacturers often fortify the flour with the micronutrients that were lost during manufacturing. As a result, unenriched semolina contains lower vitamin and mineral levels than enriched semolina.
This article reviews whether eating semolina benefits health, how to use it, and the potential side effects of using this flour.
Is Semolina Healthy?
Yes, semolina is healthy. In fact, semolina is a nutritious addition to your diet because it is an excellent source of protein and fiber.
It is also a good source of iron, folic acid, B vitamins, and magnesium, which have vital functions in the body, such as heart health, weight loss, digestion, and energy production. However, for people with gluten intolerance, it is best to avoid this flour.
What Is Semolina?
Semolina is a coarse flour made from durum wheat, a tough variety of whole-wheat grains that is high in protein and gluten. It is widely used in many countries to make porridge, pasta, couscous, pizza, bread, and other baked goods.
What is semolina made of?
Semolina is manufactured by processing the endosperm of durum wheat kernel. The wheat grain is milled to coarse flour with a tough and stretchy texture that we use in a wide variety of recipes and dishes.
Is Durum Wheat Semolina Healthy?
Yes, durum wheat semolina is healthy. Durum wheat is a powerhouse of essential nutrients such as B vitamins, dietary fiber, vitamins K and E, zinc, and potassium.
It is also rich in protein, low in fat, and has a low glycemic index, which makes it a great choice for those looking to maintain a healthy diet.
5 Health Benefits of Semolina
#1 Aids in weight loss
Semolina is high in protein, providing essential amino acids for body functions. According to research, a high-protein diet is more effective in weight loss, and also helps to maintain muscle mass by keeping the muscles strong and healthy.
Semolina is also rich in fiber, making it a great option for those who are trying to lose weight. The high fiber and protein content increases satiety and slows digestion. Additionally, it may curb appetite and cravings, which is beneficial for weight loss.
#2 Promotes digestive health
Semolina is a great source of dietary fiber, which is beneficial for digestive health. Increasing foods that are high in total fiber intake reduces bloating and constipation and ensures regular bowel movements.
In addition, a fiber-rich diet stimulates the growth of beneficial gut bacteria and helps maintain a healthy balance of the gut microbiota. An imbalance of the bacteria interferes with immunity and metabolism.
#3 Is a rich source of key nutrients
Semolina contains good amounts of iron, magnesium, phosphorus, and zinc, as well as B-complex vitamins such as folate and thiamin. Thus, the nutrient-dense grain supports healthy growth and development.
Iron is essential for the production of enough red blood cells, immunity, and the transport of oxygen into the cells. Eating adequate iron from the diet reduces the risk of iron deficiency anemia which may have irreversible consequences.
On the other hand, magnesium is important for maintaining healthy bones, heart, and muscles, and B vitamins are important for energy production and a healthy metabolism.
#4 Beneficial for heart health
Whole-wheat semolina has an additional whole-grain fiber that helps lower LDL (bad) cholesterol, inflammation, and blood pressure, which are the key markers of heart disease. Studies have shown that regular intake of the fiber reduces the risk of heart disease by 24%.
Semolina is also fortified with iron, folate, and magnesium, which support heart health and help reduce the risk of cardiovascular disease.
#5 Blood sugar control
Semolina is high in dietary fiber, which helps to regulate blood glucose levels and reduces the risk of developing type 2 diabetes. It slows down the digestion and absorption of carbohydrates into the bloodstream and prevents sugar spikes, thus helping people with diabetes maintain lower blood glucose levels.
It also contains dietary magnesium, which reduces insulin resistance and also helps to improve blood sugar control. Eating a high-magnesium diet is associated with a reduced risk of diabetes by 14%.
3 Possible Side Dangers of Semolina
Although semolina has several health benefits, there are 3 downsides to the flour.
#1 May cause gluten intolerance
Semolina is high in gluten and is not suitable for people with gluten sensitivity, wheat allergy, or celiac disease. The processing removes most of the gluten and refined semolina flour. However, unlike whole oats or rice flour, it may not be 100% gluten-free and can cause some reactions.
#2 Has a high carb content
Semolina is also high in carbohydrates, so it should be eaten in moderation to avoid consuming too many calories.
#3 Can cause allergies
Wheat allergy is one of the most common allergies that people experience. Since semolina contains wheat protein, some people may experience allergic reactions such as a runny nose, asthma, hives, sneezing, or nausea. The flour is made from the processing of durum wheat, which contains protein in the endosperm.
Nutrition Facts of Semolina
Here is the nutrition breakdown of fine semolina flour.
Nutritional value per 100
| | |
| --- | --- |
| Calories/Nutrients (per 100g) | Amount |
| Calories (kcal) | 358 |
| Net Carbs (g) | 68.3 |
| Fiber (g) | 3.7 |
| Magnesium (mg) | 46.3 |
| Fats (total) | 1.84 |
| Protein (g) | 13.3 |
| Iron (mg) | 2.43 |
Source: https://fdc.nal.usda.gov/fdc-app.html#/food-details/2003589/nutrients
High in calories
A 100g serving of semolina provides 358kcal, which is on the higher side. Eat semolina in moderation because the calories can add up real quick.
High in proteins
The flour has high protein content, as a 100g serving provides 13.3g of protein, which is about 26% of the daily requirement based on a 2,000-calorie diet.
Low in fats
A 100g serving of semolina only yields 1.84g of fats, making it a low-fat product.
High in carbs
Semolina has high fiber content – a 100g serving provides 68.3g of carbs. However, because it is rich in fiber, it yields 14% of the daily value for fiber and can help slow down digestion and absorption and regulate blood glucose levels.
Still, it is advisable to eat semolina in moderation.
Rich in vitamins and minerals
Semolina contains high levels of thiamin, folic acid, iron, and magnesium. A 100g serving provides 13% of recommended daily value for iron, 11% for magnesium, 58% for thiamin, and 41% for folic acid.
Semolina vs. Oats
Product
Semolina
Oats
Benefits
Rich in dietary fiber that lowers cholesterol and blood glucose levels
Rich in vitamins and minerals Aids weight loss
Contains dietary fiber
Good source of vitamins and minerals Aids weight loss
Pros
Contains more fiber (about 2g more per 100g) compared to oats
Lower in fats than rolled oats
Gluten-free and tolerable by people with sensitivity to gluten
Does not cause allergic reactions
Cons
Contains gluten and is not suitable for people with celiac disease
May cause allergic reactionsHigh in calories
Lower fiber content than semolina
Higher in fats
High in calories
Healthy Homemade Porridge Recipe With Semolina
Make this delicious porridge to enjoy the goodness of semolina on a chilly morning. It will be ready in just under 15 minutes.
Ingredients
¾ cup semolina flour
1 cup water
2 ½ cups milk
½ tsp cinnamon
1 tbsp butter
1 tbsp honey or sweetener, to taste
Directions
Add the cinnamon stick to water in a saucepan and bring it to a boil. Lower the temperature, then add milk. Pour semolina gradually while constantly stirring to prevent lumps.
Simmer at medium heat and constantly stir until the porridge gets a thick consistency.
Add butter and stir. Let it simmer for about 5 minutes.
Pour into a bowl. Drizzle honey or sweetener and serve with chopped fruits such as bananas or berries.
If you need help with recipes and a healthy lifestyle, we have reviewed the 11 best nutrition apps with tools to help you achieve your desired weight. For more healthy recipes, check out these nutrition apps that provide accurate and up-to-date information about healthy eating and have calorie trackers and workout schedules.
FAQs
Is semolina whole grain?
Yes, semolina is whole grain, as it is made from whole-wheat grains.
Is semolina gluten-free?
Whole-grain semolina is not gluten-free. The flour is made from durum wheat, which has a high gluten content.
Is semolina good or bad for weight loss?
Semolina is high in protein and fiber, which helps lose weight. However, eat semolina in moderate portions alongside other nutrient-rich foods to get the full benefits.
Is semolina good for diabetes?
Semolina is suitable for people with diabetes because it has a low glycemic index and does not cause a spike in blood glucose levels. Also, it has a high fiber content that helps regulate blood sugar levels.
A Word From a Nutritionist
Eating semolina can help with blood sugar control, support heart health, and aid in weight loss. However, semolina is unsuitable for people with gluten intolerance or celiac disease. If you experience allergic reactions, avoid using semolina and look for gluten-free options such as rice flour, rolled oats, or amaranth.
Always check on the package for the fiber content and use whole-grain semolina to get the full benefits of the additional whole-grain fiber. 
Conclusion
Semolina is a coarse flour made from durum wheat kernels. It is healthy because it is low in calories and is a good source of protein, fiber, essential vitamins, and minerals.
Semolina may improve blood sugar control, aid in weight loss, and reduce the risk of heart disease.
Semolina is versatile and can be used in various ways, from breakfast cereals to soups to desserts and can be a great addition to any diet. Additionally, it is a great way to boost your overall health.
However, people with gluten sensitivity or wheat allergy should avoid eating semolina.
Last update:
April 4, 2023
7 min read
596 Views
0 Comments