Affiliate links on our site may earn us commissions.
Learn More
.
Nutrition
Is Jimmy John's Healthy? Menu Overview, Nutrition, Calories
We all love the popular restaurant Jimmy John's, known for being "freaky fast." However, is this famous sandwich chain healthy?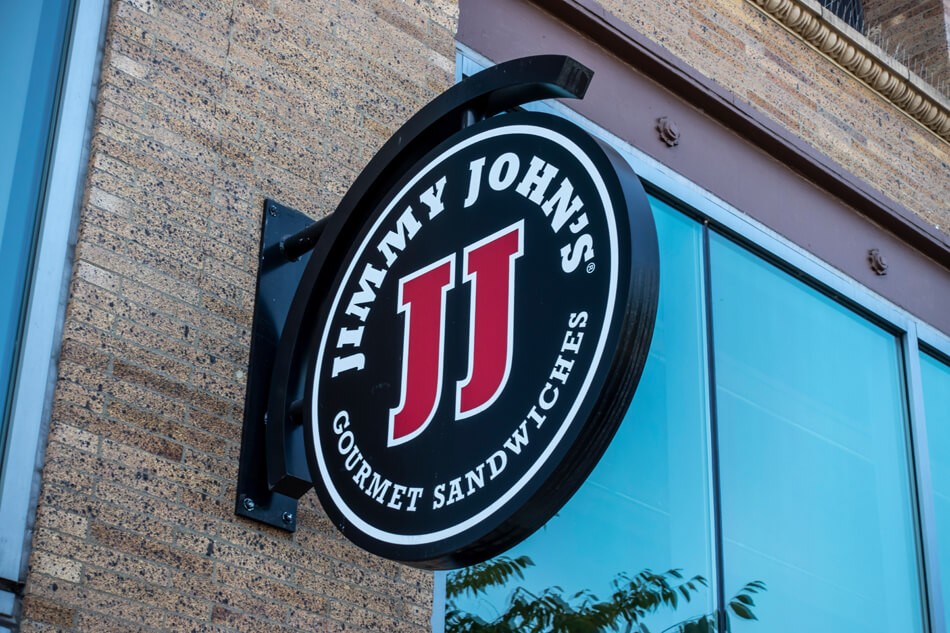 Do you love Jimmy John's for its tasty food and high-quality, quick service? Jimmy John's is a well-known sandwich restaurant that appears healthy and nutritious, but is it? Read on to learn more!
Is Jimmy John's Healthy?
Jimmy John's is a relatively unhealthy sandwich restaurant as some sandwiches are very high in calories, carbohydrates, and saturated fat. However, a few substitutes can be made that can help lower the calories and fat and improve the nutrition!
What Are the Healthiest Sandwiches at Jimmy John's?
Are you looking for a healthy option? Jimmy John's offers many sandwich variations to meet both your hunger levels and your nutritional needs.
For example, they have "Little Johns," which are smaller versions of their sandwiches, or they have "Plain Slims," which only contain meat and cheese.
Both are great options to decrease the calories, carbs, and fat.
Avoid the red meat options such as the sandwiches that include roast beef, and opt for the low-fat options such as the "Turkey Tom" made with turkey breast.
What Ingredients Do Jimmy John's Sandwiches Contain?
Jimmy John's offers many sandwich options, or you could create your own unique sandwich based on your preferences.
They have many different-sized sandwiches, from the "Little John" all the way to the "Giant" sandwich size, which is a whopping 16 inches. You can also opt for more meat on your sandwich as well.
For the protein options, they offer ham, roast beef, turkey, salami, capocollo (which is similar to salami), bacon, tuna salad, and avocado spread. They also offer provolone cheese on their club sandwiches.
Each Jimmy John's sandwich comes topped with fresh lettuce, tomato, and mayo (unless you ask for them to be left off!). In addition, they offer many different "Freebies" or add-ons, including mustard, pickles, oil and vinegar, oregano and basil, onion, customer, and peppers.
Finally, in terms of pieces of bread, you can choose French bread or sliced wheat.
Each sandwich is very customizable, making the combinations and possibilities endless!
The Healthiest Picks From the Jimmy John's Menu
Here are some of the healthiest picks from the menu and some substitutions to make any sandwiches healthier!
"The Veggie" is an excellent option if you are looking for a nutrient-rich and flavorful option that is also vegetarian. The regular size has 670 calories and contains double cheese, avocado spread, cucumber, lettuce, tomato, and mayo.
Are you worried about not feeling full after eating just a veggie sandwich? The avocado contains healthy unsaturated fats and protein that will help you feel full and satisfied.
The "Turkey Tom," the "Club Tuna," and the "Totally Tuna" are good choices on the restaurant's menu. These are the only other sandwiches on the entire Jimmy John's menu that do not include red meat, such as ham, roast beef, and bacon.
According to the Cleveland Clinic, red meat is high in saturated fat, which has been associated with an increased risk of heart disease, including heart attack and stroke.
So, avoid consuming too much red meat in your diet, and instead opt for fish, poultry, or plant-based protein, such as avocado.
Replace the mayo with mustard to make each of these sandwiches a healthier choice. Consider removing the cheese as well.
Furthermore, add more vegetables, including onion and cucumber, to add more nutrition to your sandwich!
Avoid the "Plain Slims" since they are just meat and cheese. This is removing all of the healthy vegetables and nutrients!
Low in carbs
To reduce the carbohydrates in your sandwich, try their "Unwich," which replaces the sandwich bread with lettuce and can decrease your caloric intake by between 230 and 350 calories.
Not interested in the lettuce bun option? Choosing sliced wheat bread will at least add some extra fiber and nutrients to your sandwich.
Low/high in calories and fats
Depending on the sandwich you pick and the size you order, some Jimmy John's sandwiches can get pretty high in calories and fat. However, some do have lean meats, including poultry.
Some sandwiches have as many as 860 calories in the regular size and 1710 calories in the giant size. For some, 1710 calories are what they consume for an entire day.
When ordering at Jimmy Johns, it is best to avoid the "Giant" sandwiches which are 16" in length (double that of the regular sandwiches). Instead, opt for the "Little John," the "Plain Slim," or a regular sandwich such as "The Veggie" or the "Turkey Tom."
The "Turkey Tom" made with turkey breast is made with lean meats with fewer grams of fat (including saturated fat) compared to the roast beef sandwiches, for example.
Additionally, to decrease the number of calories and grams of fat, ask for less mayo or even no mayo and substitute with either "Jimmy mustard" or yellow mustard. Only order the oil and vinegar topping in moderation, as it will significantly increase the fat and calories in your sandwich.
While it has no red meat such as roast beef, the "Totally Tuna" and the "Club Tuna" are quite high in calories as well, along with some of the other sandwiches.
Vegetarian and vegan picks
If you follow a vegetarian or vegan diet, Jimmy Johns still has a nutritious and tasty option for you!
To make "The Veggie" sandwich vegan, sub out the mayo for yellow mustard and remove the cheese. This also dramatically decreases the fat and calories!
Unfortunately, this is the only sandwich on Jimmy John's menu appropriate for the vegetarian or vegan lifestyle.
Allergy-friendly foods
Based on Jimmy John's allergen guide, some of the most common allergens are present in their food. The allergens covered in Jimmy John's allergen guide are milk, soy, wheat, eggs, fish/shellfish, tree nuts/peanuts, sesame, and gluten.
If you have a soy, wheat, sesame, or gluten allergy or intolerance, it is best to order your sandwich as an "Unwich."
Additionally, if you have a milk or gluten allergy, ask to remove the cheese.
The mayo contains soy and eggs, so avoid the mayo if you are allergic.
It is also important to note that many of Jimmy John's ingredients are processed in a facility that also processes peanuts and/or tree nuts and should be avoided if you have a peanut or tree nut allergy.
See the complete list of items processed with peanuts and tree nuts and the rest of the allergen information from Jimmy John's here.
Drinks, sides, and desserts
Let's briefly cover the options Jimmy John's offers for drinks, sides, and desserts.
Of course, they have soft drinks, including Coke, diet coke, sprite, and lemonade. Additionally, they have more unique beverage options, including Monster Energy.
While water is always your best bet, opt for a diet coke to avoid consuming empty calories and excess sugar.
You can get potato chips with flavors from plain to salt and vinegar to BBQ for their side options. For the lightest option, choose their "Thinny Chips" or avoid the chips altogether.
If you are still looking for that salty side, try the jumbo pickle that only has 20 calories.
Finally, they serve giant cookies from chocolate chip to oatmeal raisins. If you are set on that sugary treat, try having just half the cookie and saving the rest for tomorrow.
A Word From a Dietitian
Jimmy John's can be a great place to get a quick and delicious meal on a budget. However, many of their club sandwiches are very high in calories, carbohydrates, and fat.
Not to mention the high amount of sodium that practically any processed deli meat contains.
However, with such a customizable menu, you can make a Jimmy John's sandwich nutritious by making a few changes.
You can swap out the bread for whole wheat or a lettuce wrap, add more fresh veggies, substitute mustard for mayo, and limit the portion size to the regular or even the "Little John" sandwich.
Additionally, watch out for the added calories, fat, and sugar from adding a drink, cookie, and bag of chips. Although it is high in sodium, opt for a low-calorie pickle instead!
Opt for the "Turkey Tom" made with turkey breast or the "The Veggie" for a healthy sandwich with less processed meat.
Conclusion
The Jimmy John brand is a famous fast-food sandwich chain known for its incredibly fast delivery. But, with the tips and tricks in this article, it can be a healthy place to eat too!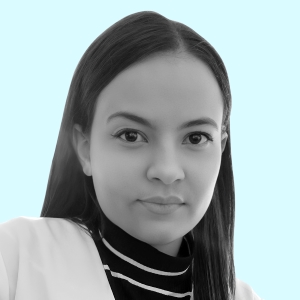 Written by
Edibel Quintero is a medical doctor who graduated in 2013 from the University of Zulia and has been working in her profession since then. She specializes in obesity and nutrition, physical rehabilitation, sports massage and post-operative rehabilitation. Edibel's goal is to help people live healthier lives by educating them about food, exercise, mental wellness and other lifestyle choices that can improve their quality of life.
The article was checked by

Rosmy Barrios, MD