Is Granola Good for Diabetes? Glycemic Index and Benefits
Last update: March 8, 2023
4
1604
0
Does granola hold any health benefits for diabetes? We look at the benefits and drawbacks of granola for diabetes.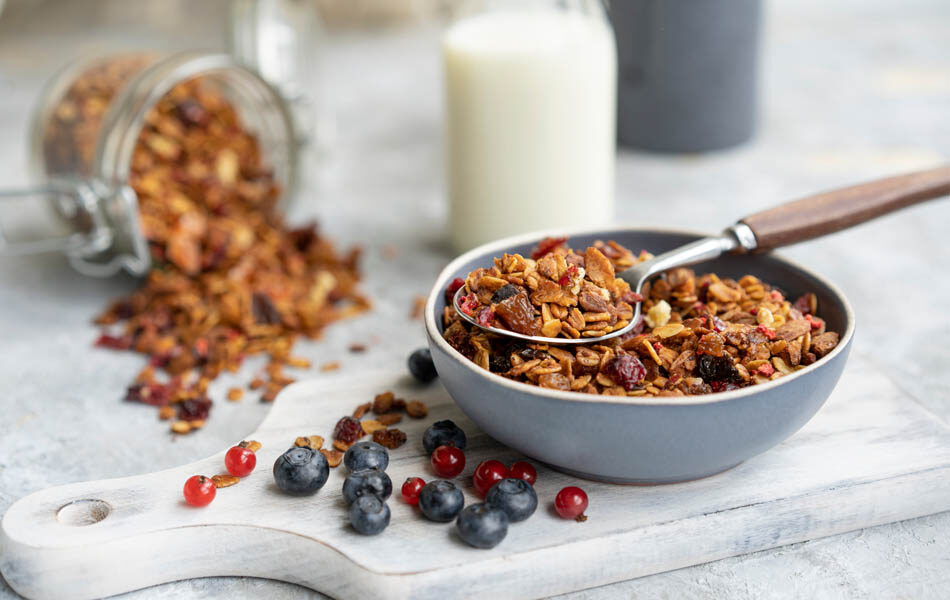 Granola is a popular breakfast cereal that has gained popularity over being marketed as a highly nutritious and filling food. It's usually made from whole grains and seeds, which are a good source of protein, fiber, and other nutrients.
Sometimes granola is said to be a healthier alternative to the usual breakfast cereals, which might raise the question of whether granola is good for diabetes. Our nutritionist explains and talks about the nutritional value and glycemic index of this widespread cereal.
Is Granola Good for Diabetes?
Granola is not the best breakfast choice if you have diabetes. While being a solid source of fiber, pre-packed granola might also be a real sugar bomb, which will raise your blood sugar levels immediately. However, you can opt for homemade granola. This way, you can control what is added to the cereal.
When buying granola at the store, don't forget to check its nutritional value. Stay away from unhealthy additives and preservatives, as they are harmful to your health. Granola is a calorie-dense food as it is made from oats, nuts, seeds, and dried fruit; therefore, you have to consume it in moderation if you want to keep your blood sugar levels stable.
If made without added sugar, this breakfast snack is great for your digestive system and stable blood pressure. High fiber content also keeps you full for longer.
What Is Granola?
Granola is a muesli-like cereal made from nuts, dried fruit, seeds, and rolled oats. It makes for a great breakfast snack on its own and can also be served with milk, yogurt, or added to baked goods.
For most people who want to add a bit of flavor to their granola, using dried fruit like apricots and strawberries is always a good choice. However, those with diabetes should use fresh fruits and berries as it is better for their health. Those with diabetes should opt for stevia drops or monk fruit because usual sweeteners, like honey or maple syrup, might skyrocket their blood sugar levels. You can also use cinnamon or almond butter to give your granola a better taste.
Does Granola Raise Blood Sugar Levels?
Yes, granola can increase blood sugar levels depending on the type and amount consumed. Granola is also a high-carb food, so people with diabetes should keep an eye on their portion size. It is best to eat this cereal with protein-rich foods, such as Greek yogurt or natural yogurt.
Consulting with your doctor or certified diabetes educator about how much granola you should eat when you have diabetes is a great way to enjoy nutrients from the snack and keep your blood sugar stable.
Is granola a low-carb food?
Granola is not a low-carb food; it has a lot of carbohydrates even when you eat it on its own. The protein content is moderately high, with 100g containing up to 9.96 grams of protein.
Some granola types also contain refined grains like wheat flour and cornmeal, known as "empty" calories, as they don't provide any nutritional value. Because store-bought granolas contain so much added sugar, they may harm people who need to watch their blood sugar levels.
Granola Nutritional Value per 100g
Granola is an excellent source of fiber with many other nutrients, like vitamins, minerals, and healthy fat, that can help lower blood glucose levels. However, store-bought granola is usually full of added sugars and other unhealthy additives that might be harmful to your health. Take a look at the store-brand granola's nutritional value:
| | | | |
| --- | --- | --- | --- |
| Net Carbs | Total Carbs | Fats | Protein |
| 64.4g | 73.8g | 11.5g | 9.96g |
| Calories | Fiber | Sugars | Glycemic Index |
| 422 | 9.4g | 22.2g | 60 |
Granola Glycemic Index
Granola has a moderate glycemic index of 60, which means it might cause spikes in blood glucose levels. Medium glycemic foods cause slight changes in your blood glucose and insulin levels leading to a medium release of energy. Therefore, it is best to eat granola in moderation.
Does Granola Benefit Those With Diabetes?
Granola might help with blood glucose control but if you are eating store-bought granola, keep in mind that it is also high in saturated fat, sugar, and carbs, so consumption must be closely monitored.
If you want to incorporate granola as part of your healthy diet or meal replacement plan, you can pair it with yogurt, fresh fruit, or nuts. As a great source of protein, soluble fiber, and healthy fats, it can lower blood glucose levels even in people with type 2 diabetes.
The key is to choose the right type of granola for your diet. That means finding the right balance of fiber per serving with no refined sugars. If you add oats, use whole-grain oats instead of instant oats. You can also add nuts and seeds like chia, sunflower seeds, pumpkin seeds, or flaxseeds to boost your daily fiber and good fat intake.
This cereal has also been linked to health benefits like reducing cholesterol levels, preventing cancer, and maintaining healthy muscle mass and bones. Plain granolas also improve gut health by providing healthy bacteria to the body.
The best way to achieve health benefits from granola for diabetes is through homemade recipes, but these require some time.
FAQs
Are granola bars good for diabetes?
Granola bars are not the best snack for diabetes as they might contain many artificial additives and added sugar. Sugar-free granola bars are healthier for people with dietary restrictions.
Is granola keto-friendly?
Granola is not keto-friendly. It's a high-carb snack made with whole grains and nuts that will kick you out of ketosis. Therefore, this breakfast cereal should be avoided when on a keto diet.
How much granola should a person with diabetes eat?
Your weight and activity level determine the amount. If you have type 2 diabetes and don't regularly exercise, it might be better to avoid it altogether. However, if you lead an active lifestyle, homemade granola could be a great additive to your diet.
A Word From a Nutritionist
Those with diabetes have to be very conscious of what they eat, which is why they must carefully check any food item before adding it to their diet plan.
Granola is a fiber-rich food that helps control blood glucose and keeps you full longer. Protein and healthy fat can also help manage the risks of heart disease and other chronic diseases.
Despite these perceived benefits, people with diabetes must understand how to consume granola to keep their blood sugar under control. The type, amount, and pairing must be considered.
Speaking to a doctor, diabetes educator, or registered dietician is essential to better understand consumption effects on your health.
Conclusion
Granola is a great snack for diabetes-friendly diets that you can eat in many different ways. The protein and fiber content helps stabilize sugar levels and keep insulin levels low. It is important to very carefully add granola into a diabetes diet plan to avoid blood glucose spikes.
Last update:
March 8, 2023
4 min read
1604 Views
0 Comments