Is Crab Good for Diabetes? Plus the 4 Amazing Health Benefits
Last update: March 8, 2023
7
1096
0
Trying new foods can be scary, especially if you don't know how your body will react to the ingredients. Some people claim crab is great for a nutritious diet, but is that really true? We explain if crabs are good for managing diabetes and provide 4 amazing benefits of eating them.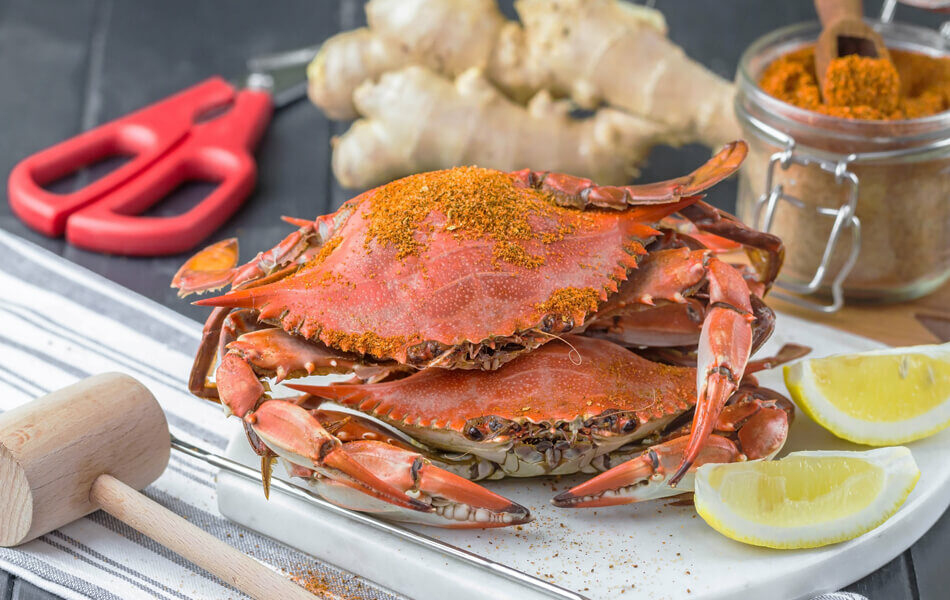 Imagine this – you're at a restaurant wanting to try crab for the first time, but you're scared about raised blood glucose levels. This makes you avoid the food completely until you know it's safe. Certain seafood might be bad for diabetes, depending on their nutritional content.
Not everyone has good blood sugar control on their diet. You must monitor what you eat carefully without consuming empty nutrients, like added sugars and unhealthy amounts of salt. A shellfish-inspired dish that involves crab may help you create balanced meal plans.
So, is crab off limits, or can you add it to your delicious recipes? Crab isn't a popular dinner preference, but that doesn't mean people can't try it while managing blood glucose levels. Finding out more about this type of seafood will help you determine if it suits your taste.
In this article, you'll discover if crab is good for diabetes, including the 4 benefits of eating it.
Is Crab Good for Diabetes?
Yes, crab is good for diabetes due to the high amount of chromium. This trace mineral is known to help insulin metabolize sugar, leading to lower blood glucose levels. You can enjoy crab in nutrient-dense meals or snack on crab rolls to satisfy hunger cravings.
Seafood can be great for your health, as they contain lots of vitamins and minerals to fuel the body. Crab especially has phosphorus, calcium, zinc, and potassium – important nutrients that maintain blood glucose. People with diabetes may enjoy crab on their healthy, balanced diet.
You can also eat crab meat while following the ketogenic meal plan. This involves consuming low-carb and high-fat foods that encourage ketone production. In clinical trials, people who ate fewer carbohydrates in their diet had lower blood sugar levels compared to those who didn't.
If you're looking to lose weight, the keto diet is a great place to start. Crab is completely keto-friendly since it contains almost no carbohydrates and is high in protein. Eating crab meat can promote long-term weight loss while reducing the physical symptoms of type 2 diabetes.
Is imitation crab meat good for diabetes?
No, imitation crab meat contains more carbohydrates and added sugars that could trigger glucose spikes. Fake crab also has starch – a type of carb known to elevate blood sugar content. Avoid this food on your diabetes diet and only eat real shellfish.
Some people might snack on store-bought crab sticks in between meals. However, crab sticks are fake and made from pulverized meat. The salt and preservatives increase the risk of high blood pressure and heart disease, so avoid fake seafood when reducing insulin resistance.
You can limit fish with saturated fats by checking the nutritional label. It should only be high in protein and super low in carbs, sugars, and calories. Buying fresh crab meat from your local market will reduce your chances of getting ill or experiencing high blood pressure symptoms.
Does Crab Cause Diabetes?
Crab doesn't cause diabetes because it is low in net carbs, sugar, and saturated fat. If anything, this food actually helps lower blood sugar. The nutrients play vital roles in improving your overall health while reducing common hyperglycemia side effects.
Certain factors may contribute to the development of type 2 diabetes. Eating too much junk food and not performing regular exercise can increase those chances. You can go for a long-distance run or walk for at least 20 minutes daily to strengthen your general health.
People sometimes incorporate crab into their diet when managing diabetes. Healthy fat won't increase blood pressure and bring on heart disease. Remember that real crab meat contains plenty of chromium to help insulin metabolize sugar and prevent excess glucose.
Crab Nutritional Value
One portion of crab has everything you need to stay healthy. There are lots of vitamins that boost your nervous system and cognitive function. Crab is packed with flavor but not much fat, making it perfect for someone trying to manage their blood glucose levels.
Below, you'll find the nutritional value of crab per 100g serving:
Crab
Seafood
Keto Friendly
Key nutritional facts (per 100g):
As you can see, a 100g serving of crab has 18.1g of protein – a macronutrient that is important for building and maintaining muscle. Those who want to lose weight can easily tone their body while consuming this food. Just remember to eat other products that have more fiber and healthy fats.
Protein helps slow carbohydrate absorption, lowering the chance of high blood pressure. It can also stabilize blood sugar and encourage better heart health. Even though crab contains high amounts of protein, try to avoid breaded and fried fish, as they are made with added sugars.
Glycemic Index of Crab
The glycemic index of crab is 5, which is great for people with diabetes. Anything below 55 won't increase sugar in your bloodstream. Eating crabs is perfectly safe on a diabetes-friendly diet, so don't be afraid to incorporate them into your meal plan.
People often look at the glycemic index of foods before trying them. This nutritional information represents how much that product will raise blood sugar levels on a scale of 0 to 100. For example, if the food scores 70 on the GI scale, this means it's not suitable for a diabetes diet.
Just make sure not to mix king crab legs with high-calorie olive oil or salt. Adding seasonings could increase the glycemic index and trigger hyperglycemia symptoms. Canola oil is said to be the best for those with diabetes, as it has a low GI and lots of omega-3 fatty acids.
4 Health Benefits of Eating Crabs
Crabs and other shellfish contain valuable nutrients that improve your general health. Seafood might not be for everyone, but it's worth trying for your diabetes-friendly diet. To relish the several benefits, bake crab legs to avoid getting rid of any important vitamins and minerals.
Let's take a look at the 4 benefits of eating crab:
#1 Improves blood sugar metabolism
Consuming crab meat can help strengthen blood sugar metabolism – a process that involves turning energy from food into fuel. Anything containing vitamin D, magnesium, or vitamin C may boost this natural function and help the body regulate sugar instead of increasing it.
You need plenty of energy to properly exercise and perform normal daily activities. High sugar levels in your blood could trigger symptoms like fatigue, muscle weakness, severe constipation, and headaches. Eating lots of vitamins and minerals will combat that feeling of sluggishness.
There is 63mg of magnesium in a 100g serving of crab, which is great for reaching your daily magnesium intake (300–400mg per day). This mineral improves glycemic control and sugar metabolism in those with type 2 diabetes, so it's worth adding crab into your diet.
#2 Regulates cholesterol level
One portion of crab contains niacin – an important B vitamin that reduces low-density lipoprotein (bad cholesterol) and increases high-density lipoprotein (good cholesterol). Your body needs HDL to remove lipids from the body, preventing certain heart diseases and type 2 diabetes.
Having good cholesterol regulation can also decrease the risk of high blood pressure. This is due to the low amount of fatty acids that build up in your arteries. Even snacking on cooked crab legs throughout your diabetes diet can feed the body with essential B vitamins like niacin.
#3 Beneficial for heart health
You should always eat foods that contribute to a strong heart.
Crab and types of cold water fish can reduce triglyceride levels in your body. Some fish might be tuna, haddock, and salmon. Triglycerides are fatty acids that trigger strokes when they reach high concentrations in the blood, so it's better to eat nutritious shellfish in your meal plan.
Just remember that looking after your heart can prevent chronic conditions like coronary artery disease, cardiomyopathy, heart infections, cardiac attacks, high blood pressure, and congestive heart failure. This is especially great for people with diabetes who need that extra care.
The ketogenic diet is also excellent for strengthening heart functions. Low-carb foods can stop unhealthy fats from clogging arteries and raising blood pressure. You can enjoy crab on this diet while losing weight, as ketones burn visceral fat and reduce symptoms of type 2 diabetes.
#4 Boosts memory
Crab contains omega-3 fatty acids, copper, vitamin B12, and selenium, which all boost your memory. Selenium is one of the key minerals that improve the memory learning functions in aging brains, making it perfect for those who want to strengthen their mental clarity.
Vitamin B12 can also prevent memory loss in older adults, so it's important to eat foods packed with this nutrient. You can snack on crab every day to relish the benefits or supplement with other foods. A better memory may relieve anxiety, improve sleep quality, and boost self-confidence.
FAQs
Can diabetes patients eat seafood?
Yes, there is nothing wrong with eating seafood that contains lots of protein. King crab legs, canned tuna, and canned sardines are great snack options. They also have omega-3 fatty acids that reduce triglyceride levels in people who suffer from both type 1 and type 2 diabetes.
Do crabs have a lot of sugar?
No, crab doesn't have sugar at all. The 0g sugar content makes it perfect for controlling diabetes. Since crab doesn't contain saturated fat, preservatives, and added sugars, it's suitable for preventing heart diseases. Just make sure to eat other nutrient-dense foods as well.
Is crab healthier than fish?
Crab meat usually contains more vitamins than other seafood and fish. It has extra copper, magnesium, calcium, and phosphorus compared to salmon. You can eat a mix of fish-based dishes to spice up your meals and have variety when losing some stubborn weight.
A Word From Our MD
Eating lots of crab on a balanced diet can improve your overall health. The omega-3 fatty acids are especially important for reducing plaque development in your arteries. You can enjoy crab by combining it with delicious recipes like crab cakes and seafood-based soups.
You can also perform regular exercises by going for a morning run or doing high-intensity interval training (HIIT) at the gym. Physical activity may help the body regulate sugar content in your bloodstream, which reduces the symptoms of type 2 diabetes and helps you burn fat.
Remember to seek help from a medical professional if your condition gets worse. Eating certain foods like crab won't get rid of diabetes or completely prevent it. However, there are ways to minimize high blood glucose, including following a healthy diet that helps insulin production.
Conclusion
So, does seafood raise blood sugar, including crab?
Crab is excellent for people who want to manage their diabetes. This food contains lots of vitamins and minerals that lower the sugar content in your blood. Just make sure to bake fish and crab instead of frying them with fatty oils, as this might increase the glycemic load of your meal.
Last update:
March 8, 2023
7 min read
1096 Views
0 Comments
${TOCSections.eq(0).find('a').text()}