Is Brisket Healthy? Nutrition, Calories
Last update: August 16, 2023
5
1211
0
Even for brisket lovers, there's still so much to know about your favorite beef, from its essential nutrients to its nutrition benefits.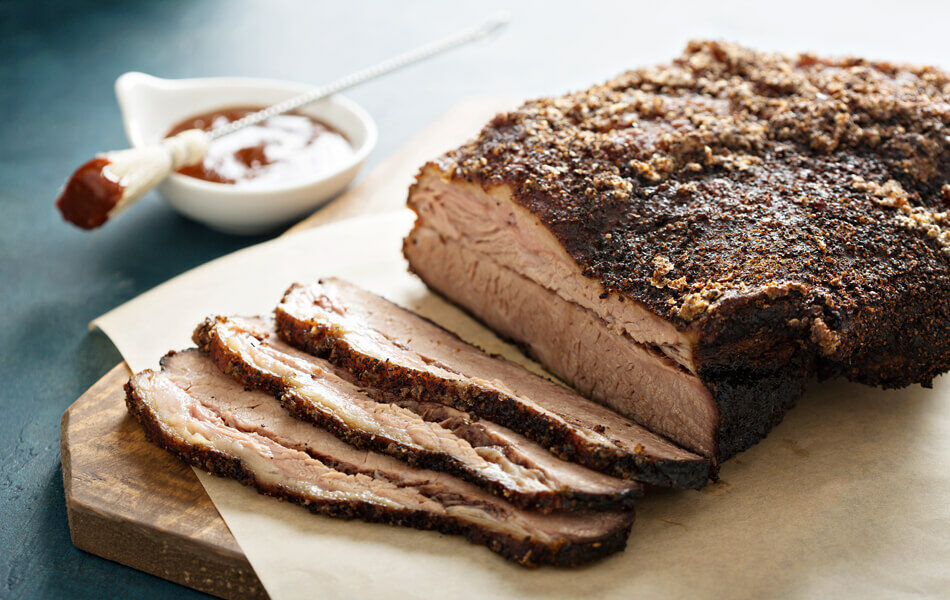 Brisket is a cut of beef from the lower chest of a cow, typically grain-fed beef. Because the chest area is worked on a daily basis, the meat becomes tough and full of connective tissue. Brisket is the preferred trim for producing ground beef.
Some people may argue that consuming beef brisket frequently might have a negative impact due to its cholesterol level.
Usually, brisket cuts or beef roasts are categorized as corned beef, plus they have a reputation for being high in calories. But USDA categorizes flat-cut brisket as a lean cut of meat.
Eating red meat can be classified as bad news because it can increase our level of bad cholesterol, but with beef brisket, you may be raising the level of good cholesterol in your body.
Is Brisket Healthy?
A flat-cut beef brisket contains lots of essential nutrients, making it extremely beneficial and healthy. Its high levels of oleic acid produce HDLs, which help in preventing heart disease.
Beef brisket contains complete protein, meaning it has all the essential amino acids needed by the body to synthesize protein. Research has shown that diets that include lean, complete protein help in weight loss.
One of the fatty acids present in brisket, conjugated linoleic acid may help in the prevention of cancer, diabetes, and high cholesterol level.
On the other hand, using high heat for cooking your brisket causes carcinogens to form, so to avoid that, simply use a marinade.
As you make your serving selection for the week, it might be worth it to give the brisket a chance, as it's a healthier option for red meat.
How Is Brisket Made? (Ingredients)
There's no one exact way to cook your beef, and we'd be discussing the different methods.
Brisket needs to be cooked at a low temperature for a long period. The time frame will vary depending on the size and type of brisket being cooked.
Cooking a flat-cut beef brisket on its own will take about 3 hours, while a whole brisket might take up an extra hour. However, be sure to check it out every 30 minutes, or it'll dry out when overcooked.
When it comes to ingredients, it's totally dependent on your taste preference. For a sweet brisket, add brown sugar, and if you love your brisket spicy, adding red pepper or cayenne is the best.
#1 Cooking brisket in a slow cooker
One major reason why pitmasters love using a slow cooker is that you can put in your preferred seasonings and spices and patiently wait until they get ready.
You can decide to sear the beef first before putting it into the slow cooker, as this will add more flavor to its taste.
#2 The smoking and BBQ style
Smoked brisket has a Texas-style flavor everyone should experience at least once in their lifetime. Yes, depending on the size, it'll take several hours to get ready, but the taste is worth the hassle.
Give your flat-cut beef brisket a rub of your preferred spices (you can add a bit of sugar as well), and let it sit overnight.
Prepare your smoker and put in the brisket, and make sure you insert a thermometer into the thickest part of the brisket.
Remember that the BBQ style involves low and steady heat. Occasionally check your smoker and add more charcoal to regulate the temperature (if needed). Cook your brisket for 7 to 10 hours – until the inserted thermometer reads 185–200ºF.
#3 Cooking brisket in the oven
For this method, you can either use a dutch oven or a shallow roasting pan. The first step is to sear the flat-cut brisket to caramelize it, so the flavor can deeply settle before cooking.
Submerge the brisket into liquid like broth, ketchup, BBQ sauce, or even wine, and you can put spices like garlic and herbs to get extra flavor.
Let the liquid boil, and then simmer. Cover and transfer the flat-cut brisket to a 225ºF oven and let it sit for 3 hours while you check it every 30 minutes.
Brisket Nutritional Facts
The nutritional value of brisket will vary based on the spice and sauce used in the preparation.
Nutritional table (per 100g)
| | |
| --- | --- |
| Calories/Nutrient (per 100g) | Amount |
| Calories (kcal) | 198 |
| Sodium (mg) | 1220 |
| Net carbs (g) | 0.14 |
| Fiber (g) | 0 |
| Sugar (g) | 0 |
| Fats (Total) | 14.9 |
| Protein (g) | 14.7 |
| Cholesterol (mg) | 54 |
High in protein
A 100g serving of brisket contains 14.7g of protein, and the protein gotten from a lean cut of brisket is considered a complete protein.
Low in calories
Lean brisket is considered perfect for weight loss because it contains low calories. Half a pound of beef brisket has 569 calories.
Low in carbohydrates
Carbohydrates consist of fiber, starch, and sugar. And the carbohydrate value of brisket is 0.14g, making it a low-carb food.
You can easily add it to your keto food list, prepare it the Texas BBQ style with just a sprinkle of salt and pepper, and then you're good to go.
High in fats
The fat content of brisket is approximately 11g of fat in one medium slice. For a 3oz serving, brisket contains 6g of total fat and 2g of saturated fat in every 84g.
Yes, fat is a very important component of beef, but it's important to note that brisket has less saturated fat and more monosaturated fat, and the fat content differs based on the portion being served.
A moderate amount of cholesterol
The cholesterol amount in every 100g of brisket is 62mg. The ground beef obtained from brisket contains higher oleic acid, which reduces LDL (bad cholesterol) in the human body.
The amount of cholesterol varies based on the size and type of brisket. For instance, lean cuts of brisket have about 20–59mg of calories, and flat half beef brisket has 60–mg of calories.
Frequently Asked Questions
Is brisket good or bad for you?
Brisket has many health benefits, so it's not considered unhealthy consumption. A single serving of roasted smoked brisket contains high levels of oleic acid, which lowers LDLs, and the great news is that it reduces your risk of cardiovascular disease.
Is brisket high in sodium?
Although brisket is higher than flank in terms of calories, it still has a low-calorie level. A 3oz serving of lean meat of brisket contains 66mg of sodium. So, if you are looking to eat a low-sodium barbecue, using brisket as beef cuts is what you need.
Is brisket good for weight loss?
Brisket contains lean, complete protein, which indicates it can be helpful in weight loss.
A Word From a Nutritionist
When stepping up your healthy eating game, it might become really confusing sieving out what to eat and what not to.
Brisket is a popular meat, and at a point in your life, you might have tried it out, and usually, most people consider it the preferred trim option to produce ground beef.
In order not to eat unhealthy brisket meat, you have to be mindful of how you cook it. When you don't trim the cuts properly, you end up having a fatty brisket that contains high levels of unhealthy fat, and this reduces HDL in your body.
If you are trying to stay healthy, you can ditch all those recipes and have your brisket grilled without adding extra sauce and preservatives. But, if you aren't bothered about your calorie intake, you can decide to make your cut of beef a fatty brisket, plus the oleic acid level will help balance things out.
Conclusion
Great news; grilling or smoking your beef brisket doesn't take out the flavor from it, as long as it's prepared correctly.
The flat-cut beef brisket has higher oleic acid that can increase your HDL level in a single serving, so if this meat isn't served on your plate at your barbecue joint, it's time to get a new one.
Last update:
August 16, 2023
5 min read
1211 Views
0 Comments
${TOCSections.eq(0).find('a').text()}