Is Applesauce Good for Diabetes? Benefits and Glycemic Index
Last update: March 8, 2023
3
1007
0
The question of whether or not applesauce is good for diabetes continues to plague people with this condition to this day. Keen to learn more?
While applesauce has a similar nutritional value to apples and provides plenty of health benefits, you'll find that applesauce may not be exactly as healthy as you may have thought.
Applesauce is made from raw apples, which could make it seem like a healthy and delicious alternative to fresh fruit. However, as with any food, people with diabetes will want to pay extra attention to the number of carbs, sugars, and other unhealthy ingredients that may cause their blood sugars to rise.
In this article, we'll discuss the nutritional benefits of applesauce and determine whether or not it's healthy for blood sugar.
Is Applesauce Good for Diabetes?
It depends. Applesauce provides about the same nutritional value as apples, with some exceptions. Homemade unsweetened applesauce is the best option for people with diabetes, containing fewer carbohydrates than store-bought brands, which – while still high in vitamin C – tend to raise your blood sugar even more.
In general, those with diabetes could eat applesauce and still maintain a healthy diet. However, sweetened applesauce is not the best option, as it will most definitely spike your insulin levels. It is best to eat raw fruits and berries to get all the benefits from them.
Will Applesauce Raise Your Blood Sugar?
Unsweetened applesauce will not raise your blood sugar more than a single apple. However, store-bought sweetened applesauce contains twice as much carbohydrate content, which will cause your sugar to spike. While people with diabetes can eat applesauce and other processed fruits, they must limit their portions.
However, the market is changing, and it is now possible to find applesauce without sugar at any local store. Always check the label before buying to make the right choice and keep your blood sugar stable.
Applesauce Nutritional Value per 100g
Unsweetened applesauce contains a few crucial nutrients, among others.
Applesauce (Unsweetened)
Snacks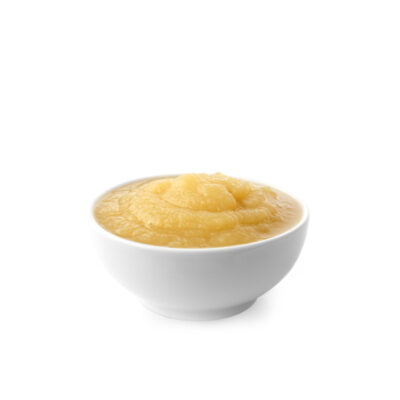 Not Keto Friendly
Key nutritional facts (per 100g):
In contrast to other processed goods, unsweetened applesauce remains a healthy offering to people with diabetes. Every 100g worth of unsweetened applesauce also contains magnesium, calcium, potassium, and vitamins A, C, and B6.
Lastly, unsweetened applesauce also contains a very small amount of quercetin. This chemical compound will boost your immune system and make it more capable of fighting off infections and diseases. People with diabetes can eat applesauce and reap plenty of benefits.
Applesauce Glycemic Index
Unsweetened applesauce has a glycemic index of 35, which is roughly the same amount as bananas, corn tortillas, plain spaghetti noodles, and grapes. This keeps it within the acceptable range for people with diabetes.
The glycemic index, curated by the American Diabetes Association, measures how different foods affect your blood sugar. The higher the glycemic index, the more a certain food will spike your blood sugar. A glycemic index of 70 is considered very high, while 55 and lower is considered safe for people with diabetes.
In addition to the index (which measures blood sugar increases per 50 grams), the glycemic load instead measures how much it will increase based on the average portion or serving of a particular food. Fortunately, half a cup of unsweetened applesauce has a glycemic load of 4, which is still fairly moderate.
What Are the Health Benefits of Applesauce?
Unsweetened applesauce provides plenty of benefits. Much like raw apples, which have fewer carbohydrates, unsweetened applesauce contains phytochemicals and antioxidants, reducing your risk of cancer, heart disease, and more.
Additionally, even sweetened applesauce contains vitamin C, which primarily acts as a preservative and helps your body in numerous ways. It helps speed up your body's healing process, for example, as well as aiding in the production of collagen, which gives your skin its strength and elasticity.
Applesauce also has a few other benefits, including:
Improved heart health
Improved digestion
Reduced risk of asthma
Greater cancer prevention
It's safe to say that people with diabetes who eat applesauce will enjoy plenty of great benefits so long as they eat in moderation. Fresh fruits will always be much better than canned fruit, however.
FAQs
How much applesauce can people with diabetes eat a day?
People with diabetes must pay attention to how much carbohydrate content they consume daily. The daily carb intake should be between 20–90 grams. It means that you can safely consume around 100 grams of regular applesauce and around 200 grams of unsweetened applesauce in one day.
Is applesauce a low-glycemic food?
While sweetened applesauce pushes the glycemic content outside the acceptable range due to the added sugars, homemade unsweetened applesauce is a moderate glycemic food, meaning people with diabetes can consume it in moderation.
Is unsweetened applesauce good for diabetes?
Normal applesauce provides plenty of great medical benefits for people with diabetes, largely due to its vitamin C content. On the other hand, sweetened applesauce contains added sugars.
A Word From a Nutritionist
People with diabetes can enjoy almost all fruits and berries in moderation. Applesauce, in its simplest form, will not put you at any serious risk if you have this condition. However, sweetened applesauce – which contains preservatives and more carbs – should definitely be consumed in moderation, either as an occasional snack or a rare treat.
Additionally, while applesauce does provide many benefits, it still teeters around the higher end of the index, at 53. You would still be better off eating raw apples with the skin on than a cup of applesauce.
It is recommended to closely monitor your daily carbohydrate intake as it helps to keep your blood sugar levels steady.
Conclusion
Sweetened applesauce remains a delicious alternative to raw apples, but people with diabetes should still consider eating raw fruit instead to maintain their sugar levels. While the American Diabetes Association has not ruled applesauce out, consuming it in moderation is key to remaining healthy.
Last update:
March 8, 2023
3 min read
1007 Views
0 Comments
${TOCSections.eq(0).find('a').text()}