Himalayan Pink Salt for Weight Loss – Does It Work?
Last update: April 14, 2023
5
1171
0
If you are trying to lose weight, you probably want to know every healthy tip to help you achieve your goal. Using Himalayan pink salt for weight loss is currently a popular approach among people. This article discusses whether this salt is effective, how to use it, and if there are any side effects associated with it.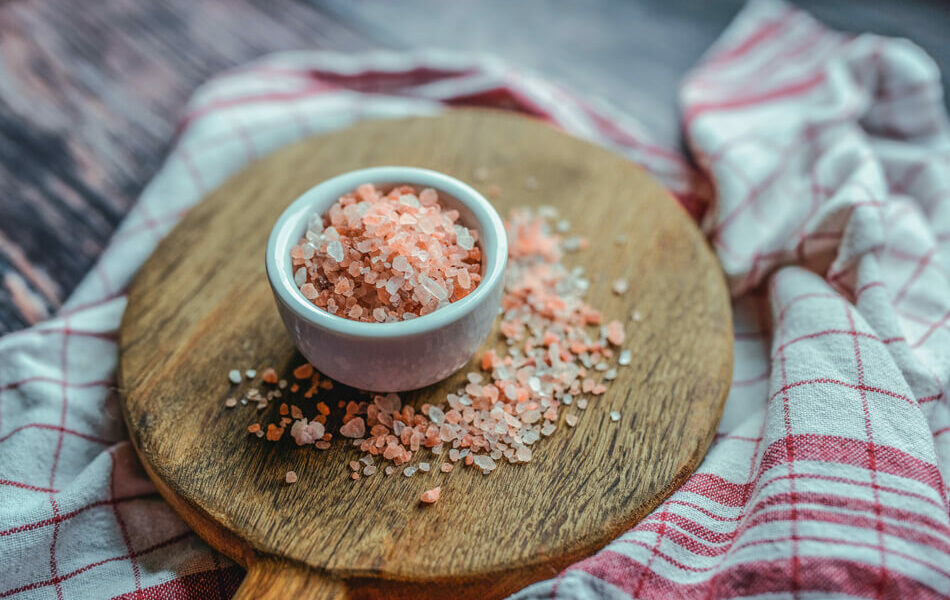 You have probably seen the Himalayan pink salt on social media, on TV, or you've heard people talk about it. People are raving about its health benefits, and you probably wonder if it will help you lose those extra pounds.
Countless health claims currently circulating show that Himalayan pink salt promotes weight loss, improves sleep, ensures better digestion, and reduces muscle cramps. With the growing rate of obesity, it would be helpful to find natural ways to support the weight loss process.
Salt is essential in promoting good health, and pink Himalayan salt has added benefits compared to regular table salt. Many people, therefore, use Himalayan pink salt as an alternative to table salt for various health benefits. This article discusses the health benefits of Himalayan pink salt for weight loss.
Himalayan Pink Salt for Weight Loss – Is It Effective?
When fused with water, Himalayan pink salt promotes weight loss by reducing water retention and cravings. Table salt causes water retention, and the excess water weight makes you add pounds and bloat.
The minerals in the pink Himalayan salt sole (water that has been saturated with Himalayan pink salt) cause your cells to release the excess water, making you lose weight and inches.
Himalayan pink salt also contains less sodium chloride than table salt. As a result, your body will not feel the need to store excess water in its cells.
Sole water promotes weight loss by reducing cravings. Cravings are usually caused by nutritional deficiencies. Himalayan pink salt contains minerals that enrich the body and promotes the absorption of nutrients.
Including Himalayan salt sole in your routine is one way to naturally boost your weight loss.
What Is Himalayan Pink Salt?
Himalayan pink salt is a pink-hued rock salt mined from the Himalayan foothills in Punjab, Pakistan. The salt beds were believed to have been deposited about 250 million years ago from ancient oceans and uncovered during the Himalayas' formation. The salt was covered by lava and ice for over a millennia and remains pure and unpolluted.
Pure salt is clear in color, and Himalayan salt is pink because it contains mineral impurities. Himalayan pink salt comprises 95–97% sodium chloride and trace minerals which make up to 3–5%. The trace minerals in the pink Himalayan salt are calcium, potassium, iron, magnesium, and sodium.
How to Use Himalayan Pink Salt for Weight Loss
Adding pink Himalayan salt to your drinking water and then consuming it on an empty stomach every morning will help improve your digestion and reduce food cravings.
If you cannot stand the taste of salty water, you can add two tablespoons of lemon juice to improve the taste.
If you are constipated, a saltwater flush using Himalayan pink rock salt will reduce your fluid retention and improve your digestion. It is only advisable to do it if you are chronically constipated or if you have irregular bowel movements.
How much Himalayan salt to add to drinking water
To make your sole water, take a glass jar and add Himalayan salt crystals to the quarter level. Fill the jar with water, stir to dissolve the salt, and let it sit for 12–24 hours, allowing the water to be fully saturated with the salt.
Add one teaspoon (5 ml) of the mixture to 8 ounces of drinking water. Drink it on an empty stomach every day as a natural way to take in minerals and promote weight loss.
If you want to do a salt water flush, add 1–2 teaspoons of Himalayan salt to 4 cups of drinking water. Drink the mixture within 5 minutes, which will result in bowel movements.
5 Amazing Health Benefits of Drinking Sole Water
Sole water, pronounced so-lay water, is a dense electrolyte drink made up of a mixture of water and pink Himalayan salt. Those who drink it swear by its benefits listed below:
#1 Hydrates the body
Sodium plays an important role in promoting fluid balance in the body. Sole water is rich in this mineral, enhancing fluid balance and hydration in the body.
Individuals involved in high-intensity interval training or cardio-based workouts lose sodium because of sweating. Drinking sole water will leave them feeling refreshed and hydrated.
#2 Might lower blood pressure
Sole water promotes fluid balance in the body and therefore helps in the regulation of blood pressure. Hypervolemia, a condition of high fluid levels due to water retention, has been linked to high blood pressure.
Adequate sodium levels are needed to lower stress levels, which reduces high blood pressure. Inadequate sodium levels inhibit the hormones that are needed to deal with stress.
#3 Improves digestion
Sole water improves digestion by activating the salivary glands and stimulating digestive enzymes and hydrochloric acid production. Low levels of digestive enzymes, including hydrochloric acid, are associated with poor digestion.
An adequate amount of minerals is needed for the production of digestive juices, thus, promoting the digestion of food and metabolism.
#4 Provides minerals
Pink Himalayan salt contains 25 nutrients and 31 non-nutritive minerals. The majority of the minerals found in pink salt are calcium, magnesium, potassium, sodium, and iron. Other minerals found in the salt are manganese, chromium, copper, phosphorus, selenium, zinc, and molybdenum.
The minerals in pink salt aid in the proper functioning of the body, metabolism maintenance, prevention of muscle cramps, and reduction of blood pressure.
#5 It might help to sleep better
Sole water is rich in potassium and magnesium, which promotes good sleep. Also, the other minerals in sole water help promote relaxation, calming the nervous system.
What Are the Side Effects of Himalayan Salt?
Himalayan rock salt is beneficial but only when taken in moderation. Consuming too much salt increases sodium levels in the body. Taking high quantities of Himalayan salt can result in hypertension, kidney disease, bone disorder, heart disease, stroke, and hypernatremia.
You might feel sick immediately after consuming too much Himalayan salt. You might also feel bloated as a result of water retention. You might feel thirsty because of dehydration and diarrhea.
FAQs
Can I drink Himalayan salt every day?
You can drink water containing pink Himalayan salt every day but only in small quantities. It's advisable to drink 8 ounces of water containing 5ml of sole water every morning on an empty stomach, which should be less than the 2300 mg recommended limit of sodium.
Does Himalayan salt detox your body?
The Himalayan rock salt contains minerals like potassium, iron, and calcium that help detoxify your body. If you suffer from chronic constipation, combine pink Himalayan salt with warm water to help promote a laxative effect, a process believed to remove toxins from your colon. 
Does Himalayan salt dissolve in water?
Himalayan salt is mineral-rich, some of which do not dissolve in water. However, most of the salt dissolves in water. Only 0.08%–2.4% of the components of Himalayan pink salt granules do not mix with water.
A Word From Our Nutritionist
Incorporating a tablespoon of sole water in a cup of water and taking it first thing every morning before eating anything might help you lose weight. You can add 2 tablespoons of lemon water to enhance the taste and flavor of the water or drink it warm on cold days.
Himalayan pink natural salt is not expected to cause any negative side effects in a healthy person who consumes it in small amounts. Expect to lose some inches in your tummy as the water retention in your body goes down.
In addition to taking Himalayan salt water every morning, ensure that you exercise regularly and eat a healthy diet for faster weight loss. Also, make sure that you are consistent to see weight loss results.
Conclusion
Himalayan pink salt is gaining popularity as an ingredient to promote weight loss. If you want to lose some extra pounds, then a cup of water every morning containing a teaspoon of sole water is probably what you need to include in your routine.
Ensure that you drink it on an empty stomach to improve your digestion and reduce water retention levels in your body. The minerals in the Himalayan rock salt will also reduce your food cravings and your desire to binge eat throughout the day.
Last update:
April 14, 2023
5 min read
1171 Views
0 Comments