10+ Healthy Halloween Treats for Your Epic Party (Diet-Friendly)
Last update: April 14, 2023
12
919
0
The time has come to host your Halloween party, but you can't think of any healthy, spooky-themed snacks. Guests should have plenty of options when it comes to indulging in food. Don't worry because we have a list of healthy Halloween treats to start making now.
So, it's that time of year again to make some healthy Halloween recipes.
The first thing people might think about is candy corn, milk chocolate dips, caramel biscuits, and brain cakes. While these sound great to eat, not everyone will crave those sugary treats. Finding a healthy Halloween treat could help those trying to lose some weight.
You don't need lots of sugar to enjoy spooky-themed food. From banana ghosts to creepy olive eyeballs, you're bound to find something that makes your party stand out.
In this article, we provide some favorite healthy Halloween treats that will make your celebration special.
10+ Best Healthy Halloween Treats (2022)
Of course, when people go to a party, they'll expect to see Halloween treats to nibble on throughout the night. You could have a special line-up of snacks that attract those with a sweet tooth, depending on the age group you're inviting and how food-focused the party is.
Here are some of the healthy Halloween treats for your party:
#1 Monster mouth
You only need three ingredients for the classic monster mouth treat: apple, peanut butter, and some pine nuts. Cut two slices of apple and spread peanut butter on one side of each. Then, put those sides together in the shape of a mouth while filling the gap with a few pine nuts.
These nuts should hold the apple slices open to create a gnarly mouth. It might sound like an unusual idea, but people will naturally gravitate toward interesting snacks. Plus, the delicious, healthy ingredients will encourage better eating choices for those losing stubborn weight.
One great benefit of this snack is its high protein content. For example, in 100 grams of peanut butter, there are 24 grams of protein. The same goes for pine nuts which have 13.7 grams of protein.
Protein reduces your appetite and discourages you from reaching for sugary foods. If you're also looking to build muscle while losing weight, protein is essential to have in your diet. Muscles need that energy to recover and grow stronger after each training session.
#2 Pumpkin spice pretzels
You can't go wrong with sweet-tasting, healthy Halloween treats. People need food that replaces sugar on a low-calorie diet. Pumpkin spice pretzels are the way to go if you want to incorporate chocolate while still keeping the calories, sugars, and saturated fats low.
All you need to do is melt some sugar-free white chocolate, add pumpkin spice seasoning, and dip a few pretzels into the mixture. The pretzels should be completely covered in chocolate before being set to dry, so take your time when creating this sweet Halloween snack.
For more decoration, you could mix some orange or yellow food coloring into the melted chocolate and lightly drizzle that over the dried pretzels.
To ensure this treat is healthy, choose low-calorie and sugar-free ingredients. People can enjoy eating chocolate without feeling guilty. It might also be worth dipping the pretzels in melted dark chocolate to provide a range of options at your party.
#3 Crazy deviled eggs
One of the best snacks for losing weight and staying healthy is deviled eggs.
They are super low in calories and contain essential nutrients that help eliminate upper belly fat. Eggs, avocados, and black olives are the only ingredients you need when creating this perfect Halloween snack.
The first step is to boil your eggs for 8–10 minutes before letting them cool down. During this time, mash some avocado in a bowl and cut several black olives in half. When the eggs are ready, peel off the shells, cut them in two, and remove the dried yolk from each egg.
You can then add avocado where the yolk used to be. Take the olives and put one slice on top of the eggs to give an illusion of a scary eye. If you want to be more creative, put a little dot of tomato sauce in the center of each olive and drizzle more around the white space of the egg.
Eggs and avocados naturally contain lots of protein, dietary fiber, and healthy fats. The body needs dietary fiber to get everything moving through your gut while the body absorbs important nutrients for weight loss.
#4 Spooky guacamole dip
Creating the perfect dip for some chips will make everyone hungry for more. To make healthy guacamole, mix avocado, red onion, lime juice, jalapeno, cilantro, and sea salt. These special ingredients are low in calories but high in protein and fat-burning minerals.
Once you have the dip, you can make your own mayonnaise to create a web-like design on top of the guacamole. All you need is some avocado oil, eggs, lemon juice, and dijon mustard. After blending those together, slowly drizzle the mayo over the dip to get the spooky spider web.
Of course, you can't forget the little spider decoration. Cut a black olive in half and use one side to make thin legs. It's only a minor detail, but people will appreciate the effort when reaching for the dip.
Believe it or not, olives contain heart-healthy fats that reduce inflammation in the body. Less inflammation means your gut can eliminate fat cells. To lose 2 pounds a week, you need to eat good fats that don't make snack time boring or less enjoyable.
#5 Bell pepper Jack-o'-lanterns
Now, if you don't have enough time to make healthy Halloween treats, these creative bell peppers will do the trick. Grab some fresh bell peppers and cut off the top stalk. Remove the inside of each one and carve whatever spooky, funny face you want in the front.
You could add some carrot, celery, broccoli, or cucumber sticks to each bell pepper. People can easily grab the food and dip it into any condiments while searching the snack table.
Bell peppers actually contain capsaicin – a compound that increases the fat-burning rate. One study found that capsaicin boosts metabolic functions. A fast metabolism encourages the body to burn more calories throughout the day, leading to fat loss and higher energy levels.
#6 Olive eyeballs
Finding the perfect eyeball recipe will get you into the Halloween spirit. You need some cooked ham, mozzarella, olives, and red pepper.
Just curl the ham into a rose-like shape before adding in other foods. If you buy mozzarella balls, cut out a hole big enough for the olives. Take some time to experiment with these ingredients when making spooky eyes.
It's also important to stuff the olives with red pepper or even tomato sauce. That way, the eyeballs look more realistic and spooky for a Halloween treat.
Since these snacks are small, they don't hold many calories. People will lunge toward low-calorie treats that look both delicious and healthy. These eyeballs also have minimal prep time in the kitchen, so there's no rushing about when creating creepy eyes in just minutes.
#7 Pumpkin fries
Pumpkins are essentially the marketing tool for healthy Halloween treats. When guests see orange-colored food at your party, they'll immediately think of pumpkins. You don't always need to create an extravagant recipe, especially if you don't have time to buy all the ingredients.
To make these Halloween fries, cut up small pieces of pumpkin and put them on a baking sheet. Pop them into the oven for 30 minutes or until they look crispy. It may be worth adding seasonings like salt or oregano, depending on how you want the pumpkin fries to taste.
There are fewer calories in a pumpkin than in sweet potatoes and regular potatoes. You don't have to worry about exceeding your daily calorie intake. Many people will appreciate healthy alternatives when it comes to indulging in fries and feeling good.
#8 Meatballs with olive eyeballs
The best Halloween treat will look the part for your special event. Covering cooked meatballs in cheese, olives, and tomato sauce is the best way to go. You can buy round mozzarella snacks and place them on top of the meatballs to create a spooky base for your eye design.
After that, add some sliced olives to the mozzarella balls and fill the olives with red sauce or sweet cherry tomatoes. It all depends on how you wish to serve a healthy dinner at a party. The more you add to these creepy eyeballs, the more people will feel satisfied.
You should cook chicken meatballs due to the lean protein and fewer calories. Beef can contain fat that doesn't agree with everyone and their diets. To avoid leaving anyone out, ask guests beforehand what their preferences are when it comes to eating meat or dairy.
#9 Mini monster sandwiches with whole-wheat bread
Sometimes, you need a cute sandwich that appeals to kids.
At your local grocery store, grab some whole-wheat bread, cucumber, lettuce, salami, tomatoes, and cheddar cheese. These ingredients are what make the mini monsters look extra cute and appealing to eat.
Cut the bread like you normally would and spread the butter. You can then place fillings like lettuce and salami, but make sure one piece of salami is hanging out like a tongue. Place two slices of cucumber on top of each sandwich and add small tomatoes for the eyes.
To create teeth, cut the cheese into thin squares and hang them out of the sandwich. Naturally, it should look like a cute monster face that looks delicious enough to devour. One great fact about cheese is that the high calcium content lowers any blood pressure spikes.
#10 Ghost banana
A ghost banana is probably the easiest snack to make. You just need bananas, mini chocolate chips, and some peanut butter. Cut the banana in half and add three chocolate chips to make the eyes and a shocked mouth.
It might be a good idea to look for gluten-free or dairy-free chocolate chips. They typically contain fewer calories and may suit more diets. In terms of peanut butter, put that on the side as a dip. Almond butter is another great option for getting more protein and healthy fats.
Bananas are known to promote satiety, improve digestion, and support those with diabetes. This fruit holds many health benefits that outweigh candy corn and other forms of sugar that don't strengthen your heart.
#11 Pumpkin pie bars
Who doesn't love even more pumpkin on Halloween?
You can make mini pumpkin pie bars using fresh pumpkin extract, natural sweeteners, and low-calorie maple syrup or caramel sauce. For the bottom crust, ingredients like rolled oats, coconut oil, and coconut sugar will help form that delicious crunch.
Pumpkin pies don't need to be a crazy snack at your party. As long as they're small and colorful on the table, people will naturally reach for them.
Luckily, pumpkin is rich in vitamins and minerals that will boost your immune system. Beta-carotene is the main compound for boosting immune responses and preventing stubborn infections.
#12 Peeled clementines with celery stems
For this next recipe, all you need are two simple ingredients. Clementine and celery sticks can easily turn into miniature pumpkin figures. Peel the clementines and add a small chunk of celery where the stalk should be, as this will give the appearance of some cute pumpkins.
Clementine is actually rich in antioxidants and important vitamins. Fruits with a high antioxidant profile can reduce inflammation and prevent age-related conditions. Vitamin C is another key nutrient that protects your cells from free radicals and lowers high blood pressure.
#13 Roasted pumpkin seeds
Seeds might not sound exciting, but they're very easy to snack on throughout the party.
Sticking with the pumpkin theme, season the seeds with your chosen spices and throw in some sea salt. You can stick them in the oven until they look golden and crispy. Just like regular nuts, guests will grab a handful and eat them when wandering around the place.
These seeds are one of the best snacks you can have when losing weight. They are packed with powerful antioxidants that eliminate free radicals in the gut. Better gut health will prevent serious constipation and bloating.
#14 Cheese and pretzel brooms
Broomsticks are an easy theme to stick with for your Halloween party. To make this fun treat, all you need is some cheese, pretzel sticks, and chives. Split the cheese to represent the bristles of a broomstick, and then push the end of a long, thin pretzel into the cheese for the stick part.
For extra effect, wrap some chives around the base of the cheese. It's an easy treat that combines shredded cheese with salty pretzels. Since both of those ingredients are low in calories, they won't interfere with anyone's weight loss progress or health journey.
Where to Find Halloween Treats Ideas
There is plenty of online inspiration that will show you more deviled eggs, candy eyes, and even Frankenstein kiwis. It's all about being creative and inventive in the kitchen. Gather some healthy ingredients and start making those spooky little treats.
Another great place to search is the Keto Cycle app. People following the keto diet can find low-carb recipes that make stand-out healthy Halloween treats. This app contains personalized meal plans, grocery lists, and quick recipes to suit your dietary needs.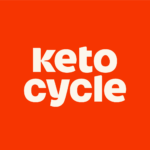 Proven scientific data
Calorie tracker
Customized meal plans and food prep
10,000+ easy-to-make keto recipes (including vegetarian options)
Full workout schedule
Motivational tips
Start Keto Cycle Quiz
Keto Cycle is there to provide the best food and meals. Even if you aren't looking to lose weight, you can search through the app when discovering treat ideas. Spicing up your Halloween party shouldn't be a chore, so it's worth turning to this app for inspiration.
FAQs
How can I eat keto on Halloween?
You can find plenty of low-carb treats that still make your Halloween party fun. There is no need for sugary foods that will ruin your weight loss progress. After all, eating food shouldn't be restrictive, so find spooky recipes that are both healthy and suitable for the occasion.
How can I make Halloween healthy?
To stay healthy throughout Halloween, aim to create low-calorie meals and snacks that fuel your body with important nutrients. For example, instead of eating milk chocolate cookies, consume small pieces of dark chocolate in the shape of mini ghosts to satisfy your taste buds.
Is pumpkin keto-friendly?
Yes, pumpkin is keto-friendly, but only in moderate amounts. There are 6 grams of net carbs in 100 grams of pumpkin. While this might not seem like a lot, the carbs can quickly pile up. Just make sure to monitor how much you're eating and try to mix a small amount in each recipe.
What food is good for Halloween?
You can easily turn fruit and vegetables into delicious Halloween treats. For example, carve some oranges into pumpkin-like shapes and fill them with berries and dark chocolate chips. The quick treat will look great for Halloween, but it's also great for keeping you healthy.
A Word From Our Nutritionist
Now, to make healthy Halloween treats, you have to choose the right ingredients. Opt for low-calorie and sugar-free options when grocery shopping. Also, check the nutrition information on each product, as it can sometimes contain hidden sugars or fats.
If you are hosting a party, check certain recipes with your guests. Some might be trying to lose weight, and others could be on the ketogenic diet. This will help you find suitable Halloween treats that are low in carbs and low in saturated fats, sugars, and preservatives.
You could do a test run with your whole family or friends. They could rate the healthiness based on how many stars they give the meal. It's about having fun around Halloween and enjoying the time spent baking.
Conclusion
Halloween is right around the corner, so don't be afraid to cook up these healthy Halloween treats. Guests will be there to enjoy the party with some delicious, spooky-themed food. Just make sure to use natural ingredients and find recipes that are suitable for kids to enjoy too!
Last update:
April 14, 2023
12 min read
919 Views
0 Comments
${TOCSections.eq(0).find('a').text()}