Greatness App Review: How I Spent 3 Weeks Transforming My Life
Last update: September 25, 2023
14
625
3
Is it possible to develop healthy habits with the help of a self-care app? The new Greatness app is here to prove it.
Sometimes creating a good work-life balance and maintaining healthy habits while juggling the demands of life is easier said than done. For the last year, I've struggled to deal with burning out repeatedly and find the motivation to lead a more mindful and effective lifestyle.
I had read several self-help books, yet nothing seemed to stick, and I couldn't turn words into actions. While looking for a new strategy to tackle, I stumbled upon Greatness – a new lifestyle management app that promises to help build sustainable, healthy habits and reach long-term mental, physical, or social health goals.
Intrigued by their offer, I decided to embark on a 3-week journey to see if the app could truly help me transform my life for the better, and I will recount my experience in this Greatness app review.
What Is the Greatness App?
Fully customized habit programs
Habit tracking
Expert-curated audio courses
Mental health coaching library
Guided video workouts
Intermittent fasting tracker
Visit Greatness
Greatness is a lifestyle design and management app built with the mission of helping people improve their lives with healthy habits and routines. It eliminates the usual struggles associated with lifestyle change because you can rely on the behavioral science behind Greatness instead of relying solely on willpower.
The app was developed together with Samuel Salzer, one of the world's leading behavioral scientists. The goal is to make habit formation an effortless transition that fits easily into your daily routine. It's all about finding your natural strengths and taking small steps to achieve your goals.
Features include a personalized habit tracker, customized reminders, coaching sessions, and cognitive behavioral therapy techniques to help you regain control and master your own behavior. It can help with multiple issues that may affect your ability to maintain all-around wellness.
Some of these include:
ADHD (attention deficit hyperactivity disorder)
Anxiety and procrastination
Insomnia
Productivity issues
Stress
Poor time management skills
Poor work-life balance
Relationship issues
Parenthood struggles
Bad habits
Weight loss/gain issues (fitness and nutrition)
Poor mental health
Lack of mindfulness
Pros
Developed by behavioral science experts

Habits are versatile and flexible

Choose your own goals

Suitable for busy people

Custom reminders
Cons
Paid app

Not much information available online

Not compatible with smartwatches
Why I Chose to Try the Greatness App and How I Started
I discovered the Greatness App when I was searching Google for habit-formation techniques to improve my mental and physical health. I found an offer to get a custom-tailored program that would support these efforts.
I was prompted to complete a short quiz directly on the website, but I chose to download the app straight away and fulfill this step there. From the first look, the app seemed to provide a lot more elaborate quiz than the one on the website.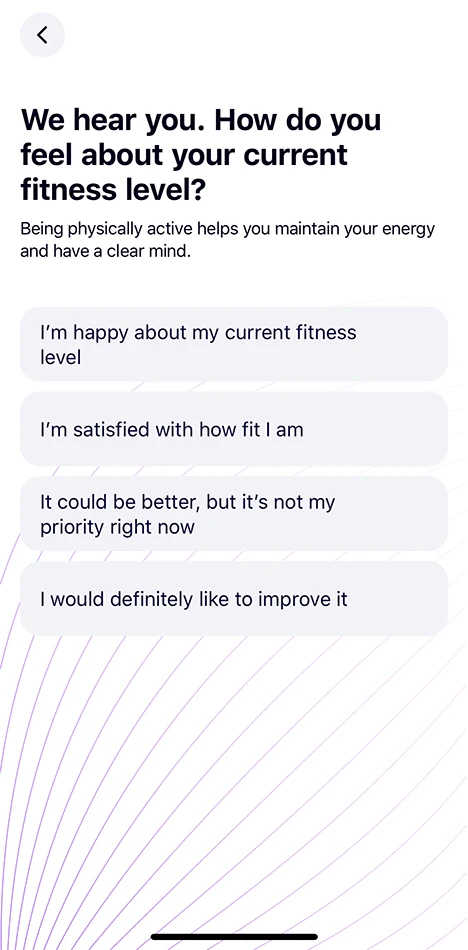 I was asked several questions about my daily routine, levels of anxiety, good and bad habits in different areas of life (e.g., sleep, physical activities, hydration, etc.), and aspirations, as well as those aspects of my lifestyle that I want to address as a priority.
To unlock all the app features and my personalized plans, I had to choose one of the 3 possible subscription options – 3, 6, or 12 months. The paid app also includes a 7-day free trial and the possibility to cancel your subscription earlier.
Greatness quiz results
Upon completing the quiz, I was guided to a proposed personal growth plan, which, in my case, included 2 main directions of improvement – mental health and relationships – both of which contained several audio courses and tasks to complete over the course of 3 or more weeks.
The Greatness app then suggested I enroll in the Sticky Habits program as the first step of my transformation journey. It stipulated that learning 5 essential habits first would enable me to be more successful in reaching my ultimate goals.
What Are the Main Features of the Greatness App?
The Greatness app can boast a number of features that make it easier to improve your life. There's a lot to jump into when you first open the app, but they are all created to help you get started on your way to better physical and mental health.
#1 Personalized habit programs
Personalized habit programs are a key feature of the Greatness app. Behavioral scientists have created multiple programs to fit your unique lifestyle and goals. They are tailored to you so you can move at a comfortable pace and focus your attention on specific areas.
You can start taking steps to improve your life, from kicking procrastination to bettering your relationship with your partner. Whatever you want to do, you can expect to find a program that addresses your needs, plus all the reminders and coaching sessions are given at your preferred time of the day.
I found this feature to be my main decision-making factor as a lot of mental health apps on the market or similar habit formation programs don't offer such flexibility and versatility in terms of areas of improvement or the possibility to work on specific, small steps.
#2 Custom daily routines
Routine is critical to a healthy lifestyle. That includes the habitual consumption of nutritious foods, regular exercise, and consistent sleep. Greatness can help you focus on these areas and build the life you want with morning, day, and evening routines.
The routines are personal to you and can include anything from things to do before work to squeezing in a lunchtime walk. All routines are customizable, so you can add tasks whether they are associated with a program or not.
Since my quiz results indicated that I might not get hydrated enough during the day, I was suggested to include the task of drinking a glass of water as part of my morning routine. I could also add several other daily activities, such as meditation, affirmations, no work after 7 PM, and others.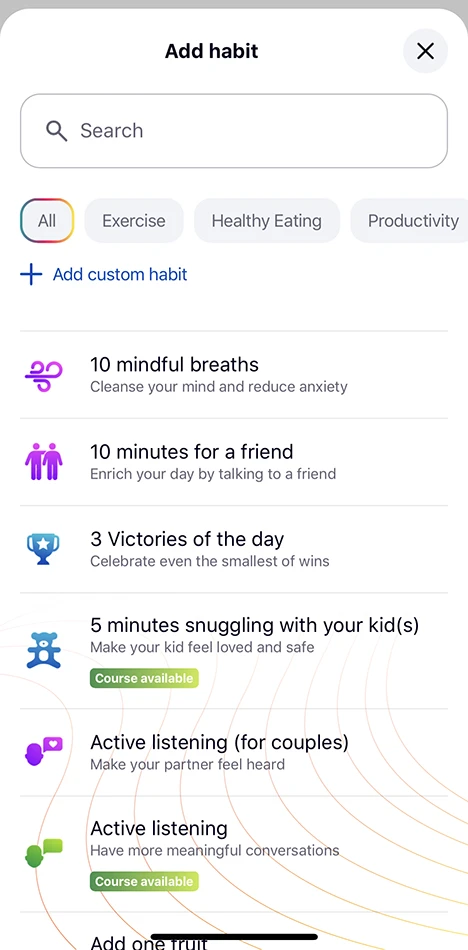 #3 Habit tracker
One of the reasons why I couldn't maintain newly-formed habits easily before was the lack of accountability and the possibility of overseeing continuous progress.
Greatness gave me relief in that sense because it includes a daily habit tracker that allows users to monitor their progress and see where they are in their journey. It shows habit streaks and completion rates that give a sense of achievement and can be crucial for people like me who need extrinsic motivation to keep going.
#4 Expert-curated courses
Greatness offers a collection of expert-curated courses on various essential lifestyle topics. These courses cover a broad range of topics to educate you on how to adopt and sustain new habits. Plus, they are available either in a video or audio format, which makes them a lot more engaging to follow and easier to incorporate into daily routines.
You can get valuable insights and practical strategies for personal growth in such areas as mindfulness, active listening, fitness, healthy mental habits, parenting, and more.
#5 Daily audio coaching
The app also offers daily audio coaching sessions to inspire and motivate users to stick with the habits and routines they've chosen or get rid of bad habits. You can listen to them anywhere, anytime, whether you need a little pick-me-up or just a reminder of what to do next.
I've always been the kind of person who needs a buddy to stay committed to whatever endeavor I take up, so these coaching sessions not only served as a clear reminder to keep working but also made me feel like I'm not all alone in this journey.
Plus, they were usually just 2–3 minutes long, which made it easy to incorporate them even during my busy work day.
#6 Trainer-led workout videos
Apart from audio courses and readings, the Greatness app also includes a library of trainer-led workout videos for users interested in incorporating physical fitness into their daily routines.
There are 4–16 minute workouts of 4 different types – strength training, yoga basics, stretching, and full body mobility – that offer step-by-step instructions and demonstrations.
Even though increasing the level of physical activity was not my main goal when subscribing to Greatness, it was a useful addition to my lifestyle. Prior to using the app, I didn't have an established workout routine, but this feature made me prioritize physical health as well and encouraged me to try yoga.
How Did Greatness Work for Me? My 3-Week Journey Toward a Greater Life
When I just got started with the Greatness app, I had a few daily routines that I had gotten used to, such as jotting down the to-do list for the day in the morning, going out for a coffee after lunch, and taking a short walk in the evening.
The app introduced me to a number of new habits that I was eager to adopt to become a more mindful and less stressed person. I didn't want to overwhelm myself too much, so I chose daily meditation in the morning and one mindful meal per day in the evening as the first activities to take on. I also occasionally did some workouts.
The first week seemed tough as I tried to adjust to the new routine, but by the end of week 2, my mind was a lot less occupied with different distractions, and I felt more productive.
In week 3, I decided to focus even more on my nutrition and incorporate intermittent fasting into my routine. The real effects of that are yet to be discovered.
What I Liked About the Greatness App: 5 Benefits
#1 It motivated me to stay on track
The ability to track habits consistently and receive daily reminders kept me accountable and helped me remain committed to my goals.
In general, seeing your progress is a great motivational booster. It shows that you can and will get to wherever you want to be, no matter how small the changes you make.
Without tracking, it's easy to forget about the positive decisions you've made throughout the day, whether it's drinking more water, going for a daily walk, or heading out for a long run. The app's interface certainly helped me work through the daily checklist and feel a sense of accomplishment when checking off the items.
#2 I could work on several habits at once
Unlike some other apps that focus on a single goal, like mental health or nutrition, Greatness allowed me to work on multiple habits simultaneously for holistic personal growth. It also allowed me to create custom habits, making the app genuinely unique to me.
While it's good to have programs that target specific aspects of your life, switching between apps and tracking everything separately can be a pain.
With Greatness, everything was in one place for quick and easy access. For example, I could listen to daily meditation and track my fasting times while also having access to a number of workouts. I could see how you could become a more well-rounded and happier human being by using this approach.
#3 It encouraged me to try intermittent fasting
Even though changing my diet or eating schedule wasn't something I was initially focused on, the built-in intermittent fasting tracker encouraged me to give intermittent fasting a chance. I'd never been a solid breakfast eater, and I thought my dinnertime could be planned better, so this step seemed logical.
In order to access the fasting tracker, I had to select nutrition as one of the areas I wanted to improve. I was then prompted to choose my preferred fasting window, read more about the fasting methods, e.g., 14:10 or 16:8, and start tracking.
I liked that it also allowed me to follow the different metabolic states, which for an intermittent fasting newbie like me, was important to understand what was going on in my body and why I felt the way I felt.
#4 My mornings became more intentional and energizing
With the help of Greatness, I was able to improve my morning routine, which set a positive tone for the rest of the day. The app helped me realize that the early hours were the only time I could plan out every detail and dedicate myself fully.
Drinking a glass of water first thing in the morning, meditating for 10 minutes, and even doing a short yoga session every other day raised my energy levels and made me feel more intentional rather than chaotic and in a rush, as it was before.
I noticed that by the end of my trial period, I often skipped my usual pre-lunch coffee as my focus and productivity were still high enough to get work done.
Where the Greatness App Fell Short
While the Greatness app offered numerous benefits, there were a few areas where it could be improved.
#1 You need a monthly subscription
To access the full range of features and content, you need to purchase a monthly subscription for 3, 6, or 12 months. There is, however, a possibility to do a 7-day trial and cancel the membership whenever needed.
Even though the subscription fee is reasonable, considering the versatility of the app, it may pose a barrier for some individuals on a tight budget. I personally didn't see it as an issue since most fitness or mental health apps I had tried before employed a similar pricing model.
#2 No integration with smartwatches
As someone who's used to accessing apps and following progress through my Apple Watch, I was slightly disappointed to find out that the Greatness app didn't integrate with smartwatches.
While this lack of compatibility didn't pose any major problems, there were some occasions where I would've preferred not to carry my phone with me to track habits or complete my activities.
What Is the Price of the Greatness App?
The Greatness app operates on a subscription-based model, offering 3-month, 6-month, and 12-month plans. The cost per month works out cheaper if you sign up for a longer period of time, which is always a bonus if you know you're really going to commit to using the app.
At the time of writing this Greatness app review, I was offered the following pricing:
3 months: $33 billed every 3 months ($11 per month)
6 months: $54 billed every 6 months ($9 per month)
12 months: $66 billed every 12 months ($5.50 per month)
What Do Other People Think About the Greatness App?
Greatness is a fairly new app on the market compared to its competitors; however, it has already gathered over 200 user reviews on the App Store alone.
Opinions about the app vary – some have reported significant improvements in their lives, but there are also individuals who found the app less effective or faced some technical glitches. Below are some of the real user testimonials:
Greatness App vs. Other Habit-Tracking Apps
Comparison Winner: Greatness
Pros
Developed by behavioral science experts
Habits are versatile and flexible
Choose your own goals
Daily audio coaching
Built-in fasting tracker Custom reminders
4 unique tracker types
Track anything you want
Motivational charts and reminders
Organized progress reports
Step-by-step goal setting
Free version available
Ten aspects of life to choose from
Offers different platforms for professionals and workplaces
Created by behavioral economists
Free app
Cons
You can't break big goals into smaller steps
Free version has limited features
Users report glitches with the app
You can only choose from the goals listed in the app
Many customers report problems with logging in
The Commitment Contract means you get charged if you don't log in and report regularly
FAQs
Does the Greatness app work?
The Greatness app can help you with many aspects of your life, helping you form habits that affect your overall physical and mental well-being. It has several features designed to give you the most rewarding experience, but you have to put in the effort to get the most out of it.
Is the Greatness app legit?
Greatness is a legitimate app that can help you make better choices in your everyday life, from eating well to getting active. The app is new to the health and wellness market and already has many positive reviews from customers who have tried it.
Where to get the Greatness app?
You can purchase and download the Greatness app from the App Store and Google Play. Visit the official Greatness website and take a short quiz to gain access to your personalized wellness plan.
A Word From Our MD
Rosmy Barrios, MD
Medical advisor for Health Reporter
Mobile health apps offer a promising way to facilitate self-care, particularly those that grow with the user and adapt to changing environments. They feature various tools that help boost motivation, eliminate procrastination, track progress, and set realistic goals that lead to developing healthy habits.
However, an app won't do everything for you. For success, you must be willing to put in the effort to hit your targets.
There are many ways to practice self-care and build good habits. You can start by balancing healthy and unhealthy eating, increasing your water intake, working out a couple of times a week, stretching, and practicing mindfulness techniques to reduce your stress levels.
How I Tested
While writing this review, I evaluated the Greatness app based on several important criteria to determine if it's worth a recommendation:
Quality
Greatness is a high-quality app based on cutting-edge behavioral science and built with the help of one of the world's leading scientists in the field – Samuel Salzer. This gives the app an expert edge over other apps that don't back up their product with legitimate research.
I also felt that the app was easy to use and had everything you needed in one place. I felt that there was room for improvement from the user experience perspective (e.g., easier-to-find fasting tracker), but overall it worked as promised.
Effectiveness
Studies show that setting appropriate goals and creating action plans can help you achieve your health goals. The Greatness app does precisely that, as it focuses on helping users take small steps that consistently lead to big results.
During my 3-week test, I managed to incorporate new habits into my routine while getting regular motivational boosts, custom reminders, and coaching sessions that ensured I stayed on track.
Price
No one wants to pay a fortune for a lifestyle app. While Greatness comes with a paid subscription that requires a one-time payment, it is still very affordable and provides the opportunity to choose the most convenient membership length – 3, 6, and 12 months.
Brand reputation
Greatness is a new app, but it comes from a trustworthy and highly-rated company that already has several successful products in the market. It has many positive reviews from satisfied customers who have tried the app and implemented new routines, plus the customer support seems to respond quickly and effectively.
Conclusion: Is Greatness Truly Great?
After 3 weeks of using the Greatness app, I can confidently say that it can empower you to make positive changes in your life. The app's personalized habit programs, custom daily routines, coaching sessions, and reminders are created to motivate you to become a better version of yourself.
While it's still new on the market and could benefit from a few technical fixes, Greatness can indeed serve as a great assistant to self-improvement for anyone looking to cultivate new habits, boost physical and mental health, or foster relationships.
However, it is essential to approach it with realistic expectations. The app provides you with the tools and guidance necessary for personal growth, but forming long-term, sustainable habits requires consistent effort, dedication, and time.
Last update:
September 25, 2023
14 min read
625 Views
3 Reviews