Goli Ashwagandha Reviews: Expert Reveals All
Last update: September 25, 2023
14
1239
0
Read my personal take on Goli Ashwagandha gummies to find out if it can help you shit from stress to serenity.
Interrupted and poor-quality sleep can leave you feeling terrible. From the minute you wake up in the morning, it can have a knock-on effect that lessens your productivity, lowers your mood, and increases your stress levels.
And the more stressed you are, the more interrupted your sleep will be. It's a vicious cycle that many of my patients experience, which is why I decided to seek a health supplement that could change that. After an extensive search, I came across Goli Ashwagandha gummies.
Goli Nutrition made its debut in the supplement scene in 2017 with the very first apple cider vinegar gummies. They have since developed into a well-respected and well-known nutrition company famous for helping their clients achieve their health and wellness goals.
My Goli Ashwagandha gummies review explores all the facts and figures about the product.
What is Goli Ashwagandha?
Boosts mood
Enhances relaxation
Relieves stress
Improves sleep quality
Positive effect on cognition
May boost memory
Reduces food cravings
Learn More
Pros
Vegan-friendly

Tasty flavor

Available online and in stores

Easy to take

Contains ashwagandha and vitamin D
Cons
One bottle contains only a two-week supply

May cause unwanted side effects
Goli Ashwagandha gummies are supplements made with what I consider to be the best ashwagandha in the world: KSM-66 ashwagandha.
It's a powerful ingredient that is a potent stress reliever, helping your body relax after long and grueling days. This ashwagandha root extract fills your body with antioxidants, which have an anti-arthritic effect and help improve cognitive function.
The product is fully vegan and is made with high-quality ingredients. Additionally, each Goli Ashwa gummy has a tasty mixed berry flavor that keeps the supplement palatable while packing in a wealth of healthy ingredients.
Does Goli Ashwagandha work for weight loss?
Ashwagandha root extract provides several positive hormonal and vitality effects. One of these includes appetite suppression. Goli Ashwagandha gummies may reduce feelings of hunger, which ultimately leads to a reduction in your food intake and, therefore, increased weight loss.
Additionally, the antioxidants found in ashwagandha extract may speed up your metabolism. This encourages your body to burn more calories during the day, which increases weight loss in a controlled and healthy manner. As such, many people take ashwagandha for weight loss.
Why I've Decided to Review Ashwagandha Gummies
As a medical professional, I frequently see patients who experience problems relating to sleep deprivation, chronic stress, and mood swings.
It's a hard problem to ignore but even harder to fix. After all, it's rare that I can prescribe a tablet or medicine that solves all their problems at once, and many people are reluctant to take sleeping pills. That's why I began searching for a new substance to offer my patients.
I soon came across Goli Ashwagandha gummies. Ashwagandha has long been used in traditional Ayurvedic medicine for its stress-reducing benefits, so this made me wonder how effective it could be in modern treatment. 
In fact, there are plenty of studies that indicate the potential benefits of ashwagandha regarding improving sleep quality and regulating hormones.
Since Goli is one of the most well-known nutrition brands in the US, I decided to review its ashwagandha gummies to see if they contain the right ingredients to effectively reduce stress, enhance sleep quality, and improve feelings of calmness and relaxation.
What Does Goli Ashwagandha Do?
Goli Ashwagandha gummies contain several ingredients proven to provide a range of health benefits. It's not often that I see a supplement with such a catalog of benefits, but these little blue Goli gummies sure pack a lot into a small ashwagandha supplement.
Goli Ashwa gummies are made using a combination of KSM-66 ashwagandha root extract, vitamin D, and pectin. This provides a range of health benefits, including enhanced relaxation, elevated moods, and improved sleep quality.
The ashwagandha root extract promotes a state of relaxation and calmness in the body. It increases the number of antioxidants in your body to reduce stress and improve mood. This, in turn, can help mitigate sleep-related issues.
When my patients complain about sleep deprivation and poor sleep quality, it's usually related to stress and other cognitive problems. By taking a supplement to improve relaxation, you can feel the ripple effect of improved sleep quality.
Goli Ashwagandha gummies also boost cognitive function, memory, and even sexual function in women. Additionally, you may experience fewer food cravings, which may aid in weight loss.
Can Goli Ashwagandha gummies help with depression and anxiety?
Goli Ashwagandha gummies claim to help reduce depression and anxiety, and the prevailing scientific mindset supports this.
There is a significant amount of research that supports the idea that the ashwagandha root can alleviate feelings of stress and anxiety.
This is largely thanks to its ability to reduce a hormone called cortisol, which is a primary cause of stress. It also contains vitamin D to help boost your mood. Both of these factors may help alleviate symptoms of depression and anxiety.
Goli Ashwagandha Key Ingredients
There are many ingredients included in the Goli Ashwagandha gummies. I'll now address what I consider to be the most important and effective ones and explain their significance and effects.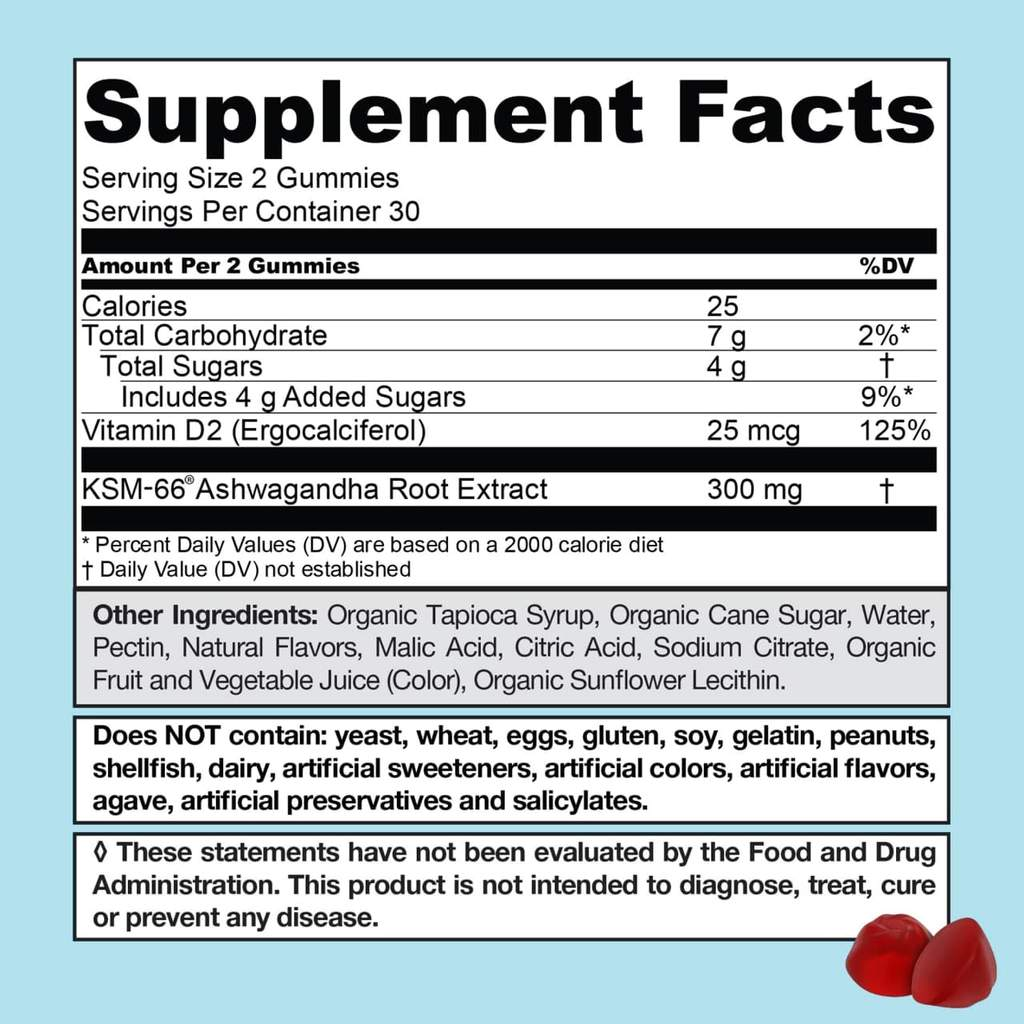 #1 KSM-66 ashwagandha root extract
The KSM-66 ashwagandha root extract comes from plants in India, the Middle East, and certain parts of Africa and is the main ingredient in these ashwagandha gummies.
The root has potent adaptogenic effects, which mitigate anxiety, stress, insomnia, and many other common ailments that my patients experience.
It comes as no surprise that ashwagandha has been growing in popularity over recent years. Its anti-stress effects can help many patients with mood swings, sleep deprivation, and even reduce hair loss.
#2 Vitamin D2
Vitamin D supports the absorption of calcium in the gut while maintaining phosphate levels throughout your body. It's a fat-soluble vitamin that promotes strong bones, muscles, and teeth.
Our bodies also require vitamin D for immune function, bone growth, and carbohydrate metabolism, or the digestion of carbs, in other words.
Goli's Ashwagandha gummies are rich in vitamin D, so you can become stronger and healthier while feeling relaxed at the same time. These powerful ashwagandha gummies are excellent at doing both.
#3 Pectin
Goli Ashwagandha gummies contain pectin, which binds other ingredients together to form a jelly-like substance. In other words, without the pectin, there would be no gummy.
Pectin comes from fruit peels and is, therefore, a vegan-friendly alternative to gelatine, which is typically made from animal bones. Pectin is high in fiber and is often used in fiber supplements to lower cholesterol, improve blood sugar levels, and maintain a healthy weight.
#4 Tapioca syrup
To give Goli Ashwagandha supplements a better flavor, the brand includes organic tapioca syrup as part of the ingredient list on their Goli gummies. Made from cassava root, tapioca syrup is a natural sweetener and gives the gummies a more palatable flavor.
There are many benefits of using tapioca syrup as a whole or part substitute for regular sugar. For one, it contains far fewer calories and carbohydrates, which reduces ill health effects and boosts the positive effects of the ashwagandha gummies. It's also entirely vegan-friendly.
#5 Cane sugar
Cane sugar is another ingredient used to boost the flavor of the Goli Ashwagandha gummies. Like tapioca syrup, it's a natural sweetener that's best consumed in moderation.
Regular cane sugar should never make up a significant portion of your diet, so if you are looking to cut down on your sugar intake, then the Goli Ashwagandha gummies may not be for you.
Benefits of Goli Ashwagandha Gummies
While reviewing the Goli Ashwagandha gummies and how they work, I found that they can offer a wide array of health benefits. When consumed, a Goli Ashwa gummy may cause one or more of the following benefits:
#1 Elevates mood and enhances relaxation
Since ashwagandha is used to relieve chronic stress, I feel that these gummy supplements are a great way to elevate your mood and promote relaxation.
A recent study showed that ashwagandha has a potent effect on anxiety, with around 88% of participants reporting a notable reduction in anxiety. As a medical professional myself, it's hard not to trust the research that evidently supports how Goli Ashwa gummies can boost your mood.
#2 Helps with occasional sleep disruptions
From my experience, Goli Ashwagandha gummies can give you a better night's sleep by improving the quality and length of your rest. The calming effects of the ashwagandha root extract mitigate sleep disruptions, ensuring you obtain full and uninterrupted rest throughout the night.
#3 Boosts stress resilience for hectic days
As I mentioned earlier, ashwagandha root extract is a powerful ingredient that people have used for centuries to promote stress relief. Traditional beliefs have now been supported by recent studies proving the effectiveness of this ingredient in stress relief.
For instance, researchers have found that a daily intake of ashwagandha can reduce cortisol, a hormone that causes stress. Therefore, I believe that if you can reduce the prevalence of this hormone, you can reduce your feelings of stress and anxiety.
#4 Might help with memory and cognition
Recent research has shown that taking ashwagandha may help with memory and cognitive functions. One study found that taking 600mg of ashwagandha every day for 8 weeks led to a notable and significant difference in memory and core cognitive functions in certain groups of people.
#5 Might strengthen immunity
The body's immune system may also benefit from taking ashwagandha gummies. Ashwagandha has been linked to reducing inflammation and improving athletic function, both of which can strengthen your body's immune system.
Additionally, the vitamin D found in Goli Ashwagandha supplements also promotes healthy growth and strengthens your immune system. We know that vitamin D is directly linked to healthy immunity in the body, so Goli Ashwagandha gummies may help you do just that.
Downsides of Goli Ashwagandha Gummies
Despite the many benefits of Goli Ashwa gummies, I did find some downsides to the product. Here are the main ones that I encountered:
#1 They contain sugar
I found that the Goli Ashwagandha gummies ingredients list included both tapioca syrup and cane sugar, two substances known to contain high levels of sugar and sweeteners. These can cause damage to your stomach and teeth if consumed in large quantities and can be detrimental to your overall health.
#2 You have to take 4 gummies a day
To feel the full effects of these gummies, you need to take 4 gummies every day. This is problematic for two reasons: it increases your sugar intake and means you have to spend more on the product.
Because of this, I wouldn't recommend Goli gummies to those looking to cut down on sugar or those with a small budget for dietary supplements.
#3 Might cause side effects
Goli Ashwagandha gummies are generally safe to consume, but some individuals may experience side effects. I would avoid prescribing Goli Ashwagandha gummies to people with autoimmune diseases, pregnancy, high blood pressure, kidney or liver disease, thyroid disorders, severe allergies, bleeding disorders, or diabetes.
Additionally, I would not prescribe these gummies if you are taking other medications on the side. This blend of substances could interfere with other treatments and cause serious side effects.
Goli Ashwagandha Reviews From Real Users
Many health companies like to promote dietary supplements, so an honest Goli Ashwagandha review can be hard to come by. That's why I decided to look at the customer reviews on online marketplaces like Amazon and trusted review sites like Trustpilot.
Here's what I found:
Review from Justin
Rating: ⭐⭐⭐⭐⭐ (5/5)
As a longtime fan of Goli products, I was eager to try the ashwagandha gummies. Those little gummies really pack a punch! I take them daily, and they have made a noticeable difference. There is an improvement in my sleep quality, and I feel calmer and more focused. Additionally, it tastes fantastic – it's like a sweet treat with real health benefits.
Review from Kaya
Rating: ⭐⭐ (2/5)
In my experience, Goli's version of ashwagandha is… okay. This supplement did not significantly affect my stress or energy levels. Since Goli has a reputation for producing quality products, I was expecting a bit more from these gummies. Incorporating them into my routine was easy, but the effects were not what I expected. Perhaps it's just my personal response, but I was expecting more noticeable results.
Goli Ashwagandha Cost
In my opinion, Goli Ashwagandha gummies are competitively priced. They're not cheap, but they're still relatively affordable, especially when compared to its competitors.
A single Goli Ashwagandha gummy bottle contains 60 gummies. However, Goli also offers bundles that allow you to purchase multiple packs at once. Here are the options:
Single bottle: $19
3-pack: $52.50
6-pack: $85
The best value for money is the subscription option, which allows customers to save 15% off the regular price. With a subscription, these gummies can cost as little as $14.45 per pack. Customers can choose to receive their order every 1, 2, or 3 months.
Prices may vary from store to store, so it's worth taking the time to shop around and find the best deal.
FAQs
How many Goli Ashwagandha gummies should I take?
You should take up to 4 Goli Ashwagandha gummies per day (two at a time, twice daily). This ensures you feel all the positive effects of the product while minimizing the risks that come with taking too much of the supplement. Don't take ashwagandha gummies if you're pregnant, taking other medication, or have any pre-existing health condition.
Is Goli Ashwagandha good?
Goli Ashwagandha gummies have favorable reviews around the internet, both from medical publications and customer testimonies. This is a good indication that the brand and its products are effective and can live up to their claims for creating positive health effects.
Is Goli a good brand?
Goli is a well-known nutrition company with a reputable brand and a wide range of products. Its product range, including its ashwagandha supplementation, is effective and research-backed. Additionally, the company performs regular quality assurance checks at all stages of its manufacturing process.
Are Goli Ashwagandha gummies effective?
Goli Ashwagandha gummies have a lot of positive user reviews claiming that the gummies are effective, which is a good indication that Goli supplements work. The individual ingredients contained in the brand's ashwagandha supplements are backed by extensive research that supports their health benefits.
Does Goli Ashwagandha make you sleepy?
Ashwagandha has been found to help people sleep better by reducing stress and insomnia, as well as creating a feeling of relaxation. You may feel a little sleepy after taking ashwagandha gummies, but you should generally only feel this effect before you head to bed.
Goli Ashwagandha Gummies vs. Similar Products
Ashwagandha has been used as a health ingredient for centuries, so it's no surprise that Goli isn't the only brand to use the extract in supplements. Here's how Goli Ashwa gummies fare against their competitors:
Comparison Winner: UMZU zuSleep
Brand
UMZU zuSleep
Goli Ashwagandha Gummies
HUM Ashwagandha Calm Gummies
Pros
Supports relaxation
Improves sleep quality and length
Natural ingredients
Research-backed effects
Great flavor
Relieves stress
Vegan-friendly
Non-GMO
Vegan-friendly
Reduces stress-causing hormones
Relaxes and relieves the body
Only need two a day
Cons
Contains sugar and tapioca syrup
Effects vary based on the individual
Contains added sugar
Some reviewers disliked the texture
How I Tested Goli Ashwagandha Gummies
To establish my full Goli Ashwagandha gummies review, I assessed the supplement's effectiveness and how it compared to similar products. Here are my thoughts on the quality, price, effectiveness, and reputation of the gummies:
Quality 8/10
When it comes to quality, this supplement from Goli is some of the market's best. The ingredients are perfectly balanced, with each gummy containing an even ingredient distribution. The gummies also taste great, which adds to the overall quality. However, they do contain syrup and sugar, which can cause detrimental health effects.
Effectiveness 7/10
The ingredients contained in Goli's dietary supplement are highly potent and offer a range of benefits. If you're looking for a way to reduce stress and improve your mood after a difficult day, these gummies are a great source of relief.
However, they are fairly basic in their composition. While history and research tend to support the health claims of ashwagandha, there have been no significant clinical trials for this particular product. That's why I have to give Goli only a 7 for its effectiveness.
Price 8/10
Ashwagandha root extract is a high-quality ingredient that's normally sourced from outside the US. This means that prices can be high, but I believe that's justified. Goli's gummies certainly make a strong case for this justification, as the health benefits can mostly make up for the costs.
Brand reputation 9/10
If you know anything about dietary supplements, then you've probably already heard about Goli and its excellent reputation as a brand. Their solid reputation isn't for nothing, and many customers insist that the company truly cares about their clients.
A Word From Our RD
Taking dietary supplements can be a great way to incorporate more nutrients into your diet or gain some added benefits from potent ingredients that you aren't already getting through your food.
If you are passionate about your health, then you should certainly try to take supplements regularly to boost your health and immune system.
If you struggle with insomnia or chronic stress, a supplement containing a powerful substance like ashwagandha can be a great stress reliever. It's a natural ingredient known for its calming properties and is worth investing in if you feel overwhelmed by stress.
Conclusion
Overall, I believe Goli Ashwagandha gummies are a great product that can help you de-stress after a long day and ensure you get some sleep during those restless nights. Goli is a reputable brand with a solid range of products that provide research-backed benefits.
You should use Goli's Ashwa gummies primarily as a supplement to alleviate stress and anxiety. There are added health benefits, like weight loss and bone growth, but these are simply bonus effects and should not be the main reason you take these gummies.
Goli Ashwagandha gummies are a great place to start if you ever need a natural, organic supplement that will help you relax and unwind.
Last update:
September 25, 2023
14 min read
1239 Views
0 Reviews
${TOCSections.eq(0).find('a').text()}