Fabulous App Review: Here's What I Found
Last update: September 5, 2023
13
905
0
A medical expert evaluates the features, pros, and cons of the Fabulous app to help you decide whether it could really change your life.
Putting yourself in the right mindset can be challenging, even when you feel motivated to create meaningful habits. Self-care is about looking after your physical and mental health, so it's worth building a routine that encourages more productivity.
I'm always looking for tools that my patients can use to make this change easier, which is how I came across the Fabulous app. It seems to be one of the most popular apps for building healthy habits and improving mental well-being, but does it live up to these claims?
To put this app to the test, I decided to sign up and review its features, pros, and cons to see what opportunities they could present for my patients' health.
What Is the Fabulous App?
Themed courses to motivate and inspire
On-demand coaching library
Real-life expert coaches
New routines available to build each day
A supportive community
Journal feature
Learn More
Pros
Suitable for beginners

User-friendly interface

Fun games may encourage more motivation

All information is backed by scientific research
Cons
Can only follow one "journey" at a time

Lacks customization

No free version to try out
Fabulous is an award-winning coaching app that helps you build healthy habits. It teaches users how to create meaningful daily routines that allow them to meet their life goals, whether they're hoping to lose stubborn fat or simply drink more water.
Using the power of behavioral science, the Fabulous app will ultimately help you pick up skills such as habit-stacking that turn everyday tasks such as getting up early, remembering to eat a balanced breakfast, and focusing on work into long-lasting healthy habits.
The app does this through its keen focus on self-care, with features such as coaching sessions, productivity goals, and daily tasks aiming to boost your physical and mental well-being while helping you create some structure in your day-to-day life.
Why I Decided to Test the Fabulous App
I'm often advising patients struggling with obesity, type 2 diabetes, or mental health conditions like depression to make lifestyle changes that will benefit their long-term health. However, the reality is that putting these changes into place is more difficult than it seems, and so I'm always looking for practical tools that patients can use to help them on their journeys.
That's when I came across the award-winning Fabulous app, which helps users create and stick to a daily routine that works for them. Unfortunately, as a busy doctor, I can't be there 24/7 to advise all of my patients, so I was pleased to see that Fabulous provides users with their own personal coach for guidance and motivation.
I wanted to see if all of these features really work as the manufacturers claim and whether, in the future, I could recommend it as a lifestyle tool to patients.
How to Get Started With Fabulous
Before being able to access the app's features, I was asked to answer some brief questions on their website. This helps Fabulous learn about your goals and how their team can help you with self-improvement.
From here, I answered questions based on my main goals, which encompassed everything from coping with stress and overcoming burnout to sleeping better, eating healthier, and simply leading a more joyful life.
It also asked whether I had attention deficit hyperactivity disorder (ADHD) and about any barriers that are currently stopping me from achieving these goals, such as time, money, fear or failure, or self-esteem.
After entering my email address, I was offered a 14-day trial at a discounted price to see how the app works and was able to visit the homepage to select which personal habit-building journey would work best for me.
How Does Fabulous Work? 4 Key Features
Using a technique called habit stacking, Fabulous promises to help users slowly build healthy habits into their routines until they become second nature. With research suggesting that it can take anywhere from 18 to 254 days to form a new habit, this gradual approach is ideal for making long-lasting lifestyle changes.
Below is a more in-depth explanation of how the app works:
#1 Routine-building journeys
Fabulous works to help you create new routines by breaking habits down into smaller steps that you can take every day as part of a longer "journey." There are 4 journeys to choose from, which include losing weight, sleeping better, feeling more energized, or focusing and concentrating, but you'll be asked to select just one to follow at first.
For instance, my current goal is to build a healthier evening routine so that I can sleep better and feel refreshed for my patients. So, if I were to follow the sleeping better journey, I'd first be asked to simply read for 10 minutes before bed. If successful, I would then be able to unlock the next task to add to my winding down routine after 3 days.
I especially like the reminder setting feature for the routine, which means that my patients won't forget any of those all-important habits.
#2 Various healthy lifestyle challenges
One of the most interesting features I came across when exploring Fabulous was the challenges. These are small weekly activities that focus on helping you achieve short-term, specific goals that give you the burst of motivation you need to stay on track.
For example, you can complete a 7-day social media detox, 5-day no smoking, or 7-day intermittent fasting challenge, all of which are designed to help you celebrate the small wins on your journey to a healthier lifestyle.
#3 Journaling feature
Apps with journaling features always stand out to me, as they give users a space to process how they're feeling as they embark on their physical or mental health journeys. You can leave as many entries as you like in the morning, afternoon, and evening blocks in your Fabulous diary and revisit them at any point to see how far you've come.
Fabulous also provides a mood tracker, which asks whether you feel good, okay, or bad each day. You'll then get a weekly overview to help you monitor your ups and downs.
#4 Other paid features
Fabulous also offers some additional features that caught my attention, which you can access for $39.99 for a premium annual subscription. One feature that stood out to me was the one-to-one coaching with a behavioral change expert, which provides users with constant support to keep them focused and motivated.
Other aspects of the premium app that you can unlock include sleep coaching, targeted health advice, and integrated fitness coaching, which provides stress-busting activities such as yoga and meditation. To see whether it's right for you, I'd recommend purchasing a premium subscription once you've given Fabulous a go for 2 weeks at a reduced price.
What I Liked About the Fabulous App: 5 Key Benefits
Here are 5 things that stood out to me straight away about Fabulous:
#1 Challenges keep you motivated
What I like about the Challenges feature is that each one requires less time than a journey, which generally takes a few weeks to complete. Small motivational boosts like this keep you focused and help you stay consistent with good habits while having fun at the same time.
#2 Science-backed sessions
While exploring the research behind the app, I came across several studies confirming the benefits of habit-building for reaching goals. For instance, one study highlights how interventions that increase the frequency of progress monitoring, like Fabulous, are more likely to promote behavior change.
I was also pleased to see that each of Fabulous' small daily tasks within the journeys were built and tested by leaders in the field of behavioral science at Duke University. Furthermore, the app is backed by a team of renowned advisors who are experts in psychology and behavioral economics.
#3 There's a large meditation and exercise database
From cardio exercises like simple 5-minute abs to longer 30-minute runs, Fabulous offers a wide variety of workouts for all abilities that you can integrate into your routines. Although I'm more of a cardio bunny than a weight lifter, I like the fact that there are multiple options, as this encourages users to switch it up and try something different.
Not only will you boost your endurance, muscle strength, and even your heart health, but regular exercise has also been shown to boost self-esteem and cognitive function.
You can also benefit from daily sleep stories, breathing exercises, and meditations, which help you unwind and de-stress at the end of a busy day. Whether they're looking to calm anxiety at night, increase self-awareness, or simply protect their brain function, I enjoy recommending mindfulness exercises to my patients who want to improve their mental health.
#4 It's easy and fun to use
One thing that immediately stood out to me about Fabulous was its bright colors and animations. Along with the game-like feel of completing challenges each day and the sense of satisfaction after ticking off each habit, this would encourage any user to want to keep using the app to reach their goals.
#5 You get support from the community
If you're feeling low and need an extra boost of motivation to complete your challenge or routine, you'll benefit from Fabulous' very own community space. "Circles" is a discussion board for members that features topics including self-care, sleep quality, and exercise tips to make your journey easier.
This means you'll never feel alone with your problems, and research shows that gaining emotional support from a community not only impacts your mental well-being but can also improve your physical quality of life. I feel that many of my patients would benefit from this feature, particularly those who struggle to find motivation on their own.
What I Didn't Like About Fabulous
As with any app, I did find some drawbacks to Fabulous as well. It's important to consider these negatives, as they can help you decide whether the app can help you and if it is worth your money. Here are the 4 cons I discovered:
#1 You can do only one "journey" at a time
Something that I wasn't aware of before downloading Fabulous is that you can only follow one journey at a time. So, if you want to work toward losing weight and sleeping better, you can only move on to the next journey once you've completed the first.
Plus, each journey takes several weeks to complete as part of the habit-stacking concept, which may lead to you getting frustrated and giving up before you've even started. I'd like to see a feature that allows you to work toward multiple goals at once to keep users focused and motivated.
#2 The app is not that customizable
As I mentioned, after starting a journey, you'll begin by working on one habit and will slowly be assigned more as time goes by. However, you may struggle to choose the habits that are added to your journey, as the Fabulous app already has these programmed into the algorithm.
For instance, in some reviews, users were unhappy about the fact that the app wanted them to complete an exercise habit every day, when their preference was 3 times per week. It's highly important to take rest days during a weekly exercise routine to prevent injury, so this is quite a concern for me.
#3 There's a lot of focus on weight loss
Although maintaining a healthy weight is important for preventing chronic conditions like diabetes, heart disease, and stroke, not everyone's main goal is weight loss. Some of my patients come to me wanting to improve their mental health, and using a weight loss-focused app like Fabulous may confuse them.
To make this app suitable for a wider audience, I'd like to see the focus spread more evenly through areas like sleep quality, concentration, and mental health.
#4 There's no free version to try out
Unlike many other habit-building and mental health apps, Fabulous doesn't offer a free trial for those wanting to test out its features before committing. This could discourage some of my patients who are on a budget from trying the app altogether.
However, I liked the fact that Fabulous asks you to pay what you think is reasonable to try the app for the first 2 weeks, which makes it much more accessible.
How Much Does the Fabulous App Cost?
Once I'd completed the Fabulous quiz, I was then able to see how much it would cost to subscribe to the app. Before being offered a full subscription, I was pleasantly surprised to see the "Pay what you want" dialogue shown below, which asked me to pay anything from $1 to $16.41 for the 2-week trial period.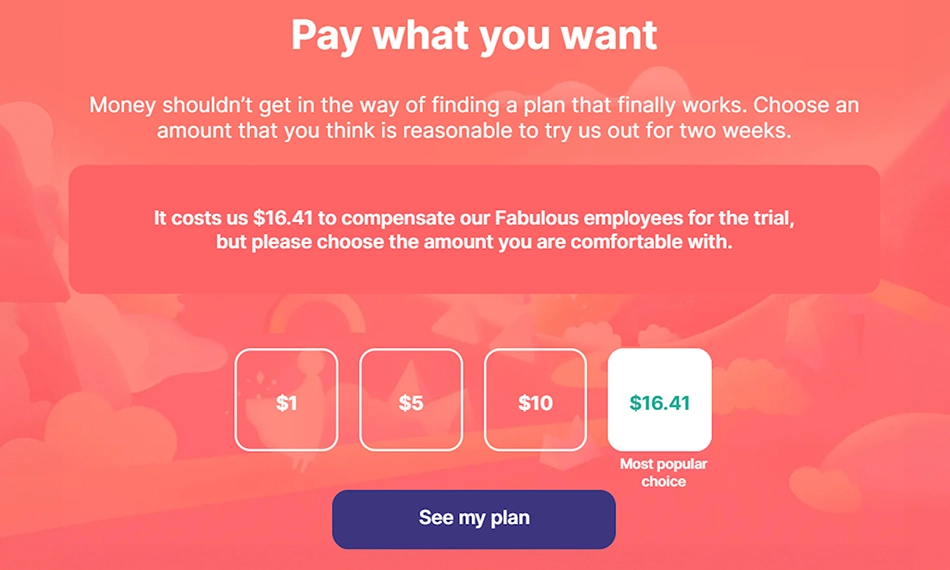 At the end of the trial, Fabulous Premium costs $39.99 for an annual subscription, which works out to just $3.33 per month.
What Do Other Users Think About the Fabulous App?
One of the best ways to decide if an app is right for you is to read a bunch of reviews from people who have tried it for themselves. Here are a few that I found useful in forming my opinion of the Fabulous app: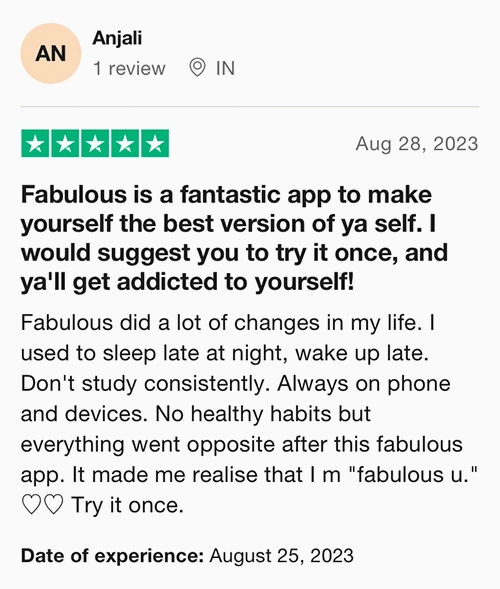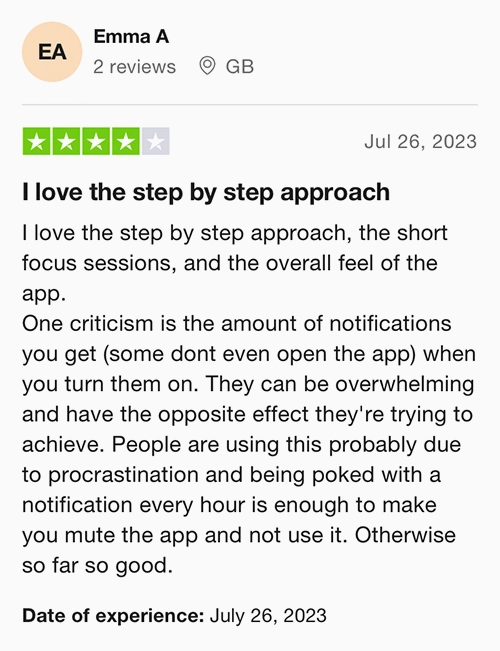 Fabulous vs. the Alternatives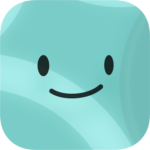 Brand
Sensa
Greatness
BetterHelp
Talkspace
Fabulous
Pros
Contains mood journaling
Daily guidance and motivation
Quick-relief exercises to manage stress
Lots of educational content on mental health
Access to cognitive behavioral therapy
Regular self-management lessons
Habits are flexible and versatile
Suitable for those constantly on the go or busy with work
Can set custom reminders
Select goals suited to your lifestyle and preferences
Developed by experts in behavioral science
24/7 access to therapists
No time commitment to the app
You can change therapists whenever
Compatible with iOS and Android devices
The app has 25,000+ therapists
Text message support for couples
A psychiatry service to help with prescription management
Constant access to live chats
You can choose voice chats and video messages
Lots of science-backed information
Easy-to-navigate interface
A large variety of exercises and meditations
Game-like experience to make it enjoyable
Positive community
Cons
Only a paid app
The app isn't compatible with smartwatches
Not covered by insurance
Limited features
No therapy options for children and teens
Live therapy sessions are only 30min
No sliding scale or financial aid
Responses might be short and surface-level
Easy to miss notifications
No free version to try out
A lack of customization
How I Tested the Fabulous App
Testing apps like Fabulous is essential to understanding the pros and cons and deciding if it will work for you. The testing process I went through revealed some pros that swayed my opinion, along with some cons that I'd recommend considering before committing to a premium subscription.
Keep reading to find the 4 factors I studied in detail while conducting this Fabulous app review:
Quality 7/10
The app does have many high-quality features to keep you motivated and focused, such as its friendly user interface, weekly challenges, expert coaching, and community support.
However, I did deduct some points as you're only able to follow one journey at a time, and the lack of customization may be frustrating for some users. I also encountered some bugs and occasional crashes, which made the app difficult to use at times.
Effectiveness 7/10
An effective self-care app should be backed by science and provide a range of strategies that are proven to help you meet your goals. Fabulous meets this criteria, in my opinion, particularly as it uses the well-researched, scientifically proven approach of cognitive behavioral therapy (CBT).
However, not everyone will experience the same results. Instead of helping you develop new habits, the coaching tool may become repetitive for some, and the daily tasks could throw you off balance.
Price 7/10
The app's premium subscription only costs $3.33 per month, which makes Fabulous worth the price considering all of its features. However, the Fabulous app free trial would boost my score, as it may encourage potential customers to give it a go before purchasing.
Brand reputation 8/10
The Fabulous app's mission is to help people "rekindle their motivation" through healthy habit-building and making long-term lifestyle changes. This proves that they care about their customers and how they achieve their goals, which is backed up by many of the positive customer reviews that I read.
FAQs
Does the Fabulous app actually work?
Based on scientific research, the Fabulous app is an effective app to help you make gradual, healthy lifestyle changes using the "habit stacking" concept. However, results will vary from person to person and are somewhat dependent on motivation and willpower.
Can you get Fabulous for free?
No, you'll need to purchase a subscription for $39.99 per year to access the app. The Fabulous app does offer a 2-week trial, where you'll be asked to pay only what you can afford for this period.
Where can you get the Fabulous app?
You can download the Fabulous app on Google Play or the App Store or purchase a subscription through their official website.
A Word From RD
Finding an app that encourages a new habit every day can be great for your mental well-being. You have the chance to build enjoyable morning and evening routines. Even getting out of bed is a positive step, which leads to better habits down the line.
Everyone has a unique journey when it comes to improving their health. For example, you could lose weight by eating good food while others are focused on meditation. It just depends on your personal goals and how you wish to live a satisfying life.
Even simple things like going for long-distance runs and morning walks could boost other habits. You don't always need apps to create a habit and stick with it. Just focus on your long-term goals and how they'll make you feel once they are achieved.
If you have any health conditions, always speak to your doctor before trying new wellness apps. A medical professional can determine what apps suit your needs. Trying something that could potentially set you back might damage your mental state.
Final Verdict: Can the Fabulous App Help Create New Habits?
If you're looking for a fun and easy-to-use app that encourages self-care, helps you gradually introduce new habits into your life, and allows you to make healthy lifestyle changes, then the Fabulous app may be the one for you.
However, I was disappointed by the lack of habit customization and flexibility with journeys, which could put some people off and have a negative impact on their motivation. I'd also like to see the developers introduce a free trial before I recommend the app to my patients.
Not every app will work for every person, as we all have different goals, lifestyles, and preferences that make us unique, so I'd suggest checking out a range of other habit-building apps before making your final choice.
Last update:
September 5, 2023
13 min read
905 Views
0 Reviews
${TOCSections.eq(0).find('a').text()}