Effecto App Review: Is It Key to a Healthier Lifestyle?
Last update: September 21, 2023
12
1341
3
Effecto is a health-tracking app that is said to help manage ADHD and improve your overall well-being. I tested it out to see if it actually has any benefits.
Managing your mental health is crucial to maintain your overall quality of life. While most people prefer professional medical care to deal with symptoms of anxiety, stress, depression, PTSD, and chronic illnesses, some use digital apps to track and understand their health.
One of them is Effecto – an app that helps users track their moods and establish healthy habits, with ADHD management as its main focus.
As someone who experiences anxiety and stress daily, I decided to give Effecto a whirl to see what this app has to offer. In this comprehensive review, I will share my personal experience with the Effecto app, shedding light on its benefits and drawbacks.
What Is the Effecto App?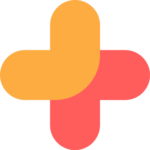 Pros
Personalized tracking

User-friendly

Tracks moods and emotions

Journaling

Medication reminders
Cons
It's a paid app

It takes time
Effecto is a mental health tracking app specially designed for ADHD support and provides you with a personalized plan based on your current health and symptoms.
While the main focus of the app is on ADHD management, I couldn't test Effecto in that regard as it's not something I have ever experienced. However, I did examine its features and tried it out to see how it can help other health conditions, specifically stress, anxiety, mood swings, and sleep issues.
Besides helping manage ADHD, this app allows you to monitor and manage a wide range of other health conditions, including:
Depression and anxiety
Stress
Migraine
Headaches
Arthritis
Chronic health conditions
Fatigue
Autoimmune diseases
It offers valuable health data in the form of reports that support preventative, diagnostic, and therapeutic pathways. These reports include comprehensive and practical information on all aspects of health and chronic health disorders, which can assist both the patient and the clinician.
One of my favorite features of this app is its Symptom & Mood Tracker, which allows you to manage your health effectively and stay on top of it. The app also allows you to keep tabs on your nutrition, exercise, sleep, and habits.
It can track almost everything you need to manage your mental health and mood and offers flexibility and customizability to help you meet your specific needs/goals. And in my opinion, these are the two most important factors that distinguish it from other apps on the market.
How I Started Out With the Effecto App
Before downloading the app, I went to Effecto's official website, which offers a personalized ADHD plan based on the user's unique health conditions.
The Effecto quiz
On the website's home screen, the first thing you'll come across is the option to select your gender. As soon as you click on the right gender button, Effecto's questionnaire starts.
It will ask you about your age, whether or not you've been diagnosed with ADHD, the health conditions you may be experiencing, whether or not you take medicine, the emotional challenges you experience, and general questions about your overall physical and mental health.
These questions will allow Effecto to create a personalized ADHD and health management plan for you. After completing this questionnaire, you'll be asked to enter your email address, select your subscription model, and get your plan.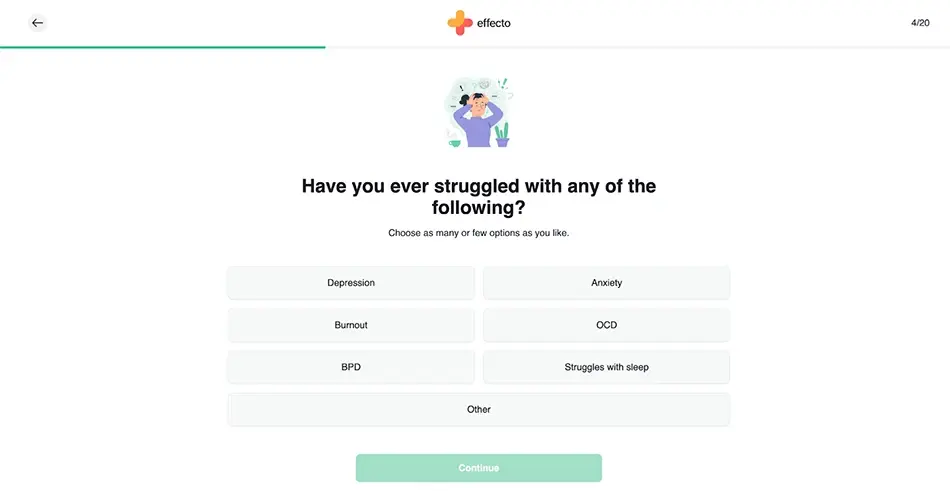 Setting up the app
The Effecto app is available both on the App Store and Google Play. I have an iPhone, so I downloaded it from the App Store.
After installing and opening the app, it asked me to create an account, which is a pretty simple process. All you need is to link your existing Google or Facebook account or enter your basic personal information.
Once the account was created, the app gave me a number of options to track, such as mood, energy levels, symptoms, medications, sleep, diet, health measurements, and more. I selected the ones I wanted, and it took me to the next page to select the time of the daily reminder.
You can add as many daily reminders as you want, but I went with two, morning and evening. I recommend you set a time when you can read and understand the reminders easily to make the most out of this app.
After going through these simple steps, I was already on the app's home screen, with widgets of all the options I selected to track. These widgets let you make multiple logs at different times of the day. Additionally, the app also allows you to make all the logs at once if you want.
For example, one of the options I selected was "mood." The widget linked to this option allows you to rate your mood on a scale of 1 to 10 and add select options like "depressed," "unhappy," "overwhelmed," or "full of hope" at any given time. You can select as many descriptions as you like.
Main Features of the Effecto App
Self-tracking has several benefits for physical and mental health. Here is how Effecto helps its users:
#1 Health management
Effecto can help users track everything about their health and helps them see how it can affect their sleep, energy levels, mood, symptoms, and overall health.
The app also lets you track your supplements and medications, which might be very helpful if you have a new prescription. It can help you determine whether or not the medications alleviate or worsen your symptoms. This enables you to provide your doctor with important information.
You can also monitor whether you consume enough water, food, and snacks. By keeping track of your diet, you may find certain foods triggering your symptoms.
Pro tip: One of the most important things about this app that I learned in my trial period is that the more data you enter, the more accurate insights you'll receive.
#2 Personalized insights and reports
The app provides a detailed report containing all your health data in one place so you can understand what's going on with your body. Reading and understanding this information allows you to make data-driven changes to improve your health.
You'll be able to see how your symptoms change over time and how they can affect the rest of your life. You can also share this data with your healthcare providers, including your doctor, nurse, or therapist.
#3 Systematic approach
The Effecto app aims to identify the main symptoms, determine their severity and intensity, and record their impact on quality of life. This means you can track your moods in a way that helps you understand everything affecting your body and mind.
The app also offers detailed health data in one place to help you make informed decisions about treating your condition.
A Word From Our MD

Rosmy Barrios, MD
Medical advisor for Health Reporter
Keeping track of symptoms can help you gain some control over your condition. You can alleviate the symptoms by making changes if you detect patterns or triggers contributing to your pain or health condition.
You will notice whether or not the medication is having an effect. Tracking can also help you provide your doctor with more detailed information about your symptoms. This means that diagnosing or treating you may be made easier.
However, it's important to note that while health monitoring apps offer convenience and insights, they should not be seen as a replacement for healthcare professionals. Instead, you should combine the use of a health monitoring app with regular visits to your doctor to meet your health goals.
What I Liked
After using the Effecto app for a few days, I can confidently say that it's pretty useful. What really impressed me was the wealth of data it provided to assist me in managing my anxiety.
Here's what I liked the most about this app.
#1 The app is customizable
First and foremost, I appreciated the app's fully customizable tracking feature. It allows you to monitor and analyze almost every personal element that could potentially impact your mood, symptoms, sleep, and energy levels.
Even if something wasn't already included in the pre-loaded factors, I could easily create custom tracking options tailored to my specific needs.
#2 Helps track mood and emotions
The app's ability to track and quantify my moods and emotions became a game-changer for me. By monitoring and analyzing my emotional states consistently, I gained a deeper understanding of the factors that contributed to negative moods.
This information helps you make informed choices and engage in activities that promote a positive state of mind. What's great is that you can also share this information with your medical professionals, which can assist in accurate diagnosis and personalized treatment plans.
#3 Journaling
I use several journaling apps because they help me improve my mindfulness and mental well-being. So, I was eager to try out the app's dedicated space to jot down my thoughts, feelings, and experiences for regular self-reflection.
Here I was able to document my innermost thoughts and emotions as they occur and gain insights into patterns and triggers that influence my mental state. I found that journaling can truly contribute to my overall mental health and well-being.
#4 Easy to use
Navigating the Effecto app was a breeze, and I could effortlessly access all its features. The visually appealing interface enhanced my overall user experience and made interacting with the app enjoyable.
Additionally, I found the app to be authentic and sincere in delivering what it promised.
It doesn't overwhelm you with unnecessary complexities and focuses on providing a straightforward and effective tool for managing your mental health.
What I Didn't Like
Just like every digital tool, the Effecto app also has its own set of drawbacks that I encountered while using it. These are the things I would like to share:
#1 You have to pay for the app
While the Effecto app offers valuable features, it does come at a cost. You need to purchase a monthly or annual subscription, which can be challenging for those who are on a tight budget but require regular health support.
It's important to be aware of this aspect and consider it when deciding whether to invest in the app or not.
#2 Inputting data can get tiring
During my experience, I found that documenting personal experiences and symptoms in the app requires time and attention. You need to be very careful not to exaggerate or under-report your symptoms.
Additionally, I also discovered that it was easy to forget to update my profile with new symptom information or adjust the monitoring settings as needed. This required a level of discipline and regular check-ins to ensure the data captured remained accurate and up to date.
#3 No educational content
While the app offers valuable insights through data analysis and mood tracking, I found that the advertised support for ADHD could be improved.
The app doesn't come with any video or audio material that would effectively help manage ADHD or help understand certain health issues. I believe that the inclusion of educational video or audio content can improve the app's worth, especially for those with ADHD.
What Do Online Reviews Say About the Effecto App?
Before I started using the Effecto app, I looked at the reviews of other users. I always do that before using any new product, as it helps me build realistic expectations. Generally, the reviews were positive about the tracking features of the app; however, some users felt as if the support for ADHD was lacking.
Here are a few online reviews that I came across.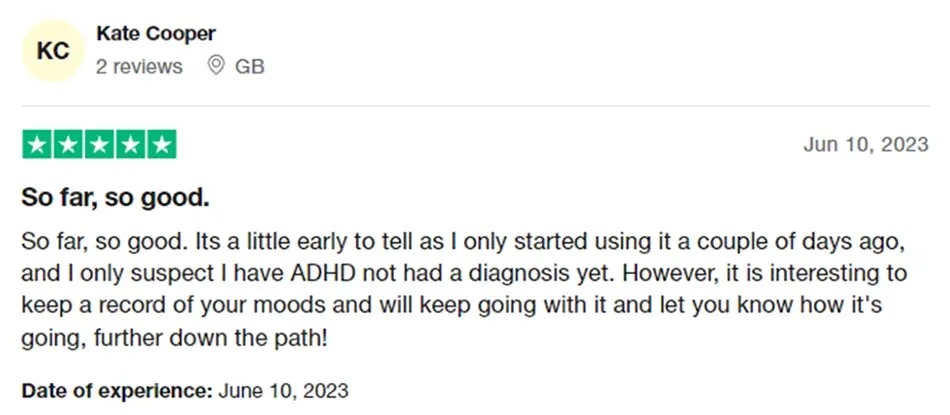 While Kate was enjoying the app so far, Samantha expressed that the features for ADHD management could be improved.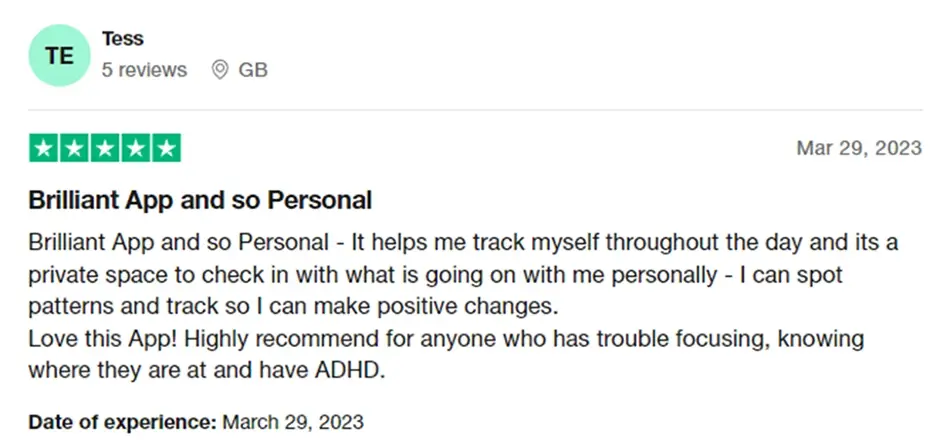 Another user especially liked the personalization options of Effecto and said it helped them spot patterns in their mental health.
How Much Does Effecto Cost?
Currently, the Effecto app offers the following subscription plans to choose from.
Monthly plan
Cycle: Billed every month
Cost: $39.99 ($1.33 per day)
Quarterly plan
Cycle: Billed after 3 months
Cost: $59.99 ($0.66 per day)
Yearly plan
Cycle: Billed after 12 months
Cost: $119.99 ($0.33 per day)
Effecto vs. Alternatives
Here are a couple of more health-tracking alternatives to the Effecto app.
Comparison Winner: Effecto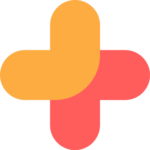 Brand
Effecto
eMoods
Fabulous
Bearable
Pros
Personalized tracking
User-friendly
Tracks moods and emotions
Journaling
Medication reminders
Shared reports
User-friendly
Shared reports
Medication tracker
User-friendly
Exercise and meditations
Community space
Mood tracking
Medication reminders
Shared reports
Cons
Paid subscription
In-app purchases
Confusing costs
Poor customer service
Some features are hard to find
No customization
Too many notifications
Variation of costs
Lagging app
Too many options
FAQs
Does the Effecto app work?
Yes, it works. This app was developed in collaboration with a group of medical experts to ensure the best app for all your health needs. Effecto was rated as the best app for tracking chronic health issues in a comprehensive assessment of health apps published in the peer-reviewed MDPI JAL journal.
Does Effecto help to build good habits?
Effecto offers several ways to track your progress toward a healthier lifestyle. You can use the app's journal entry feature to record when you eat healthy foods or complete a workout. The app is also designed to help people identify their emotions, moods, and symptoms to achieve a healthier lifestyle and improve their overall health.
Is the Effecto app worth it?
For anyone looking to enhance their daily lives, the Effecto app is worth a try. The app might be helpful if you struggle with chronic fatigue, lack of energy, difficulty falling asleep at night, difficulty concentrating, ADHD, or suffer from anxiety.
Where to get Effecto app?
You can find it on the App Store and Google Play or download it directly from their official website: https://effecto.app/.
How I Tested It
After using the app for a week, here's how I would evaluate its quality, effectiveness, price, and brand reputation.
Quality: 9/10
In terms of quality, I have nothing but good things to say about the Effecto app. It comes with a user-friendly interface that's easy to understand and use. It offers clear and actionable tips to focus on specific mood issues like anxiety or panic disorder.
Additionally, it's also customizable, which means you can personalize your mental health journey just the way you want.
Effectiveness: 9/10
As I mentioned earlier, I didn't test the app specifically for ADHD because it's something that I don't struggle with. I analyzed its overall health-tracking functionality and was very happy with the performance.
Effecto uses a well-documented approach to provide you with valuable insights to improve your health and mood and has also been recognized as the best app for tracking chronic health issues in a systematic review published in the esteemed peer-reviewed MDPI JAL journal.
Price: 8/10
While some mood and symptom apps offer features for free or with in-app purchases, you need to buy a subscription to use the Effecto app. It offers extensive features and functionality and comes with three affordable subscription plans.
Considering the app's comprehensive tracking capabilities and the personalized care it provides, the price of each plan, in my opinion, is justified.
Brand reputation: 7/10
While researching, I found many reviews, saying positive things about the company and praising the app's support for monitoring health. Plus, my own experience was also similar.
However, I noticed in some reviews that some people were not satisfied with the ADHD help. That's why the rating of the app on some platforms is a bit on the lower side.
Effecto App: The Final Verdict
All in all, it's one of the best mental health apps that I've tried so far. I believe it can make people feel in control of their mental health and help establish healthy habits. While it might not be the silver bullet for people with ADHD, it still offers great features that can help users with different health conditions track their health.
Whether it's about physical and mental health concerns like mood, focus, productivity, sleep, procrastination, or chronic conditions like migraines, headaches, chronic pain, or autoimmune diseases, this app can help develop healthy behaviors or correct negative ones in a few weeks.
Last update:
September 21, 2023
12 min read
1341 Views
3 Reviews
${TOCSections.eq(0).find('a').text()}