Affiliate links on our site may earn us commissions.
Learn More
.
News
Digital Health and Wellness Market Insights & Trends of April 2022
Healthcare and technology go hand-in-hand. But the question on many people's minds is where are they going? From digital health products to investing in the mental health sector – there has been a lot going on in the past months to help the health industry thrive.
Health Reporter looks at the latest digital health and wellness market trends this month – offering a detailed overview of the sector.
April Investments
Let's take a look at where the most money was spent in April:
1. Medical Systems received the largest funding this time around, with over $615M or 39.96% of the total amount spent. Companies such as Reify Health (a cloud-based software company that develops tools for the clinical trial ecosystem) received $220 million.
2. Others highly invested include Clarify, who developed an intelligence platform that delivers insights across healthcare – they received $150M in funding. Ascertain, which develops healthcare AI companies that improve quality and access to care received a further $100million in investment.
3. Personal Health & Self-care received the second-largest amount of funding, securing a healthy $289.5M or 18.79% of the total funding accumulated. The funding is split into four sections: digital products (secured a total of $135.5M across six products), and physical products, which secured $70M. Services gained $4.2M in funding, while studies and research garnered a further $80M.
4. The top earners for each category within personal health and care were as follows;
5. Digital Products – AVI Medical is a digital healthcare company that provides telemedicine services. They received $54.5M.
6. Physical Products – Levels are improving metabolic health through bio wearables; they received $38M in funding.
7. Services – NewTopia utilizes an innovative health engagement platform to help individuals make the right lifestyle choices; they received $3.5M.
8. Studies & Research – Octant are a developer of synthetic technology used to improve health and treat disease; they received $80M in funding.
9. Mental Health received the third largest capital investment, securing a sizeable $182.6M, or 11.85% of the total funding raised. This was split into three categories: digital, physical, and services.
Eleos, which uses voice analysis and NLP to improve treatment outcomes and workflow efficiency, received $20M in funding for digital products.
In the physical product category, the product with the highest funding was First Person, a premium brain health & cognitive performance company centered around functional & psychedelic mushroom product innovation; they raised $2.7M.
Finally, in the services sector, Eleanor Health which provides comprehensive mental health and substance use disorder care in clinics, virtually, and in patients' homes, received $50M.
10. Health Diseases received $223.23M in funding, which equates to 14.5% of the total amount of investments. This money was segregated across four different categories.
Digital products such as Renalytix, a developer of AI-enabled clinical diagnostic solutions for kidney health, received $21.2M.
Proof Diagnostics received $45M in investment in the physical products category. They develop CRISPR-based COVID-19 molecular tests for better health control.
As for the services sector, BeatO secured the largest funding with $3.5M in total. They are developers of a health monitoring application that helps diabetic patients track their glucose levels.
Finally, in the studies and research category, Viridian Therapeutics received a massive $75M. Viridian discovers and develops microRNA-targeting therapies to improve human health.
11. Financial services round off the top five sectors garnering the most significant investments. This sector received $85.2M, or 5.53% of the total raised. This was divided between two other categories, digital products and services.
For digital products, Loop Health received $25m in funding. They bring ease and choice to patients seeking major medical treatments. A close second was ABHI which received $17M in total. ABHI provides employees with salary advances based on accrued wages.
$35M was raised for Safety Wing, an insurtech company that provides travel medical and health insurance to small businesses and individuals in the services category. This was closely followed by Welbe, who provides management of the occupational health and well-being of your organization in a single membership.
Overview of April Investments
Almost 51% of companies raising money in seed round
Seed money, sometimes known as seed funding or seed capital, is a form of securities offering in which an investor invests capital in a startup company in exchange for an equity stake or convertible note stake in the company.
Seed funding is the first official equity funding stage. It typically represents the first official money that a business venture or enterprise raises.
Amount of organizations by funding status:
Seed – 49 companies or 51.04% of total
Early-stage venture – 36 companies or 36.46% of total
Initial public offering (IPO) – 7 companies or 7.29% of total
Late-stage venture – 5 companies or 5.21% of total
Biggest amounts received in series B
Series B rounds are all about taking businesses to the next level, past the development stage. Investors help startups get there by expanding their market reach. Series B funding is used to grow the company so that it can meet these levels of demand.
Top 5 – Money raised in USD by funding type
Series B – $431M or 27.6% of total
Series D – $420M or 27.08% of total
Series A – $315M or 20.28% of total
Seed – $167M or 10.79% of total
Post-IPO Debt – $96M or 6.21% of total
Growth Signals: Companies with the highest growth rate
The growth rate of companies is measured using two mediums:
Indication of growth based on the development of the number of employees
Indication of growth based on rising monthly web visits
Join Others is topping the list for point one, whose employee growth is at a massive 900%. Join Others developed and created natural toothpaste tablets that are 100% plastic-free. Mobility Health was the other high riser, with a 267% employee growth. Their mantra is to conquer your pain at home and offer physical therapy over the phone or in person.
For point two, the web traffic of Wellness Coaches USA, a company that provides high-quality company wellness programs or employee health plans, spiked by 1,825%. Joy Village followed them in second place, which grew a more modest 124%. Joy Village offers family entertainment centers across Italy.
Nominations by the Health Reporter Team
The top innovative product selected by Health Reporter is as follows:
First Person Group: https://www.firstpersongroup.com/
What they do: A premium cognitive performance company centered around functional and psychedelic mushroom product innovation. Builds the foundation and infrastructure to deliver functional and psychedelic mushrooms to the world.
Why we choose this nomination – using psychedelic mushrooms to improve mental health is a new and fascinating topic and truly unique.
Total Funding Amount – $7.1M ($2.7M, April)
The top innovative service selected by Health Reporter is as follows:
Newtopia: https://www.newtopia.com/
What they do – Habit change experience is designed to help individuals develop healthy lifestyle improvements that last. Prevent, reverse, and slow the progression of chronic disease while enriching mental health, resilience, and human performance.
Why we choose under this nomination – helps to change habits which impact user's wellbeing. We liked that they combine elements from different spheres- the product provides coaching via the app and includes saliva tests, a smart scale, etc.
Total Funding Amount – total $29.2M ($3.5M April).
The top digital product selected by Health Reporter is as follows:
Ognomy: https://ognomy.com/
What it does – Ognomy is the world's easiest way to get tested, diagnosed, and treated for sleep apnea without ever leaving home. Patients meet doctors virtually through our app, have a video consultation, and get a sleep test sent to their homes. They will then review your results and start you on a treatment plan for better sleep, all in days.
We choose this nomination – a modern and easy way to tackle sleep apnea from home.
Total Funding Amount – total $1.8M (ND April).
The top physical product selected by Health Reporter is as follows:
Levels: https://www.levelshealth.com/
What it does – Levels help you see how food affects your health. Gain insight through personalized data. By leveraging biosensors like continuous glucose monitors (CGM), Levels provides real-time feedback on how diet and lifestyle choices impact your metabolic health.
Why we choose under this nomination – provides insights on metabolism via a collection of CGM-provided data.
Total Funding Amount – total $50M ($38M April).
Our favorite product of April, as selected by Heath Reporter, is as follows:
Virtue Leap – https://virtuleap.com/
What it does – VR brain training app offers a daily cognitive workout of short, intense, and fun games designed to help test and train your cognitive skills. Enhance is a VR app that offers a growing library of brain training games that test and teach various cognitive skills like memory, problem-solving, spatial orientation, and motor control.
We choose under this nomination – innovative, fun, gamification plus brain health and training.
Total Funding Amount – $1.4M ($0.25M, April)
So the health and wellness sector has had a highly productive round of investment in April, with products ranging from those of a physical nature, to more trendy online services. Thanks to this funding, some outstanding products out there can now continue to develop.
We will continue to report and bring you insights into the health and wellness sector so that you can stay informed.
Final Thoughts
It took the pandemic to push healthcare forward and for health institutions, providers, and patients to embrace digital health trends and new technology.
With remote services and accelerated research and development practices now in full swing, providers and patients now understand the value of digital health services. Funding and investment activity show that others also see the value in digital health trends.
This is highlighted by the massive investment in the digital health product sector in April, with over $800M invested in products of this type alone.
We are certain that this trend will continue, given the demand for remote and digital-based products. COVID has changed the way we seek medical attention and has placed a growing need on patients to access healthcare online.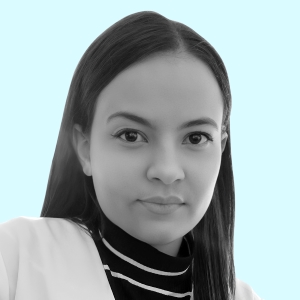 Written by
Edibel Quintero is a medical doctor who graduated in 2013 from the University of Zulia and has been working in her profession since then. She specializes in obesity and nutrition, physical rehabilitation, sports massage and post-operative rehabilitation. Edibel's goal is to help people live healthier lives by educating them about food, exercise, mental wellness and other lifestyle choices that can improve their quality of life.
Fact checked by

Rosmy Barrios, MD