Affiliate links on our site may earn us commissions.
Learn More
.
Keto Diet
The Keto Cycle Report: Can Smartphones Deliver Effective Health Interventions?
Key Findings
The majority of Keto Cycle app users lost at least 5% of their initial body weight
A notable percentage of users lost 10% of their initial body weight
Users with higher initial BMI lost more weight
Active app users lost significantly more weight than non-active users
Using water tracking, weight tracking, and creating a meal list within the app, Keto Cycle can accurately predict weight loss
Throughout the last couple of years, the ketogenic diet has become mainstream. The diet was first introduced at the beginning of the 20th century as a way to treat epilepsy in children, but now it is emerging as one of the most prominent methods to lose weight and fight obesity.
The ketogenic diet is a term for a low-carb, high-fat, moderate-protein diet. The idea behind it is to get most of your daily calories from proteins and fats rather than carbohydrates.
This diet results in you burning fats instead of glucose as fuel. Not only does it lead to noticeable weight loss results only after a few weeks, but it also may have multiple benefits for your health.
For this reason, the keto diet is slowly morphing into the best weapon to tackle obesity, a major predisposing factor for many diseases, including diabetes, chronic heart disease, cancer, etc.
One of the easiest ways to get introduced to the keto diet is simply to download an app offering guidance and support on the topic. One of which, Keto Cycle, took a look at the effectiveness of such solutions.
Here, we will go through the key findings of the Keto Cycle report in which a total of more than 10,000 people took part.
About the Keto Cycle App
The central piece of the Keto Cycle app is the individualized ketogenic diet meal plan, which is generated after customers share their anthropometric measurements, such as weight and height, as well as gender, age, and physical activity.
According to these measurements, the individual calorie needs are calculated. Other aspects are considered too when creating a meal plan, such as a person's food preferences, health goals, or health conditions they might have.
The users are able to choose which products they want to include in their meal plan and which to avoid. The Keto Cycle app also provides users with educational material, calorie, food, and water intake tracking solutions, among others.
For those who want to increase their physical activity levels and become even healthier, a workout plan can be created depending on each user's self-determined fitness level.
Methods
The initial study cohort comprised 12,965 consecutive users who started using Keto Cycle between January 2020 and December 2020. After the preliminary screening, those who did not meet all the inclusion criteria were eliminated from further investigation.
The inclusion criteria were:
The user has entered their gender, height, and initial weight;
The user has entered their weight more than once during application usage time;
The application was used for more than a month;
The user had at least one active day per week during which they documented activities or performed any reasonable app-related actions (e.g., entered anthropometric data, searched for dietary advice, completed exercise from the list, etc.).
The final cohort comprised 10,269 users.
In preparing the report, the main parameter was active days (AD). It was assumed that AD, through more responses to app reminders and more regular in-app activities, represented better adherence to the provided diet plan than other parameters.
Participants were chosen based on this parameter. If the subject's AD was higher than the top 25th percentile, they were considered an active user and therefore eligible for this study.
The users were allocated into groups based on their percentage of lost weight:
Group 1: >10%
Group 2: 5–10%
Group 3: <5%
Group 4: weight increased
Results
Multiple studies have shown that the ketogenic diet usually leads to a significant weight reduction. The Keto Cycle report is no different. If anything, it demonstrates that both the ketogenic diet and app usage can lead to significant weight loss results.
Weight loss
The study cohort predominantly comprised females (81.7%). The majority were overweight (35.1%) or obese (31.8%). On the other hand, 12.1% of the users had normal weight at the start of app use.
The results of using the Keto Cycle app were pretty self-explanatory. It was found that 87.3% (8,969) of the users lost a part of their initial body weight. 1,645 (18.3%) of them lost more than 10% of their initial body weight, 3,528 (39.3%) users lost between 5 and 10% of their body weight, and 3,796 (42.3%) people lost less than 5% of their body weight.
Overall 87.3% of active app users lost weight:
18.3% of them lost more than 10% of their initial body weight
39.3% of them lost between 5 and 10% of their initial body weight
42.3% of them lost less than 5% of their initial body weight
On the other hand, 745 (7.3%) users retained the same weight, while only 555 (5.4%) users reported an increased body weight.
In the general cohort, the body weight loss was significant – from 85.39kg to 80.41kg (188-177lbs). Statistically significant body weight loss was observed in the male cohort, where average weight dropped from 101.59kg to 94.67kg (224-208lbs).
The female cohort also reduced its body weight significantly – from 81.78kg to 77.22kg (180-170lbs).
It is also worth mentioning that more than one-third (3,636) of the users reduced their BMI level, but only those who were overweight and obese. No users reduced their body mass index below 18.5.
Usage trends
The link between weight change and the total time of use and active time was also tracked. A significant positive correlation between these factors was found. As a result, it is possible to conclude that continued use results in a positive change in terms of weight loss.
However, statistically significant body weight loss was observed in all 5 different initial BMI level cohorts, but the most active users tended to shed more weight and decrease their BMI.
People who lost more than 5% of their initial weight were more active app users than the ones who lost less than 5% or increased their initial body weight.
One of the most interesting insights in this study was that meal plans, water tracking, and weight tracking contributed to a way bigger weight loss than completed workouts.
However, it is worth mentioning that created shopping lists statistically significantly contributed to weight gain.
Findings
The most important finding of all must be that the majority of Keto Cycle app users lost more than 5% of their initial body weight.
This is a significant improvement because, according to the Centers for Disease Prevention and Control (CDC), even a slight weight reduction is likely to give such health benefits as improved blood pressure and cholesterol profile.
Another interesting finding was made after comparing keto-oriented app results versus the low-fat diet-promoting app.
The Keto Cycle report proves the fact that's been known for ages – the ketogenic diet is one of the healthiest and most effective ways to lose weight. And, of course, that smartphones, tablets, and other smart devices can act as tools that effectively deliver health interventions.
When user activity was taken into account, it was found that active users lost statistically significantly more weight than non-active users.
Using water tracking, weight tracking, and creating a meal list within Keto Cycle significantly predicted weight loss in a multiple regression model.
To sum everything up, the Keto Cycle report proves that app usage can significantly contribute to weight loss and the improvement of overall health.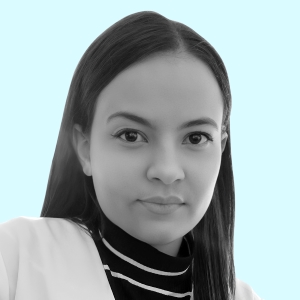 Written by
Edibel Quintero is a medical doctor who graduated in 2013 from the University of Zulia and has been working in her profession since then. She specializes in obesity and nutrition, physical rehabilitation, sports massage and post-operative rehabilitation. Edibel's goal is to help people live healthier lives by educating them about food, exercise, mental wellness and other lifestyle choices that can improve their quality of life.
The article was checked by

Rosmy Barrios, MD