Beyond Body Review: Check This Out Before Buying!
Last update: September 21, 2023
17
1821
3
Beyond Body is an individualized approach to weight loss. With a highly personalized wellness book and fitness routines, can this program actually help you to lose weight?
In today's fast-paced world, maintaining a healthy lifestyle can often feel challenging. With so many new diet and exercise trends flooding the wellness industry scene every few years, finding a program that doesn't do more harm than good can seem daunting.
There have been numerous diets I've tried that promised to develop healthy habits but weren't sustainable in the long run. That's why I decided to try the wellness program I found online. It's called Beyond Body and has been growing in popularity in recent years.
Unlike many other diet and fitness plans that you can find online, this program promises a fully personalized and structured approach for people to lose weight.
I decided to accept the 28-day challenge the program offers and will now share my personal experience going through this journey. Read my Beyond Body review and see for yourself if that's the wellness plan you've been looking for all along.
What Is Beyond Body?
Personalized workout and meal plans
It contains 1,000+ recipe combos
300+ pages
Has an assistant app on the go
Start Free Quiz
Pros
No subscription fees (one-time payment)

International shipping for a hardcopy book

Easy-to-follow program with pictures and instructions

Beginner-friendly as it doesn't make drastic changes to your eating habits
Cons
Unsuitable for pregnant women
Beyond Body is a personalized wellness book presenting a weight loss method with long-term solutions that help customers lead healthier lifestyles. It is tailored to an individual's age, body type, dietary restrictions, and other critical characteristics.
You can either order a physical Beyond Body copy or an online ebook version, making this weight loss program accessible to all. What gives it an even more personalized touch is that the book comes in the color of your choice and your name on the cover.
The plan includes hundreds of recipes and over 300 pages of content to support you on your weight loss journey and master healthy habits along the way. It can be customized to your preferences, with easy-to-swap ingredients and different workout options based on your activity level.
The creators of Beyond Body utilize the ideology that real change comes from within, helping you analyze your attitudes and mentality and understand why you may overeat or choose unhealthy foods.
Who is Beyond Body for and Why I Bought It?
Beyond Body seems to be the perfect option for people like me who have previously struggled to find a way to make a healthy diet and exercise a part of their lifestyle. It aims to address both the mental and dietary aspects of weight loss.
I've tried multiple meal and workout plans before, and, sadly, they didn't work as promised. I felt that they weren't personalized enough, or didn't deliver long-term results.
Furthermore, I have been able to download the Beyond Body assistant app, which is a great addition for people like me who want to be held accountable or monitor their progress consistently.
Keep in mind that high-risk groups, such as pregnant women and those with underlying health conditions, should seek a doctor's advice before starting the Beyond Body weight loss program.
How Did Beyond Body Work for Me and Quiz Results
After countless failed attempts at maintaining a healthy diet and exercise regimen, I decided to give Beyond Body a try. Rather than losing weight, which the company emphasizes most, I wanted to get in better shape and feel healthier in general.
To get started with Beyond Body, I had to fill out a quick questionnaire that included 30 questions about my goals (gaining muscle, maintaining weight, or losing it), dietary preferences and restrictions, sleeping habits, workout routines, and other relevant factors.
I could even choose to have a vegetarian meal plan with gluten-free options.
Following completion of the questionnaire, Beyond Body created a personalized 28-day meal plan and workout regimen tailored to my needs. I received a pdf version straight in my inbox. The printed book with my name on the cover and the color of my choice was delivered a couple of weeks later.
Then, it all came down to following the recipes for all the main meals of the day and incorporating 45-60 minutes of strength training into my daily routine. Since I indicated my activity level to be at a beginner level (I do some light yoga and walk), my plan included four workout days per week.
I tracked my progress manually in my daily planner because I didn't see much value in paying for the app subscription. The Beyond Body book itself seemed vibrant enough and easy to follow.
The book also included a glowing skin guide that outlined various fruit and vegetable options I could add to my diet for glowing skin. They also provide guidelines on water intake, and I followed them throughout my 28-day journey to a healthier me.
What Are the Features of Beyond Body?
The main product of the Beyond Body wellness program is an over 300-page thick book that is your main guide throughout your healthy lifestyle journey. Apart from that, it also offers an app and remote consultations that together would help you achieve your wellness goals.
Here are the main features of Beyond Body:
#1 Personalized 28-day meal plan
Unlike other wellness programs that need you to change your diet rapidly, Beyond Body offered me a personalized 28-day meal plan to help me easily transition and adapt to a new lifestyle. It can also be considered a 4-week challenge.
Certified nutritionists have created meal plans with over 500 variations and meal combinations to ensure a healthy and balanced lifestyle suited to your particular need. I've also received cooking cheat sheets, tips on superfoods, and nutritional data on each meal I'm consuming.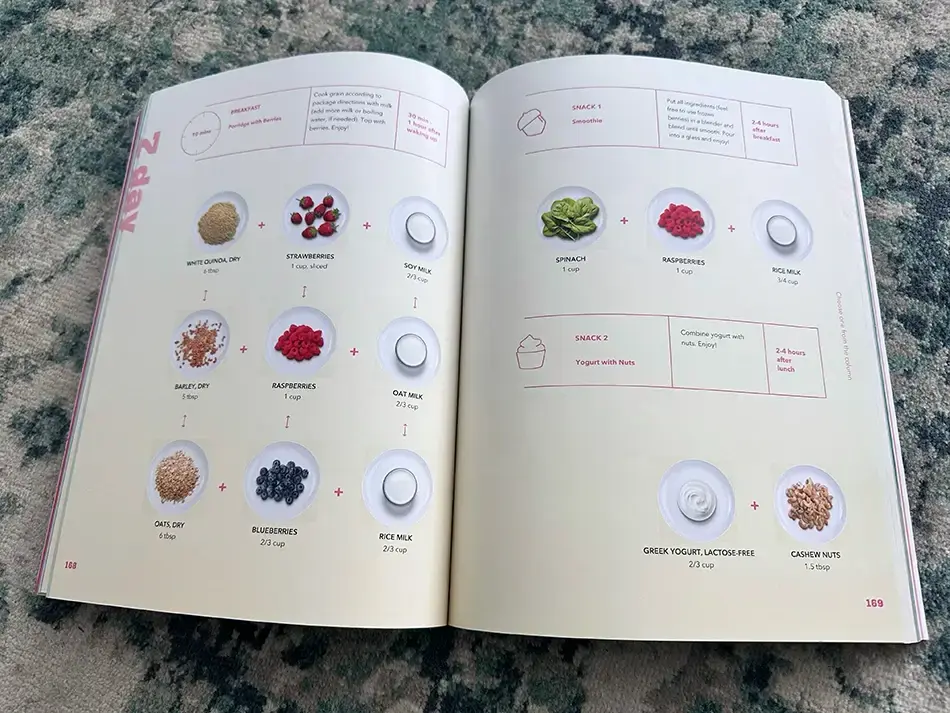 To be honest, it was the first time I felt confident about following a diet plan.
With its adaptable approach to healthy living and changing nutritional habits, the program seemed to eliminate the pressure associated with dieting. Every meal on the meal plan also had substitutes and alternatives.
The meal plans are backed by medical research and revolve around a hypercaloric diet. This diet aims to reduce 150 to 350 daily calories instead of excluding entire food groups, leading to steady body changes over time. That's the magic of the Beyond Body book.
#2 Personalized workout plan
I know that an exercise routine is essential for healthy living. However, the idea of running or doing weight training early in the morning was terrifying for me. Since I wanted to give you an honest review, I followed the workout program for 28 days.
To my surprise, this wellness book also included helpful workout tips and guidelines on how to incorporate workouts into your routine without pushing yourself too much.
It's stated that workout plans are prepared by licensed fitness experts to meet individual goals, body types, and training styles.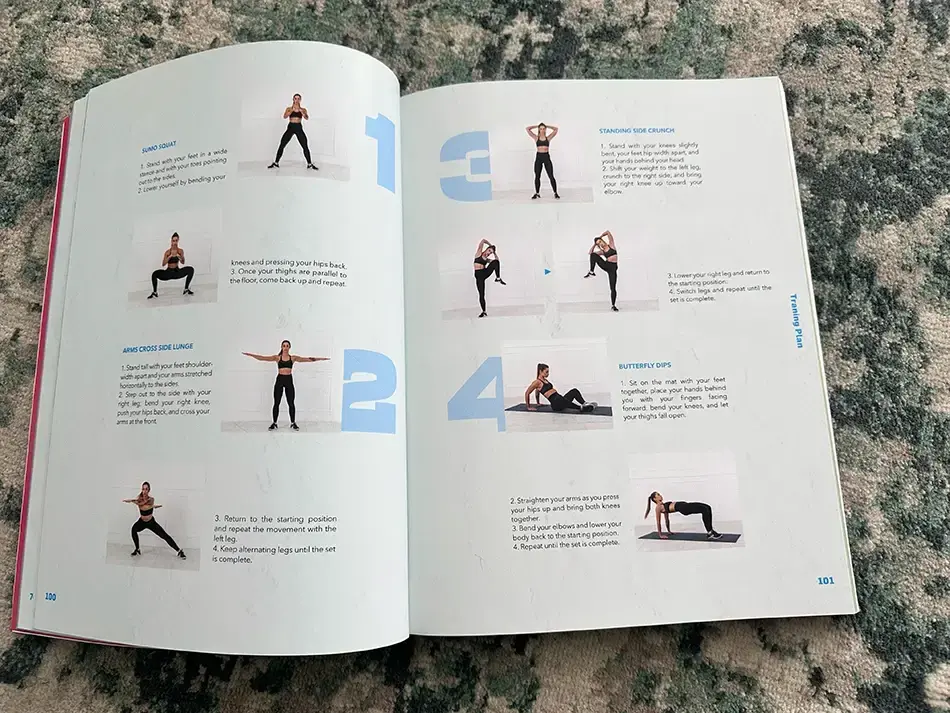 The 28-day training section started with an explanation and visual demonstration of warm-up and cool-down exercises and moves on a weekly regimen.
The workout plan is split into two-week blocks, including four types of workouts each:
Lower body exercises for targeting glutes, quads, hamstrings, and thighs;
Upper body and core for strengthening chest, shoulders, back, and abs;
Full body workout to engage different groups of muscles at once;
and LISS (low-intensity steady-state) cardio and stretches for better recovery.
If you're a beginner like myself, each week will have four workout days, so you have to do each type of training with 6 different exercises only once and can take a rest in between. The two-week blocks are designed to help you ease into the activities and give your body enough time to adapt.
The book also covers all you need to know about exercising, such as the importance of sleep, rest, and breathing techniques.
#3 Remote consultations with a nutritionist
One of the best features of the Beyond Body program, from my perspective, is the possibility of getting a consultation with a certified nutritionist.
In some cases, talking to a specialist is all you need to help you make positive changes and stay on track. It might just be about food patterns or combinations, or about maintaining motivation and adapting new dietary habits.
You do, however, need to pay extra to get a nutritionist consultation, but it is affordable. You can add this feature at checkout or order it later if you need more help. For the sake of transparency, I would like to point out that I have not used this service.
#4 Tips for a sustainable and healthy lifestyle
Aside from consultations with a professional, the Beyond Body book itself includes several sections with handy tips on leading a healthy lifestyle, starting with stress management, sleep optimization, and finishing with mindful eating and other mindfulness techniques.
I felt like this book goes beyond short-term solutions by providing valuable strategies for maintaining a sustainable and healthy lifestyle.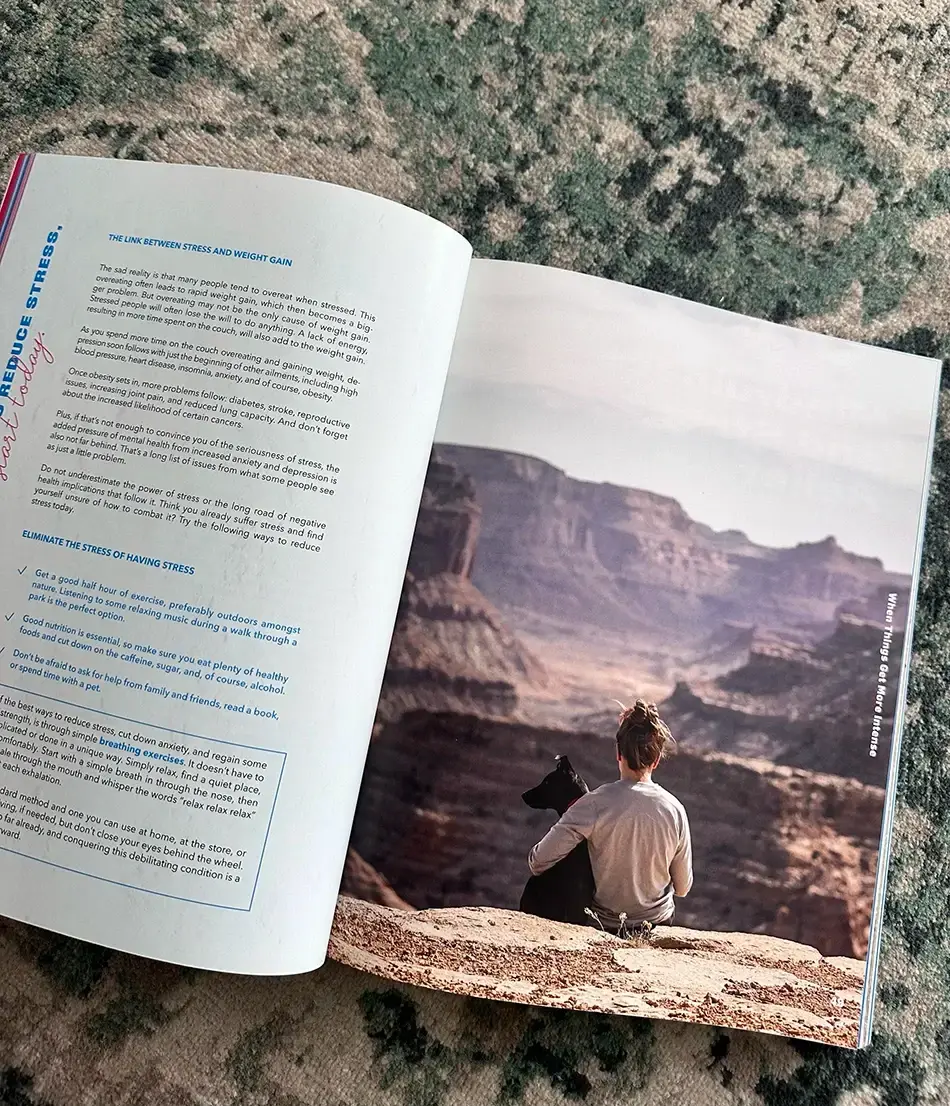 Expect to find many tips on how to deal with high cholesterol, irritable bowel syndrome (IBS), or how to handle lactose intolerance. The creators of Beyond Body even have a chapter devoted to skin and hair health, so it's obvious the book takes a holistic approach to health.
#5 App for tracking progress
In order to help you track your progress, the Beyond Body program also offers a user-friendly app that allows you to monitor your meals and workouts and stay motivated along the way.
This app serves as a personal wellness assistant, providing guidance and encouragement throughout the four-week program. Similarly to the nutritionist consultations, it's also a paid extra that you can purchase separately if you feel the need.
However, I've decided not to download it as I thought that book might be just enough for me.
What I liked about Beyond Body
After following the Beyond Body book plan for almost a month, my mood, mind, and body have improved significantly. Five of the most noticeable benefits were:
#1 Fully personalized plan based on my dietary needs
The personalization aspect of Beyond Body is definitely a plus. Thanks to the quiz, I was able to get a meal plan that took into account my dietary preferences (vegetarian, limited dairy consumption) and my cooking time.
The recipes included alternative ingredients so I had more flexibility than typical diet plans, and I didn't have to figure out what other foods would complement the taste. I'm not usually good at improvising when it comes to cooking food, so receiving such a helpful guide was refreshing.
#2 I discovered numerous healthy and easy recipes
My book included over 500 unique recipes, which introduced me to a plethora of delicious and nutritious foods that I had never tried before.
For example, I never thought that something as simple as fresh peach and peanut butter could taste so good or that lentils could go in one salad bowl with feta cheese and spinach.
These easy and interesting recipes made me curious to try new flavors every day and made healthy eating a lot more enjoyable.
I also liked the fact that I didn't have to starve myself to achieve great results. The food I ate was delicious and nutritious. I felt satiated and more energetic than I had ever had before.
#3 It was easier to stick to a training routine
It was much easier to establish and maintain a consistent exercise routine with Beyond Body's personalized workout plan. Previous to this challenge, I only did morning yoga and long walks on the weekends. While I enjoy trying new activities, I have always had trouble sticking with them long-term.
This program eased me into the workout regimen. I started with 2 rounds per exercise and did them at my own pace. I noticed that after the second week, I felt more coordinated, could complete the reps slightly faster, and felt less sore afterward.
Weeks 3 & 4 included more advanced exercises, which were also more difficult to handle at first, but I liked that I didn't have to do the same routine all over again. It kept me motivated and engaged throughout the 28-day challenge.
#4 I felt more energized after the challenge
Coming closer to the end of the 28-day Beyond Body program, I noticed a substantial increase in my energy levels. I believe it was mainly because of the more consistent training regimen, which has been shown to improve the efficiency of the cardiovascular system and help deliver more energy to the muscles on a daily basis.
Having a wholesome and balanced diet with less sugary foods also helped me avoid sugar spikes and maintain more sustained energy throughout the day.
#5 I lost 7 pounds
Even though weight loss was not my primary goal starting the Beyond Body journey, I was pleasantly surprised that I managed to shed seven pounds during these 4 weeks.
It pays off to follow a healthy diet and workout regimen diligently when there's a consistent caloric deficit, which Beyond Body considers when designing their programs. When I went out with friends, I deviated from the plan a few times, but it didn't affect my progress.
Where Beyond Body Fell Short
Despite the fact that I generally recommend this program for people who want a holistic approach to weight loss and health, the book does have some downsides.
#1 No video instructions for workouts and recipes
Despite the fact that both Beyond Body workouts and recipes were fairly simple and easy to understand, it would have been more engaging if they had been accompanied by complementary videos. The fact that I had to read the instructions repeatedly in the book in the first few days was slightly irritating to me.
Visual guidance could be beneficial, especially for beginners or those unfamiliar with certain exercises or cooking techniques and make it easier to follow the workouts and recipes accurately.
#2 Some recipes are impractical
While Beyond Body aims to offer versatile meals to ensure you get all the necessary nutrients and don't get bored by them, you might end up with leftover food or specialty ingredients, like lactose-free ricotta or corn oil, you won't need for a while.
Many of the foods include different ingredients, so you might not use up everything from your weekly grocery list. However, you can mitigate this problem by batch cooking or repeating recipes a couple of times a week and I've tried it myself. My journey was not impacted by making a few recipes multiple times in a row to avoid throwing food away.
As your lifestyle or calorie intake changes, the book cannot adapt. It remains stationary with only a set number of recipes. To stay committed to healthy eating, you may need to come up with new ideas.
#3 You need to pay extra for the app
While I intentionally chose to track my progress manually and found it effective enough, some people may prefer digital tools to boost motivation and accountability.
Beyond Body does offer a tracking app with a user-friendly interface, but it's not free and has no trial version. Ideally, the app would be included in the basic program package, so users could select the best method for themselves or at least test it out.
Does Beyond Body Work? What Other Customers Say
Aside from detailing my own personal experience with the wellness program, I also took a quick scan through the Beyond Body customer reviews to see if other clients share similar or completely different views on the effectiveness and usability of this product.
The majority of customer testimonials convey enthusiasm and trust in a product. Many people report long-term success, and the personalization of the Beyond Body program also serves as a big plus for them. Below are some of the client reviews from buyers of this product.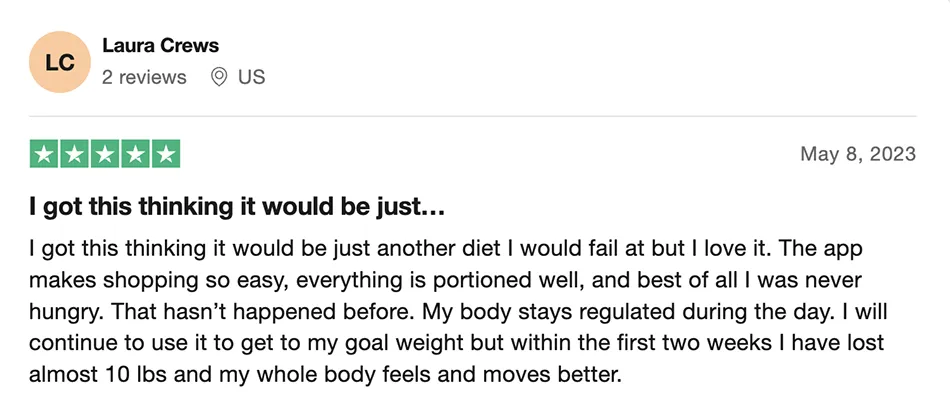 How much does Beyond Body cost?
The pricing of the Beyond Body personalized book and app are as follows.
For the app alone:

1-month subscription billed monthly: $36.99
3-month subscription billed every 3 months: $53.94
6-month subscription billed every 6 months: $75.78

Beyond Body paperback: $79.99
Beyond Body paperback and app: $29.99
Beyond Body eBook: $39.99 or free when you purchase the app or paperback book
The prices above are accurate at the time of writing this review. However, there are various discounts and reduced rates added for a limited time. You can also add on things like the nutritionist services at the checkout.
Comparison Table
Comparison Winner: Beyond Body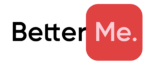 Pros
Available in ebook and printed formatNo subscription fees (one-time payment)
International shipping for a hardcopy book
Easy-to-follow program with pictures and instructions
Beginner-friendly as it doesn't make drastic changes to your eating habits
Tracks weight loss, workouts, and recipes
Considers allergies and sensitivities
Personalizes your meal plan based on preferences and medical history
Numerous recipe ideas
Personalized weight loss programs
It has an intermittent fasting timer
It has a calorie tracker
Custom meal and fitness plans
International shipping (only free for UK residents)
One-time coaching
Cons
Unsuitable for pregnant women
Difficult to track progress
It has complex subscription plans with constant upsells
Expensive
Some of the health recommendations are generic
Verdict: Beyond Body is a better alternative compared to BetterMe and DNAFit.
A Word From Our MD
Rosmy Barrios
Medical advisor for Health Reporter
Following a healthy diet plan helps in increasing weight loss, boosting the body's metabolism, and improving overall health. Incorporating principles such as a workout routine and eliminating unhealthy foods from your daily meals offers a better approach to long-term weight loss.
Various factors like gender, age, genetics, sleep patterns, and medical conditions, affect a person's weight loss rate. Some people lose weight easier than others, but this means that a personalized approach can help you lose a safe amount of weight more quickly and sustainably.
Before planning to lose weight, it is best to consult a licensed healthcare professional and a professional trainer for long-lasting weight loss tips. Extreme diets, overtraining, and losing weight fast can harm your health and may end up sabotaging your efforts to lose weight.
FAQs
Below are some of the frequently asked questions about Beyond Body.
Is Beyond Body legit?
According to the reviews from health experts, nutritionists, and customers who have used it, Beyond Body is legit. Users can access individualized diet and fitness plans that work in the best of ways to ensure long-lasting results.
Where to buy Beyond Body?
Beyond Body is available for purchase on the official Beyond Body website.
Can I get only the Beyond Body ebook and not the hardcover?
Yes, if you do not want the physical book, you can access the ebook only immediately after customizing your diet plan.
Does Beyond Body ship internationally?
Yes, the Beyond Body paperback book can be shipped internationally. The official website indicates that most deliveries take between 8 and 14 business days.
How I Tested Beyond Body
When it comes to weight loss and wellness programs, there's often a lot of convincing promises but not enough of measurable long-term results. I tested Beyond Body upon writing this review by evaluating its price, brand reputation, quality, and effectiveness.
Quality 8/10
The most crucial aspect of any dietary plan is nutrition quality. With a versatile and wholesome meal plan, Beyond Body ensures that its clients do not suffer from any nutritional deficiencies and consume a variety of nutrient-dense foods, such as fruits, vegetables, herbs, spices, lean meats, and legumes.
The recipes are simple and quite basic but they may have to be adjusted to further meet your goals or dietary needs after the 28-day challenge. Some of the ingredients may also have to be swapped to avoid food waste as there are recipes with highly specific products. That is why I'm giving Beyond Body 8 out of 10 for quality.
Effectiveness 8/10
I diligently followed my own 28-day meal and workout plan and tracked my progress to evaluate the effectiveness. Just like many other Beyond Body customers, I felt more energized, satiated, and even managed to drop a few pounds.
I think what contributed to the success of my journey the most was that the plan was based on my dietary preferences and fitness level, which suited my lifestyle and allowed to introduce healthy changes gradually. 45 minutes of training seemed too much for a beginner at first, but I learned to make time for physical activities and got used to the intensity.
It is too early to talk about long-lasting effects after 28 days; however, I do feel that I've already adopted several healthy habits because of Beyond Body and could use the book as my healthy lifestyle guide fruther on.
Price 7/10
Pricing is an important criterion to consider when it comes to wellness programs. With Beyond Body, you can purchase the paperback book and digital version for a one-time payment; however, if you want to track your progress digitally, there's an extra monthly subscription for the app.
Compared to other similar programs on the market, Beyond Body requires a larger starting investment, but there are no other recurring payments if you don't purchase the app. Based on my experience, the program is worth the costs; nonetheless, it is still rather expensive.
Brand reputation 8/10
In order to gain a more comprehensive view of Beyond Body, I also considered its reputation. There is a solid brand behind the program, making health and wellness more accessible to the masses.
I also checked customer reviews and found that aside from some strongly negative opinions, there were mainly satisfied users worldwide who have managed to achieve weight loss and build long-term healthy habits with the help of Beyond Body.
Customer service is rated highly, too, as the company tends to respond quickly to any negative reviews, which mostly center around personal preferences.
Final Verdict: Is Beyond Body Worth It?
After carefully reviewing and testing the Beyond Body wellness program, I'm certain that this product is worth the hype. It offers an all-in-one solution when looking for a personalized and sustainable weight loss program or a holistic approach to improving overall health.
Some of the tips may seem quite basic, especially if you're not completely new to a healthy lifestyle, but they are easy to follow, and the personalized meal and workout plan do serve as a useful roadmap to building sustainable habits and long-lasting wellness.
While the book can't evolve as you evolve or your goals and calorie intake change, it's a worthy investment to kickstart your changes, and you can always come back to it for an extra motivational boost.
Last update:
September 21, 2023
17 min read
1821 Views
3 Reviews