Are Green Beans Good for Diabetes? Glycemic Index and Benefits
Last update: April 19, 2023
5
765
0
Green beans are a healthy vegetable that not only has many health benefits but is also low in fat and calories. Green beans are also high in fiber, which helps you feel full. But are green beans ideal for people with diabetes? This article will help you learn this and much more.
The crispy and wholesome green beans, also known as French beans, string beans, fine beans, or even squeaky beans, are widely used in various international cuisines. They contain fewer calories, proteins, and carbohydrates than usual beans.
If you have diabetes, you might wonder what vegetables are safe to eat. For example, a small amount of green beans on your salad could make you question whether eating green beans raises your glucose.
This article will help you learn more about green beans, their nutritional facts, glycemic index, and their benefits for people with diabetes.
Are Green Beans Good for Diabetes?
Green beans can benefit people with diabetes due to their high fiber content and low GI. They're also rich in antioxidant-rich phytonutrients, vitamins, and minerals that have anticancer effects and may benefit people with diabetes.
Although vegetables are generally nutritious, people with diabetes may want to avoid eating vegetables with higher starch content. Green beans contain less starch. This makes them a great addition to a diabetes diet because they have fewer carbohydrates.
According to research, a diet rich in green vegetables, such as green beans, can help lose weight and prevent atherosclerosis, a severe artery disease that can be a fatal risk factor for people with diabetes and heart disease.
Green beans are rich in antioxidants and vitamins, like vitamin C, that can help reduce the oxidative stress the body experiences over time due to free radical damage. One of the main causes of the severity of diabetes is the increase in oxidative stress.
Green beans also have flavonoids and phenolic compounds, which have been found to lower diabetes and obesity risks. They also contain magnesium, essential for the body to normalize metabolism, process insulin, and keep blood sugar levels stable.
Green Beans' Nutritional Value per 100g
Green beans are a rich source of various essential nutrients that can have many health benefits. Green beans have more vitamin C and vitamin A than many other foods. These two vitamins have numerous positive effects on the body's immunity and can help fight off infections, pains, imbalances, and other dangerous health concerns.
The following table shows the nutritional value of green beans per 100g as the USDA provides.
Green Beans (Snap Beans)
Legumes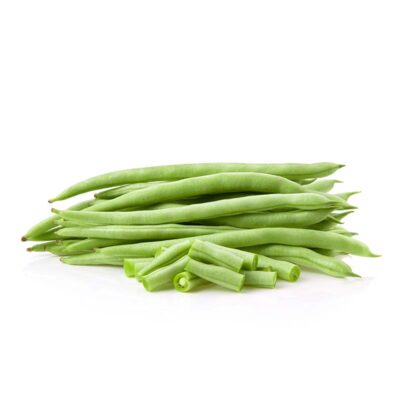 Keto If Limited
Key nutritional facts (per 100g):
Glycemic Index of Green Beans
The glycemic index (GI) of green beans is 32, which is considered low by the American Diabetes Association's standards. As a guide, low glycemic foods are those with a GI of 55 or lower.
The Glycemic index ranges from 0 (low) to 100 (high), with lower numbers representing foods more likely to help you manage diabetes than higher numbers. The foods are also categorized as safe, moderately safe, or harmful for diabetes.
How Do Green Beans Affect Blood Sugar?
Being a low-carb vegetable that can be added to a plant-based diet for diabetes, green beans' high fiber content slows down the breakdown of carbohydrates into sugars in your blood, improves your body's insulin response to glucose, and speeds up the fat-burning process. This reduces the rise in blood glucose levels after meals.
Following their low glycemic index, green beans don't increase the glucose levels in the blood when consumed. They provide health benefits to people with diabetes because they need minerals, nutrients, and energy while regulating blood sugar.
Green beans are also a good source of complex carbohydrates that are not digested as quickly as other types of carbohydrates. This means that green beans don't cause rapid increases in blood sugar levels like some other foods do.
Do Green Beans Help Lower Blood Sugar?
Because they are high in fiber and low in fat, green beans won't cause your body to absorb as much sugar from the food you eat. This can help lower blood sugar levels after eating, which may reduce your risk for diabetes or other health conditions related to elevated blood sugar levels.
According to research, green bean extracts injected in rats were shown to lower glucose, triglyceride, total cholesterol, and LDL cholesterol levels.
In another study, people who substituted red meat with legumes, such as green beans, significantly reduced their blood glucose, triglyceride, and insulin levels.
4 Benefits of Green Beans for Diabetes
Green beans have many health benefits that individuals with diabetes can benefit from. Here are the 4 major benefits of green beans for people with diabetes.
#1 Source of vitamin B
Green beans are a rich source of vitamin B that can help lower the blood's homocysteine levels. High amounts of homocysteine levels can impair cognitive ability.
Vitamin B also helps in boosting metabolic functioning.
#2 Great for bone health
Green beans are a great source of manganese, which helps in the body's greater absorption of calcium. This makes bones stronger and healthier. Additionally, it helps prevent joint-related illnesses like osteoporosis and arthritis, as well as pains and inflammation associated with the bones.
#3 Boosts heart health
Green beans are a rich source of potassium, a mineral that plays a key role in maintaining healthy blood pressure levels and reducing the strain on the heart's functioning. Potassium also helps regulate fluid balance by keeping your kidneys working properly.
The high amounts of dietary fiber in these beans also help lower high cholesterol levels by preventing the colon from reabsorbing bile acids that bind cholesterol.
#4 Helps to maintain good eyesight
Lutein and zeaxanthin, two antioxidants found in green beans, reduce the negative effects of aging on vision and delay cataract development. Additionally, they contain a lot of carotenoids, which shield the eyes from UV rays and prevent macular degeneration.
FAQs
Are canned green beans good for diabetes?
Canned beans are not good for people with diabetes. They contain high amounts of sodium, which can cause high blood pressure. Look for no-sodium canned green beans, or rinse them thoroughly before cooking them.
Can people with type 2 diabetes eat green beans?
People with type 2 diabetes can eat green beans since they are low in glycemic index and glycemic load and are regarded as fantastic food for controlling and preventing diabetes.
Do green beans contain natural insulin?
Green beans do not contain insulin, but they contain inulin, a soluble fiber classified as a prebiotic that stimulates the development and activity of healthy bacteria in the intestine.
A Word From Our Nutritionist
Green beans are a great addition to any low-carb diet. They're low in calories and carbs, high in fiber and protein, and provide several essential vitamins and nutrients.
However, due to their high content of some indigestible starches, consuming green beans may not be tolerated by persons who experience bloating, gas, or IBS symptoms (irritable bowel syndrome).
Begin by adding a small quantity to your food. Over time, you can steadily increase the amount. That will provide ample time for your body to get used to the beans.
Choose fresh green beans or frozen green beans. Fresh green beans should snap when bent in half, and you might trim off the tough ends before cooking. Frozen green beans are better than canned green beans but, essentially, not as good as fresh.
Eating raw green beans is not good as they can cause digestive distress, such as stomach pain, nausea, bloating, and other negative symptoms.
Conclusion
Green beans are rich in essential nutrients, vitamins, and minerals. These are not only helpful in improving your cardiovascular, bone, and heart health but are also good in managing and preventing diabetes and certain cancers.
Rich in fiber that helps stabilize sugar levels, these green beans also contain complex carbs, which digest slowly without raising sugar levels. Eating green beans is, therefore, good for people with diabetes, but they should be eaten in moderation and avoided raw as they may cause digestive issues.
Last update:
April 19, 2023
5 min read
765 Views
0 Comments